Use the coupon code "happy" to get a $5 discount For Order Over $20
2 Pack Knee Brace, Knee Compression Sleeve Support for Men and Women, Running, Hiking, Arthritis, ACL, Meniscus Tear, Sports
2 Pack Knee Brace, Knee Compression Sleeve Support for Men and Women, Running, Hiking, Arthritis, ACL, Meniscus Tear, Sports
Regular price
$32.99 USD
Sale price
$20.99 USD
Unit price
per
Sale
Sold out
Or fastest
delivery Thursday September 28
Order within today
Shipping

Estimated delivery time:

United States: 3-5 working days
United Kingdom: 3-7 working days
South Africa: 6-12 working days
Canada: 5-12 working days
Ireland:6-12 working days
Australia: 5-11 working days
New Zealand: 4-9 working days

Rest of Europe: 4-11 working days
Albania, Austria, Belarus, Belgium, Bosnia, Bulgaria, Croatia, Czech Republic, Denmark, Estonia, Finland, France, Germany, Greece, Hungary, Iceland, Italy, Latvia, Lithuania, Luxembourg, Malta, Netherlands, Norway, Poland, Portugal, Romania,  Slovakia, Slovenia, Spain, Sweden, Switzerland, Ukraine

Asia: 6-12 working days
Hong Kong, Israel, Japan, South Korea, Thailand, Vietnam, Japan, Lebanon, Malaysia, Oman, Pakistan, Qatar, Saudi Arabia, Singapore, Taiwan, Turkey, United Arab Emirates

South/Central America: 6-12 working days
Chile, Colombia, Mexico


Please see checkout for shipping/delivery estimate. Easy Returns and Exchanges

Worldwide Express Air Shipping + Satisfaction Guaranteed!
Returns

We offer a 100% money-back guarantee. If you are not satisfied or your brace doesn't fit right, let us know and we will help you with our free returns and exchanges. We pay the return shipping. Your satisfaction is our top priority!
Key Features of Sports Compression Knee Brace
One of the main selling points of these compression knee sleeves is their simplicity. The Elastic Knee Bandage is constructed from a single piece of material and has no hooks, clasps or latches to irritate your skin or trip your arthritic fingers.
To put it on or off, slide it up or down and center it above your knees.

Once the elastic knee brace is in place, you hardly notice it's there. Fabric knee pads are lightweight and breathable. Its stretch material is also great for sports.

Their finished edges fit snugly against your skin, plus they help the sleeves stand up for knee pain.

Slide-in knee braces treat a variety of conditions

The elastic knee brace supports your leg, holds it in place and evenly compresses your knee and surrounding area.
The comfortable closed patella design means your sore joints are compressed from every angle, plus it adds to the stability of this cotton knee brace. This makes it ideal for treating:

Mild knee sprain/strain




Osteoarthritis




Joint effusion (mild cases)




Bursitis




Baker's cyst




tendonitis




some meniscus tears




slightly unstable



Great for sports, everyday use or under support

Thanks to its slim fit and flexible and breathable material, it is ideal as a sports wrap for the knee. The ultra-thin support is perfect for walking, hiking, running, and more. For more flexibility, you might consider this dual tension compression bandage.
These features also make it the perfect everyday solution for an arthritic knee or joint effusion (AKA, water on the knee). You can easily put it under your pants.

It is also a good cushioning under medical knee pads. In addition to providing a layer of protection to any rigid parts of a brace like stockings, fabric knee pads can also help you recover from injury or even joint surgery by reducing swelling and acting as an additional stabilizer.

Faster and easier than ACE knee braces

There are many reasons why an elastic bandage for the knee is superior to wrapping the joint with an ACE bandage.
No need to master recording techniques.

It's much quicker to wrap a slim knee brace around your leg than to wrap and secure a bandage around your knee.

If it slips out of place, there is no need to re-stick. Just pull the sleeve back over the leg.

Apply even compression to and around the joint. The tension you get from wrapping your knee with an elastic may not, even if you don't fit it just right.

There is no tape to pull on the skin or hair on your legs.

How does wearing a compression knee brace relieve pain?

Swelling is the body's natural response to many injuries, and this increased joint fluid actually has a good reason. The swelling and associated pain are there to remind you not to use the injured body part to protect you from further injury.
That said, an injury or chronic illness doesn't have to suspend life. Compressing and supporting your knee with an elastic knee stabilizer can relieve pain and help you get back to normal faster.

Compression promotes blood flow to the area, thereby eliminating painful inflammation, so injuries such as a sprain or a mild meniscus tear can heal.

Users hardly notice they're wearing thin knee pads, and it's a great solution when chronic knee swelling becomes a problem, such as in different stages of osteoarthritis.

This compression is also great for preventing and/or treating knee cysts, which are when fluid builds up in a pocket. This causes a tightness, bulge, and pain when you bend your knee. Baker's cyst causing pain behind the knee is one such example.

Wearing flexible knitted knee pads adds a layer of support and protection, allowing you to be more comfortable and confident when you return to activity after an injury absence.

Rest is another great remedy for almost any knee problem. Other preferred steps for treating knee injuries include cold/heat therapy and elevation.

Frequently Asked Questions About This Elastic Knee Pad

What ailments/injuries can this compression knee brace treat? Great for knee problems caused by arthritis, tendonitis, sprains or strains, bursitis, minor meniscus tears, knee effusion (hydrogenation of the knee) or Baker's cyst. These braces are also a great tool to reduce swelling after surgery and/or as cuffs under heavier loads, hinged knee braces.

How does it work? The sleeves fit snugly against the skin, compressing the knee and surrounding tissue. This promotes blood flow, which relieves painful inflammation and promotes healing. The fabric straps also provide some light, flexible support for the knees.




When should I wear it? After an injury, it's best to compress the knee for a few days or weeks, depending on how severe it is. For chronic (long-term) conditions like arthritis, you can wear it for emergencies or around the clock. It's breathable, lightweight and flexible, making it perfect whether you're walking around the block or playing an intense game of tennis.




what does it do? Made of stretch cotton, this stand is breathable and stretchy. The bottom and top of the sleeves have a thin elastic band covered with knitted material to prevent skin chafing or fraying.




Who can wear this brace? It is perfect for adult men and women of all shapes and sizes. It comes in sizes ranging from small to 2x and fits leg circumferences from 17" to 25" (measured 6" above the middle of the knee). To measure, wrap a soft tape measure or string around your leg. The single sleeve is suitable for the right or left leg.




What should I wear? Simply slide it over the foot and up until it is in the center of the kneecap.




Washing Instructions: Hand wash with mild soap/detergent and lukewarm water, squeeze out water and allow to air dry. You should avoid high temperatures when washing or drying the stand.
Share
View full details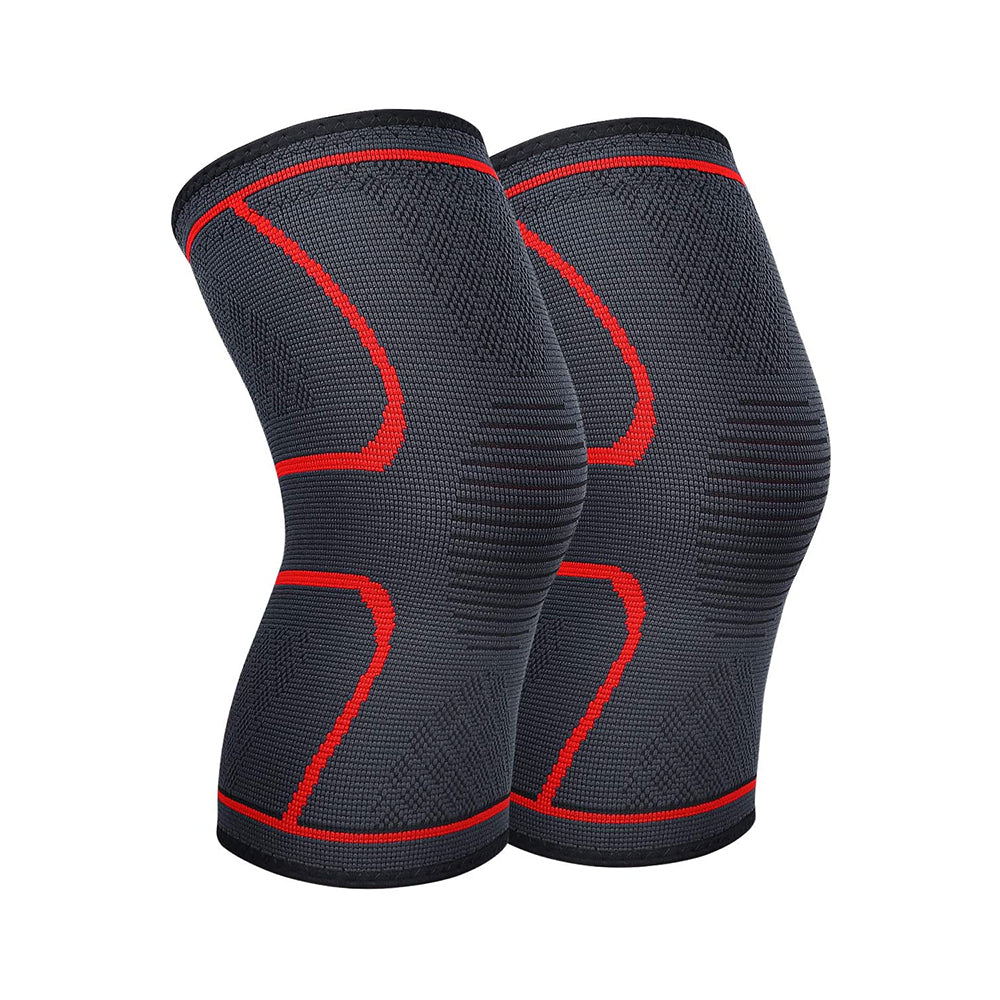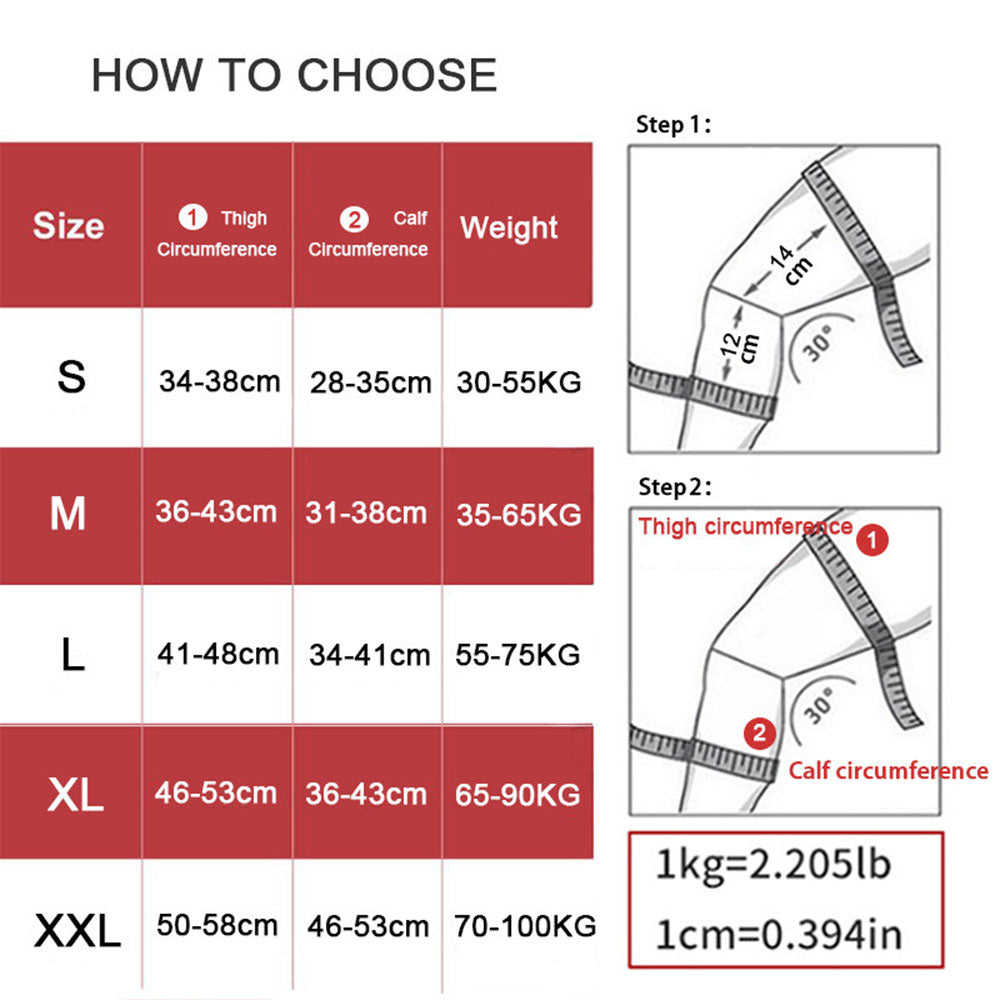 OUR PROMISE TO YOU!
Not 100% satisfied with the brace? No problem, we'll take it back and issue afull refund. No hidden charges.