Use the coupon code "happy" to get a $5 discount For Order Over $20
Regular price
$26.99 USD
Sale price
$19.99 USD
Unit price
per
Sale
Sold out
Or fastest
delivery Thursday September 28
Order within today
Shipping

Estimated delivery time:

United States: 3-5 working days
United Kingdom: 3-7 working days
South Africa: 6-12 working days
Canada: 5-12 working days
Ireland:6-12 working days
Australia: 5-11 working days
New Zealand: 4-9 working days

Rest of Europe: 4-11 working days
Albania, Austria, Belarus, Belgium, Bosnia, Bulgaria, Croatia, Czech Republic, Denmark, Estonia, Finland, France, Germany, Greece, Hungary, Iceland, Italy, Latvia, Lithuania, Luxembourg, Malta, Netherlands, Norway, Poland, Portugal, Romania,  Slovakia, Slovenia, Spain, Sweden, Switzerland, Ukraine

Asia: 6-12 working days
Hong Kong, Israel, Japan, South Korea, Thailand, Vietnam, Japan, Lebanon, Malaysia, Oman, Pakistan, Qatar, Saudi Arabia, Singapore, Taiwan, Turkey, United Arab Emirates

South/Central America: 6-12 working days
Chile, Colombia, Mexico


Please see checkout for shipping/delivery estimate. Easy Returns and Exchanges

Worldwide Express Air Shipping + Satisfaction Guaranteed!
Returns

We offer a 100% money-back guarantee. If you are not satisfied or your brace doesn't fit right, let us know and we will help you with our free returns and exchanges. We pay the return shipping. Your satisfaction is our top priority!
The 5 Top Foot Drop Treatment Features
Foot drop affects countless people around the world, leading to reduced mobility, decreased overall quality of life, falls and injuries. Anyone wrestling with sagging feet can benefit from a well-designed lightweight AFO. Below, you'll find the top six top-rated features that make this soft brace an irreplaceable helper in the fight against falling feet:
Pair with any lace-up shoes

Regardless of style or brand, any of your lace-up shoes will go with this everyday brace. It fits your left and right foot with or without socks. The flexibility helps it stand out from other foot drop braces. Our harnesses are comfortable and barely noticeable when in use. It promotes muscle development and helps improve balance. The best part is that nothing gets in your shoes or under your feet.
Made of soft and breathable medical grade material

Unlike many other AFO rear foot supports, this product is made of soft, thin and flexible material that is breathable and easy to use with shoes.
Convenient wrap-around style for quick and easy adjustments

This stand can be easily applied or removed thanks to its convenient wraparound design. Each fastener is medical grade and ten times stronger than standard retail grade fasteners for a secure fit all day.
Helps with plantar fasciitis and Achilles tendonitis

This soft AFO for foot drop also helps with plantar fasciitis and Achilles tendonitis, keeping your dorsiflexion close to a 90-degree angle. It provides consistent stretch to your plantar fascia, Achilles tendon and calf muscles while also promoting a more natural gait. Many plantar fasciitis braces only provide nighttime support, but this dorsiflexion aid is designed for daytime use to keep you moving. Looking for nightly support only? Check out our soft-back night splints, sleep stretch boots or soft sleep braces for your feet.
Tension can be easily adjusted by simply pulling the bungee cord further under the laces to increase dorsiflexion, or relax throughout the day for less support if your comfort needs change.

The straps on the soft afo foot stand attach to any lace-up shoe

Why you need this AFO to support foot sag
Whether you've had a stroke, diabetic nerve damage, multiple sclerosis, or are experiencing another neurological disorder, foot drop can be an uphill battle.
Foot drooping, or falling feet, is a symptom of certain underlying conditions caused by weak ankles or interruptions in the nerve pathways between the legs and the brain. This makes it difficult to lift the front of the foot to the correct angle when walking, jogging, and running. As a result, your feet can sag, potentially catching or dragging on the ground, often leading to trips and falls.

There are many reasons why you may not be able to maintain proper dorsiflexion, such as:

stroke




Multiple Sclerosis (MS)

cerebral palsy

peroneal nerve injury

Charcot-Marie-Tooth disease (CMT)

muscular dystrophy or myositis

diabetic neuropathy

Amyotrophic Lateral Sclerosis (AKA Lou Gehrig's Disease or ALS)

polio

some forms of spinal muscular atrophy
Not sure if you have foot drop? no problem! Take a foot drop test and talk to your doctor. Visit our resource library for other common foot injuries and conditions.
How to treat Charcot and Dropped Foot during the day?

Fortunately, modern medicine is so advanced that wearing an AFO (ankle foot orthosis) is one of the easiest ways to deal with the signs of poor foot drop, including:

Drag toes and feet across the ground when walking




A high stride gait, or walking with your thighs elevated to prevent your toes from touching the ground

Inability to lift the foot at the ankle

Numbness at the top of the foot or toes
However, finding the right support to maintain foot clearance while walking can be challenging. This soft AFO support helps address these signs of bulkiness by comfortably supporting the upper part of the foot, allowing you to move around and walk more naturally.
Physical therapy

Along with braces or an ankle-foot orthosis (AFO), exercise therapy to strengthen the muscles of the foot, ankle, and calf is one of the main treatments for falls. Stretching and range of motion exercises will help you maintain range of motion in your joints to prevent stiffness in your heels.
Nerve stimulation

If peroneal nerve injury is the cause of foot drop, functional electrical stimulation may be a good alternative to complex surgery. A small device that can electrically stimulate the normal function of the peroneal nerve can be worn under the knee or surgically implanted, causing the muscles to contract and elevate the foot while walking.
Foot drop surgery

In severe cases of permanent loss of motion, you may need surgery to fuse the foot and ankle. Surgery may also be needed to transfer the tendon from a stronger muscle to help improve gait and stability if the tendon is damaged and causes the foot to drop.
Frequently Asked Questions About This Soft Ankle Foot Orthosis (AFO)

What diseases/injuries can this foot and ankle stabilizer treat? This dorsiflexion assist orthosis helps manage discomfort caused by foot drop, post-CVA (stroke), Charcot-Marie-Tooth disease, diabetic nerve damage, mild muscular dystrophy and spinal cord surgery.

Who can wear this brace? Great for any adult male or female and some kids who need help with dorsiflexion. It can greatly improve your quality of life and allow you to move freely.

When should I wear it? Wear any lace-up shoes throughout the day.

What should I wear? Loosen the fasteners on the bracket. There is a metal O-ring at the top to place the brace above the ankle. Wrap the brace around the ankle and secure. Wrap the ankle strap around the leg through the D-ring buckle and reattach to itself. Apply lace-up shoes. Pull each side of the bungee cord toward the shoe and attach to the laces at the desired level of tension.

How does it work? Provides convenience and comfort, keeping your foot close to a 90-degree angle for optimal foot clearance support while walking.

Washing Instructions: Close all fasteners and hand wash in warm water with mild soap. Allow the stand to air dry completely before reapplying. Do not use high heat for washing or drying.

Colour: Black.
Share
View full details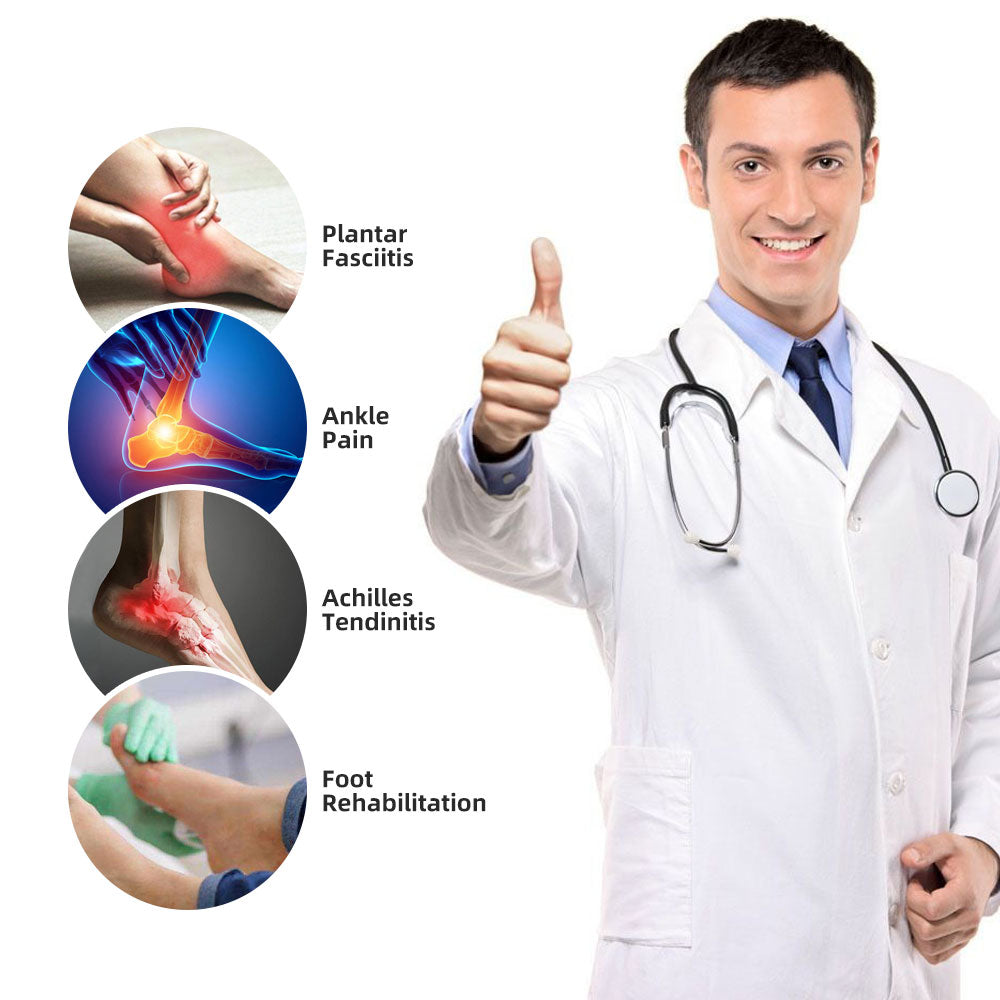 OUR PROMISE TO YOU!
Not 100% satisfied with the brace? No problem, we'll take it back and issue afull refund. No hidden charges.