Use the coupon code "happy" to get a $5 discount For Order Over $20
Regular price
$21.99 USD
Sale price
$21.99 USD
Unit price
per
Sale
Sold out
Or fastest
delivery Sunday October 08
Order within today
Shipping

Estimated delivery time:

United States: 3-5 working days
United Kingdom: 3-7 working days
South Africa: 6-12 working days
Canada: 5-12 working days
Ireland:6-12 working days
Australia: 5-11 working days
New Zealand: 4-9 working days

Rest of Europe: 4-11 working days
Albania, Austria, Belarus, Belgium, Bosnia, Bulgaria, Croatia, Czech Republic, Denmark, Estonia, Finland, France, Germany, Greece, Hungary, Iceland, Italy, Latvia, Lithuania, Luxembourg, Malta, Netherlands, Norway, Poland, Portugal, Romania,  Slovakia, Slovenia, Spain, Sweden, Switzerland, Ukraine

Asia: 6-12 working days
Hong Kong, Israel, Japan, South Korea, Thailand, Vietnam, Japan, Lebanon, Malaysia, Oman, Pakistan, Qatar, Saudi Arabia, Singapore, Taiwan, Turkey, United Arab Emirates

South/Central America: 6-12 working days
Chile, Colombia, Mexico


Please see checkout for shipping/delivery estimate. Easy Returns and Exchanges

Worldwide Express Air Shipping + Satisfaction Guaranteed!
Returns

We offer a 100% money-back guarantee. If you are not satisfied or your brace doesn't fit right, let us know and we will help you with our free returns and exchanges. We pay the return shipping. Your satisfaction is our top priority!
Ankle braces with shoulder straps

Whether you're looking to prevent or treat ankle injuries, this kids' ankle brace with laces is a great solution. It adds several layers of support to your child's ankle, stabilizing the ligaments and preventing destructive movement.
This ankle brace is specifically designed to aid in recovery from a variety of injuries and conditions, including:
sprain




strain

unstable

Sore or weak ankles

juvenile arthritis pain

ligament or tendon injury
It can also help reduce excessive plantar flexion, eversion, and ankle inversion.
Ankle braces are very useful during gymnastics to prevent sprains and strains

An ankle sprain occurs when your ligaments are overstretched or torn, causing pain, swelling, and instability. Stepping on another player's foot, slipping downhill, or jumping while landing at an awkward angle can all lead to a sprained ankle. Whether you play sports or just enjoy playing on the playground, there are plenty of opportunities for sprains.
Some minor ankle sprains can be healed with very limited treatment. Heat and ice therapy can work wonders! More serious sprains may require stabilizing the ankle with an ACE bandage or elastic wrap, wearing a lace-up ankle splint, or even immobilizing the joint with boots for a while.

This ankle wrap features laces and straps for figure-of-eight support. You get the convenience of a stand without sacrificing the lightweight support provided by the figure-of-8 tape. Talk to your child's doctor to determine the type of treatment that is right for their injury.

Because frequent ankle sprains can lead to long-term stability issues, some kids in high-risk sports choose to wear sports ankle wraps like this as a precaution.

4 Top Features of This Ankle Support

This ankle brace is one of the best and most popular foot supports we offer, thanks to several innovative features that allow for a more active, pain-free lifestyle in addition to protecting your ankle from injury . Below we list four reasons why parents and children love this ankle brace.
Ankle brace is great for sports
The ballistic nylon used for the ankle support is thin and light, but it is also strong and wear-resistant. Figure 8 The shoulder straps add another layer of support and protection. They are also made of durable non-stretch nylon.
The tongue of the ankle support is made of a softer, more breathable knitted material. And it has a tongue, like a shoe, which makes it easier to slide on the foot, especially if they're still dealing with ankle pain or swelling.

The thin elastic panel in the Achilles tendon area on the back of the ankle also provides a little flexibility for support, which makes it more comfortable to wear during exercise. The panel also makes it easier to pull on the ankle wrap.

All materials used in this figure 8 ankle brace are latex free.

Lace up design

The fact that you can attach this orthopedic ankle brace is a key feature, as it means you can really customize the fit and compression for your child's foot and ankle. Not fitting is a common complaint parents have when looking for teen ankle braces.
The laces are really long, which means they can be adjusted to fit many foot and ankle sizes. Some adults with small feet can even use braces.

Dimensional flexibility also means the lace brace can be adjusted for changes in ankle size due to swelling.

Don't worry about the extra-long nylon laces causing you to trip - you can cover them with the figure-8 straps.

Versatile Fit

Ankle supports are meant to be worn over sports socks and inside shoes. However, some users, such as gymnasts, say they prefer to wear the wrap barefoot and no socks for a more comfortable fit.
Ankle braces have other uses too

Sprains are just one of the injuries that this ankle-foot orthosis (AFO) can help with. Some other examples include:
Ankle fracture or foot fracture rehabilitation




Heel pain from Achilles tendinitis or Sever's disease

Arch pain from plantar fasciitis or flat feet
We also offer heel pads, night splints for plantar fasciitis, and compression socks or sleeves that can help with some of these conditions.
Frequently Asked Questions about this Lace Up Ankle Brace

What diseases/injuries can this foot and ankle stabilizer treat? For strains, sprains, instability, arthritis symptoms, support of injured or weak ankles, rehabilitation, and protection during sports or recreational activities.

How does it work? Protect your child's ankle by maintaining stability and support. Adjustable figure-8 shoulder straps help provide extra support and compression during sports and recreational activities.

When should I wear it? Avoid wearing for extended periods of time (eg while sleeping). Make sure the brace is not too tight and does not restrict blood flow. Be sure to consult your doctor before use.

what does it do? Made from thin, strong ballistic nylon, durable nylon figure-8 shoulder straps, and a tight-fitting tongue with elastic back panel for a comfortable fit. All components are latex free.

Can it be worn on both feet? Yes, you can wear an ankle brace on your right or left foot.

Washing Instructions: Close all fasteners and hand wash in warm water with a mild detergent. Allow the stand to air dry completely before reapplying. Do not use high heat for washing or drying.

Colour: Black
Share
View full details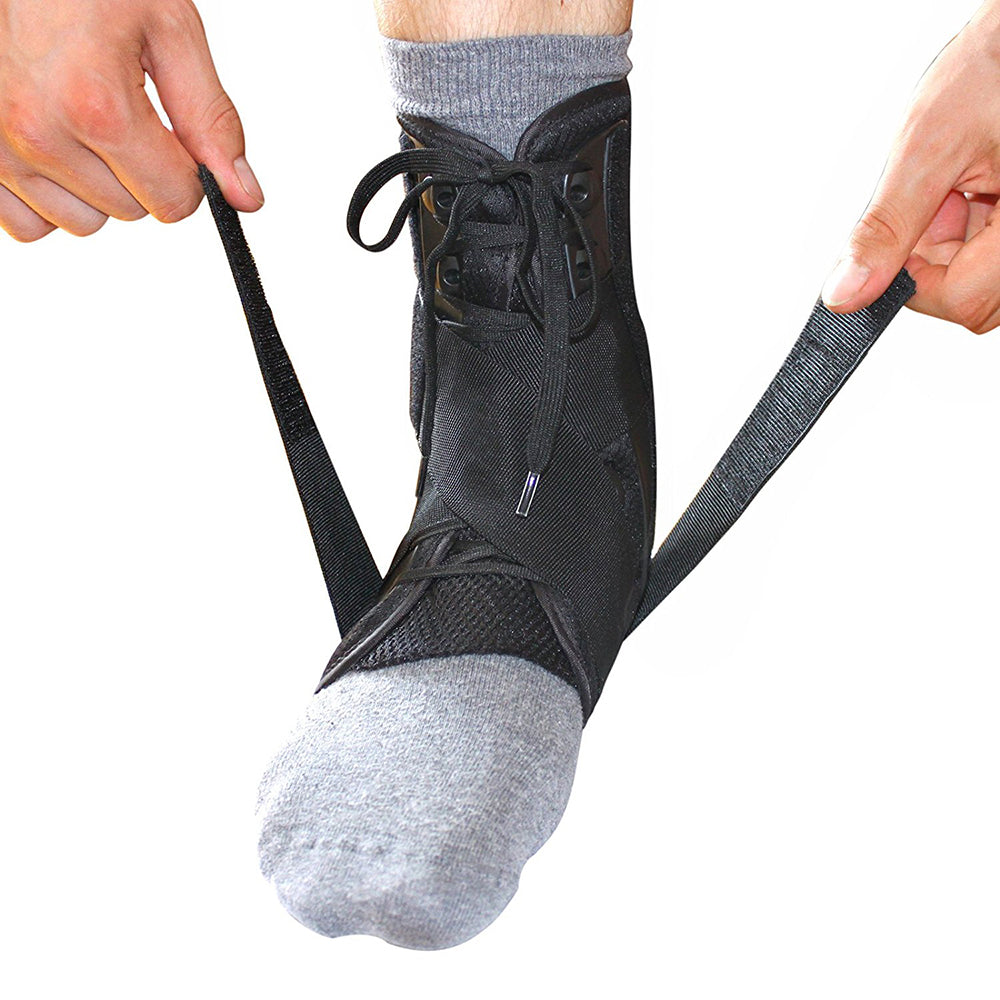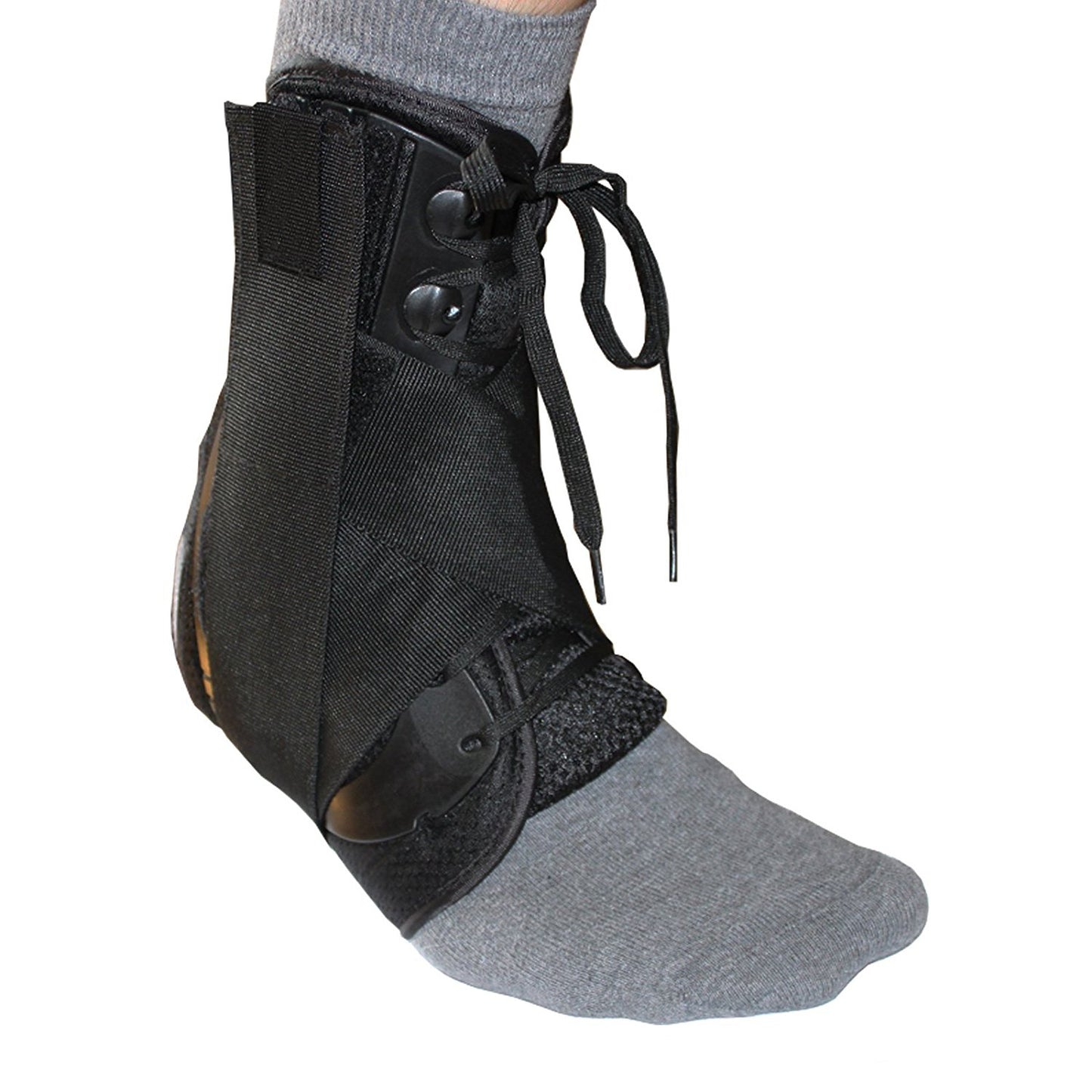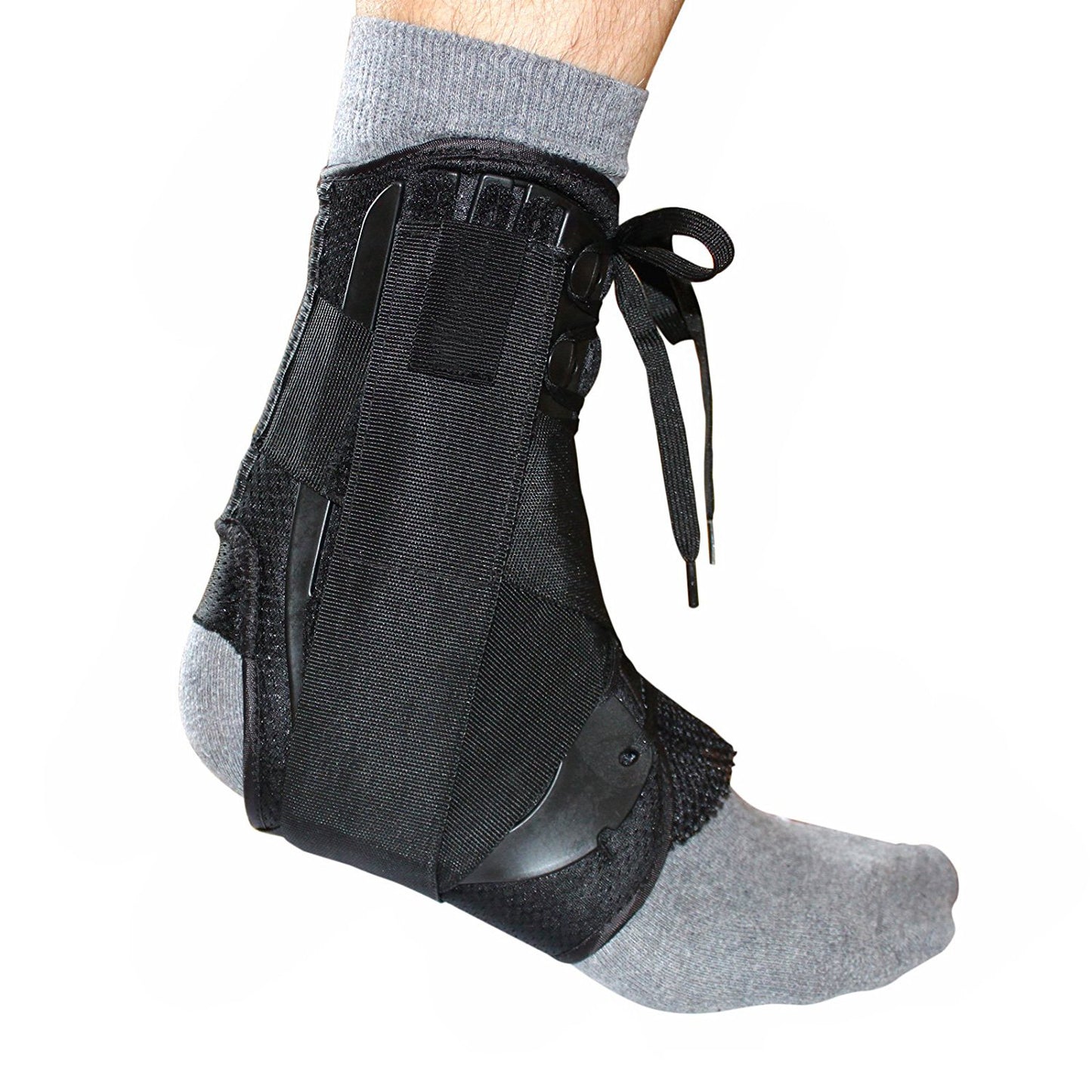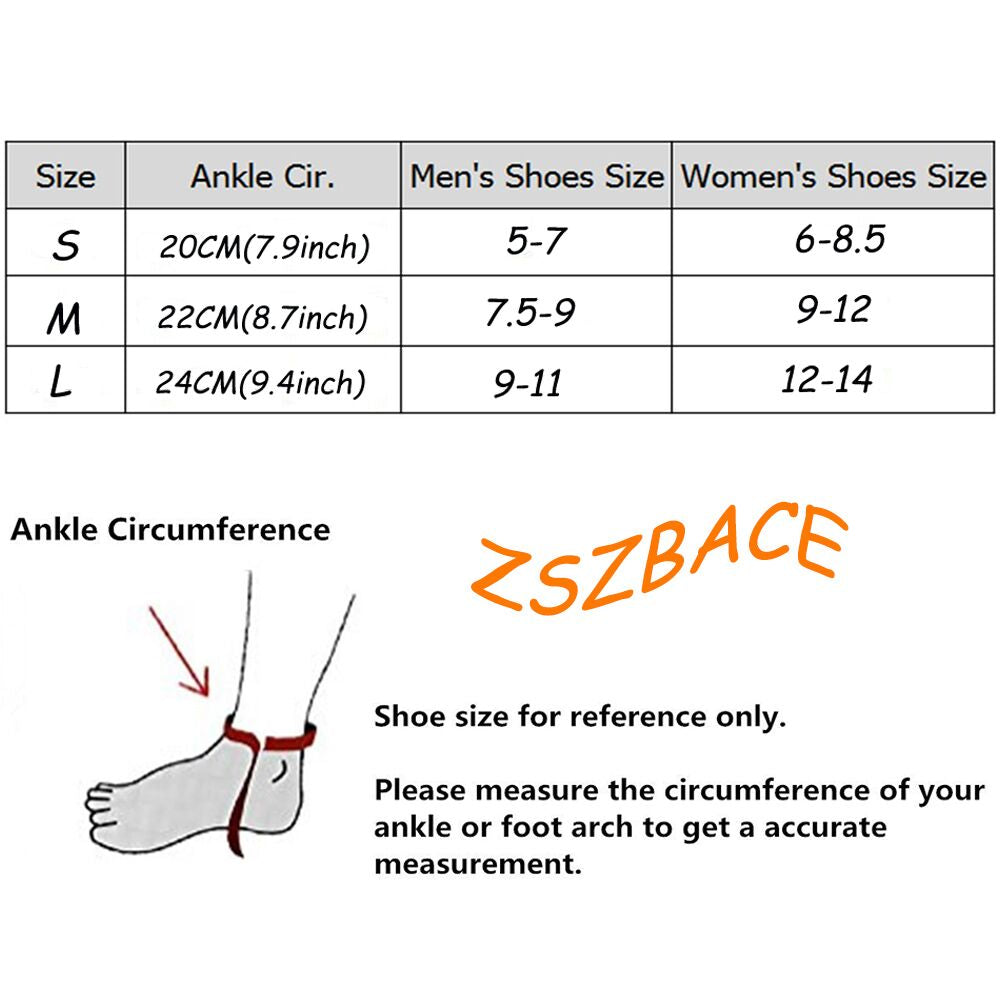 OUR PROMISE TO YOU!
Not 100% satisfied with the brace? No problem, we'll take it back and issue afull refund. No hidden charges.