Use the coupon code "happy" to get a $5 discount For Order Over $20
Regular price
$25.99 USD
Sale price
$17.99 USD
Unit price
per
Sale
Sold out
Or fastest
delivery Thursday December 07
Order within today
Shipping

Estimated delivery time:

United States: 3-5 working days
United Kingdom: 3-7 working days
South Africa: 6-12 working days
Canada: 5-12 working days
Ireland:6-12 working days
Australia: 5-11 working days
New Zealand: 4-9 working days

Rest of Europe: 4-11 working days
Albania, Austria, Belarus, Belgium, Bosnia, Bulgaria, Croatia, Czech Republic, Denmark, Estonia, Finland, France, Germany, Greece, Hungary, Iceland, Italy, Latvia, Lithuania, Luxembourg, Malta, Netherlands, Norway, Poland, Portugal, Romania,  Slovakia, Slovenia, Spain, Sweden, Switzerland, Ukraine

Asia: 6-12 working days
Hong Kong, Israel, Japan, South Korea, Thailand, Vietnam, Japan, Lebanon, Malaysia, Oman, Pakistan, Qatar, Saudi Arabia, Singapore, Taiwan, Turkey, United Arab Emirates

South/Central America: 6-12 working days
Chile, Colombia, Mexico


Please see checkout for shipping/delivery estimate. Easy Returns and Exchanges

Worldwide Express Air Shipping + Satisfaction Guaranteed!
Returns

We offer a 100% money-back guarantee. If you are not satisfied or your brace doesn't fit right, let us know and we will help you with our free returns and exchanges. We pay the return shipping. Your satisfaction is our top priority!
Wrist braces are for people who need protection and support for painful, swollen, or weak joints. They can relieve symptoms of carpal tunnel syndrome, arthritis, carpal tendonitis (De Quervain syndrome), fractures, sprains, and strains. What is the difference between a wrist splint and a wrist rest? The wrist splint or wrist brace has a lightweight metal palm bar that goes under the wrist and into the palm crease to prevent wrist flexion. The wrist splint is supported and held in a neutral position to reduce stress on the tendons. Wrist splints are ideal for conditions such as carpal tunnel syndrome, providing optimal support without compressing the median nerve and aggravating symptoms.
Wearers of the splint experience more restful sleep because the wrist does not bend, reducing pain and numbness.
A wrist rest or brace can be worn during activities that require full flexibility. From gardening to playing tennis, the Guard provides complete movement for the wearer's wrist as well as reliable support.

These braces have no metal splints and are supported by strong elastic straps that wrap around the wrist for proper compression. Which wrist rest is right for me? With so many different colors, materials or supported versions to choose from, it can seem challenging to find the version that works for you. Each type offers different levels of support and comfort, so it's important to consider the following:

Should I get a splint or support? It depends on the conditions. Often, splints can provide a higher level of support and speed up the healing process. It's ideal for nighttime use, but can be worn during the day, enabling you to carry out most of your daily activities. Wrist splints are ideal for conditions such as carpal tunnel syndrome, sprains or wrist tendonitis. The Wrist Support Guard is ideal for sports or activities that require full wrist flexibility.

- What material is the bracket made of? Neoprene, elastic, cotton and foam wrist rests are available.

- What type of fastening does the bracket have? The hook-and-loop strap supports brackets, which may vary in number from three to five. Personal preferences and medical requirements will influence your choices.

- Are the splints removable? All wrist splints have removable palm bars for easy cleaning.

- Is the stand beautiful? If you're going to wear the stand all day, decide which color or design you like best.

- What size ranges are there? Choosing the right size is key. Support should provide a happy balance of support and comfort. Supports come in a variety of sizes to ensure a custom fit. Measure your wrist circumference and use the size guide to help you

Can I wear a wrist brace day or night?

We strongly recommend that you speak with your doctor for diagnosis and advice on the use of any wrist rest. Depending on your condition, braces and splints can provide pain relief at night or during the day. People with carpal tunnel often wear a brace at night, when symptoms may be most severe, while other conditions may only worsen during activity.

Most everyday tasks can be performed while wearing a wrist splint, but for sports or activities that require full wrist flexibility, we recommend our range of wrist braces. Guards do not include metal palm bars.

Supported Best Practices and Care

- Regular hand wash and air dry support

- Avoid extreme activities that could put undue stress on their infrastructure.

- Remove the support one hour after first use to check the reaction to the material and make sure you are applying the correct pressure

- If you suffer from allergies, please call our team for advice.
- Gentle exercises can help. Talk to your doctor to see what's right for you.
- Replace your support when you see signs that it is no longer working.
- Do not wear the stand when it is no longer needed.

- The metal palm bar is designed to keep your wrist in a neutral position. It can be adjusted according to your personal requirements

- If pain, injury or condition persists, consult your doctor.
Elastic Supports
Elastic is our most breathable material and is best used for light support and compression of mild injuries.
Elastic is light enough to wear while exercising, working outdoors or performing any activity where staying cool is a priority.

Neoprene Supports

Neoprene is our most versatile material. Neoprene braces & splints deliver stronger support and mild heat retention for moderate injuries, strains and sprains.
Neoprene supports can be worn all day while remaining durable enough for months of use and reuse.
Share
View full details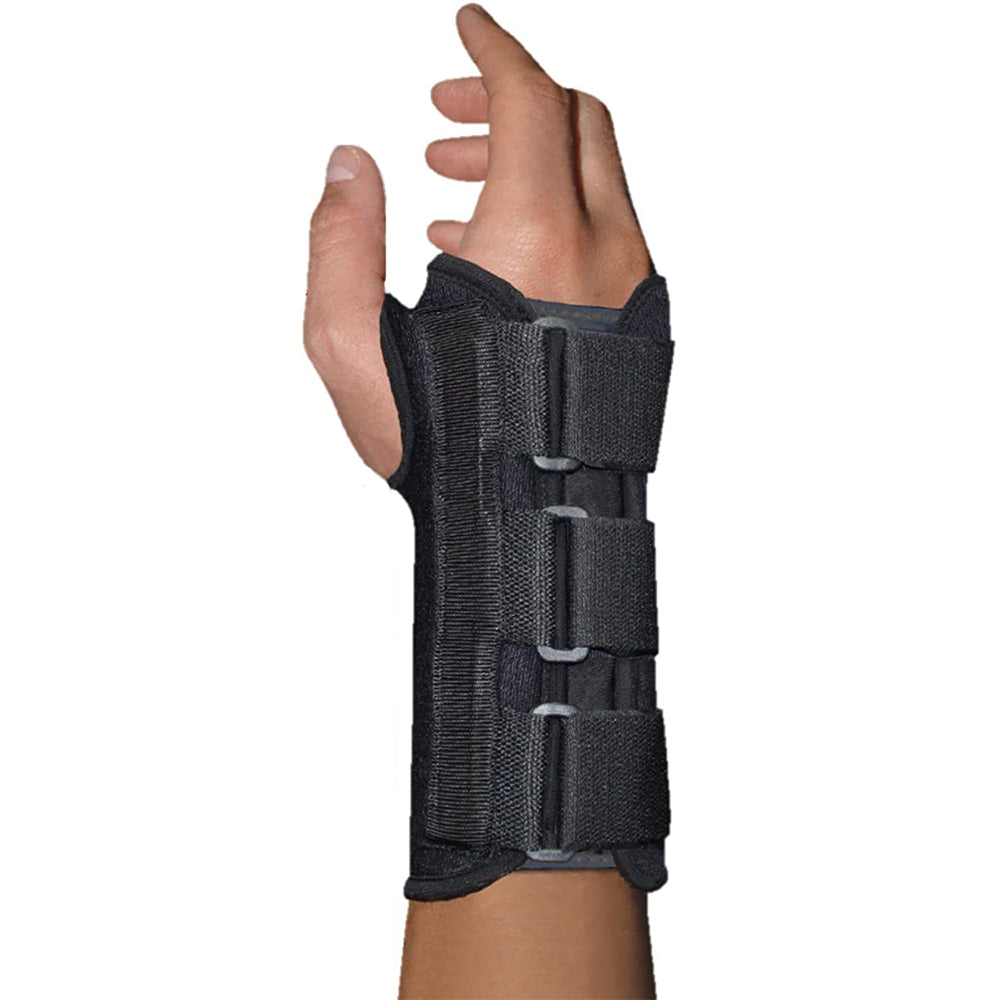 OUR PROMISE TO YOU!
Not 100% satisfied with the brace? No problem, we'll take it back and issue afull refund. No hidden charges.