Use the coupon code "happy" to get a $5 discount For Order Over $20
Regular price
$35.99 USD
Sale price
$23.99 USD
Unit price
per
Sale
Sold out
Or fastest
delivery Saturday September 30
Order within today
Shipping

Estimated delivery time:

United States: 3-5 working days
United Kingdom: 3-7 working days
South Africa: 6-12 working days
Canada: 5-12 working days
Ireland:6-12 working days
Australia: 5-11 working days
New Zealand: 4-9 working days

Rest of Europe: 4-11 working days
Albania, Austria, Belarus, Belgium, Bosnia, Bulgaria, Croatia, Czech Republic, Denmark, Estonia, Finland, France, Germany, Greece, Hungary, Iceland, Italy, Latvia, Lithuania, Luxembourg, Malta, Netherlands, Norway, Poland, Portugal, Romania,  Slovakia, Slovenia, Spain, Sweden, Switzerland, Ukraine

Asia: 6-12 working days
Hong Kong, Israel, Japan, South Korea, Thailand, Vietnam, Japan, Lebanon, Malaysia, Oman, Pakistan, Qatar, Saudi Arabia, Singapore, Taiwan, Turkey, United Arab Emirates

South/Central America: 6-12 working days
Chile, Colombia, Mexico


Please see checkout for shipping/delivery estimate. Easy Returns and Exchanges

Worldwide Express Air Shipping + Satisfaction Guaranteed!
Returns

We offer a 100% money-back guarantee. If you are not satisfied or your brace doesn't fit right, let us know and we will help you with our free returns and exchanges. We pay the return shipping. Your satisfaction is our top priority!
Do you shake or rub your palms or joints after long daily activities? Are there swelling and stiffness in the hands and fingers? Are you tired of persistent pain caused by arthritis or other chronic pain?
You need to use Copper Arthritis Gloves to get help to relieve hand pain and swelling. Compression Gloves can not only promote blood circulation throughout the hands and reduce the tension of hand muscles. Copper Gloves can also help women and men with rheumatoid arthritis, osteoarthritis, rheumatism and carpal tunnel syndrome.
How do copper compression gloves work?

Copper compression gloves are designed to put pressure on the muscles of the hand to reduce pain and improve mobility. They combine the firmness and warmth of compression gloves with the healing power and anti-inflammatory properties of copper to improve the lives of people with stiff joints, damaged muscles, limited mobility, or pain in the hands and fingers.
Made from copper-infused fabric, these compression gloves not only help reduce pain, swelling, and stiffness, they also stimulate oxygen delivery in sore muscles and promote better blood flow in inflamed joints. These copper-infused gloves also reduce inflammation, provide support and help speed recovery while reducing pain.

Why are copper compression gloves great for everyday use?

The Copper Compression Gloves are lightweight and breathable for a full range of motion during daily activities, making them very comfortable for everyday use. Their antibacterial and antifungal properties protect you from viral diseases, infection-causing bacteria, and harmful bacteria like Staphylococcus and E. coli. They also help reduce the effects of chronic pain while keeping hands soft and warm.

We what are the Benefits and Features of Copper Injection Compression Gloves?

1:Our Copper Arthritis Compression Gloves are injected with more copper to provide pressure for the hands, and the rubber anti-skid strip on the surface increases the anti-slip property.
2:The third picture shows that our compression gloves are not only longer than ordinary gloves, but the fingerless copper glove design can also provide a better range of motion
3:The spandex fabric added to our Arthritic Copper Gloves is not only elastic, washable, but also hygroscopic and breathable. Compression Gloves can provide compression to your hands and keep your hands dry when you sweat during housework.
-You can wear arthritis copper gloves every day to relieve your symptoms.
6 Health Conditions That Using Copper Compression Gloves Can Help

If you've been silently suffering from any of the following serious ailments, Copper Compression Gloves will wake you up from the pain and ready to work better!
Raynaud's syndrome

If you have cold hands and numb fingers all winter, you may have Raynaud's syndrome. An estimated 1 in 6 people in the UK have Raynaud's disease

syndrome, most of which are women in their 20s, 30s or 40s. The symptoms of Raynaud's syndrome are not very obvious, so they are often mistaken for a normal response to cold weather, but they can become painful and last longer over time. While there is no cure for the condition, you can avoid frequent flare-ups and reduce their recurrence by using copper pressure gloves. Compression gloves can effectively regulate body temperature, help blood circulation, and help prevent cramps caused by cold weather, ensuring your hands feel warm and remain pain-free without any invasive treatments or medications.

Elle Danlos syndrome

If you suffer from joint hypermobility, you may experience frequent injuries, pains, and dislocations—all of which can make your daily routine painful and tedious. Copper compression gloves can help stabilize your condition, relieve your pain, and reduce your discomfort by providing support for unstable joints and holding them together.

Rheumatoid Arthritis

In the UK, more than 10 million adults see their GP for arthritis or arthritis-related conditions. This is divided into 6 million women and 4 million men. In rheumatoid arthritis, pain first, followed by stiffness and swelling, can limit movement and make your daily life difficult. Copper Compression Gloves for Rheumatoid Arthritis are designed to provide compression to the painful joints of your wrists, hands and fingers, making your daily life easy and pain free. These gloves also offer a fingerless design to promote a full range of motion, so you can easily complete all your tasks, whether brushing your hair or working on your laptop.

Fibromyalgia and hand pain

Fibromyalgia Hand pain affects the nerves and tendons in the extremities and becomes noticeable when you pick up items, open a card door, or carry shopping bags. It may feel like a sensation at first, but it gradually radiates to the ligaments and surrounding joints in the wrist, forearm, and shoulder, causing weakness in the hand. Wearing copper-dipped gloves can help prevent cold hands, stimulate circulation, and reduce swelling that restricts activity. While the copper infused in these gloves reduces inflammation, the gentle compression is effective in reducing muscle pain and preventing it from disrupting your sleep.

Hand edema or swelling from burns, fractures, or surgery

Edema, also known as hand edema syndrome, usually begins with thickening of the subcutaneous skin and eventually leads to fibrosis, inflammation, vein damage, and skin ulcers. If you want to get out of this situation, you'll need to make some lifestyle changes, such as drinking more water, doing retrograde massages, limiting salt intake, and wearing compression gear. Breathable, lightweight copper-plated gloves provide soothing warmth and comfortable comfort to your stiff and swollen palms, fingers and upper extremities, accelerating the natural healing process.

Carpal tunnel

Carpal tunnel is a downright painful and frustrating condition, with a range of symptoms that only develop when pressure is placed on the median nerve. Typical symptoms that accompany carpal tunnel syndrome include occasional tingling, finger pain, inflammation, numbness, and discomfort when moving the hands. Carpal Tunnel Compression Gloves are a convenient and comfortable way to relieve your pain symptoms and resume your daily life without any discomfort. Designed for all-day wear, these copper-dipped gloves effectively relieve pressure on the median nerve, control joint pain and reduce stiffness by promoting better blood flow and keeping hand muscles warm and supported. Superior comfort and self-cleaning properties make it an excellent alternative to invasive procedures and over-the-counter corticosteroids.

SIZE

Choose from 3 different sizes to ensure maximum comfort, no matter your hand's shape and size. Measure your palm with a tape measure or ruler, then use the chart to determine whether a small, medium, or large.
CARE

For longest life machine wash on a cold Delicate cycle and tumble dry with low heat.
Share
View full details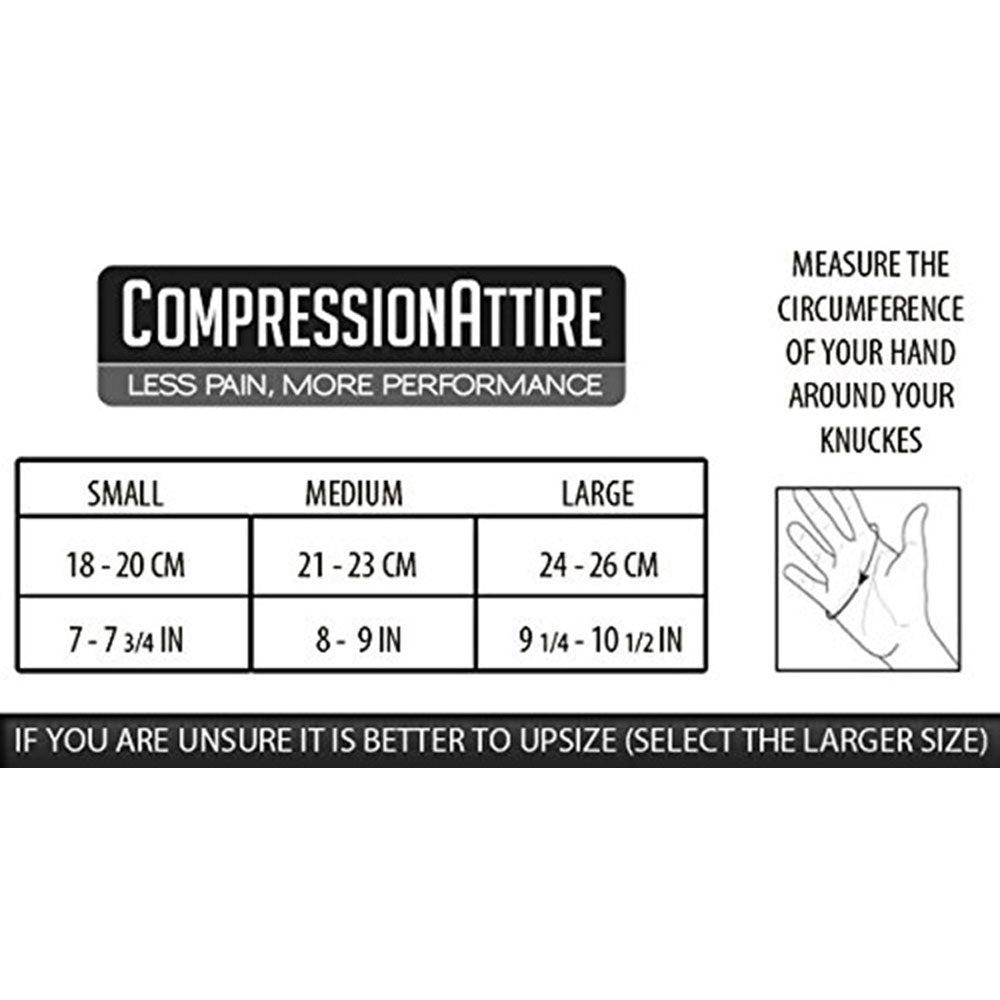 OUR PROMISE TO YOU!
Not 100% satisfied with the brace? No problem, we'll take it back and issue afull refund. No hidden charges.