Use the coupon code "happy" to get a $5 discount For Order Over $20
Regular price
$20.99 USD
Sale price
$20.99 USD
Unit price
per
Sale
Sold out
Or fastest
delivery Saturday September 30
Order within today
Shipping

Estimated delivery time:

United States: 3-5 working days
United Kingdom: 3-7 working days
South Africa: 6-12 working days
Canada: 5-12 working days
Ireland:6-12 working days
Australia: 5-11 working days
New Zealand: 4-9 working days

Rest of Europe: 4-11 working days
Albania, Austria, Belarus, Belgium, Bosnia, Bulgaria, Croatia, Czech Republic, Denmark, Estonia, Finland, France, Germany, Greece, Hungary, Iceland, Italy, Latvia, Lithuania, Luxembourg, Malta, Netherlands, Norway, Poland, Portugal, Romania,  Slovakia, Slovenia, Spain, Sweden, Switzerland, Ukraine

Asia: 6-12 working days
Hong Kong, Israel, Japan, South Korea, Thailand, Vietnam, Japan, Lebanon, Malaysia, Oman, Pakistan, Qatar, Saudi Arabia, Singapore, Taiwan, Turkey, United Arab Emirates

South/Central America: 6-12 working days
Chile, Colombia, Mexico


Please see checkout for shipping/delivery estimate. Easy Returns and Exchanges

Worldwide Express Air Shipping + Satisfaction Guaranteed!
Returns

We offer a 100% money-back guarantee. If you are not satisfied or your brace doesn't fit right, let us know and we will help you with our free returns and exchanges. We pay the return shipping. Your satisfaction is our top priority!
Sports Compression Knee Brace benefits include pain-relieving exercise. Knee braces are one of the supports I recommend for an active lifestyle so you can get out of the cycle of pain, lose weight, and further reduce the load on your joints.
The knee is particularly vulnerable to pain, injury, and arthritis—especially osteoarthritis, rheumatoid arthritis, and post-traumatic arthritis. Today, osteoarthritis is not just a disease that affects older people. The proportion of young adults with symptoms is increasing, including those who lead a sedentary lifestyle or engage in high-intensity exercise. Obesity, worn ligaments, cartilage loss and injuries - all contribute to the onset of arthritis.

How joints benefit from exercise

Knee Compression Sleeves While there is no cure for arthritis, staying active keeps the muscles around the affected joint strong and helps control joint swelling and pain. Studies have shown that exercise can also reduce bone loss and even reverse age-related bone loss.
However, when you have joint pain and stiffness, the last thing you want to do is exercise. But limiting your activity level to avoid knee pain will only make things worse. You start to gain weight, put more pressure on your joints and experience more pain. It becomes a vicious circle.

Wearing Knee Compression Sleeves can help you break the cycle and get back to enjoying your favorite sports with less soreness.

How do Sports Compression Knee Brace work?

Knee compression sleeves are designed to protect the knee from the risk of future injury or damage. For severe instability or injury, knee braces are not sufficient and you may need to discuss knee braces with your doctor. However, knee compression sleeves can help:
Provide pressure (not too tight) - improve blood flow and reduce pain,




Prevent body heat loss - help the recovery process,

improve stability

Improved proprioception - the ability to feel the position of joints, and

Increase your range of motion.
With better blood flow, your synovial membrane provides a steady supply of nourishing oxygen and nutrients, and synovial fluid lubricates your joints.
The role of weight loss in joint pain

Improves Your Performance
- Keeps your muscles in place, reduce muscles fatigue.
- Graduated compression improves blood flow and reduces blood lactates
- Powerful and flexible
- Glides over your leg and hugs your knee area to improve performance during sports or everyday activities.
Reduces the Risk of Injury

- Promotes faster muscle warm up
- Minimizes muscle oscillation and micro-tearing
- Graduated compression reduces risk of deep vein thrombosis or blood clots
- Increased Stability and Improves Alignment
Helps You Recover Faster

- Helps speed up recovery time after surgery
- Reduces swelling and fatigue
- Helps relieve muscle pain
- Reduce feelings of heaviness and tiredness in the knee
- Increases Circulation
How to properly wear knee pads for exercise and support

Choose the right size comfortable knee sleeve. Don't choose knee sleeves that are too tight. In rare cases, knee braces that are too tight can constrict blood vessels or nerves. Consult your doctor, especially if you have diabetes.
Keep your knee sleeves in shape when washing your hands and avoid overstretching.

Put on your specific knee brace according to the manufacturer's instructions. Everyone has their own recommended technique, and the widest part of the sleeve should be above the knee.

Wear knee sleeves during and after activities. The researchers found that people who wore knee braces within 24 hours of exercising experienced significantly less pain on the second day and slightly increased performance on the second day.
Share
View full details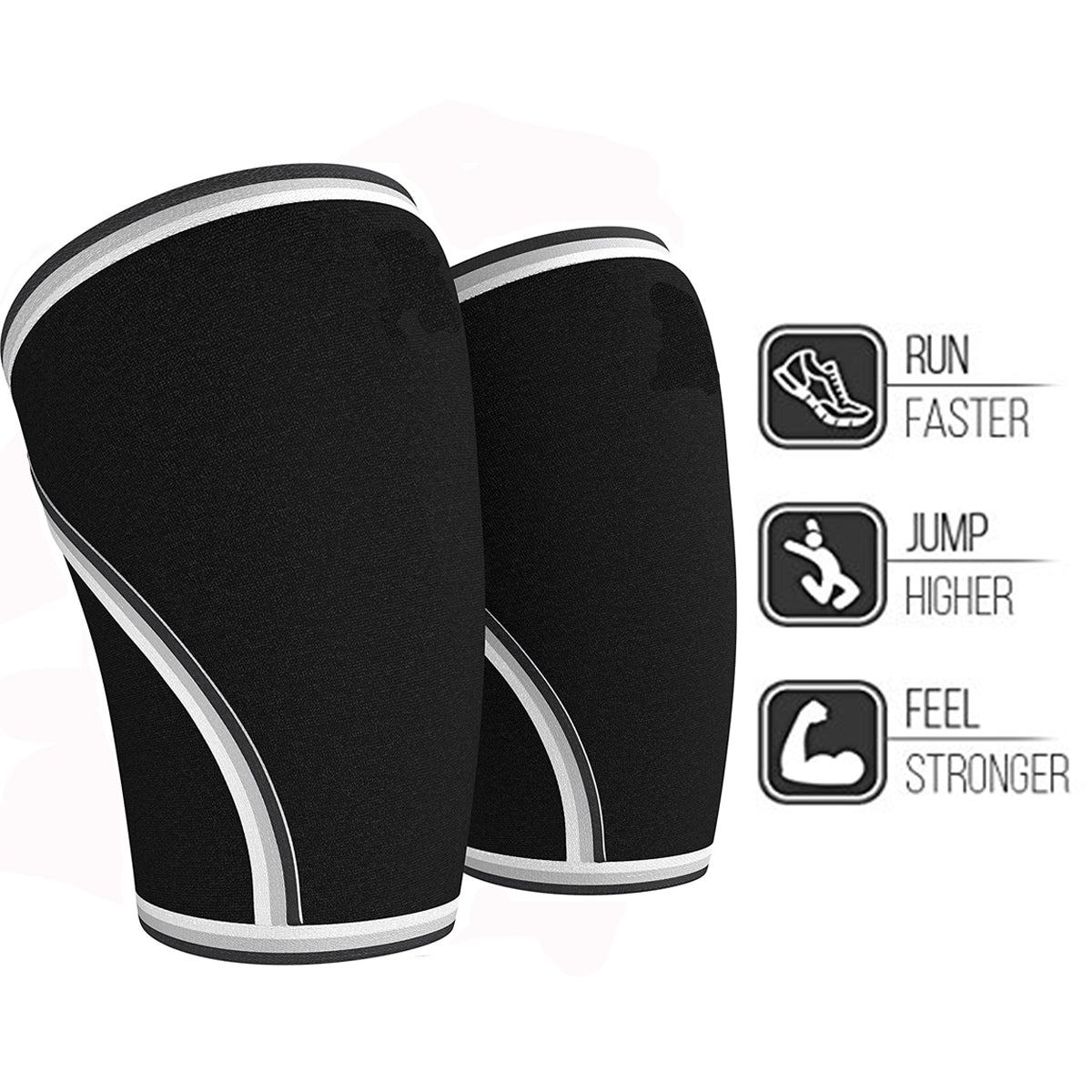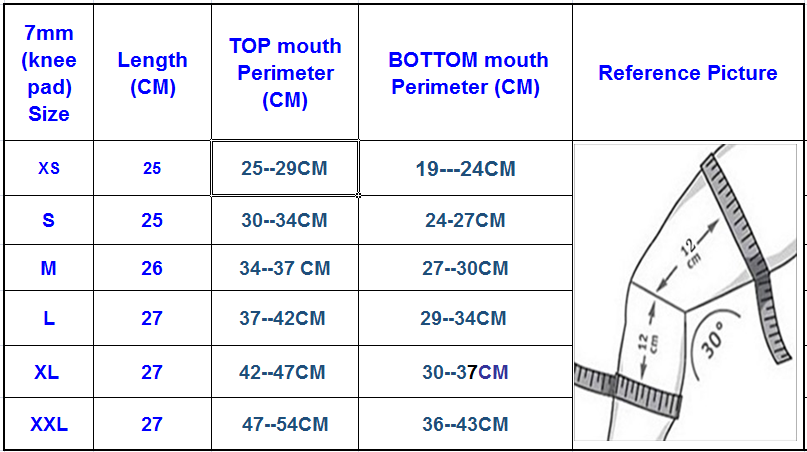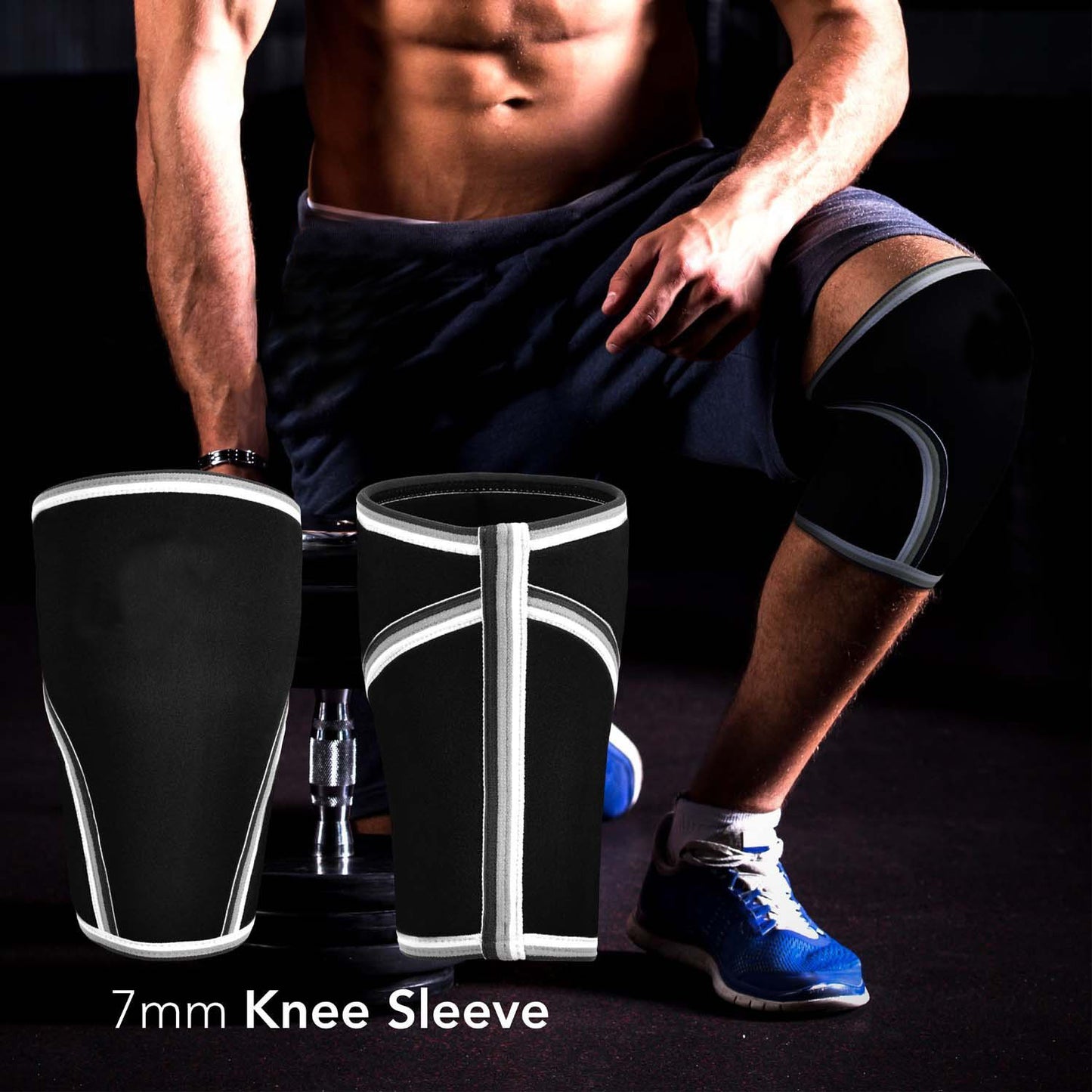 OUR PROMISE TO YOU!
Not 100% satisfied with the brace? No problem, we'll take it back and issue afull refund. No hidden charges.