Use the coupon code "happy" to get a $5 discount For Order Over $20
Regular price
$32.99 USD
Sale price
$20.99 USD
Unit price
per
Sale
Sold out
Or fastest
delivery Saturday October 07
Order within today
Shipping

Estimated delivery time:

United States: 3-5 working days
United Kingdom: 3-7 working days
South Africa: 6-12 working days
Canada: 5-12 working days
Ireland:6-12 working days
Australia: 5-11 working days
New Zealand: 4-9 working days

Rest of Europe: 4-11 working days
Albania, Austria, Belarus, Belgium, Bosnia, Bulgaria, Croatia, Czech Republic, Denmark, Estonia, Finland, France, Germany, Greece, Hungary, Iceland, Italy, Latvia, Lithuania, Luxembourg, Malta, Netherlands, Norway, Poland, Portugal, Romania,  Slovakia, Slovenia, Spain, Sweden, Switzerland, Ukraine

Asia: 6-12 working days
Hong Kong, Israel, Japan, South Korea, Thailand, Vietnam, Japan, Lebanon, Malaysia, Oman, Pakistan, Qatar, Saudi Arabia, Singapore, Taiwan, Turkey, United Arab Emirates

South/Central America: 6-12 working days
Chile, Colombia, Mexico


Please see checkout for shipping/delivery estimate. Easy Returns and Exchanges

Worldwide Express Air Shipping + Satisfaction Guaranteed!
Returns

We offer a 100% money-back guarantee. If you are not satisfied or your brace doesn't fit right, let us know and we will help you with our free returns and exchanges. We pay the return shipping. Your satisfaction is our top priority!
ZSZBACE Sports Compression Knee Brace: 5 Best Features and Benefits
Accelerated recovery
This knee brace improves your overall mobility due to increased blood flow and delivery of more oxygen to the targeted area. While staying mobile, you'll promote accelerated recovery, get you up quicker, and keep you up longer!
Durable

Users are highly satisfied with the overall quality of this running knee pad. Whether it's for preventive measures, recovery treatments, or just to increase stress, its strong activated charcoal supports you for longer.
Elastic Bamboo Charcoal

zszbace's signature blend fabric is embedded with semiconductor elements for effortless comfort and exceptional durability. Thanks to its 3D woven design, this fitted recovery sleeve offers easy comfort and is ideal for anyone who is uncomfortable with circulation issues, sports-related injuries or other knee conditions.
Odor and moisture wicking

This bamboo stand features anti-bacterial, odor-absorbing and moisture-wicking technologies to ensure you stay cool and odor-free during your active lifestyle. Designed with an active lifestyle in mind, this comfortable, lightweight support will bring you back to life.
Promotes natural healing

This compression brace is made from a flexible, lightweight material that promotes natural healing. No extra padding, buckles or straps to interfere with the natural positioning of the knee.
Incredible Sports Knee Sports Support

Knee injuries are fairly common when playing sports, athletics, or physical activity, so it's important to protect your knee from injury or re-injury. Wearing protective clothing with knee pads and braces is the most common way to keep knee injuries safe. Knee braces are the ideal sports support for sports enthusiasts, athletes or people with an active lifestyle who want excellent knee protection or effective treatment of minor knee injuries caused by physical activity. The Knee Pad is a great basketball knee pad, soccer knee pad, runner's knee compression sleeve, and more!
Sports knee pads are made with lightweight bamboo compression material for all-day comfort and ventilation

This comfortable compression knee brace can be used to help relieve pain and provide protection for a variety of conditions and injuries. Athlete or not, can be used for many reasons outside of sports, such as:
knee arthritis




exercise overuse

repeated use damage

knee sprain

tendonitis

joint pain

ligament injury
Not sure if this is right for your pain? Take our product recommendation quiz and better understand which support is best for you.
How will this sleeve relieve my knee pain from exercise?

Exercising, playing contact sports, and staying active can all contribute to a range of knee injuries and pain. Using this sporty knee brace ensures you not only reduce knee soreness, but also prevent further injury as you recover and begin to regain strength. This sleeve reduces any swelling and provides stability and extra support when needed. If you need more support, we have a wide range of knee pads, knee pads and braces. Check out our line of sports knee pads for more options.
Frequently Asked Questions about Fitness Knee Pads

What conditions/injuries can knee braces treat? Use this compression sleeve to treat various knee pains such as arthritis, tendonitis, knee strains or sprains, joint pain, ligament injuries, sports support, recovery compression and other knee injuries.

Who can wear it? Available in sizes up to 3XL, this lightweight knee sleeve fits a variety of men and women.

What should I wear? Simply slide your foot over the top of the brace and slide it up onto your leg until the sleeve is centered on your knee.

How do I know what size to buy? Using a soft tape measure, sit in a chair with your legs straight forward. Measure the circumference of the leg 4.5 inches above the middle of the patella. For the most accurate measurements, we recommend getting a close family member or friend to help you. Please refer to the size chart in the photo above to choose the right size.

Can I wear this brace on my pants? We do not recommend wearing this brace over pants. To experience activated charcoal compression, the brace should fit snugly against your skin. If pants are needed, try a pair of compression leggings.

When should I wear it? This lightweight knee sleeve can be worn comfortably throughout the day while sitting, standing and exercising.

What material is this bracket made of? Made from a blend of 49% polyester, 25% nylon, 21% cotton and 5% spandex.

How tall is this stand? This stand is 12 inches tall.

Washing Instructions: We recommend hand washing this knee pad in warm water with a mild detergent, then lay flat to air dry completely before reapplying.

Color: black



Share
View full details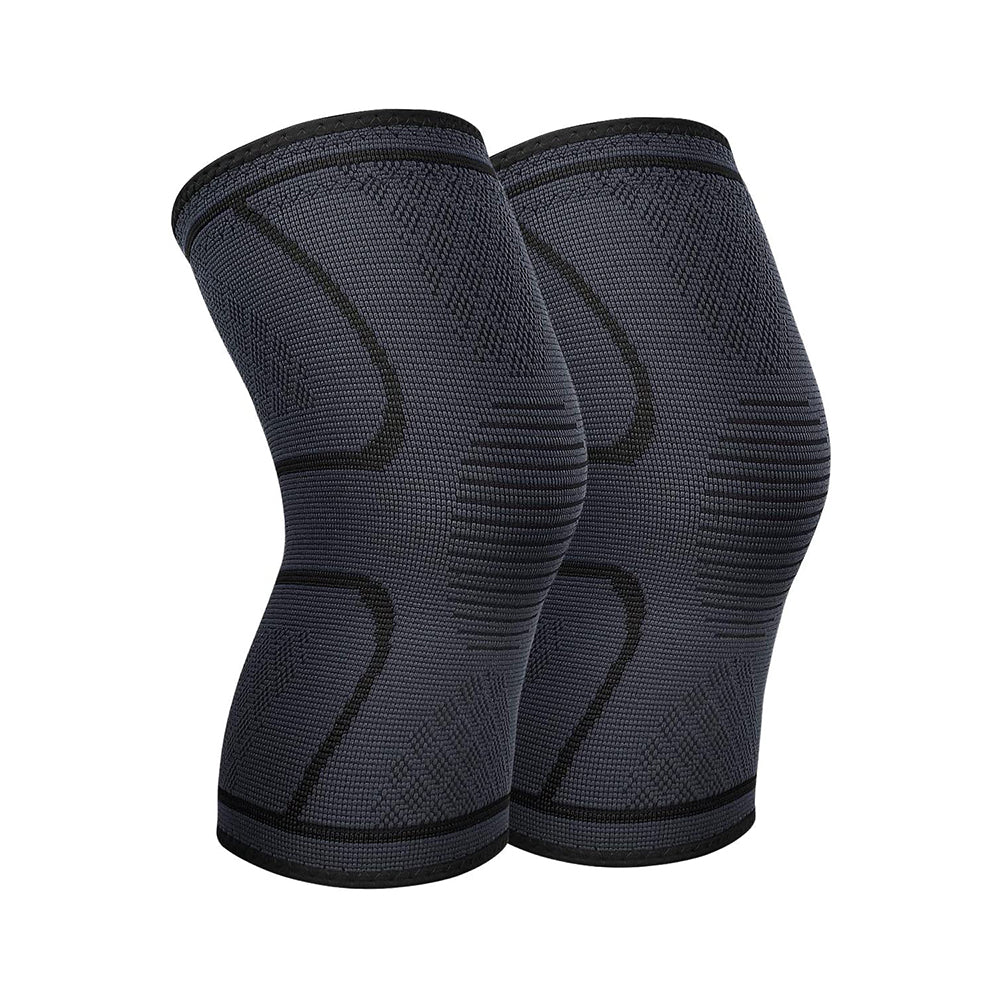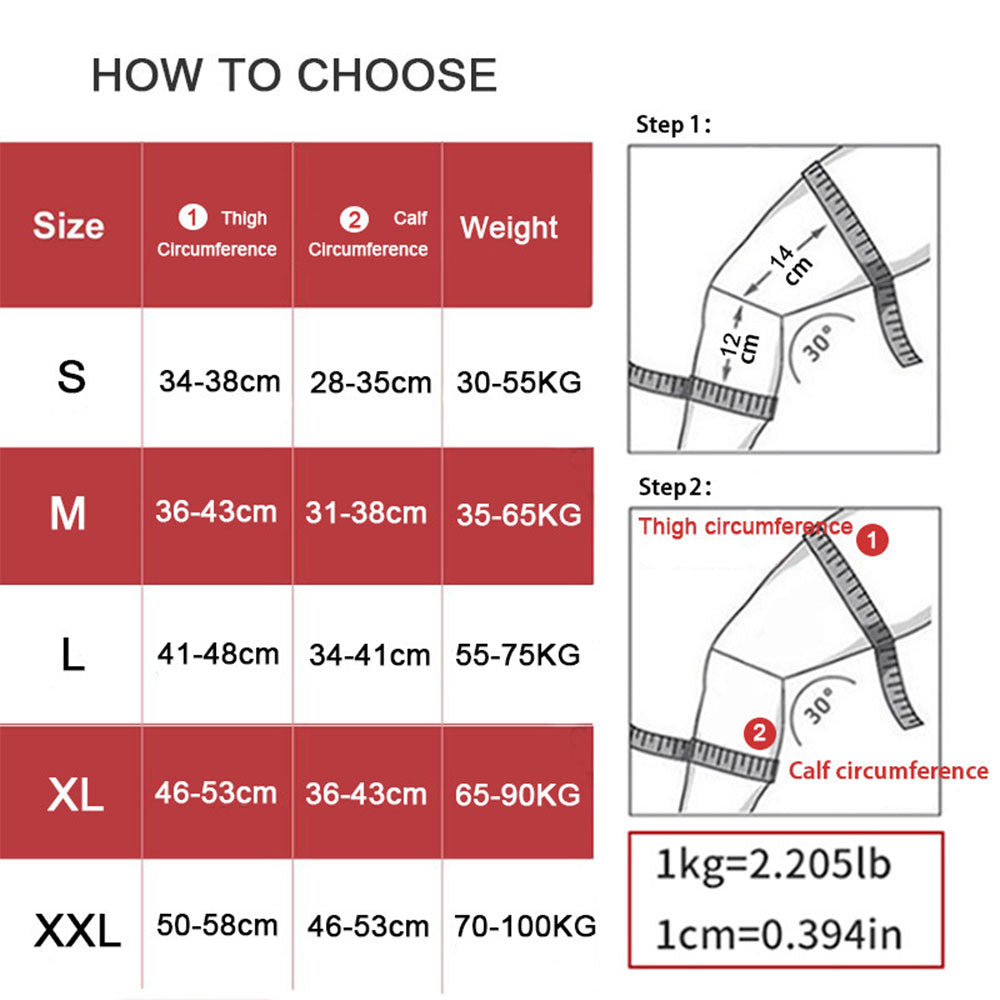 OUR PROMISE TO YOU!
Not 100% satisfied with the brace? No problem, we'll take it back and issue afull refund. No hidden charges.