Use the coupon code "happy" to get a $5 discount For Order Over $20
Regular price
$109.00 USD
Sale price
$79.00 USD
Unit price
per
Sale
Sold out
Or fastest
delivery Saturday September 30
Order within today
Shipping

Estimated delivery time:

United States: 3-5 working days
United Kingdom: 3-7 working days
South Africa: 6-12 working days
Canada: 5-12 working days
Ireland:6-12 working days
Australia: 5-11 working days
New Zealand: 4-9 working days

Rest of Europe: 4-11 working days
Albania, Austria, Belarus, Belgium, Bosnia, Bulgaria, Croatia, Czech Republic, Denmark, Estonia, Finland, France, Germany, Greece, Hungary, Iceland, Italy, Latvia, Lithuania, Luxembourg, Malta, Netherlands, Norway, Poland, Portugal, Romania,  Slovakia, Slovenia, Spain, Sweden, Switzerland, Ukraine

Asia: 6-12 working days
Hong Kong, Israel, Japan, South Korea, Thailand, Vietnam, Japan, Lebanon, Malaysia, Oman, Pakistan, Qatar, Saudi Arabia, Singapore, Taiwan, Turkey, United Arab Emirates

South/Central America: 6-12 working days
Chile, Colombia, Mexico


Please see checkout for shipping/delivery estimate. Easy Returns and Exchanges

Worldwide Express Air Shipping + Satisfaction Guaranteed!
Returns

We offer a 100% money-back guarantee. If you are not satisfied or your brace doesn't fit right, let us know and we will help you with our free returns and exchanges. We pay the return shipping. Your satisfaction is our top priority!
If you're suffering from sciatica pain and discomfort, compression can help alleviate your symptoms. Sciatica pain often originates from your lower back, even if you feel it in your legs and buttocks. That's why wearing a brace that applies pressure and compression to your lumbar back region is important. This brace is designed to be used with hot and cold therapy, as it has a pocket for hot and cold packets. Here are some more features of the brace:
Provides support and compression to the lower spine, helping to alleviate a pinched nerve.
Features double pull tension straps that can be easily tightened or loosened for your desired level of compression.
The brace is lightweight, thin, and customizable to your body shape, making it comfortable to wear over or underneath your clothing. You can wear it day or night, during work or activities like walking or working out at the gym.
Includes a pocket for hot or cold therapy gel inserts, which can help reduce inflammation and relieve pain. The gel insert stays flexible and conforms to your body shape.
If you have sciatica pain, a compression brace can help reduce discomfort. The pain often originates in your lower back, even if you feel it in your legs or buttocks. Wearing a brace that provides compression is important. This particular brace is also designed with a pocket for hot and cold packs to help with therapy.

You can also buy an additional pressure pad to enhance the compression therapy. These inserts are sold separately.

The brace comes in a wide range of sizes, from small to 4XL plus size, to fit various hip and waist circumferences.

Sciatica is not a diagnosis on its own, but rather a term used to describe leg pain that comes from an underlying issue, such as a pinched nerve in the lower back. The pinched nerve can be caused by conditions such as herniated or degenerated discs, spondylolisthesis, or spinal stenosis.

The lumbar brace can help alleviate the pain and realign the spine, reducing inflammation and providing stability. Symptoms of severe sciatica pain can include constant chronic pain, pain when sitting down, tingling, numbness, or a burning sensation in the leg, and sharp pain making it difficult to stand up or walk.
Sciatica is leg pain caused by problems in the lower back. There are some natural home remedies that can help ease the discomfort from sciatica, such as hot/cold therapy, low to moderate exercises, stretching and yoga, physical therapy, and rest. BraceAbility has a variety of braces that can also help relieve sciatica pain.
If you're considering using a back brace to relieve sciatica pain, here are some frequently asked questions about BraceAbility's sciatica pain relief brace:
What conditions or injuries does this brace treat? It can help with lower back pain, muscle strains, tears or pulls, bulging or herniated discs, scoliosis, sciatica, spondylolisthesis, and hip pain. It can also help morbidly obese people who experience excess pain in their lower back.
How does it work? The brace is designed to provide support to the lower back and abdomen, easing mild to chronic back pain.
When should I wear it? You can wear it all day, including while sleeping, if advised by your doctor. Make sure to speak with a medical professional before wearing any brace for an extended amount of time.
Who can wear this brace? Both men and women of all ages can benefit from this lower back belt. Pregnant women can also wear it as long as their doctor approves and their belly does not exceed the size limit.
How do I choose the right size? Measure the circumference around your belly button using a soft, flexible tape measure. The brace accommodates large waists and fits wide belly button circumferences up to 86 inches.
How do I put it on? Lay the brace flat on the floor and identify the top side. The top has a pocket opening that allows you to insert a compatible pressure pad or cold/hot therapy gel pack. Position the brace behind your body, centered on your back with the bottom of the brace sitting at the widest part of your hips. Fold the left and right sides towards the middle of your stomach and secure the closures. Adjust the double-pull tension straps for your desired compression level.
How do I wash it? Remove the pressure pad or gel pack and hand wash in warm water with mild detergent. Air dry completely before reapplying.
The brace is flexible, comfortable, and ideal for bedtime. It fits both average and overweight or morbidly obese men and women. The provided compression stimulates healing and reduces inflammation.
Share
View full details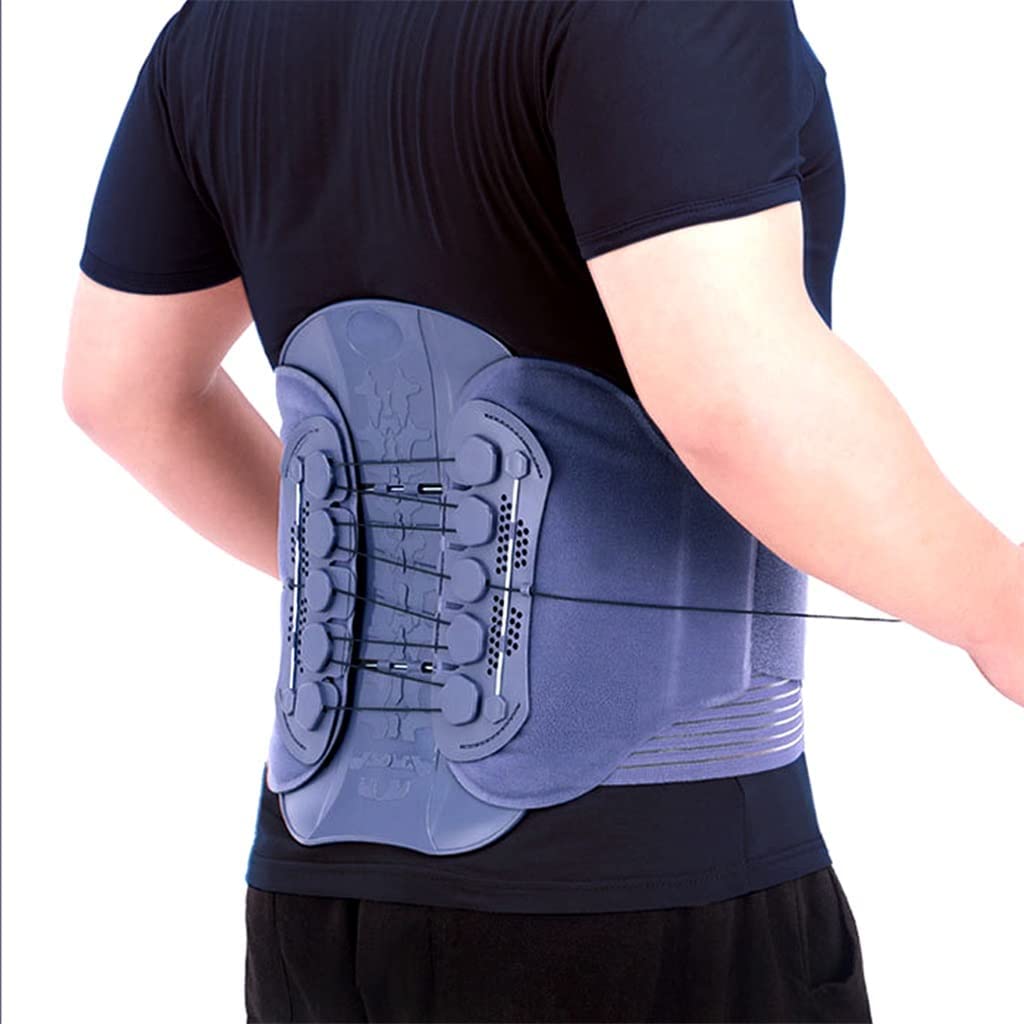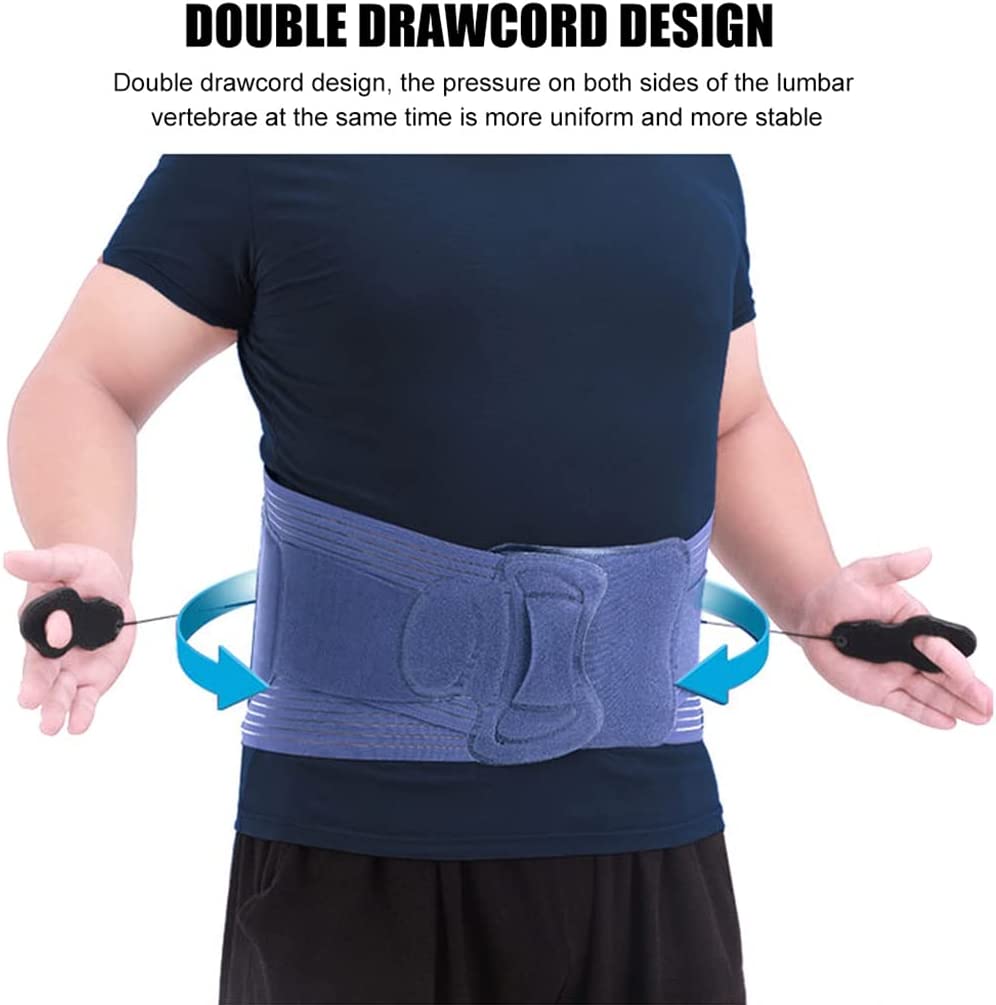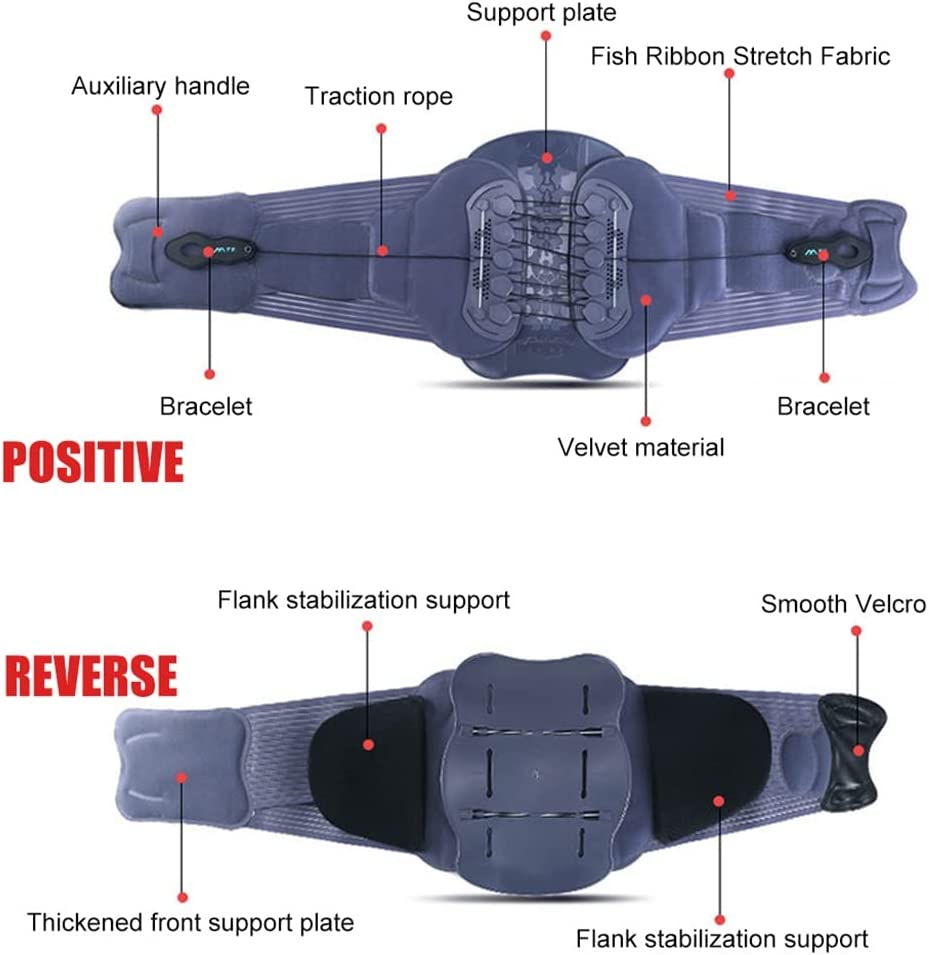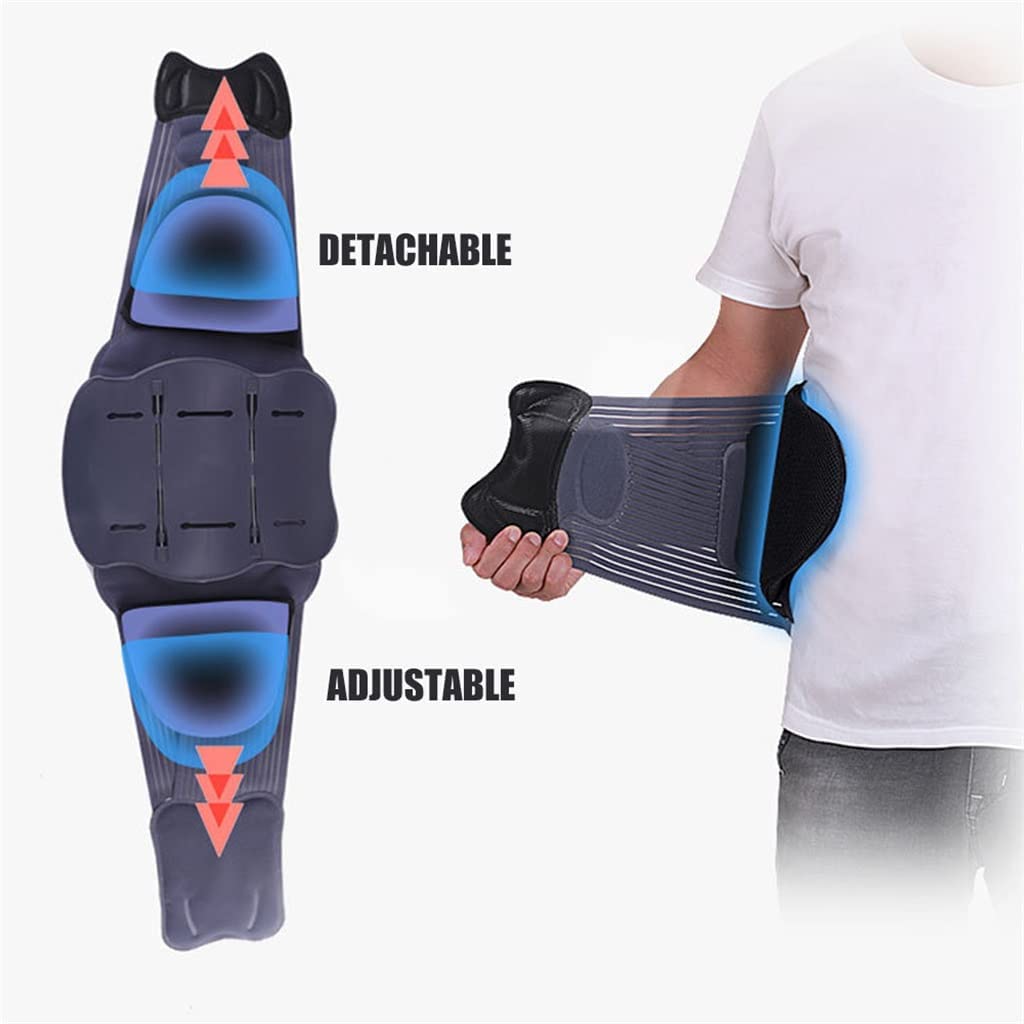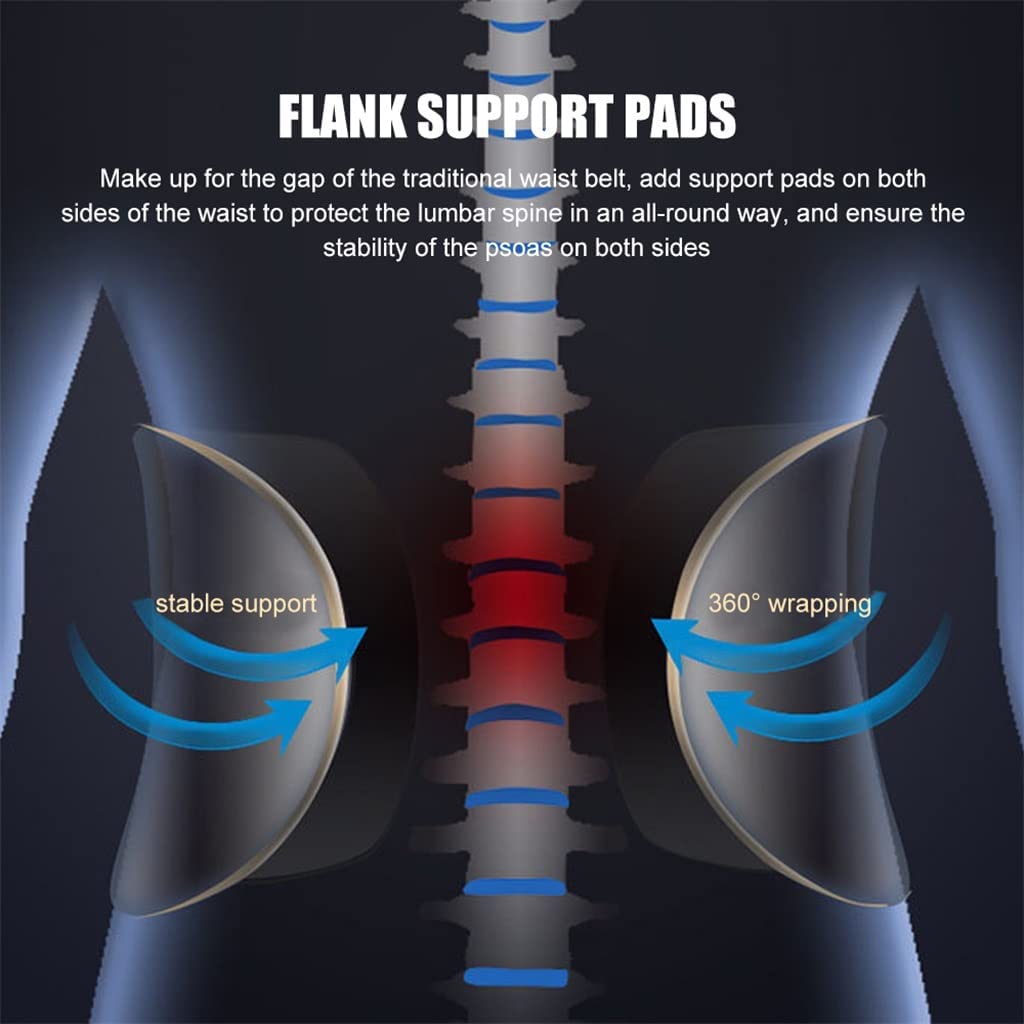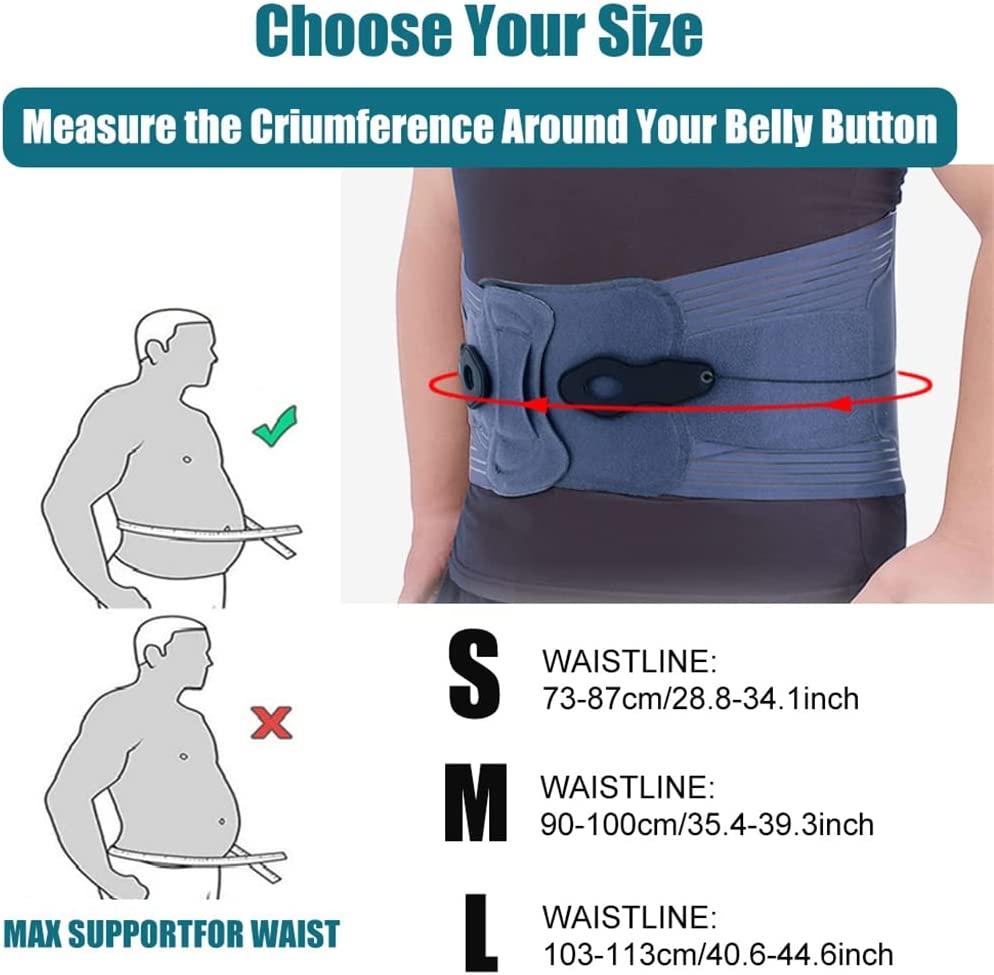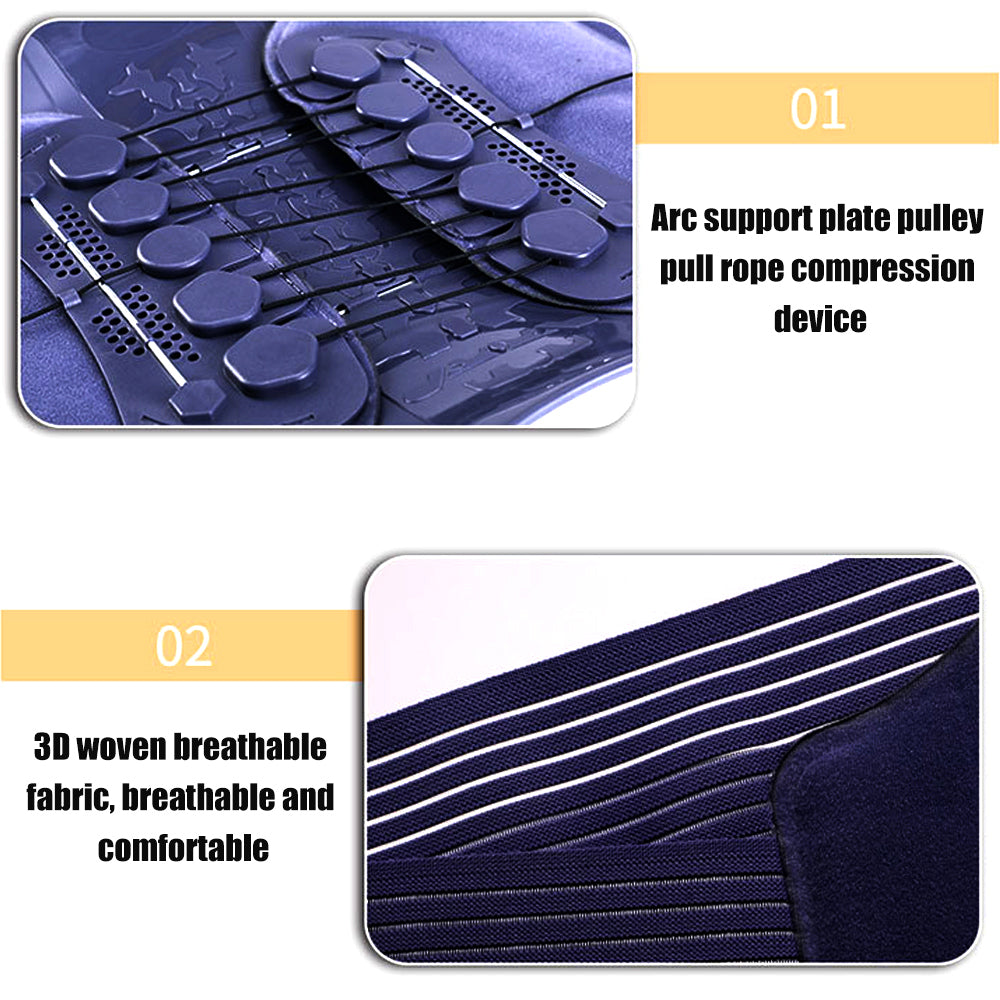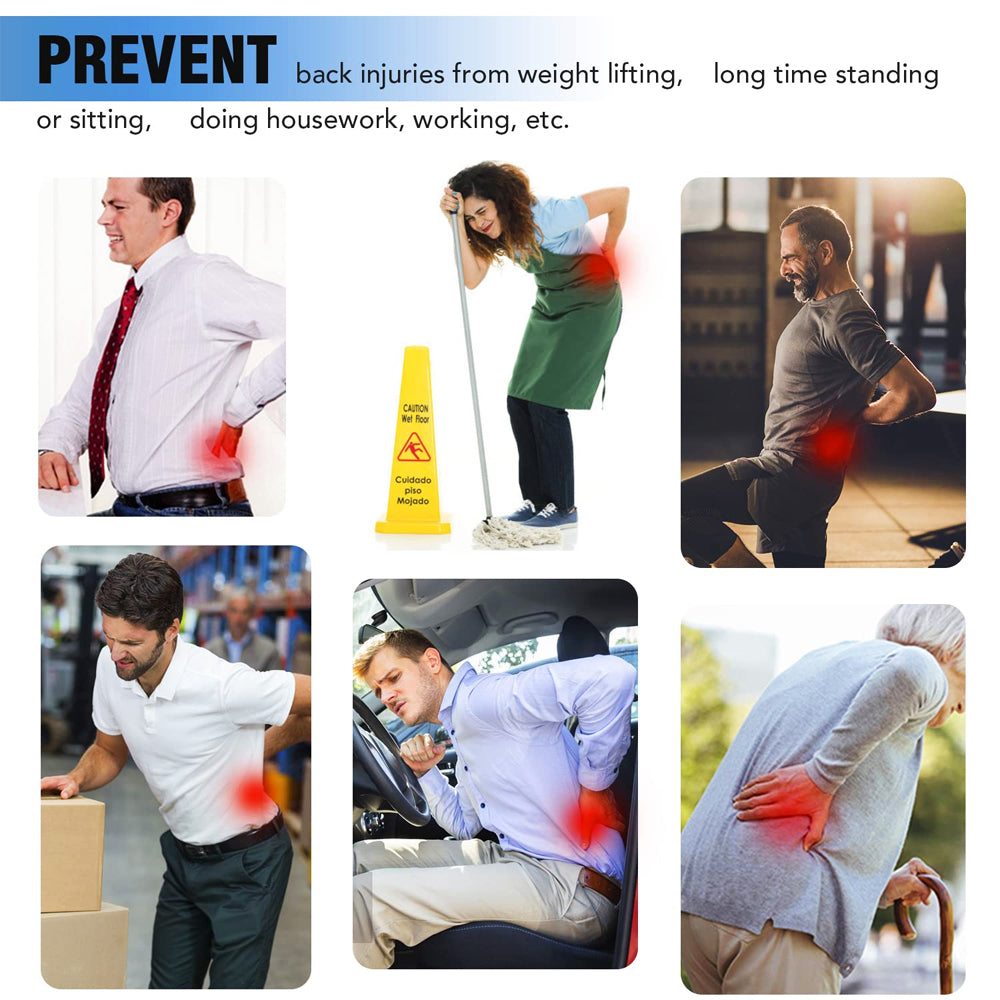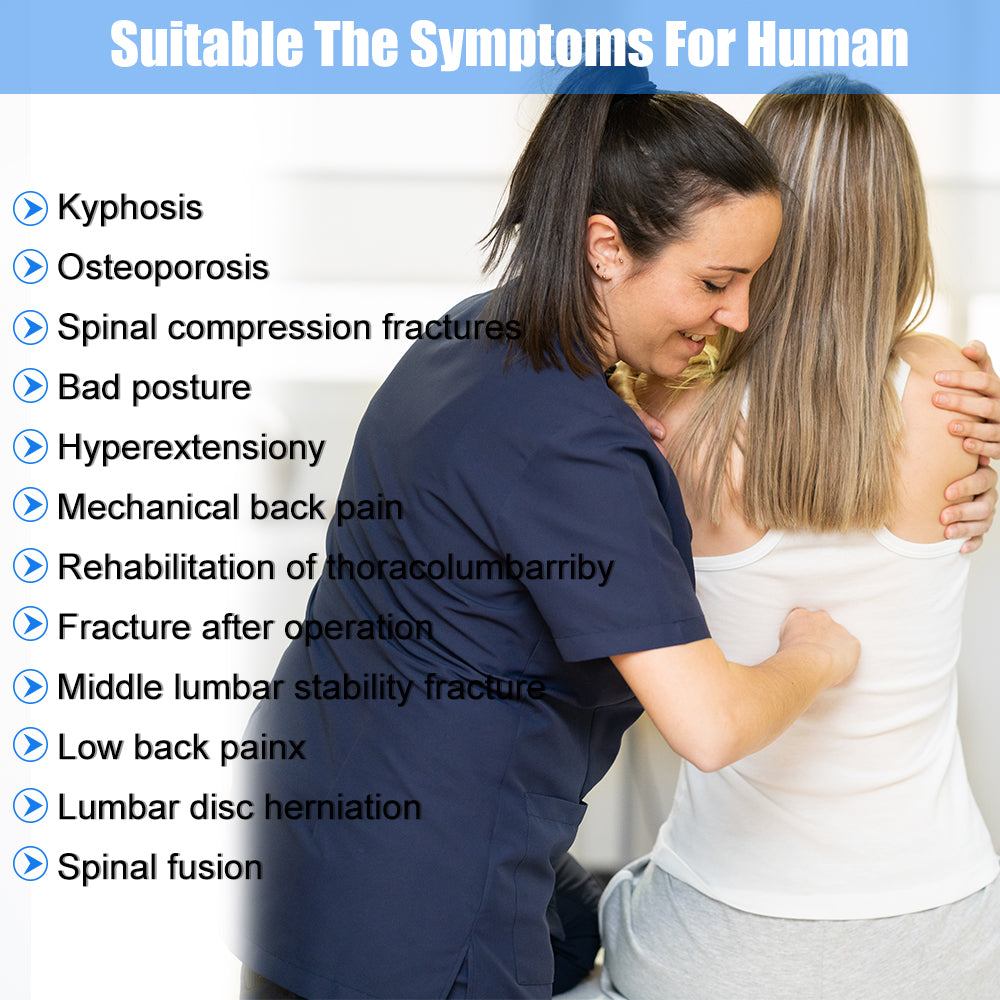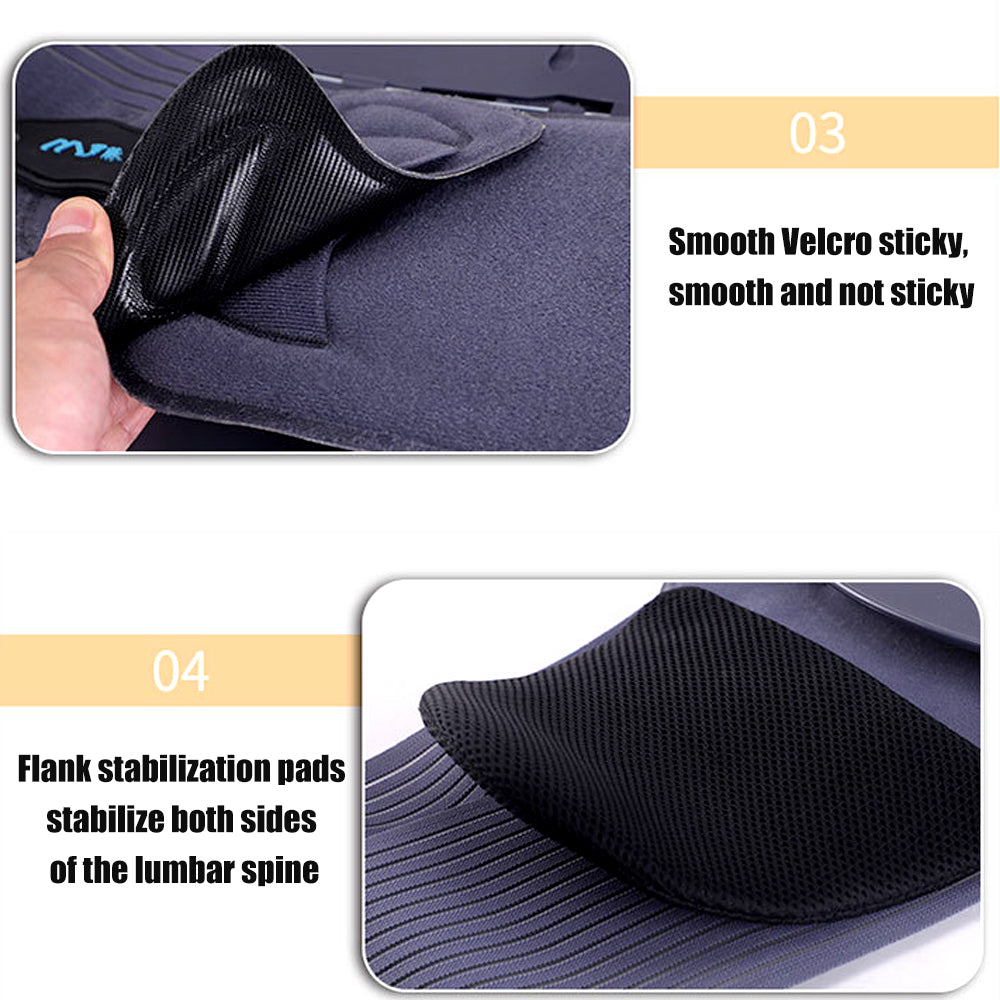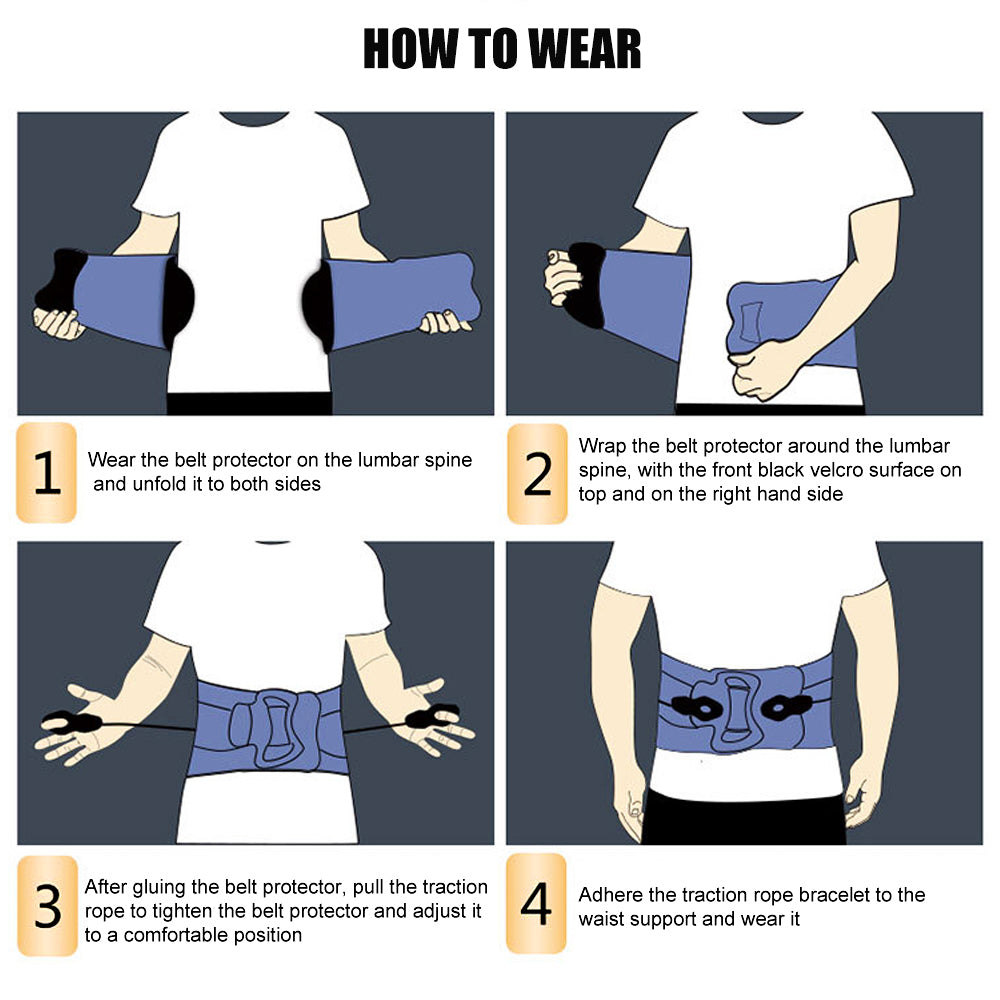 OUR PROMISE TO YOU!
Not 100% satisfied with the brace? No problem, we'll take it back and issue afull refund. No hidden charges.