Use the coupon code "happy" to get a $5 discount For Order Over $20
Regular price
$30.99 USD
Sale price
$19.99 USD
Unit price
per
Sale
Sold out
Or fastest
delivery Friday September 29
Order within today
Shipping

Estimated delivery time:

United States: 3-5 working days
United Kingdom: 3-7 working days
South Africa: 6-12 working days
Canada: 5-12 working days
Ireland:6-12 working days
Australia: 5-11 working days
New Zealand: 4-9 working days

Rest of Europe: 4-11 working days
Albania, Austria, Belarus, Belgium, Bosnia, Bulgaria, Croatia, Czech Republic, Denmark, Estonia, Finland, France, Germany, Greece, Hungary, Iceland, Italy, Latvia, Lithuania, Luxembourg, Malta, Netherlands, Norway, Poland, Portugal, Romania,  Slovakia, Slovenia, Spain, Sweden, Switzerland, Ukraine

Asia: 6-12 working days
Hong Kong, Israel, Japan, South Korea, Thailand, Vietnam, Japan, Lebanon, Malaysia, Oman, Pakistan, Qatar, Saudi Arabia, Singapore, Taiwan, Turkey, United Arab Emirates

South/Central America: 6-12 working days
Chile, Colombia, Mexico


Please see checkout for shipping/delivery estimate. Easy Returns and Exchanges

Worldwide Express Air Shipping + Satisfaction Guaranteed!
Returns

We offer a 100% money-back guarantee. If you are not satisfied or your brace doesn't fit right, let us know and we will help you with our free returns and exchanges. We pay the return shipping. Your satisfaction is our top priority!
This toe splint holds the big toe (big toe) in an ideal healing position and supports the metatarsophalangeal (joint at the base of the toe, also known as the MTP) in proper alignment. This speeds healing and protects the foot and toes from further damage. This is needed to treat conditions like turf toe, bunions, and other toe deformities.
This turf toe stand is height adjustable. In fact, the entire brace is made of soft material that can be easily adjusted to conform to the contours of any foot. The big toe component of the bunion splint is also adjustable. The extra fastening strap helps separate and pull the first metatarsal (big toe) from the second metatarsal, preventing them from rubbing together.

Unlike the uncomfortable hard bunion splints, the bunion brace is also very comfortable to wear, thanks to its thin and light material. If space permits, you can wrap this bunion inside the shoe to help prevent friction from occurring. For added convenience, the foot/toe splint is washable and latex-free.

Bunion and Turf Toe Treatment

Essentially, a turf toe is a sprain of the middle joint at the base of the big toe, which can occur when the toe is forced into hyperextension when the toe is fixed on the ground and the heel is in the air. While the condition gets its name from injuries on artificial turf, such injuries can occur in many activities and sports.
As with other sprains, treatment includes the following steps: Rest, Ice, Compression, and Elevation (RICE). Rest includes resting from the activity that originally caused the injury and avoiding walking or placing weight on the foot. In some cases, a cam walking boot may also be necessary.

Another component of lawn toe treatment involves securing the MTP joint, which is where a toe alignment brace can help. It can also help reduce pressure on the bottom of the foot and provide needed support.

While a bunion is completely different from a turf toe sprain, treating this injury also includes reducing pressure on the big toe and following RICE's steps to reduce swelling.

Wearing a wide, deep toe box and avoiding high heels are also important to relieve bunions or enlargement of the bone or tissue around the metatarsophalangeal joint. There are also arch supports and other foot orthoses that promote even weight distribution on the foot, which can help reduce discomfort from bunions.

The bunions splints don't stop hurting at night. Our nighttime braces provide padding and moderate realignment of bunions while you sleep.
Our bunion splint is specifically designed to stay in place while you're asleep and they won't twist around or get pulled off by your covers.
What symptoms can bunion splint to help you solve?

1. If you are suffering from Hallux Valgus, the sensitive skin is very vulnerable to pressure and friction from shoes, sometimes it may be extremely painful. But actually, you can take full advantage of the Night Time to straighten your big toe and alleviate your feet pain.
2. This bunion brace also can be worn Postoperatively. The soft and lightweight material makes it comfortable enough to wear it on the floor, you can adjust the tightness as you need.
3. Our bunion splint is a wonderful product for Turf Toe, the embedded unmoved aluminum bar is providing stabilized support which is turf toe needed.
Why choose our Bunion Pads help you?

- Use the Ergonomic Toe Wrap to get the perfect fit around your big toe.
- Use the Bendable Toe Stabilizer to confirm the brace to the contour of your bunions for greater comfort.
- Keep your big toe straight and relieve your nighttime bunion pain.
Package:

1 pair adjustable bunion corrector splint
How to use:

1. Start wearing them for 5-15 min and increase by 5 min per session until you can comfortably wear them for 30 min or more. Allow your big toe enough time to stretch. You can adjust the tightness as your need.
2. If you have a foot condition and the pain gets worse, please stop using them and ask your doctor for more specific advice.
Lawn Toe and Bunion Splint Solutions

There are many reasons why this bunion and turf toe brace is a popular choice. These include:
Maintains the ideal position for the big toe




Promotes metatarsophalangeal joint alignment

Made of fastener compatible material so height adjustable

Fits any foot shape

Adjustable big toe positioning

Fastener closure for easy application

thin material

Can be worn in shoes

washable

latex free

For right or left foot
Share
View full details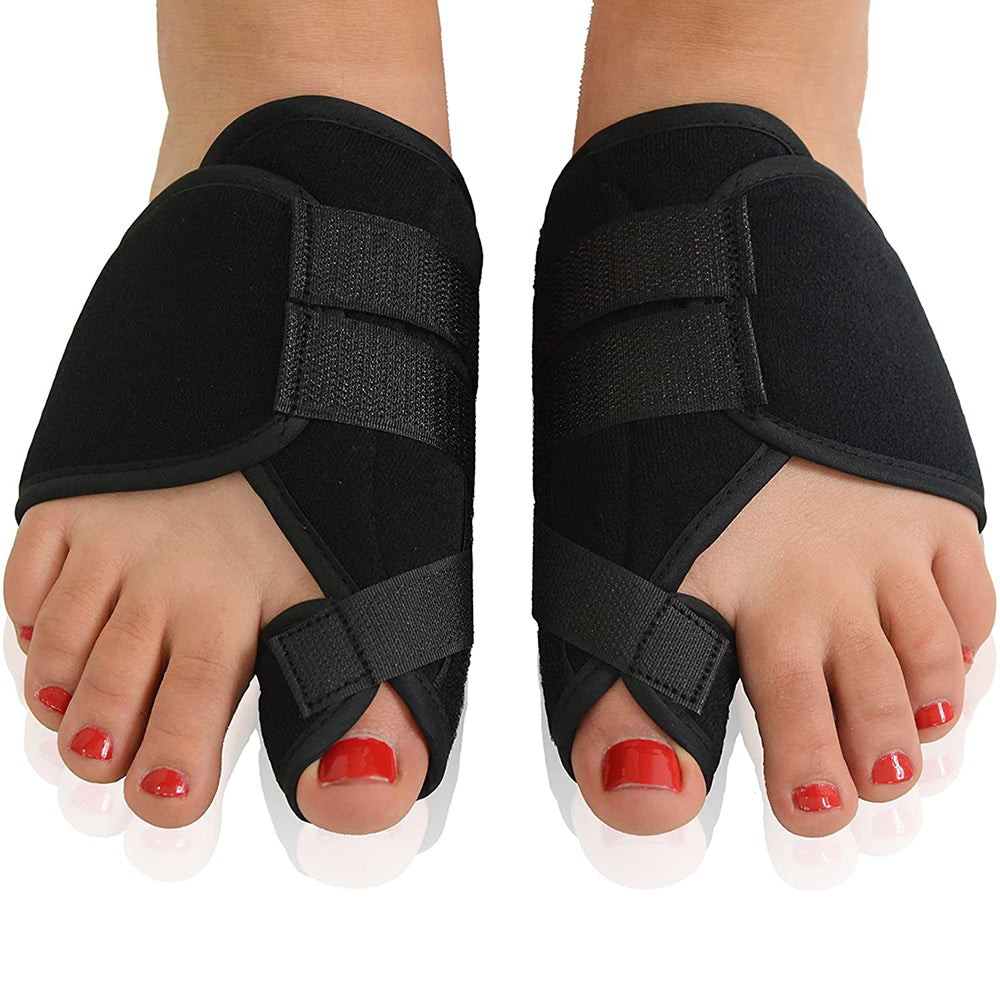 OUR PROMISE TO YOU!
Not 100% satisfied with the brace? No problem, we'll take it back and issue afull refund. No hidden charges.