Use the coupon code "happy" to get a $5 discount For Order Over $20
Regular price
Sale price
$25.00 USD
Unit price
per
Sale
Sold out
Or fastest
delivery Saturday September 30
Order within today
Shipping

Estimated delivery time:

United States: 3-5 working days
United Kingdom: 3-7 working days
South Africa: 6-12 working days
Canada: 5-12 working days
Ireland:6-12 working days
Australia: 5-11 working days
New Zealand: 4-9 working days

Rest of Europe: 4-11 working days
Albania, Austria, Belarus, Belgium, Bosnia, Bulgaria, Croatia, Czech Republic, Denmark, Estonia, Finland, France, Germany, Greece, Hungary, Iceland, Italy, Latvia, Lithuania, Luxembourg, Malta, Netherlands, Norway, Poland, Portugal, Romania,  Slovakia, Slovenia, Spain, Sweden, Switzerland, Ukraine

Asia: 6-12 working days
Hong Kong, Israel, Japan, South Korea, Thailand, Vietnam, Japan, Lebanon, Malaysia, Oman, Pakistan, Qatar, Saudi Arabia, Singapore, Taiwan, Turkey, United Arab Emirates

South/Central America: 6-12 working days
Chile, Colombia, Mexico


Please see checkout for shipping/delivery estimate. Easy Returns and Exchanges

Worldwide Express Air Shipping + Satisfaction Guaranteed!
Returns

We offer a 100% money-back guarantee. If you are not satisfied or your brace doesn't fit right, let us know and we will help you with our free returns and exchanges. We pay the return shipping. Your satisfaction is our top priority!
A newly designed back brace for improved posture
Good posture can provide an individual with higher energy levels (because it allows oxygen to flow to your head), more confidence, relieve neck tension, prevent future back problems and relieve existing back pain. Posture Corrector Upper Back and Shoulder Supports do it all while being customizable, durable and comfortable. This brace for better back and spine alignment is easy to wear with a backpack-style design, making application a breeze. In fact, you no longer need to rely on another person to use the stand.
Looking for something to wear inside and out of your clothes? This corrective upper back and shoulder support pose is so smooth that it can be hidden under most clothing. There is perfect padding between and around the armpit area of ​​the brace, providing a relatively comfortable fit and no chafing. However, since the brace is designed to correct your posture, there should be some discomfort.

What are the health benefits of good posture?

The health benefits of proper posture are endless. Starting with self-confidence, good posture makes a person not only look fitter, but become fitter. By practicing correct posture in your daily life, you can prevent back pain caused by aging or incorrect posture. For example, practicing proper posture techniques can prevent you from feeling sore back after a long day at your desk. If these aches and pains are not addressed, they can become a long-term problem for a person.
Staying upright opens your airway and helps you breathe properly. When you start to open up, more oxygen flows to your head. This will allow the blood to deliver a sufficient amount of oxygen throughout your body, creating a healthier individual. Low levels of oxygen can cause a myriad of health problems for a person, including migraines, severe pain all over the body, low energy levels, and even heart problems.

Good posture also has the potential to help you lose weight by reducing stress on your body. As you practice better form, your core muscles will be strengthened through mid-back stretches. This stretch allows your core muscles to engage better, which in turn narrows your frame and improves your appearance.

What other health problems can this back straightening brace treat?

Post-operative recovery - maintain spinal alignment after back surgery, disc fusion, cesarean section, and more.

Muscle spasms - keeping the spine in place can relieve muscle tension




Prevent spinal curvature problems like kyphosis, lordosis, kyphosis




"Texting the Neck - Postural Impaired Support When Using Cell Phones




Scoliosis, if surgery is not an option, or if you have a mild condition.



Will this posture corrector fix widow's hump or widow's hump?

Dowager's Hump is an outdated name for a kyphosis that causes a hunched upper back. Many people find the term "widow" (a widow who holds a deceased husband's property or title) offensive because kyphosis can affect people of virtually any gender or age, not just older women. This posture corrector can help prevent or slow the progression of a hump at the base of the neck by realigning and stabilizing the spine.
Our cervical collars can also help prevent spinal curvature problems such as upper cross syndrome or kyphosis Dowager's hump by correcting forward head posture.

Our Effective, Breathable, Adjustable and Comfortable Posture Corrector with Upper Back Support for men and women corrects your posture, which can help to alleviate the onset of back, neck and shoulder pain. Proper posture will help you live a healthier lifestyle and improve your confidence .

Why is Our Posture Corrector Beneficial For Both Men And Women?

Provides clavicle posture support for all activities including working out, lifting and sitting at your computer desk




Better alignment makes you look taller and slimmer

Makes you look and feel more confident and powerful

Proper posture will help eliminate the onset of back, neck and shoulder pain

Can be easily worn under a shirt when at work and is discreet under your clothes

Our clavicle fracture brace is made from lightweight, breathable, high-quality, flexible and adjustable materials
 How to continue to wear your back corrector for natural posture:
Simply start by wearing it for 5 to 10 minutes at a time, then begin to progressively extend the amount of time spent wearing it by 5 to 10 minutes, increasing wear for up to 1 to 2 hours a day.

If you have been experiencing significant back or other pain, we recommend that you check with your doctor for advice prior to using any posture corrector.

Frequently Asked Questions

How long do you need to wear a postural brace?
Initially, we recommend that you spend less time wearing the brace. Start in 30-minute increments and work your way up to 3 hours, depending on your comfort preference. Remove or loosen the straps if you experience any pain or discomfort. You can also reduce wearing time.
How can I adjust the stand to make it smaller or larger?

To adjust the straps, loosen the fasteners and tighten or loosen them for the ideal comfort. If the straps are still too long, trim the ends (after removing the alligator clips) and reattach the clips.

Can the stand be washed?

Yes, unbuckle and hand wash the straps in warm water with mild soap. The stand should be air-dried, do not use high heat to wash or dry.

Can you sleep on a stand?

For maximum impact on your posture and pain relief, we recommend wearing it during the day. Wearing it during the day will allow you to correct your posture when you feel uncomfortable with your natural slack. However, if you want to wear it at night, it won't hurt you anyway, but you'll find it works better during the day.

Can this be used as a collarbone brace?

Although this brace can be used to treat a fractured or broken clavicle, the narrow straps of the postural brace are not ideal for this type of injury. Instead, a clavicle brace is a better option for this situation.
Share
View full details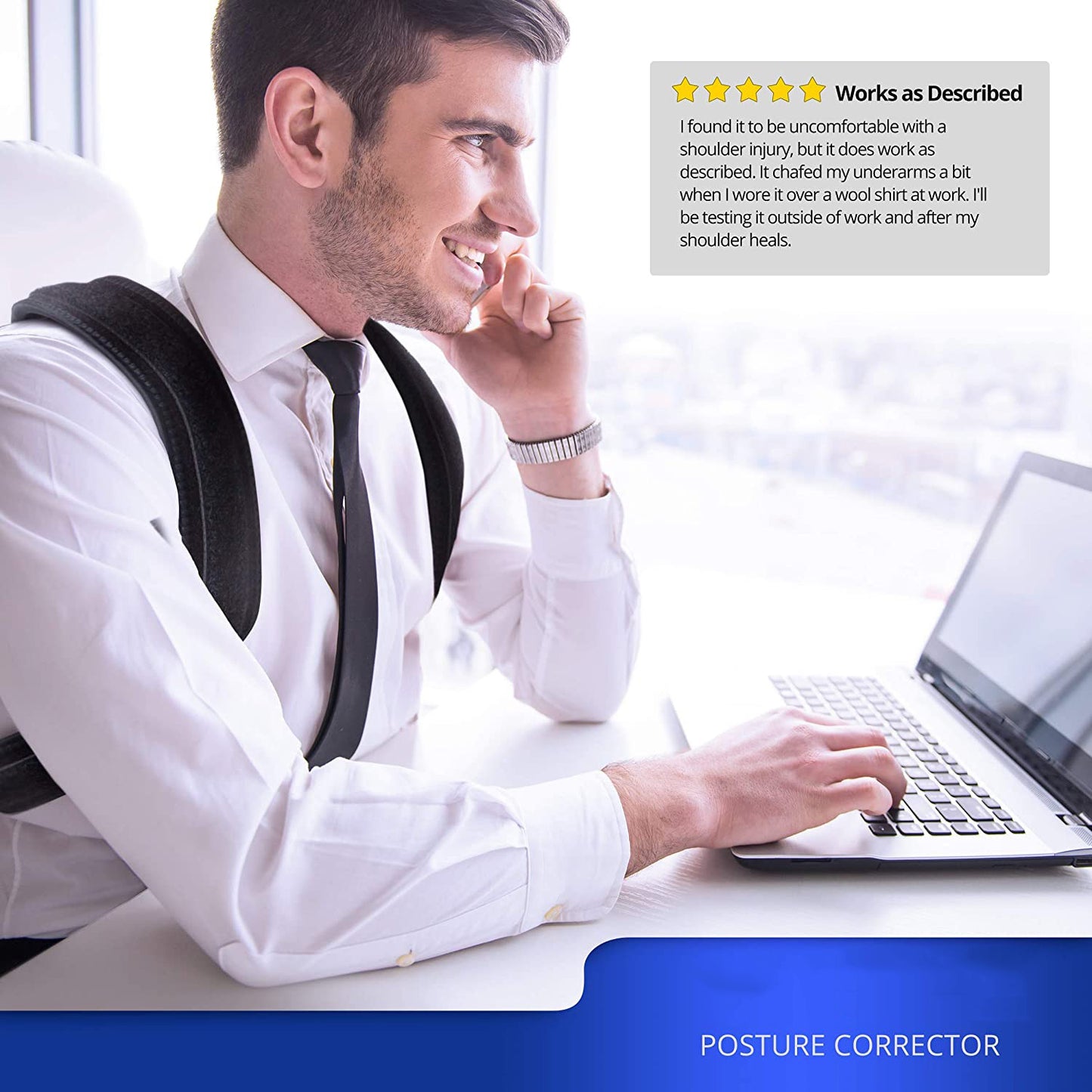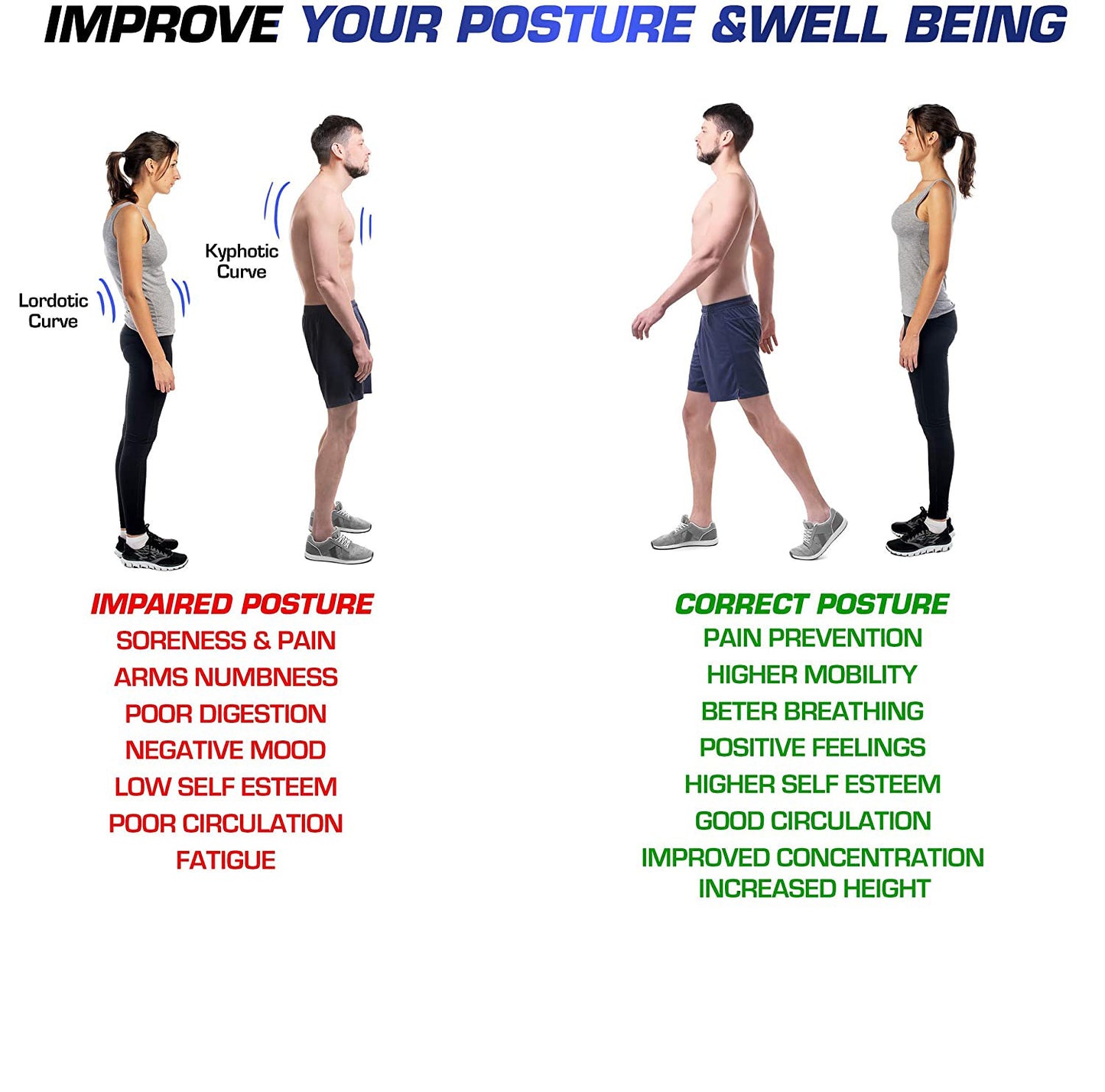 OUR PROMISE TO YOU!
Not 100% satisfied with the brace? No problem, we'll take it back and issue afull refund. No hidden charges.