Use the coupon code "happy" to get a $5 discount For Order Over $20
Regular price
Sale price
$73.00 USD
Unit price
per
Sale
Sold out
Or fastest
delivery Sunday October 08
Order within today
Shipping

Estimated delivery time:

United States: 3-5 working days
United Kingdom: 3-7 working days
South Africa: 6-12 working days
Canada: 5-12 working days
Ireland:6-12 working days
Australia: 5-11 working days
New Zealand: 4-9 working days

Rest of Europe: 4-11 working days
Albania, Austria, Belarus, Belgium, Bosnia, Bulgaria, Croatia, Czech Republic, Denmark, Estonia, Finland, France, Germany, Greece, Hungary, Iceland, Italy, Latvia, Lithuania, Luxembourg, Malta, Netherlands, Norway, Poland, Portugal, Romania,  Slovakia, Slovenia, Spain, Sweden, Switzerland, Ukraine

Asia: 6-12 working days
Hong Kong, Israel, Japan, South Korea, Thailand, Vietnam, Japan, Lebanon, Malaysia, Oman, Pakistan, Qatar, Saudi Arabia, Singapore, Taiwan, Turkey, United Arab Emirates

South/Central America: 6-12 working days
Chile, Colombia, Mexico


Please see checkout for shipping/delivery estimate. Easy Returns and Exchanges

Worldwide Express Air Shipping + Satisfaction Guaranteed!
Returns

We offer a 100% money-back guarantee. If you are not satisfied or your brace doesn't fit right, let us know and we will help you with our free returns and exchanges. We pay the return shipping. Your satisfaction is our top priority!
When should a posture corrector be worn?
when a doctor prescribes it. An obvious example is when you have a medical exam and are prescribed a back support. Many times doctors, chiropractors or physical therapists will advise their patients to purchase a posture corrector to help relieve any ailments, speed recovery from certain injuries, and promote overall good posture - which has some health benefits of its own .

When you notice your posture is bad or falling. We don't usually notice bad posture right away; sometimes, before we realize it, we need someone else to point it out to us. Listening to your body and doing a quick self-assessment from time to time can go a long way in spotting the symptoms of poor posture. Take a few minutes every other week to see if you have one or more of the following metrics:

round shoulders




big belly

Bending knees when standing or walking

The head is misplaced, sagging too far back or forward

persistent back pain

persistent pain in the shoulder

frequent neck pain

fatigue and muscle pain

recurring headaches and/or migraines

lack of motivation and confidence

often irritable
When you suffer from persistent back, shoulder and/or neck pain. Although these are listed above, it is important to emphasize that they are the most common effects of poor posture and they should not be ignored. Spinal pain due to falling bearings, if left untreated, you may experience a domino effect. These can lead to weakened muscles, spinal dysfunction and curvature, joint degeneration, poor circulation, digestive problems, breathing problems, and more.
When you sit or stand in front of your laptop, mobile tablet or phone. Another example of where it's best to wear a posture corrector is when you always need to sit or stand in front of your laptop, mobile tablet, or phone -- maybe for work, online classes, or other duties. These situations make us more prone to bad posture due to how the environment is usually set up. In addition to back support, investing in a good chair and a table of the right height can also be beneficial—cultivating balanced proportions.

Where should you wear a posture corrector?

Go out on special occasions or at night. Wearing a harness for parties, special gatherings or regular night out will not only relieve pain in your back, shoulders or neck, but it will greatly help you improve your appearance and maintain confidence at all times. Many travel-size posture correctors feature thin, breathable fabrics that are relatively seamless and easy to hide under clothing—all you need to consider is whether your clothing style fully covers the shoulder straps.

to the office or school. As mentioned earlier, at work and at school, we often need to be in front of a laptop, cell phone, mobile tablet, or even a book. Since these activities often cause us to sag our shoulders and keep our heads tilted down, wearing a posture corrector at work or school is appropriate—yes, even if you're currently performing duties at home.

to the gym. The gym is another great place to wear a posture corrector! Back braces help strengthen muscles, and they're comfortable enough for a variety of exercises—there are even specific exercise routines that can improve your posture and ease its symptoms. In addition to yoga and weight training, you can also enjoy the following posture correction exercises:

reverse trestle




plank

child pose

hip flexor stretch

mountain style

back extension

side leg raise

neck rotation

chest stretch
at home. You can work out your posture from the comfort of your home. Whether you're doing your daily chores, lounging on the couch, or doing a home workout, a posture corrector is a great tool for you.
What you should know about this zszbace back support:
Comfortable Posture Corrector - Our posture corrector is easily adjusted by yourself to comfortable condition. The adjustable straps of brace back is made of thin generic nylon which won't hurt your skin.
Improve Your Posture Anytime and Anywhere - ZSZBACE back braces for men and women help you open your shoulders, making your bones healthier, circulatory system better, breathing more smoothly, and helping you develop good habits of sitting, standing, and walking. Start using it when you are lying at home, in the office, or in your leisure time. In addition, posture correction in your everyday life helps to relieve pain and tension.
Invisible Under Clothes - The back corrector support will not be noticed even though you wear this posture brace under shirt or blouse while working in the front of computer, doing daily activities or just sitting for a rest. So don't worry about bad impression with our back brace. Our corrector help you shape perfect back posture rather than slouching, thoracic kyphosis and show confident side to your friends
Realigns Your Spine And Relieves Back Pain - Our brace is designed to mold seamlessly with the upper and middle back, giving you postural support and stabilizing your clavicle. Once worn, the brace will pull the shoulders into an ideal position, all the while realigning the Thoracic spine and supporting the middle and upper back. Over time, the brace will help correct and relieve the negative symptoms of bad posture which include back, shoulder and neck pain and tension headaches.
Share
View full details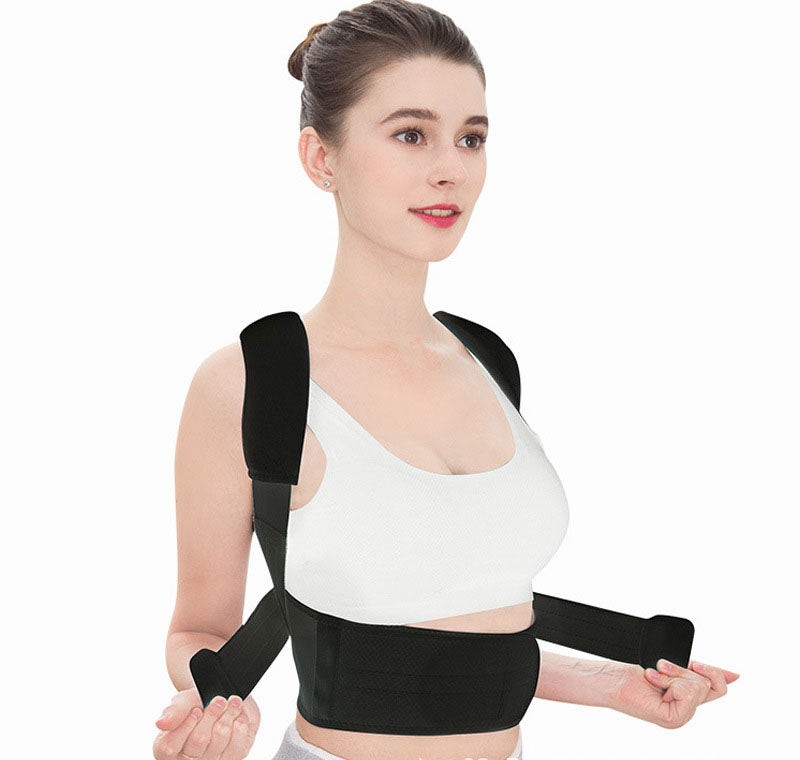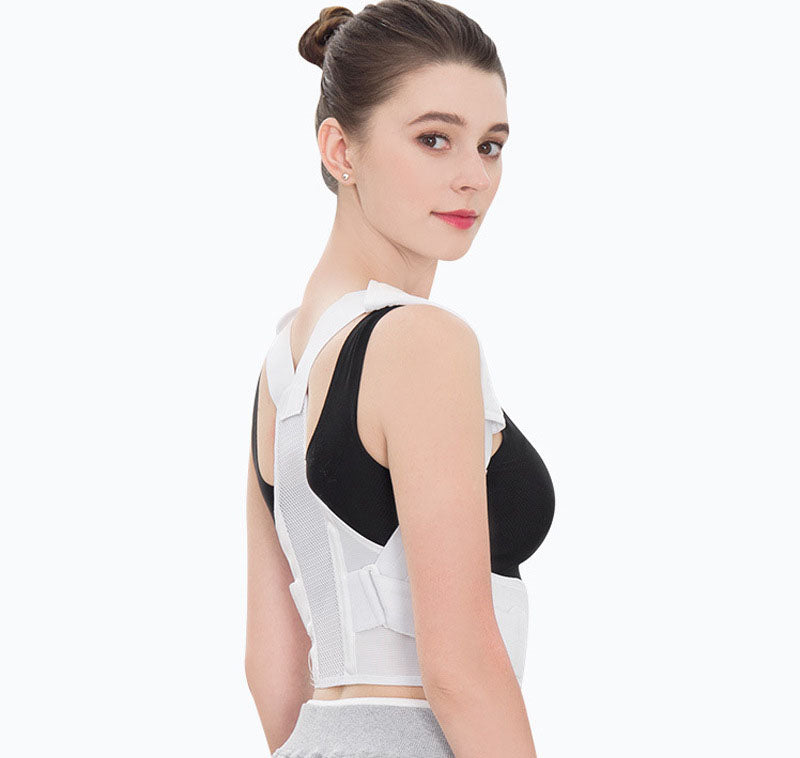 OUR PROMISE TO YOU!
Not 100% satisfied with the brace? No problem, we'll take it back and issue afull refund. No hidden charges.