Use the coupon code "happy" to get a $5 discount For Order Over $20
Posture Corrector for Women and Men, Adjustable Upper Back Brace, Breathable Back Support straightener, Providing Pain Relief from Lumbar, Neck, Shoulder, and Clavicle, Back.
Posture Corrector for Women and Men, Adjustable Upper Back Brace, Breathable Back Support straightener, Providing Pain Relief from Lumbar, Neck, Shoulder, and Clavicle, Back.
Regular price
$45.00 USD
Sale price
$56.00 USD
Unit price
per
Sale
Sold out
Or fastest
delivery Sunday October 08
Order within today
Shipping

Estimated delivery time:

United States: 3-5 working days
United Kingdom: 3-7 working days
South Africa: 6-12 working days
Canada: 5-12 working days
Ireland:6-12 working days
Australia: 5-11 working days
New Zealand: 4-9 working days

Rest of Europe: 4-11 working days
Albania, Austria, Belarus, Belgium, Bosnia, Bulgaria, Croatia, Czech Republic, Denmark, Estonia, Finland, France, Germany, Greece, Hungary, Iceland, Italy, Latvia, Lithuania, Luxembourg, Malta, Netherlands, Norway, Poland, Portugal, Romania,  Slovakia, Slovenia, Spain, Sweden, Switzerland, Ukraine

Asia: 6-12 working days
Hong Kong, Israel, Japan, South Korea, Thailand, Vietnam, Japan, Lebanon, Malaysia, Oman, Pakistan, Qatar, Saudi Arabia, Singapore, Taiwan, Turkey, United Arab Emirates

South/Central America: 6-12 working days
Chile, Colombia, Mexico


Please see checkout for shipping/delivery estimate. Easy Returns and Exchanges

Worldwide Express Air Shipping + Satisfaction Guaranteed!
Returns

We offer a 100% money-back guarantee. If you are not satisfied or your brace doesn't fit right, let us know and we will help you with our free returns and exchanges. We pay the return shipping. Your satisfaction is our top priority!
Why Overweight People Can Benefit From Posture Correctors?
If you're a man or woman with obesity, or if you're carrying some extra pounds that you want to shed, you may not realize that excess body fat can cause back pain. In addition to back pain, obese and overweight people tend to Feeling tired, having trouble breathing, and shortness of breath, which can lead to sluggishness or poor posture. To compensate for this extra weight, your spine may be stressed and bent forward.
Since these conditions can have a particularly severe impact on your back, neck, and spine, this postural support can help reduce the stress placed on you by being overweight.

If you suffer from weight problems, why is good posture important to your health? While there are many advantages to good posture, one of these advantages directly affects the amount of oxygen your body takes in each day. Now you're probably thinking, "I can't get less oxygen because I'm a little slouchy." When you lean over, your body squeezes your lungs, making them smaller and reducing the volume of your breath. This can eventually lead to shortness of breath, heart and blood vessel disease, and other complications.

This light postural support helps counteract this listless effect and deliver optimal oxygen to your lungs. This back, spine and neck brace for larger individuals helps train and strengthen your muscles to naturally lift your shoulders and reduce tension in your neck or back.

Ditch your coffee and grab a pose stand! Another health benefit of correct posture is more energy. As mentioned above, good posture allows your body to get more oxygen and eliminate fatigue, which in turn makes you more energized. This extra energy throughout the day will make you more willing to exercise and promote weight loss.

Other health conditions that postural braces help treat

Not only will you feel better, but you will look better while using this posture brace. This Plus Size Posture Corrector helps lift your shoulders, abdomen and neck, lengthening and slimming. When you're listless, your body is constrained to a smaller position than when you're sitting up. This will give you the confidence you need to push yourself to the next level!
Another benefit of a postural brace for plus-size people is that if you've experienced rapid weight loss, poor posture is often the result of being overweight. By using this specific brace, you help your muscles adapt and strengthen.

In addition to increasing oxygen, energy levels and promoting weight loss, this stent can treat many different ailments and has other health benefits:

After: C-section or back surgery




Chronic migraines: Those suffering chronic migraines can breathe a sigh of relief

muscle spasms

"Wen Neck: "Especially for this generation, those looking down at their phones for a long time

Scoliosis: if surgery is not an option/available, or if you have a mild condition

kyphosis
The unique features of this plus-size postural stand provide maximum comfort and support
This plus-size postural support is specifically designed and manufactured for optimal comfort and stability. The straps and soft shoulder pads are made of latex-free nylon and polyester, which means there's no irritation or chafing under the arms, and the support is in the right place on your back.
Another benefit of this postural support is the adjustable shoulder straps. These straps allow you to tighten or loosen them for ideal comfort. This posture corrector easily slides up and down on its own, so you no longer need to rely on others to help hold the brace in place. You also don't have to worry about reaching from behind to secure the straps. The straps of this plus-size posture brace wrap only around your arms, keeping your front torso open and unconstrained. These straps are connected by a rectangular D-ring on the back, keeping them in line, eliminating twisting and discomfort that might otherwise occur.

While this unisex upper back brace is designed for plus-size people, you can trim and shorten any part of the brace by simply cutting the edges. This adds to the customization of this brace, you can make it fit your body type perfectly. You also don't have to worry about frayed edges, and there are removable "crocodile" clips so you can reattach them after each cut.

Frequently Asked Questions

How long do you need to wear a postural brace?
Initially, we recommend that you spend less time wearing the brace. Start in 30-minute increments and work your way up to 3 hours, depending on your comfort preference. Remove or loosen the straps if you experience any pain or discomfort. You can also reduce wearing time.

How can I adjust the stand to make it smaller or larger?

To adjust the straps, loosen the fasteners and tighten or loosen them for the ideal comfort. If the straps are still too long, trim the ends (after removing the alligator clips) and reattach the clips.

How to put on the stand?

Expand the stand to identify the left and right shoulder straps. Thread the right end of the strap through the plastic triangle buckle to attach the fastener. Do the same for the left side of the strap. Slide the straps over your shoulders like a backpack, making sure the triangle buckle points towards your back. To adjust to your comfort, use the fasteners to pull the straps tighter, or until you reach your desired level of postural support. If you experience any discomfort, loosen or remove the stand.

Can the stand be washed?

Yes, remove the fasteners and hand wash the brackets in warm water with mild soap. The stand should be air-dried, do not use high heat to wash or dry.

Can you sleep on a stand?

For maximum impact on your posture and pain relief, we recommend wearing it during the day. Wearing it during the day will allow you to correct your posture when you feel uncomfortable with your natural slack. However, if you want to wear it at night, it won't hurt you anyway, but you'll find it works better during the day.

Can this be used as a collarbone brace?

Although this brace can be used to treat a fractured or broken clavicle, the narrow straps of the postural brace are not ideal for this type of injury. Instead, a clavicle brace is a better option for this situation.
Share
View full details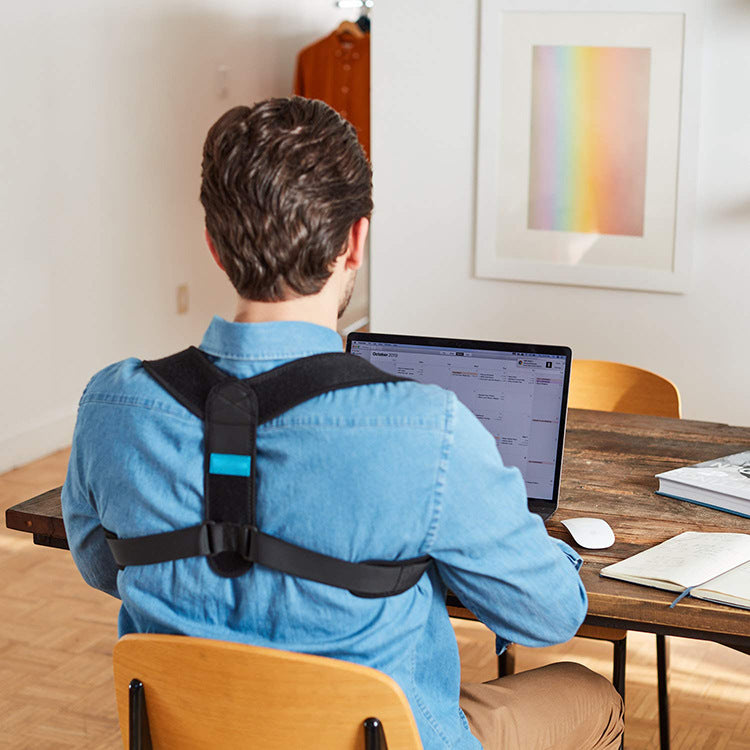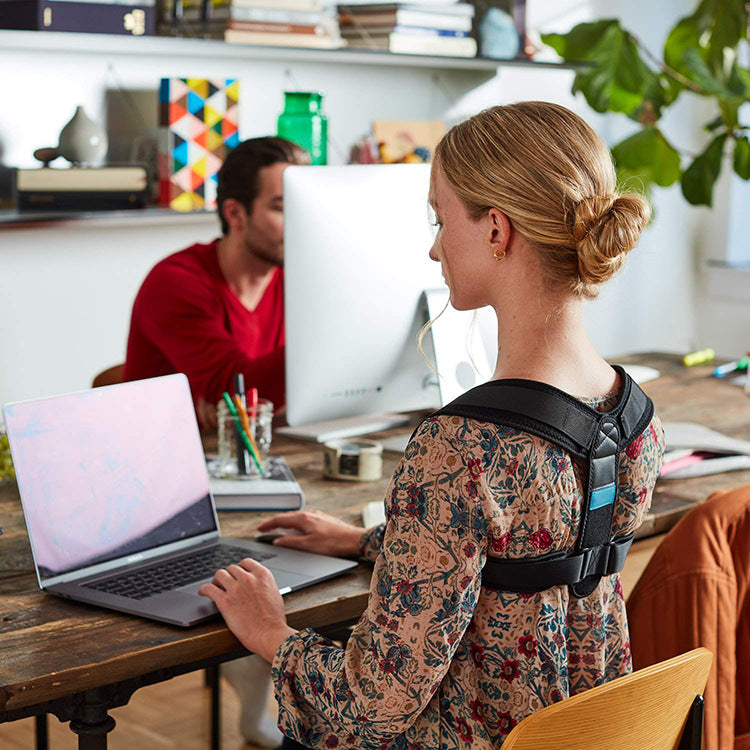 OUR PROMISE TO YOU!
Not 100% satisfied with the brace? No problem, we'll take it back and issue afull refund. No hidden charges.