Use the coupon code "happy" to get a $5 discount For Order Over $20
Posture Corrector for Women & Men, Back Brace Fully Adjustable & Comfy, Back Straightener for Mid Spine, Clavicle Upright-Support Upper and Lower Back, Neck, Shoulder Pain Relief
Posture Corrector for Women & Men, Back Brace Fully Adjustable & Comfy, Back Straightener for Mid Spine, Clavicle Upright-Support Upper and Lower Back, Neck, Shoulder Pain Relief
Regular price
$55.00 USD
Sale price
$41.00 USD
Unit price
per
Sale
Sold out
Or fastest
delivery Thursday December 07
Order within today
Shipping

Estimated delivery time:

United States: 3-5 working days
United Kingdom: 3-7 working days
South Africa: 6-12 working days
Canada: 5-12 working days
Ireland:6-12 working days
Australia: 5-11 working days
New Zealand: 4-9 working days

Rest of Europe: 4-11 working days
Albania, Austria, Belarus, Belgium, Bosnia, Bulgaria, Croatia, Czech Republic, Denmark, Estonia, Finland, France, Germany, Greece, Hungary, Iceland, Italy, Latvia, Lithuania, Luxembourg, Malta, Netherlands, Norway, Poland, Portugal, Romania,  Slovakia, Slovenia, Spain, Sweden, Switzerland, Ukraine

Asia: 6-12 working days
Hong Kong, Israel, Japan, South Korea, Thailand, Vietnam, Japan, Lebanon, Malaysia, Oman, Pakistan, Qatar, Saudi Arabia, Singapore, Taiwan, Turkey, United Arab Emirates

South/Central America: 6-12 working days
Chile, Colombia, Mexico


Please see checkout for shipping/delivery estimate. Easy Returns and Exchanges

Worldwide Express Air Shipping + Satisfaction Guaranteed!
Returns

We offer a 100% money-back guarantee. If you are not satisfied or your brace doesn't fit right, let us know and we will help you with our free returns and exchanges. We pay the return shipping. Your satisfaction is our top priority!
Back pain is a common condition for many people and can have many causes, from back injuries and strains to incorrect posture, chronic illness and pregnancy. The Back Support provides stability to your back while sitting or standing by using compression to lift your back into the correct position and prevent straining when moving around. If you are recovering from an injury, a back brace can compress the area and reduce swelling with natural warmth. It also relieves tired and sore back pain by limiting unnecessary movement, including rotation and stretching.
If you work from home or have limited mobility, you may find yourself sitting for long periods of time throughout the day. Back supports, also known as lumbosacral orthoses, can play an important role in developing a proper ergonomic approach to your daily life, which will provide your back with the support it needs and help you stay comfortable.

How rear braces can help

Back pain can range from acute to chronic and last from days to years. Acute back pain is caused suddenly by an identifiable injury, such as incorrectly lifting an object. It is caused by a strain or sprain of the soft tissues in the back, including muscles, ligaments, and tendons. Chronic back pain develops over a period of time and lasts for more than 3 months. It is usually caused by conditions that affect the structure of the spine, such as osteoarthritis or sciatica.
Back braces can:

Provides Spinal Support - Back support stabilizes the lower back when it is weak or injured. It can help keep the torso straight during recovery and prevent further injury.




Reduces pressure on the spine - A brace can reduce the weight placed on the joints, discs and muscles of the lower back. This may help reduce muscle tension and reduce back pain.

Minimize movement to speed recovery - A back brace helps limit movements that can be painful, such as bending or twisting to one side, to aid in faster recovery. They can also help you consciously adjust your posture.

Reduced fretting – It can reduce fretting between the vertebrae, thereby reducing pain and irritation of nerves and joints.
Conditions that can benefit from bracing
Back braces can help treat many different types of acute and chronic back pain conditions, as well as prevent poor posture and relieve discomfort when sitting or standing. Here are some situations where a back brace can help:
Sciatica - This is a condition that causes pain to radiate along the sciatic nerve from the lower back to the legs. A back brace can provide support and compression to limit lower back movement, protect nerves, and reduce pain in the area.




Herniated Disc - A lumbar disc herniation occurs when one of the discs ruptures. A back brace can provide additional stability and reduce fretting to help relieve pain and discomfort.

Osteoarthritis - A back brace stabilizes a weak spine and minimizes pressure on the affected joints, thereby relieving pain and making getting around easier.

Post-operative supports - supports are often used after surgery to immobilize the area and give it time to heal without being aggravated by exercise.

Lumbar Injury - A lumbar spine injury is an injury that occurs in the lower area of ​​the back. The lumbar spine and sacroiliac girdle can apply pressure to transfer weight from the spine and limit excessive movement to help reduce pain. They also add warmth through compression to relax tight muscles.

Bad Posture - A back brace can provide postural support by helping you stay upright with proper posture. You can find lumbar braces for correcting lower back posture, as well as braces for upper back pain and posture relief to help with collarbone and shoulder problems.
Treat Postural Back Problems
Long-term postural problems can lead to back pain if you don't take steps to correct them. Posture correctors can pull your shoulders back and prevent your back from sagging when you're tired or sitting for long periods of time. While they can effectively improve your posture by keeping you upright, they can also draw your attention to problem areas. This helps remind you to stay straight without a brace so you can build muscular endurance and a stronger core for good long-term posture.
Pregnancy Back Problem Treatment

Back pain is common during pregnancy because the weight of a growing baby can put extra pressure on your back and belly. The right back brace can help support this extra weight. It can also help correct your posture, reduce pressure on your pelvis, abdomen and lower back, and relieve lumbar spine and pelvic girdle pain.
How often do you need to wear the harness

Generally speaking, back braces are not suitable for wearing all day, as this can weaken your core and cause muscle atrophy. You may need to wear the brace when you are most active, such as during your daily activities or exercise, or to help promote proper alignment when you are seated. Follow the advice your healthcare professional gives you to determine how long you need to wear the brace each day.
ZSZBACE back support can help you solve the following problems:

【Want To Be More Sexy?】Well, a good posture will make you more sexy. With our back brace for posture, your posture will be more upright, making your body curve more prominent, looking more sexy, and more confident in your workplace and life. Start today wearing our back brace posture corrector for 1-2 hours a day , after 15 days you will find have a healthy posture
【Say Goodbye To Painful Life】Are you still suffering from collarbone, back, neck and shoulder pain due to poor posture? Our back straighteners support the upper and lower back and can effectively correct your poor posture, make working or standing for long periods of time a breeze. Relief back, neck, shoulder and collarbone pain
【Thoughtful Design】Are you still troubled by the fact that the posture correcter is not easy to use, cuts the skin, and is uncomfortable to wear? We don't have these problems at all, this posture brace has two adjustable straps on the belly and shoulders that allow you to adjust accordingly and is invisible under clothing to avoid embarrassment. Premium soft, breathable, comfortable, ultra-light, ultra-thin fabric makes you feel relaxed and happy when wearing the product
【Perfect For You】Our back straightener posture corrector is perfect for people who work, exercise, drive, have back injuries or spinal surgery. You don't need to spend thousands of dollars repeating visits to a chiropractor or massage parlor, you can get long-term results at a fraction of the cost when using our products! This upper back brace can help relieve pain when you start using it at home, office, gym or at leisure
【Still Not Sure?】 Don't worry, our back straightener posture corrector for women has been rigorously scientifically tested to show that this hunchback correction can improve the bad posture, relieve pain, and be extremely durable. We also offer great customer service and a money-back guarantee, so what are you waiting for?
Share
View full details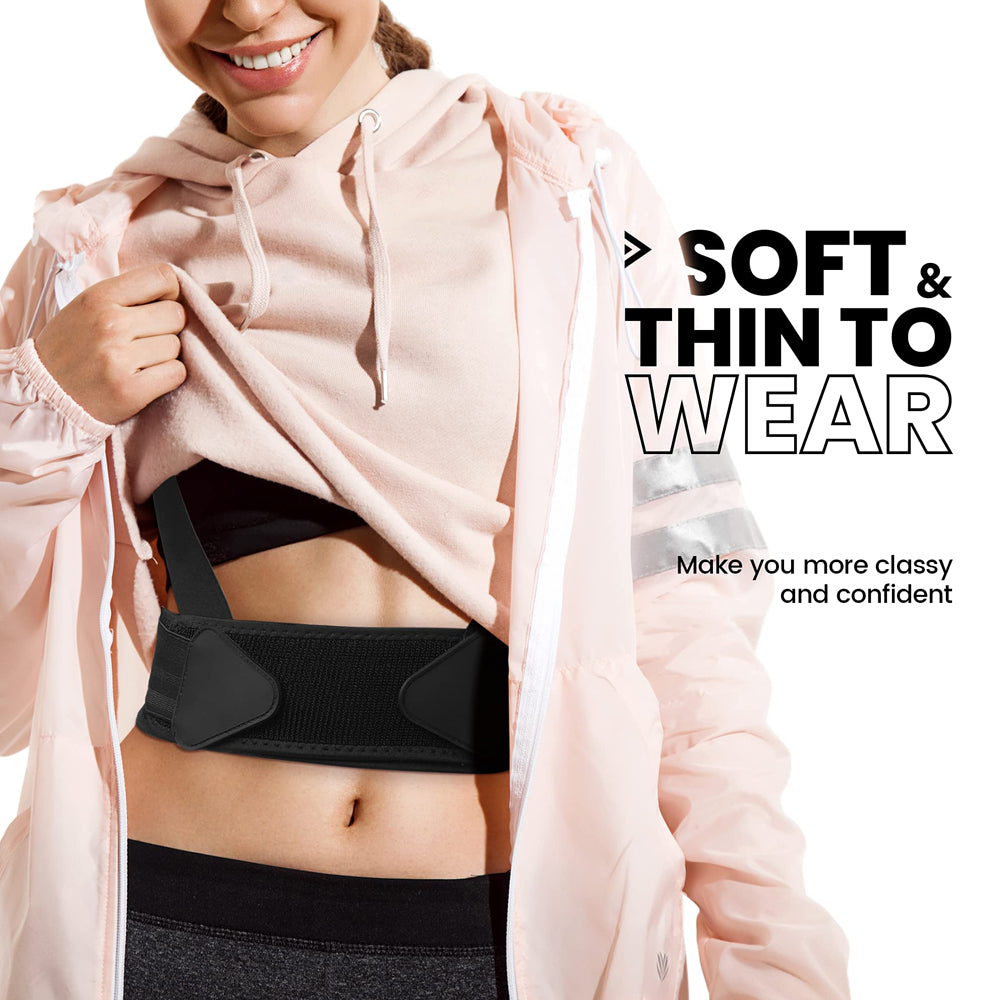 OUR PROMISE TO YOU!
Not 100% satisfied with the brace? No problem, we'll take it back and issue afull refund. No hidden charges.