Use the coupon code "happy" to get a $5 discount For Order Over $20
Regular price
$59.00 USD
Sale price
$45.00 USD
Unit price
per
Sale
Sold out
Or fastest
delivery Thursday December 07
Order within today
Shipping

Estimated delivery time:

United States: 3-5 working days
United Kingdom: 3-7 working days
South Africa: 6-12 working days
Canada: 5-12 working days
Ireland:6-12 working days
Australia: 5-11 working days
New Zealand: 4-9 working days

Rest of Europe: 4-11 working days
Albania, Austria, Belarus, Belgium, Bosnia, Bulgaria, Croatia, Czech Republic, Denmark, Estonia, Finland, France, Germany, Greece, Hungary, Iceland, Italy, Latvia, Lithuania, Luxembourg, Malta, Netherlands, Norway, Poland, Portugal, Romania,  Slovakia, Slovenia, Spain, Sweden, Switzerland, Ukraine

Asia: 6-12 working days
Hong Kong, Israel, Japan, South Korea, Thailand, Vietnam, Japan, Lebanon, Malaysia, Oman, Pakistan, Qatar, Saudi Arabia, Singapore, Taiwan, Turkey, United Arab Emirates

South/Central America: 6-12 working days
Chile, Colombia, Mexico


Please see checkout for shipping/delivery estimate. Easy Returns and Exchanges

Worldwide Express Air Shipping + Satisfaction Guaranteed!
Returns

We offer a 100% money-back guarantee. If you are not satisfied or your brace doesn't fit right, let us know and we will help you with our free returns and exchanges. We pay the return shipping. Your satisfaction is our top priority!
Back braces are also known as lumbar supports. Research suggests that the use of a back brace can provide short-term relief. Most people with this type of back discomfort may experience mild to moderate pain. In some cases, they may become weak. Worse are severe cases, as you may feel like charged claws are gripping your lower back, trying to tear every nerve in that area of ​​your body. So even the smallest movements, like walking, coughing, or getting up from a chair, can feel like pure torture. Some people describe their back pain as similar to having the same stiff back as concrete or as sensitive as exposed nerves.
Why use a back brace?
Back pain can be caused by illness and injury, precisely because of poor posture and poor weightlifting. For this reason, wearing a back brace is a popular way to prevent back pain and improve posture.
A back brace supports your back in the best possible position while preventing you from straining while standing or sitting. The back stand is great to wear when you're doing heavy lifting, work, exercising and a variety of other situations.

According to research, back braces

A back brace or lumbar support device can provide some short-term relief for people with back pain. The Annals of Physical Rehabilitation Medicine published an analysis of 28 studies in its September 2016 issue. Their findings suggest that these devices cannot cure the underlying disease, but they are simple and relatively inexpensive.
In their 2016 meta-analysis, the researchers reported that lumbar support devices were useful in reducing pain in patients with subacute back pain. That means it's past its acute phase -- say it's sudden and short-lived -- but hasn't lasted long enough to be considered chronic.

How often should you wear your braces?

The back support should not be worn for more than 2 hours per day. In fact, overuse of the back brace can lead to weakened core function and muscle atrophy.
Getting a rear bracket is critical:

Very comfortable




suitable for you

have an appropriate level of pain relief

feel good and supportive
Back braces can help manage several back conditions
Back braces do not permanently cure back pain. However, there is no denying that they can help manage the symptoms of many different back problems. These will include the following:
back muscle sprain




Osteoporosis

Spinal cord injury

kyphosis

ankylosing spondylitis

spinal fracture

whipping

spinal tumor

Scoliosis

Spondylolisthesis
All back problems are very different, and each requires a different level of treatment. There are also many types of back braces, which means that one type may be more beneficial to your current situation than the other. Before trying bracing as a treatment, discuss your options with your GP.
The benefits of wearing a back support

improve your posture
A good posture means: your spine should be in an upright position, your chest is up, your shoulders are back, and your core is tight. How many of us are sitting correctly in this position? Many of us continue to be listless while sitting, flexing our spines. Listlessness can lead not only to poor posture, but also to severe back pain.
Frequent poor posture can lead to spinal weakness and possibly deformity over time. As a result, you are vulnerable to back injuries.

What's the best way to ensure your spine is always in a healthy alignment? Back braces force your spine into a straight position.

Immobilized

Did you know that immobilization is good for your back and spine? Unnecessary exercise can help prevent back injury and pain, especially if you've just had spinal surgery or a back injury. In some cases, immobilization is essential for your back to heal properly. This is where back support comes into play as it prevents significant movement of the back area. These movements include extension, flexion, and rotation. Therefore, this helps avoid full range of motion in the back, preventing back pain and further injury. Make sure to choose the correct back brace for this purpose.
prevent back pain

Back pain can interfere with many important aspects of our lives. It can make exercising, working, and even doing simple daily functions unbearable. Back braces prevent you from performing unnecessary movements that can further damage your back. This helps maintain proper alignment of the spine and makes the back muscles stronger. As a result, it reduces your back pain.
This ZSZBACE back support:
100% ERGONOMIC Y-SHAPED DESIGN : Our back straightener posture corrector has invisible posture belt, light and breathable, stable support, universal four seasons, adjustable size for different body , tailored for back corrections.
CORRECT POSTURE AT ANYWHERE & ANYTIME : Maximum comfort porous ventilation design & close-fitting, wear under a blouse or shirt. When you go out with straight posture, you will look confident, healthy and looked younger.
REGAIN YOUR CONFIDENCE FROM US : Ergonomic spine Y-shaped design, balanced support, protect the body from stress, stabilize the lumbar spine, thicken and widen the shoulders, disperse the shoulders to withstand the pressure, reduce the armpit friction, and the limbs can move freely.
SATUSFACTORY AFTER-SALES SERVICE : If you feel unsatisfied for this shopping , please contact us first, we will arrange refund or replacement sooner for you. Try our best service for you!
Share
View full details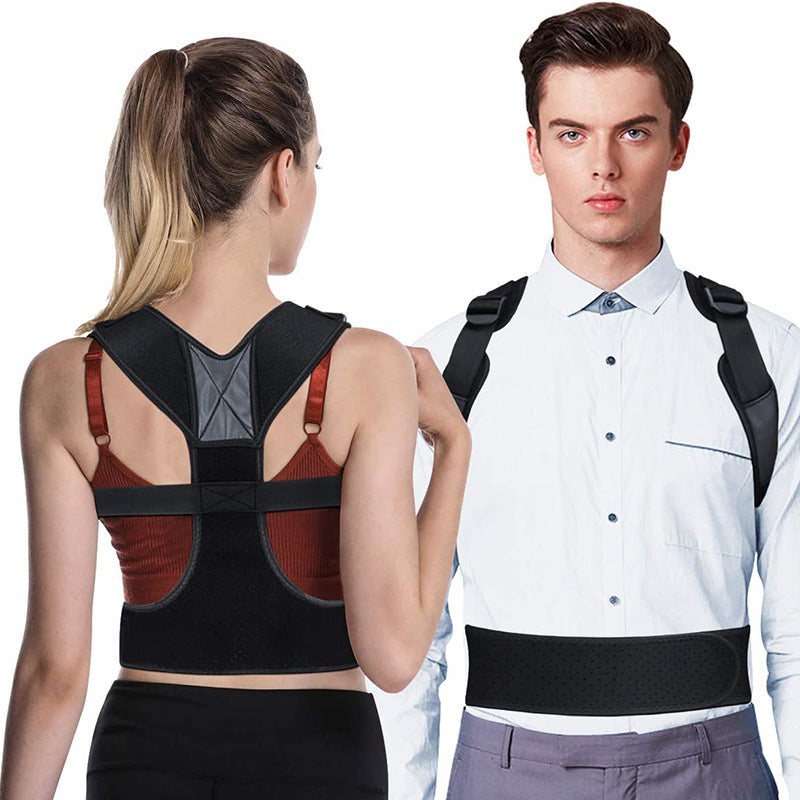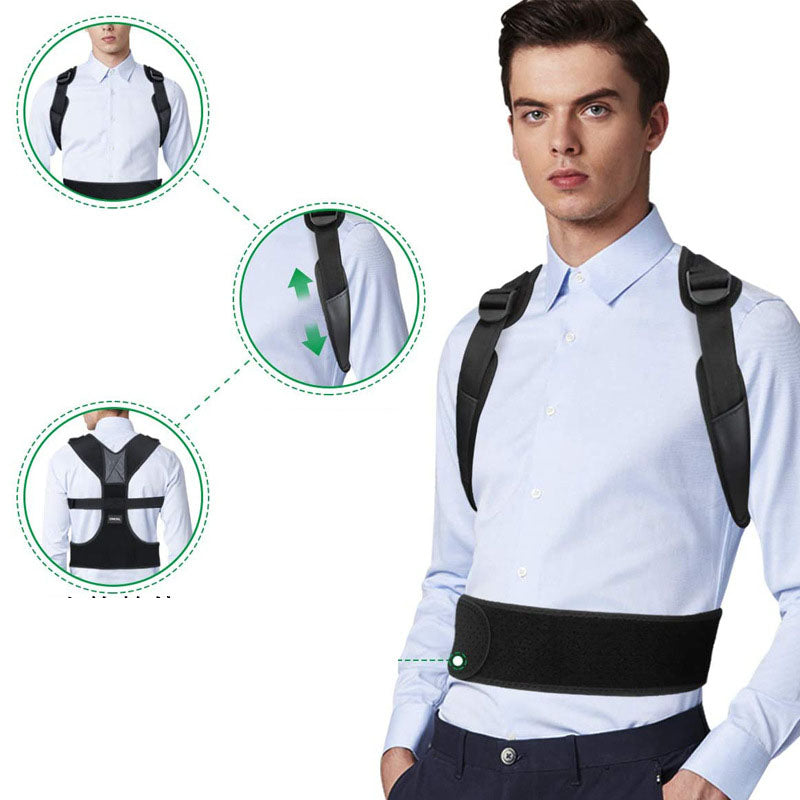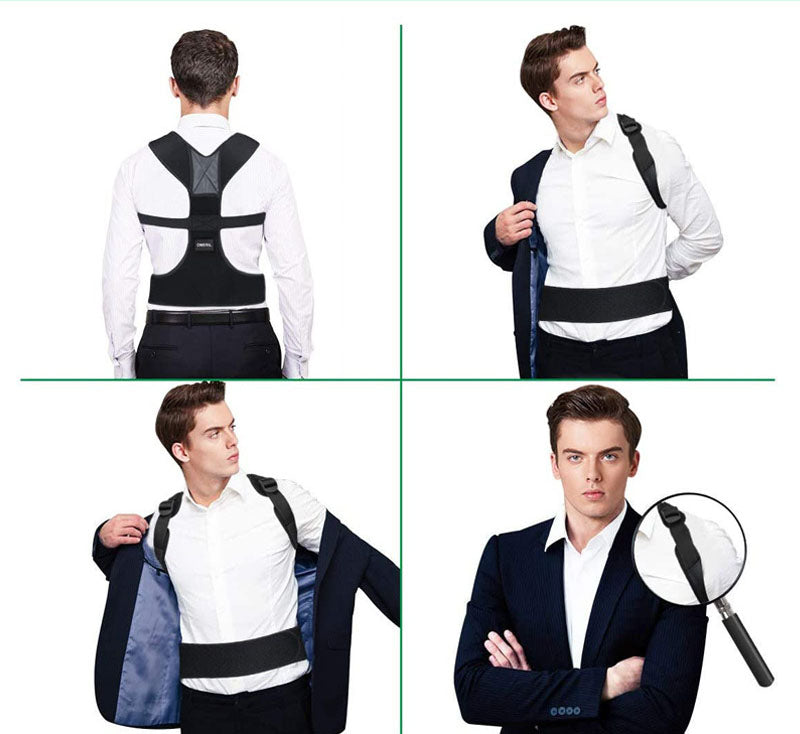 OUR PROMISE TO YOU!
Not 100% satisfied with the brace? No problem, we'll take it back and issue afull refund. No hidden charges.