Use the coupon code "happy" to get a $5 discount For Order Over $20
Regular price
$35.00 USD
Sale price
$29.00 USD
Unit price
per
Sale
Sold out
Or fastest
delivery Thursday September 28
Order within today
Shipping

Estimated delivery time:

United States: 3-5 working days
United Kingdom: 3-7 working days
South Africa: 6-12 working days
Canada: 5-12 working days
Ireland:6-12 working days
Australia: 5-11 working days
New Zealand: 4-9 working days

Rest of Europe: 4-11 working days
Albania, Austria, Belarus, Belgium, Bosnia, Bulgaria, Croatia, Czech Republic, Denmark, Estonia, Finland, France, Germany, Greece, Hungary, Iceland, Italy, Latvia, Lithuania, Luxembourg, Malta, Netherlands, Norway, Poland, Portugal, Romania,  Slovakia, Slovenia, Spain, Sweden, Switzerland, Ukraine

Asia: 6-12 working days
Hong Kong, Israel, Japan, South Korea, Thailand, Vietnam, Japan, Lebanon, Malaysia, Oman, Pakistan, Qatar, Saudi Arabia, Singapore, Taiwan, Turkey, United Arab Emirates

South/Central America: 6-12 working days
Chile, Colombia, Mexico


Please see checkout for shipping/delivery estimate. Easy Returns and Exchanges

Worldwide Express Air Shipping + Satisfaction Guaranteed!
Returns

We offer a 100% money-back guarantee. If you are not satisfied or your brace doesn't fit right, let us know and we will help you with our free returns and exchanges. We pay the return shipping. Your satisfaction is our top priority!
Why You Need This Clavicle Bracket for Clavicle Fracture Repair and Posture Correction
The clavicle (clavicular) is one of the most common fractured or fractured bones in the human body. This injury is usually seen in young children, adults involved in high-intensity sports, or anyone who spends a lot of time playing high-contact sports such as football or rugby. Clavicle fractures can also be caused by trauma such as a car accident or a serious fall.
This Figure 8 Clavicle Band is specifically designed to help treat clavicle fractures, clavicle fractures, dislocated clavicle and postoperative pain by providing optimal support and fixation in the area.

What does a clavicle fracture feel like?

Clavicle fractures are usually obvious. When it happens, you may feel the cracks. Then, you may experience some of the following symptoms:
inability to move your arms and shoulders




swelling and pain around the collarbone




Lump or deformity around the broken area




A rubbing sensation when you try to lift your arm




sagging or sagging shoulders



Can this collarbone brace be used as a postural support?

This upper back support can also be used as a posture trainer to help prevent your hunched back. This is thanks to the figure-8 design that wraps around your shoulders and crosses at the back, gently pulling your shoulders back. This design helps retrain the back muscles to maintain an upright, slack posture and keep the spine properly aligned and straight.
However, if you're looking for a posture corrector specifically designed to fix rounded shoulders, you should check out ZSZBACE's Posture Brace. This brace is specifically designed to prevent stooping, not to fix your collarbone.

For example, wearing ZSZBACE's posture improvement device can help you maintain good posture while typing on a computer in the office, sitting on a desk chair, or standing. A pediatric-sized posture corrector for children is also available. Learn more about the differences between our postural and clavicle braces.

Reasons Why People Love This Figure 8 Back Posture Brace

This Broken Clavicle Treatment Bracket and Posture Corrector has many features that make it comfortable to wear when dealing with clavicle pain. Below we detail these features to help it stand out from similar Clavicle Fixators or Broken Clavicle Arm Slings on the market .
Thick padded shoulder straps provide comfortable stability

The straps on this stand protect your body with a felt back pad where the padding and straps fuse. In addition, the straps of this figure-8 collarbone splint are covered with breathable knitted stocking material, making it extra soft and comfortable to wear during the day and while sleeping at night.
This brace also has fairly wide shoulder straps, making it a great solution for collarbone injuries. For this type of injury, the narrower version is not recommended. If the width of these straps feels uncomfortable at first, keep in mind that this width will give you the proper level of stability needed for proper healing from a collarbone injury.

Provides more mobility than arm slings

Compared to arm slings, this figure 8 design allows full mobility of your hands. Plus, this figure-of-eight brace keeps your shoulders back and stabilizes them, rather than arm slings, which usually hold only one side. You can also choose to wear this strap under or over your clothing, unlike the arm sling which must be worn over your clothing.
For more severe collarbone injuries, your doctor may specifically recommend purchasing a shoulder strap. If needed, check out our selection of fixed arm and shoulder slings.

Also, to make this pose and collarbone support accessible to everyone, this brace is latex-free and safe to use even if you have allergies.

Use after clavicle surgery

If your injury is a simple fracture, there is no need to realign your collarbone or fracture your collarbone, just fix the area with this collarbone brace and allow your bone to heal. In more severe fractures where the bone must be replaced, surgery may be required.
After surgery, this collarbone fracture brace helps keep your shoulder still so your collarbone can heal properly. Ice can also help relieve any discomfort or swelling during severe or milder rest.

Frequently Asked Questions about this Back Straightener and Posture Corrector

What conditions/injuries does this collarbone band treat? Use this figure 8 brace for bruises, ruptures, fractures or dislocations on the clavicle or after clavicle surgery.

Can this be used to correct bad posture? Yes, it can also help correct poor posture by pulling the shoulders back into the correct position. But if you're just looking for a posture corrector, check out our posture braces. It's designed to be used more specifically as a posture trainer rather than a collarbone brace.




How does it work? Designed to immobilize and provide support to the clavicle during daily activities while recovering from a fractured or injured clavicle.




When should I wear it? First, consult your doctor to determine the severity of your injury and to find out how long you should wear the brace. You should wear the brace until you no longer feel pain when you move. Most clavicle fractures heal within 4-8 weeks.




What should I wear? You need someone to help you apply, adjust and remove this bracket. Start by laying the stand flat to identify the left and right shoulder straps. Next, place the back pad between your shoulder blades with the plastic triangular buckle facing down. Then, carefully wrap the padding straps around each shoulder. Thread each strap through the plastic triangular buckle opening, then fold the straps over to attach the fasteners. You should feel your shoulders being pulled back slightly.




How do I adjust the fit? To adjust the fit, have the person helping you tighten or loosen one strap at a time until you reach your desired level of support.




Washing Instructions: Close all fasteners and hand wash in warm water with mild soap. Lay flat and air dry completely before reapplying. Do not use high heat for washing or drying.




other functions:



Can be worn over or under clothing.




Can be worn all day while sleeping, sitting, standing, etc.




Clavicle braces are very affordable.



Share
View full details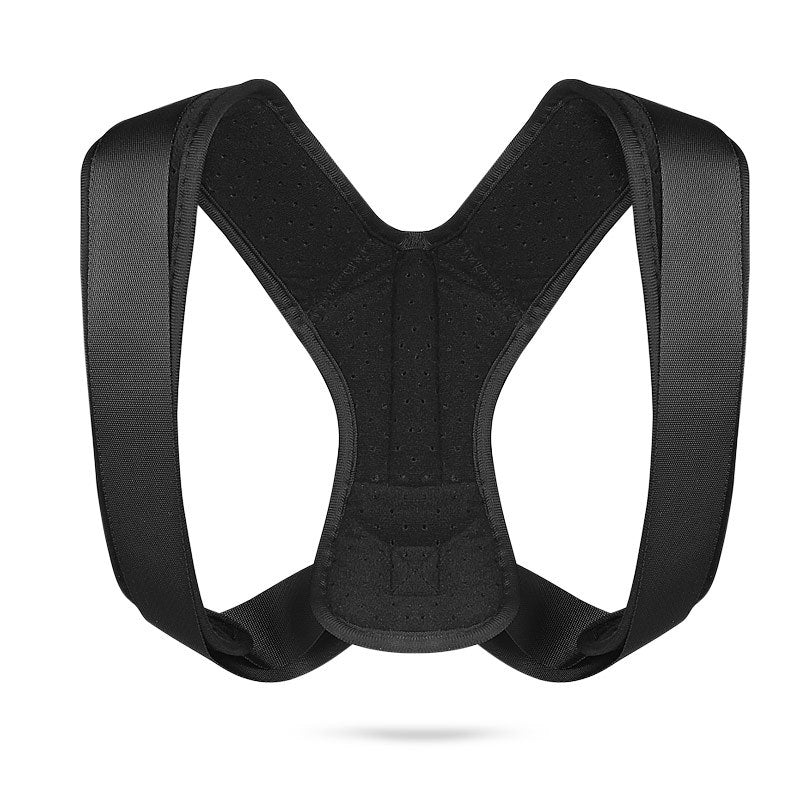 OUR PROMISE TO YOU!
Not 100% satisfied with the brace? No problem, we'll take it back and issue afull refund. No hidden charges.