Use the coupon code "happy" to get a $5 discount For Order Over $20
Regular price
$69.00 USD
Sale price
$56.00 USD
Unit price
per
Sale
Sold out
Or fastest
delivery Sunday October 08
Order within today
Shipping

Estimated delivery time:

United States: 3-5 working days
United Kingdom: 3-7 working days
South Africa: 6-12 working days
Canada: 5-12 working days
Ireland:6-12 working days
Australia: 5-11 working days
New Zealand: 4-9 working days

Rest of Europe: 4-11 working days
Albania, Austria, Belarus, Belgium, Bosnia, Bulgaria, Croatia, Czech Republic, Denmark, Estonia, Finland, France, Germany, Greece, Hungary, Iceland, Italy, Latvia, Lithuania, Luxembourg, Malta, Netherlands, Norway, Poland, Portugal, Romania,  Slovakia, Slovenia, Spain, Sweden, Switzerland, Ukraine

Asia: 6-12 working days
Hong Kong, Israel, Japan, South Korea, Thailand, Vietnam, Japan, Lebanon, Malaysia, Oman, Pakistan, Qatar, Saudi Arabia, Singapore, Taiwan, Turkey, United Arab Emirates

South/Central America: 6-12 working days
Chile, Colombia, Mexico


Please see checkout for shipping/delivery estimate. Easy Returns and Exchanges

Worldwide Express Air Shipping + Satisfaction Guaranteed!
Returns

We offer a 100% money-back guarantee. If you are not satisfied or your brace doesn't fit right, let us know and we will help you with our free returns and exchanges. We pay the return shipping. Your satisfaction is our top priority!
Why is good posture important?
While the reasons should be obvious, maintaining good posture has many benefits, including building strength in areas of the body that are prone to chronic pain. It also helps reduce tightness in the neck, shoulders and upper back.
Good posture also helps boost energy levels, keeps you in proper posture while exercising, reduces the chance of injury from expending energy, and helps you get more air in your lungs. Think of posture as the key to maintaining overall health and well-being, as well as making it easy to carry out your daily activities.

The most important postural areas are the neck, the cervicothoracic junction (located below the nape of the neck), and the lower back area.

What is a Posture Corrector?

As you gain a better understanding of the importance of posture, you may be interested in the idea of ​​using a posture corrector to improve and support your posture. Posture correctors are wearable devices designed to provide support and corrective structures for posture. They work to tone your spine and build thinking muscle pathways, help maintain healthy postures and re-teach natural repositioning away from slouching postures.
How Long Should You Wear a Posture Corrector?

The length of time a person should use a posture corrector varies from person to person, and it's best to ask a chiropractor or GP if you're not sure about the ideal length for your situation.
As a rule of thumb, it is recommended that people wear a posture corrector for 15-30 minutes a day for 3 to 4 days, gradually increasing the number of days depending on their posture needs. Watching how your posture adjusts and improves with wear is at the heart of using a posture corrector, so monitoring whether you're feeling the results is key to using the device.

What am I looking for in a posture corrector?

There are three key components of a posture corrector to consider when purchasing, including:
Target area: Does it target the area of ​​your back where you feel the weakest? This is the heart of choosing a posture corrector. The most common posture correctors target the shoulders, cervicothoracic junction, and lumbar spine. If you're not sure which area is weakest, look at your posture from the waist up and identify the source of your slack.

Comfort: Look for a breathable material that feels soft and non-irritating on your skin and doesn't twist your body into unnatural positions. If it's uncomfortable, it's useless because you won't be using it.
Ease of use: If the posture corrector you choose does not easily fit or attach to your body, consider looking for an alternative. Practically speaking, if you can't wear it yourself, you're not going to wear it as much.
Benefits of wearing ZSZBACE Posture Corrector:
【Corrects Your Bad Posture】: Our Posture Corrector help you improve and fix bad posture. Whether you have a hunchback or slumped shoulders, suffer from Osteoporosis, Scoliosis, Lordosis or Kyphos, the posture brace works by pulling back your shoulders and straightening your upper back, training your muscles and spine to return to their natural alignment.
【Muscle Pain Relief】: Usually, your back pain has been caused by your incorrect posture. This back posture corrector is an innovative posture corrector that naturally relieves back, shoulder and neck pain by optimizing your standing and sitting posture.
【Premium Quality Soft and Breathable Fabric】: Our posture brace corrector is made of premium sturdy but lightweight neoprene material, which is safe, soft, breathable, durable, and washable. With cutting-edge front loading design, make wearer feel super soft and comfortable to skin, shoulders and body. You can wear this body wellness posture corrector under clothes or on top of the clothes and it will remain as new for a long time.
【Cherish Your Health】: Good posture is healthy for men, women and children. Our posture corrector works by training your muscles and spine to return to their natural alignment, Healthy upright posture strengthens back and core muscles, stimulates better blood flow and promotes overall well-being.
Share
View full details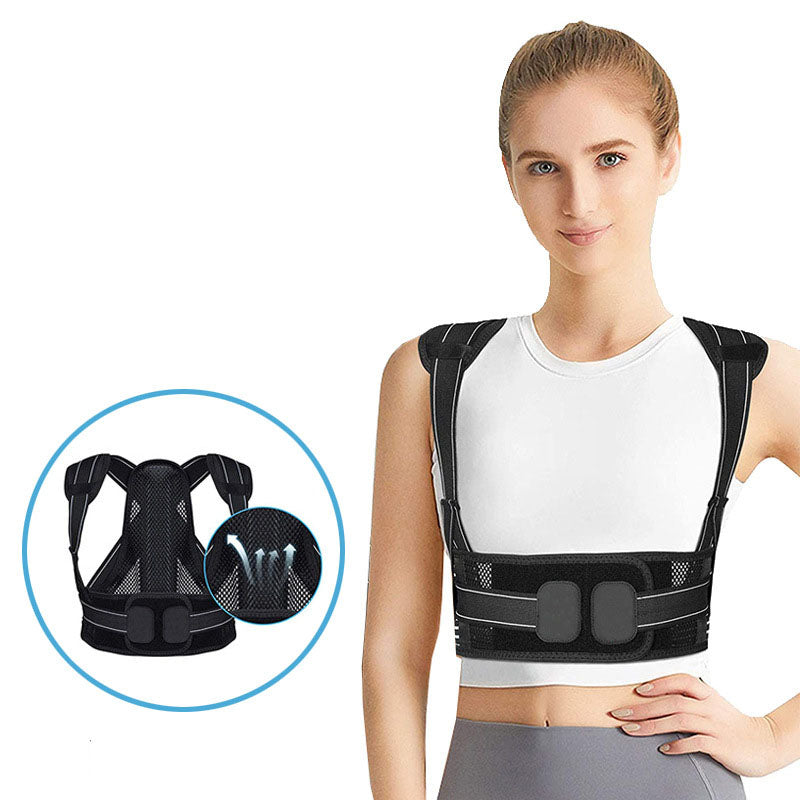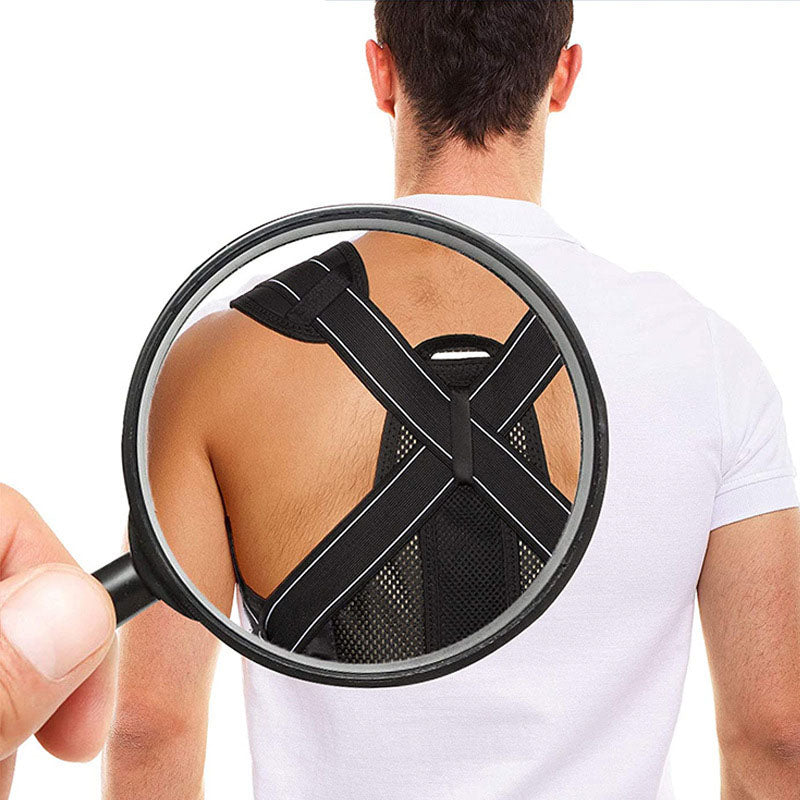 OUR PROMISE TO YOU!
Not 100% satisfied with the brace? No problem, we'll take it back and issue afull refund. No hidden charges.