Use the coupon code "happy" to get a $5 discount For Order Over $20
Professional Knee Brace Compression Sleeve - Best Knee Braces for Men Women, Knee Support Protector for Running, Meniscus Tear, Arthritis, Joint Pain Relief, Sports Injury Recovery
Professional Knee Brace Compression Sleeve - Best Knee Braces for Men Women, Knee Support Protector for Running, Meniscus Tear, Arthritis, Joint Pain Relief, Sports Injury Recovery
Regular price
$27.99 USD
Sale price
$17.99 USD
Unit price
per
Sale
Sold out
Or fastest
delivery Friday September 29
Order within today
Shipping

Estimated delivery time:

United States: 3-5 working days
United Kingdom: 3-7 working days
South Africa: 6-12 working days
Canada: 5-12 working days
Ireland:6-12 working days
Australia: 5-11 working days
New Zealand: 4-9 working days

Rest of Europe: 4-11 working days
Albania, Austria, Belarus, Belgium, Bosnia, Bulgaria, Croatia, Czech Republic, Denmark, Estonia, Finland, France, Germany, Greece, Hungary, Iceland, Italy, Latvia, Lithuania, Luxembourg, Malta, Netherlands, Norway, Poland, Portugal, Romania,  Slovakia, Slovenia, Spain, Sweden, Switzerland, Ukraine

Asia: 6-12 working days
Hong Kong, Israel, Japan, South Korea, Thailand, Vietnam, Japan, Lebanon, Malaysia, Oman, Pakistan, Qatar, Saudi Arabia, Singapore, Taiwan, Turkey, United Arab Emirates

South/Central America: 6-12 working days
Chile, Colombia, Mexico


Please see checkout for shipping/delivery estimate. Easy Returns and Exchanges

Worldwide Express Air Shipping + Satisfaction Guaranteed!
Returns

We offer a 100% money-back guarantee. If you are not satisfied or your brace doesn't fit right, let us know and we will help you with our free returns and exchanges. We pay the return shipping. Your satisfaction is our top priority!
Why We Love This Patella Gel Pad Knee Brace: Top 5 Features and Benefits
Available in a variety of sizes
Available in a variety of sizes, this compression sleeve is perfect for regular adults to plus size men and women. Plus, you can wear this lightweight sleeve alternately on the right or left leg, perfect for repeated use over time. Use a flexible tape measure and refer to the size chart pictured above to find the best size and size for your knee.
Targeted, comfortable compression

Unlike most common neoprene knee braces, this brace features a contoured silicone ring designed to apply effective, targeted pressure. Not only does this support ring help protect and relieve pain caused by a problematic bursa, but it also helps spread unwanted, painful pressure off the kneecap. Compression is key to reducing inflammation and bursitis pain, so find some quick, cost-effective relief with this knee brace!
Made of breathable lightweight material

There is nothing worse than feeling uncomfortable warmth and sweating while wearing a knee pad. That's why this sleeve is designed with your comfort and all-day use in mind. The brace will apply soothing compression and pressure when you're active throughout the day, yet lightweight and breathable. Medical-grade materials help prevent this brace from rolling and sliding as you walk, run, climb stairs and exercise.
Helps treat various types of knee bursitis

Use this knee compression sleeve for a variety of pains, injuries and conditions. Braces help prevent swelling, pain, and inflammation while providing soothing pressure and support as you recover and heal from:
prepatellar bursitis




Knee Arthritis and Osteoarthritis

knee gout

suprapatellar bursitis

Infrapatellar bursa

goose down sac

Patellar tendonitis

kneecap subluxation
Before using this compression sleeve, consult with your doctor or medical professional to make sure it is the best option for your specific injury, pain or condition.
Sleeve provides supportive stability

Our Bursitis Brace features a silicone pad that surrounds the kneecap to help stabilize and protect your weak knee. The stabilization pad also helps provide a soothing massage to the surrounding tissue when the sleeve is worn. Each side of the compression sleeve has flexible but supportive stays for easy personalized fit and application. Also, thanks to the stable support, you don't need to worry about any slipping or sliding of the stand when wearing it all day.
How does this compression knee sleeve help with bursitis?

To understand how best to manage bursitis pain, it's helpful to understand exactly what knee bursitis is all about. Bursitis is inflammation or irritation of one or more bursae. A bursa is a small, fluid-filled sac located near the knee joint that reduces friction and cushions pressure points between the muscles, tendons, and bones of the knee. When the bursa becomes inflamed or swollen, it can cause more problems, causing knee pain and bone-to-bone friction. Pain can be felt above, below, behind, or in front of the kneecap, and in some cases, inside and outside the patella.
So, how do you get rid of knee pain? The first step is to reduce swelling and inflammation. Compression sleeves help relieve pressure on the knee and provide proper blood flow, preventing and reducing any swelling from occurring. The silicone ring protects, supports and keeps your kneecap in place when you are up and active.

What are the different types of knee bursitis?

In order to find the best way to recover from knee pain, it is important to fully understand what exactly is causing the pain symptoms you are experiencing. When it comes to knee bursitis, not only are there multiple types of bursitis, but the disease itself has a range of different names—so let's break it down. The different types of bursitis refer directly to the bursa, the fluid-filled sac between the tendon and bone or skin and tendon, which is located around the patella.
PES ANSERINE Bursitis

The most basic type of knee bursitis is also known as goosefoot bursitis. The name comes from where the bursitis occurs, the pes anserine bursa, which is located between the tibia and the three tendons of the hamstrings on the inside of the knee.
suprapatellar bursitis

Suprapatellar bursitis refers to irritation and swelling of the bursa located between the leg bone and the quadriceps tendon. This can cause pain when bending or fully extending the knee. This type of bursitis can be caused by a direct blow to the kneecap or by repeated stress and overuse of exercise.
prepatellar bursitis

This type of bursitis is inflammation of the bursa in the front of the kneecap, often causing irritation, swelling, and pain. Prepatellar bursitis goes by several names, as the condition often affects those who work on their knees. This condition is often referred to as carpet layer knee, maid's knee, carpet cutter's knee, or nun's knee.
subpatellar bursitis

Subpatellar bursitis occurs when the bursa is located just below the kneecap, below the patellar tendon. This type of bursitis is often associated with patellar tendonitis or jumper knee. This type of bursitis is often referred to as coal miner's knee, priest's knee, or carpenter's knee.
If you want to learn more about the treatment process for healing and relieving any type of knee bursitis, read more and try these stretches and exercises specifically for knee bursitis.

Frequently Asked Questions About Knee Pads

What conditions/injuries do compression sleeves treat? Helps treat and manage pain caused by swelling, various forms of bursitis, arthritis, gout, tendonitis, knee capsule, and more.

Who can wear knee pads? Available in a variety of sizes for teen to adult men and women.

What should I wear? Simply slide the sleeve over the foot and up the affected leg, wide end up. Positioned above the knee with the support centered on the kneecap.

How do I know what size to buy? Use a flexible tape measure and refer to the size chart above to find the size that works best for you.

Can I wear this brace on my pants? This compression sleeve is designed to be worn directly against the skin.

When should I wear it? Wear it when you need extra pressure and support for your injured or recovering knee throughout the day.

What material is this bracket made of? This patella sleeve is made from a nylon and spandex blend with latex silicone supports and lightweight metal supports.

How tall is this stand? The length of this stand will vary by size, but is designed to sit approximately 6 inches above and 6 inches below the knee.

Washing Instructions: Machine wash in cold water with mild detergent. Allow the stand to air dry completely before reapplying.

color: grey
Share
View full details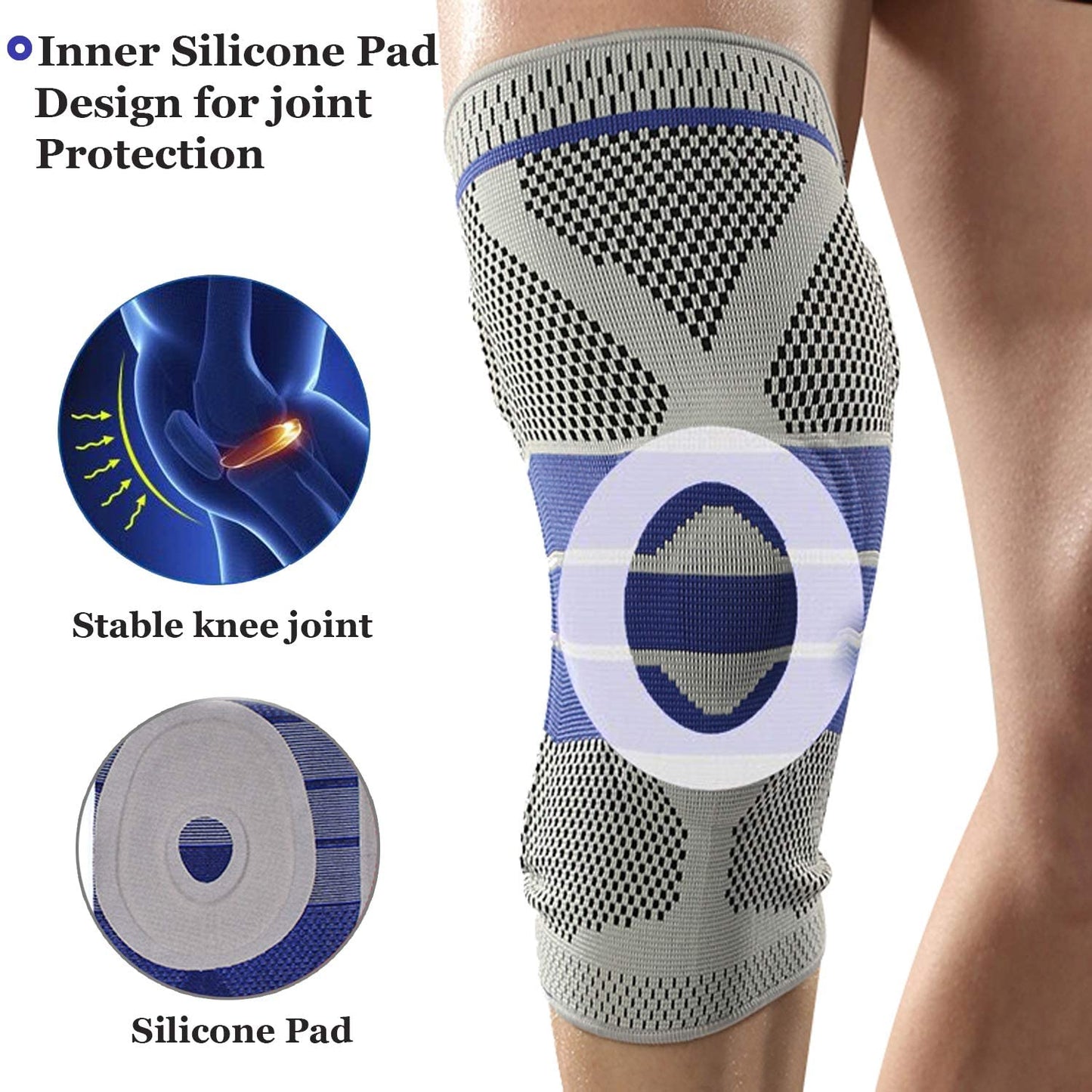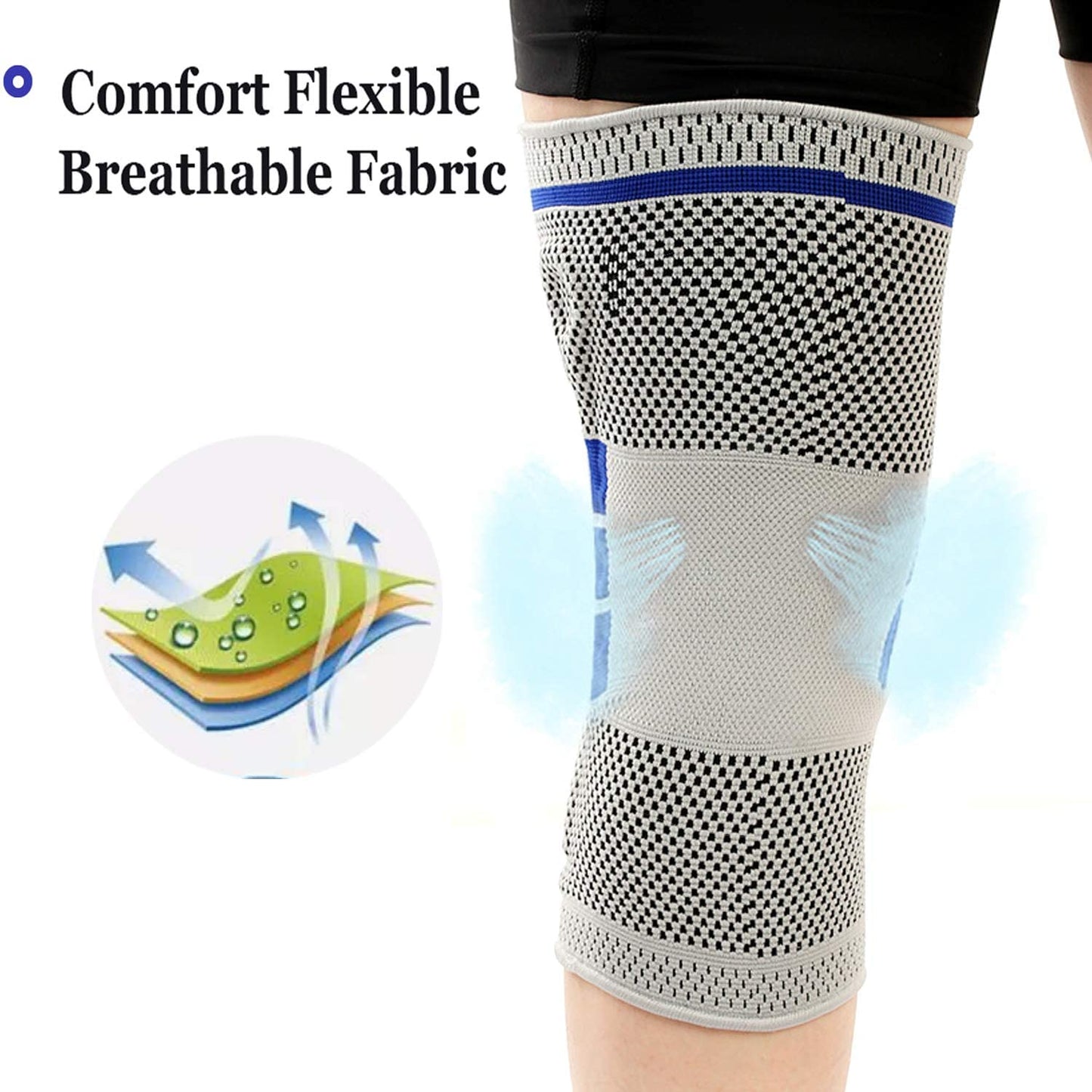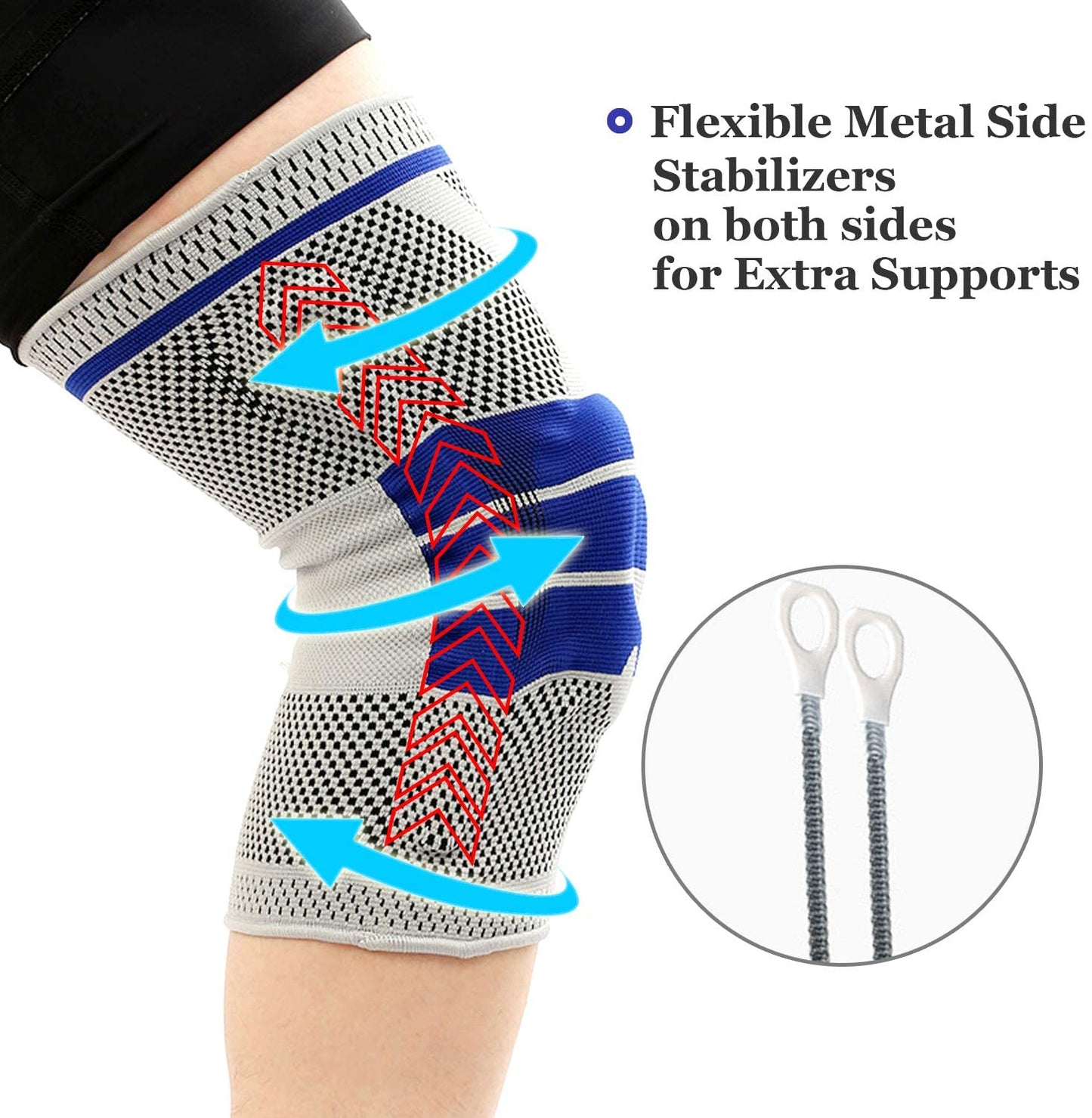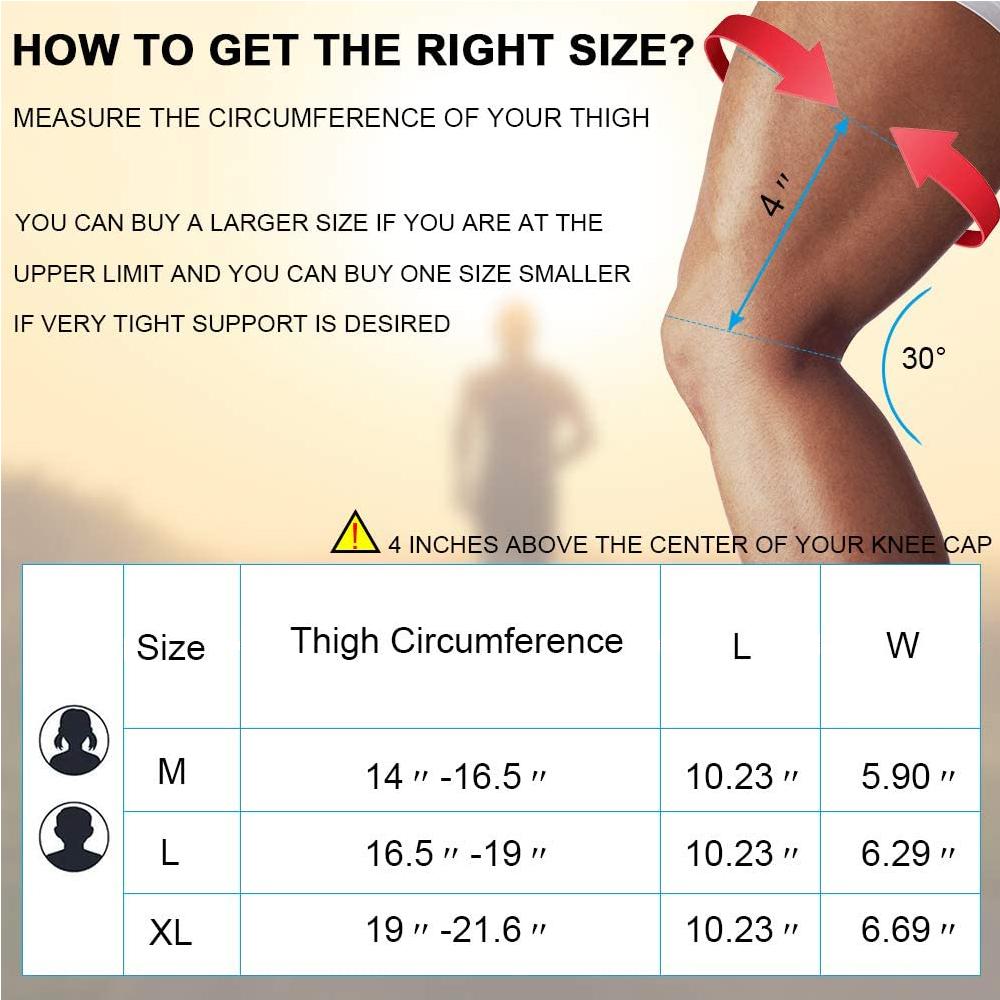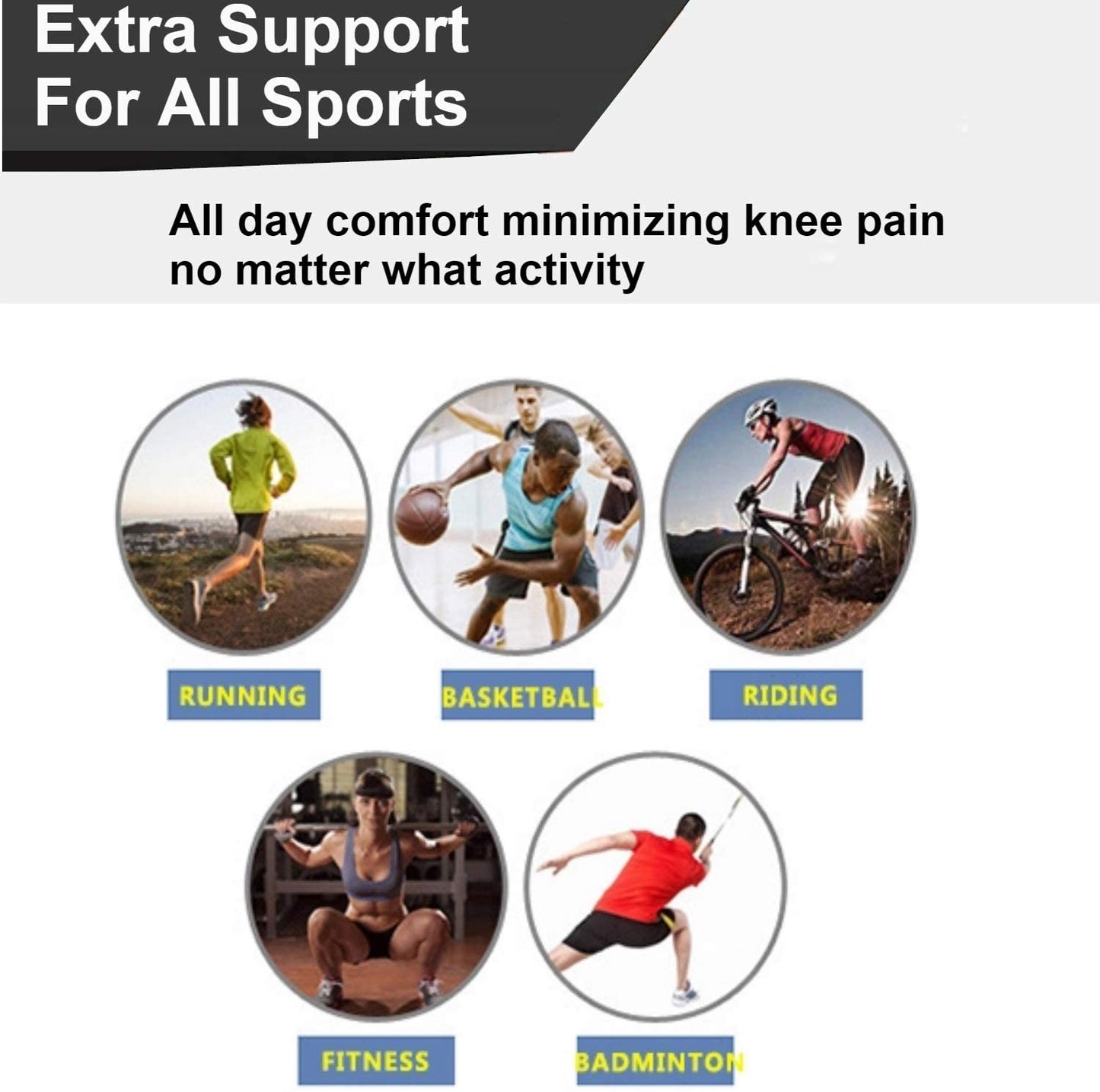 OUR PROMISE TO YOU!
Not 100% satisfied with the brace? No problem, we'll take it back and issue afull refund. No hidden charges.