Use the coupon code "happy" to get a $5 discount For Order Over $20
Regular price
$25.99 USD
Sale price
$16.99 USD
Unit price
per
Sale
Sold out
Or fastest
delivery Sunday October 08
Order within today
Shipping

Estimated delivery time:

United States: 3-5 working days
United Kingdom: 3-7 working days
South Africa: 6-12 working days
Canada: 5-12 working days
Ireland:6-12 working days
Australia: 5-11 working days
New Zealand: 4-9 working days

Rest of Europe: 4-11 working days
Albania, Austria, Belarus, Belgium, Bosnia, Bulgaria, Croatia, Czech Republic, Denmark, Estonia, Finland, France, Germany, Greece, Hungary, Iceland, Italy, Latvia, Lithuania, Luxembourg, Malta, Netherlands, Norway, Poland, Portugal, Romania,  Slovakia, Slovenia, Spain, Sweden, Switzerland, Ukraine

Asia: 6-12 working days
Hong Kong, Israel, Japan, South Korea, Thailand, Vietnam, Japan, Lebanon, Malaysia, Oman, Pakistan, Qatar, Saudi Arabia, Singapore, Taiwan, Turkey, United Arab Emirates

South/Central America: 6-12 working days
Chile, Colombia, Mexico


Please see checkout for shipping/delivery estimate. Easy Returns and Exchanges

Worldwide Express Air Shipping + Satisfaction Guaranteed!
Returns

We offer a 100% money-back guarantee. If you are not satisfied or your brace doesn't fit right, let us know and we will help you with our free returns and exchanges. We pay the return shipping. Your satisfaction is our top priority!
Shoulder Compression Sleeves: 4 of Our Favorite Features
Adjustable Personalized Fit for Men and Women
This shoulder support is available in a variety of adjustable sizes so you can find the perfect personalized fit for your injury, pain or condition. To find your size, use a flexible tape measure and refer to the size chart above before purchasing. Durable support straps can be adjusted to control the level of compression, pressure and protection.
Designed for fast, proactive recovery

Give your upper arm pain or injury the ultimate compression, support and protection with this flexible shoulder brace. Made of high-performance materials, this brace can be worn while you are actively recovering while exercising, working, driving, exercising, running or other physical activity. The adjustable sleeves are moisture-wicking and odor-resistant, making them the perfect support to help support and heal weak muscles without uncomfortable warmth and sweat.
Helps treat and manage a range of shoulder injuries

Whether you're recovering from a rotator cuff tear or just looking for extra support and relief from tendinitis or bursitis, this sleeve is perfect for you. Use a shoulder brace to treat a range of arm injuries, conditions, and pains, such as:
communication separation




torn rotator cuff

shoulder dislocation

lip tears

slap tears

Shoulder arthritis, tendonitis and bursitis

Post-operative recovery

pinching neuralgia

shock mitigation
Consult your doctor or medical professional before wearing to make sure this shoulder pain brace is the right choice for your injury or condition.
Made of compressed material infused with copper

The rotator cuff supports are lightweight, soft and comfortable against the skin. Thanks to the thin and breathable material, you can carefully wear the sleeves under clothing on the right or left arm. Whether you need extra support, protection, and compression during your daytime activities, or when you sleep through the night, this support stand is sure to provide you with the ultimate in comfort.
How does this shoulder stabilizer work?

The supportive upper arm sling is made from high quality high performance materials and is specifically designed to help heal, protect and support the shoulder after injury, surgery or condition. The copper-infused pressure wraps and coats the shoulders for optimal muscle and joint performance and relief from any soreness, aches and pains. Using this shoulder strap provides amazing protection and pain relief while still having a flexible range of motion that allows your muscles to continue to work and strengthen as you recover.
Shoulder Immobilizers for Surgery and Injury Recovery

If you're recovering from a shoulder injury or surgery, you know how important it is to rest your arms and keep your shoulders as still and protected as possible. Depending on your injury or recovery from surgery, you may need to wear the shoulder strap for 2-6 weeks. Our lightweight compression sleeves make shoulder recovery a breeze. These materials are lightweight and breathable, and also provide support for your weak upper arms. Use this shoulder support for recovery after a range of injuries and surgeries, including:
SLAP and labral tears




torn rotator cuff

dislocation

AC joint injury
Not only do our shoulder stabilization braces provide the best option for compression and support as you recover, but they also provide the best protection against injury or dangerous movement. If you have arthritis, tendonitis, or bursitis in your shoulder, use a stabilization sleeve to help prevent injury and further pain. If you're looking for a higher level of support after surgery, try our Shoulder Abduction Fixer before continuing with this lightweight sling.
What is a SLAP tear?

Shoulder pain is extremely common in both adult men and women. While you may have heard of labral tears, you may be wondering, what is a SLAP tear? SLAP tears are really just the term used to describe labral tears, covering a wide range of all shoulder injuries. Upper labrum, anterior-to-posterior tear (SLAP tear), occurs when you are injured or overused and make it difficult and painful to move your upper arm and shoulder. If you experience persistent shoulder pain, pain when you lift your arm over your head, popping noises, or a feeling that your shoulder might stick out, you are most likely dealing with a SLAP tear. Treatment of SLAP tears depends on severity, but it is usually best to explore nonsurgical options first. This will include physical therapy, stretching,
Can I use this compression brace to relieve rotator cuff pain at night?

Since the sleeve is made of comfortable material, the stand can be easily worn day or night. When it comes to recovering from a torn rotator cuff, you may wake up with pain in your shoulder. When sleeping, it's easy to put your shoulders and arms in uncomfortable and potentially dangerous positions throughout the night. Wearing this support cover while sleeping will help prevent and protect you from any further pain or injury and provide targeted pressure on your healing arm overnight. Check out our full line of shoulder rests and slings to find the best level of protection, immobilization and support for your injury. Be sure to consult with your doctor or medical professional to ensure that wearing this brace at night is beneficial for your specific pain, injury, or condition.
Frequently Asked Questions about this Shoulder Support Sling

What conditions/injuries does this support treat? Helps treat and manage pain from rotator cuff tears, labral tears, muscle or nerve compression pain, arthritis, tendinitis, bursitis, frozen shoulder, dislocation, fracture recovery, and more.

How does it work? Immobilization protects and provides targeted compression for shoulder pain, injury and conditions to help speed healing for active recovery.

Who can wear it? A range of adult men and women can benefit from using this adjustable shoulder strap.

How big should I buy? Use a flexible tape measure to measure and refer to the size chart above to find the size that works best for you.

What are the benefits of copper? Thanks to its anti-odor and antibacterial properties, this copper-infused compression sleeve will help speed recovery while maintaining comfort.

When should I wear it? Wear it all day or night for maximum compression, protection, support and relief from shoulder pain or injury.

what does it do? The support bracket is made of neoprene wire with 88% copper nylon blend and 12% spandex.

Can I apply for this support myself? This upper arm brace can be applied on its own to find the best, most comfortable application you might want a friend or family member to help you with.

Can I wear this on my shirt? To reap the benefits of a compression cuff, this brace should be worn directly on the skin.

Washing Instructions: Hand wash brackets in warm water with a mild detergent. Allow the stand to air dry completely before reapplying. Do not use high heat for washing or drying.

Colour: Black
Share
View full details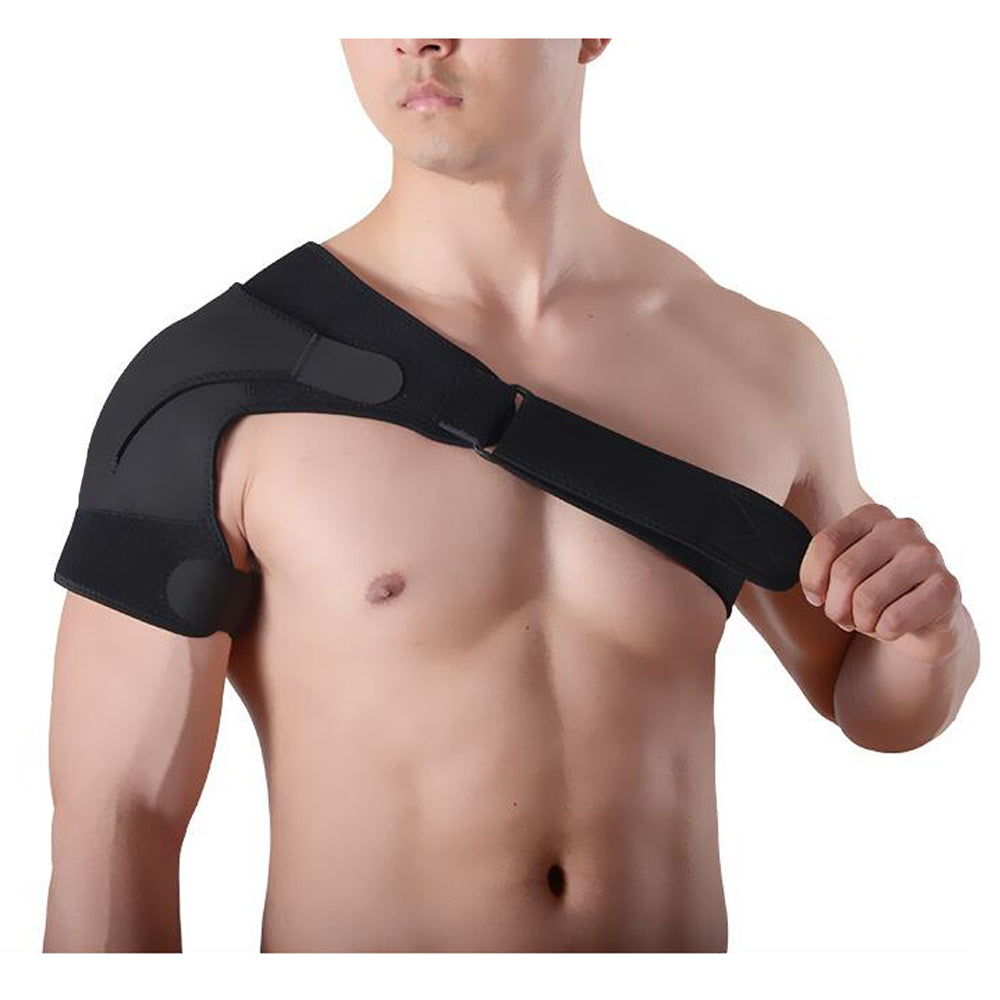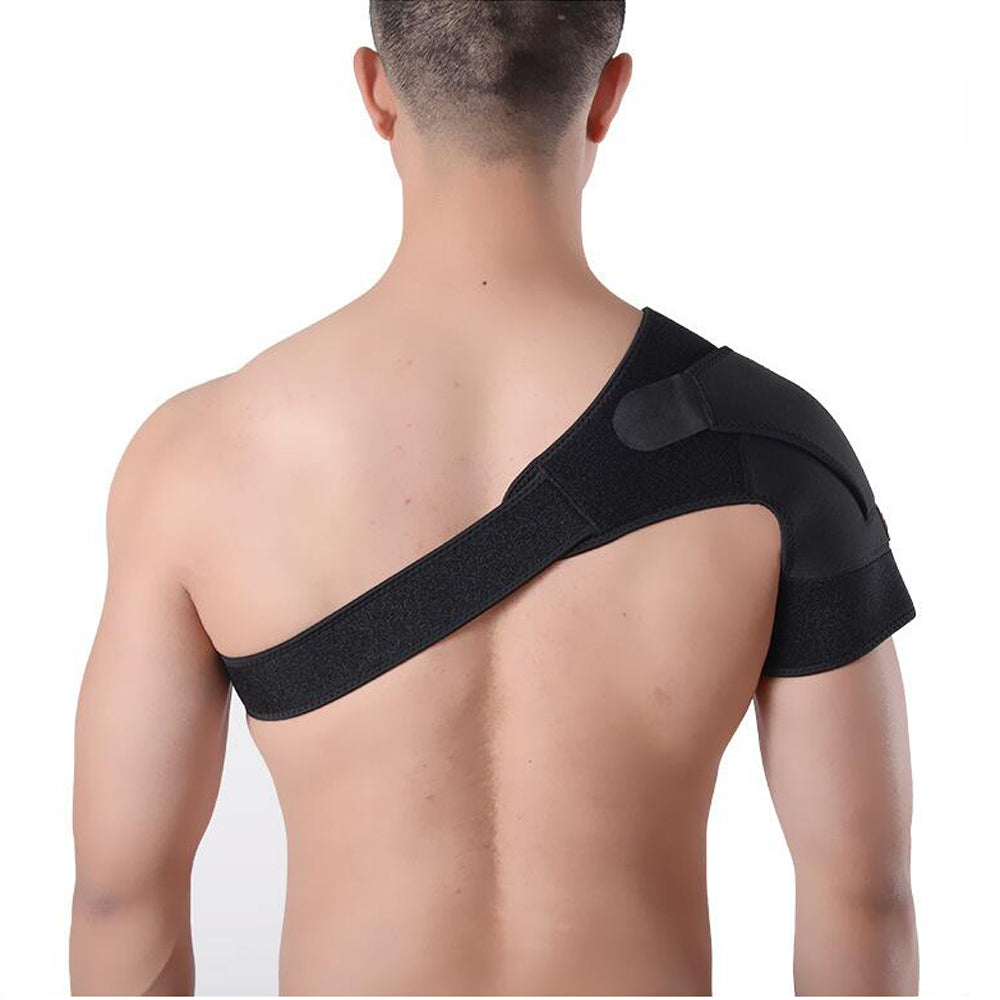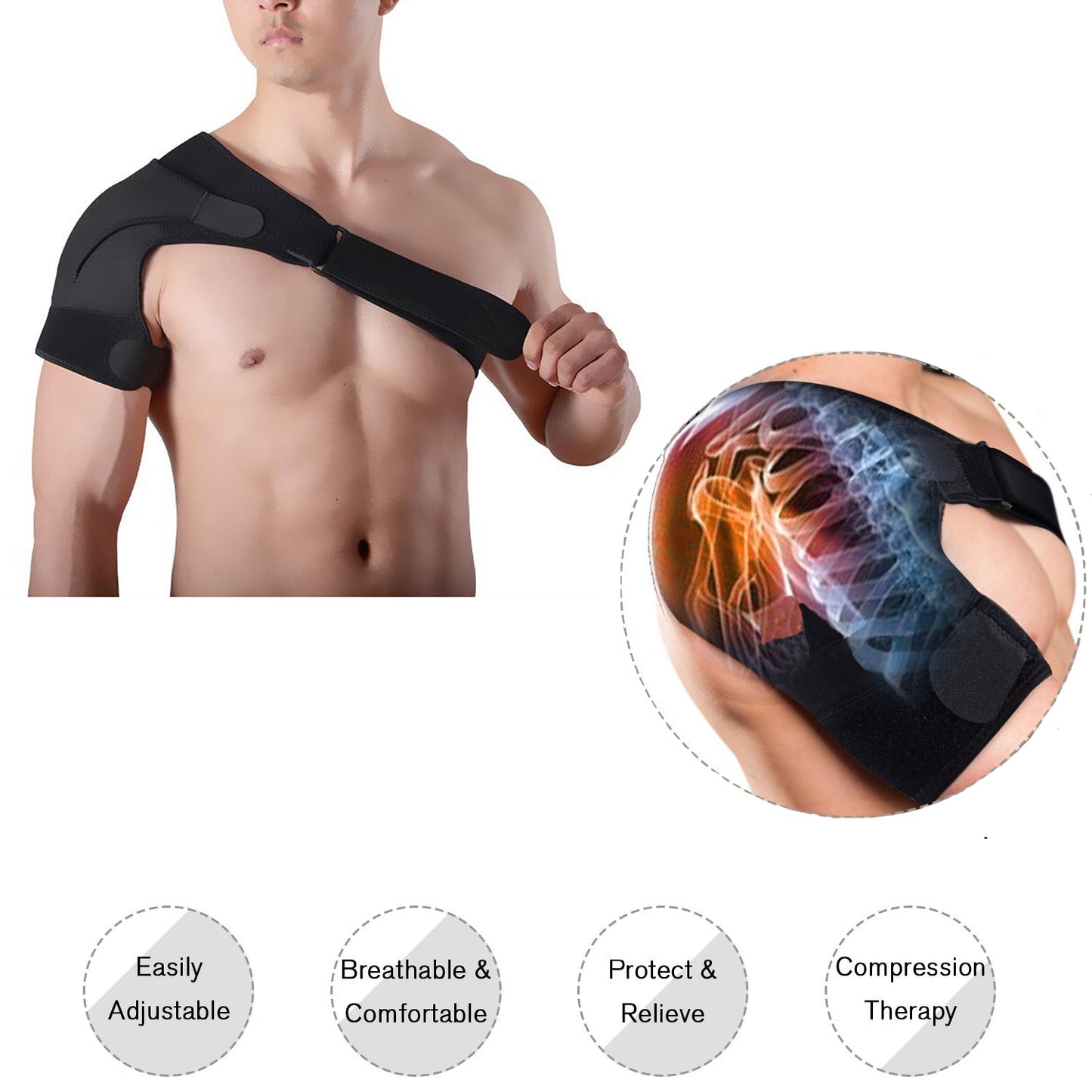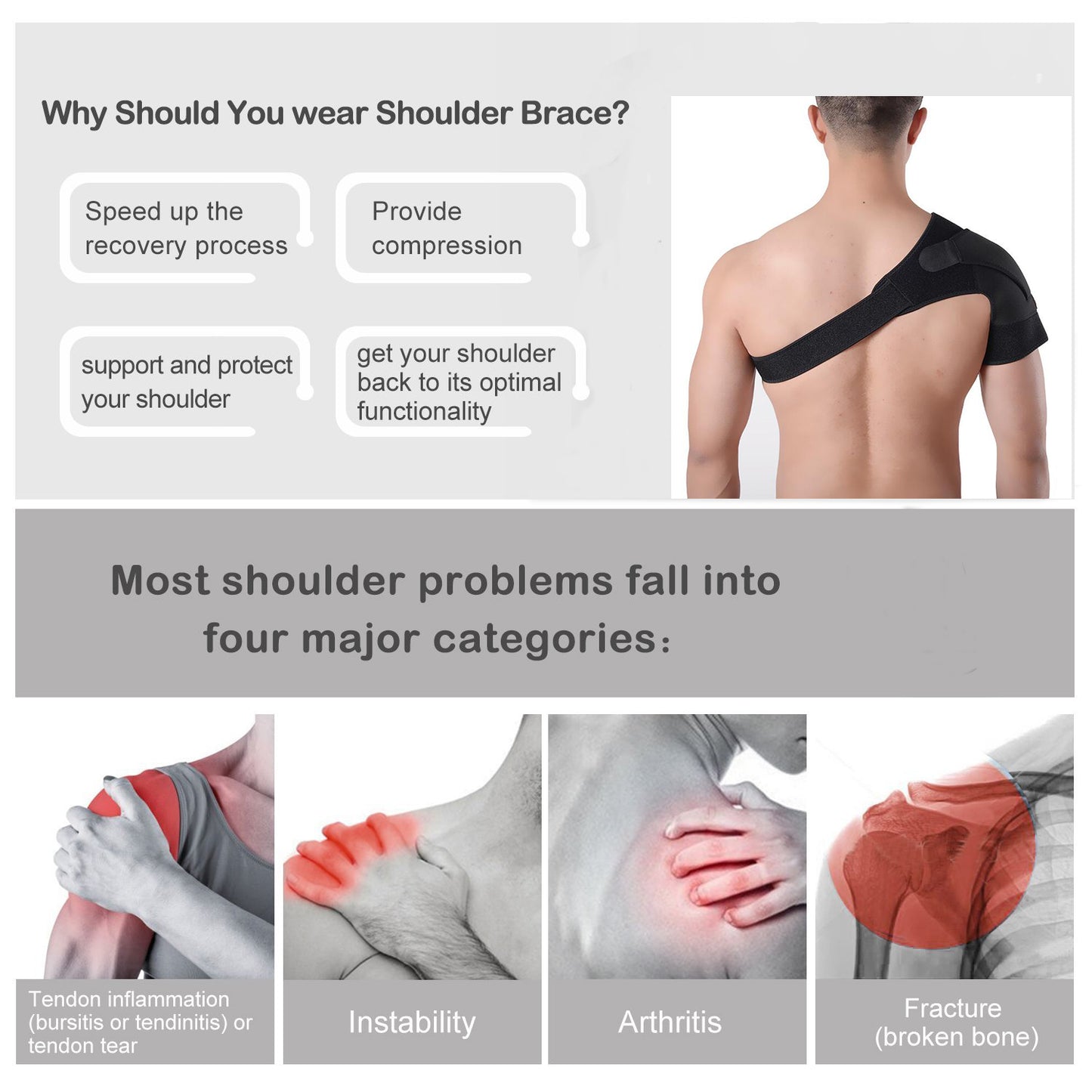 OUR PROMISE TO YOU!
Not 100% satisfied with the brace? No problem, we'll take it back and issue afull refund. No hidden charges.