Use the coupon code "happy" to get a $5 discount For Order Over $20
Regular price
$65.00 USD
Sale price
$49.99 USD
Unit price
per
Sale
Sold out
Or fastest
delivery Saturday September 30
Order within today
Shipping

Estimated delivery time:

United States: 3-5 working days
United Kingdom: 3-7 working days
South Africa: 6-12 working days
Canada: 5-12 working days
Ireland:6-12 working days
Australia: 5-11 working days
New Zealand: 4-9 working days

Rest of Europe: 4-11 working days
Albania, Austria, Belarus, Belgium, Bosnia, Bulgaria, Croatia, Czech Republic, Denmark, Estonia, Finland, France, Germany, Greece, Hungary, Iceland, Italy, Latvia, Lithuania, Luxembourg, Malta, Netherlands, Norway, Poland, Portugal, Romania,  Slovakia, Slovenia, Spain, Sweden, Switzerland, Ukraine

Asia: 6-12 working days
Hong Kong, Israel, Japan, South Korea, Thailand, Vietnam, Japan, Lebanon, Malaysia, Oman, Pakistan, Qatar, Saudi Arabia, Singapore, Taiwan, Turkey, United Arab Emirates

South/Central America: 6-12 working days
Chile, Colombia, Mexico


Please see checkout for shipping/delivery estimate. Easy Returns and Exchanges

Worldwide Express Air Shipping + Satisfaction Guaranteed!
Returns

We offer a 100% money-back guarantee. If you are not satisfied or your brace doesn't fit right, let us know and we will help you with our free returns and exchanges. We pay the return shipping. Your satisfaction is our top priority!
How we pick
Whether it's improving our general posture or relieving the pain that poor posture can cause, we all have different factors that lead us to put on a posture corrector. These products are designed to meet a range of needs and goals in our back strength. After browsing our favorites, let's take a look at some of the factors we considered when choosing.
Comfort:

This is a tricky category for this program, as posture correctors are essentially designed to draw attention to the posture and habits you're trying to change, and when your muscles are strengthened, some discomfort can occur. Still, we've tried to find products that allow you to move around comfortably without sticking to your skin, and also stay securely in place during use.
Easy to use:

You don't want a posture corrector that's easy to undo, but you also don't want a posture corrector that takes a lot of time just to get in and out of the car, requiring frequent maintenance or cleaning. In our search, we look for products that strike a balance between being effective and not disrupting your lifestyle.
careful:

You probably wear a posture corrector in your everyday life and probably don't want it to interfere with your existing routine. We're looking for products that can be worn under your clothes with minimal bulk and will work for you without being intrusive.
strength:

We looked at posture correctors that gently remind you to stand or sit up straight, as well as braces that offer more hands-on remedial support to help you improve your posture. The intensity of the correction process will ultimately depend on your specific needs and how quickly you want to improve your posture. Whether you're looking to improve your posture in general or need relief from shoulder and back pain, you'll find a product to help you achieve your goals.
price:

Posture correctors can be comfortable, practical and effective without breaking the bank. We tried to find items that are affordable without sacrificing quality for cost, and durable enough until you can maintain a healthier posture on your own.
Buying Tips

Here are some questions to consider as you try to find the best posture corrector for you.
What am I doing with this? What these devices have in common is that they prompt you to pay attention to the way you move and the posture you maintain while sitting. These are certainly beneficial if you want to improve your posture or release tension in your shoulders and back, but they won't solve all problems. Consult a medical professional if you suffer from chronic pain.




Where am I going to wear it? The different options we list vary in the degree of discretion they offer. If you plan to wear a posture corrector in the workplace, use it at home first to make sure it feels comfortable and gives you the proper range of motion.

How often do I use it? Since they're all about breaking existing habits and building new ones, posture correctors are most effective when used consistently until you're able to maintain the desired posture on your own. Different products will let you achieve this at different speeds, and you need to make sure you find a posture corrector that suits your needs and goals.

What materials am I sensitive to? Many posture correctors use rubber, plastic, and Velcro to keep the device strong and effective. For the most part, they're designed in such a way that they're still comfortable and breathable on your body, but that doesn't negate the fact that they'll still be in contact with your skin for extended periods of time. If you're sensitive to any of these materials, you'll want to make sure you end up with a posture corrector that doesn't have them.
The best zszbace back supports we recommend for you:
[Pain relief and improve posture ] -Based on Ergonomics design, posture brace stabilize and support your shoulders,chest,and back.meanwhile our premium back support brace can make the muscles of the shoulders and backs in a natural state to effectively alleviate the soreness caused by improper posture or fatigue.
[Stable support] - Our posture correction back brace have a bars on the back, which provide strong support for back, and stabilize and support your shoulders, chest, and back. posture corrector belt for 20-30 minutes a day, gradually wearing it for 1-2 hours to build muscle memory and strengthen your shoulders, neck and back, your back will gradually become potent and straight without wearing posture brace ,then You will be surprised to find that you are so confident and temperamental.
[Flexible and comfortable] -specifically designed according to structure of back and shoulder, our posture corrector is made of soft and elastic material which can ensure promote proper posture without pinching or chaffing, unlike regular posture correctors that are very rigid and restrict arms movement by forcing you into one position, our back corrector is one of the best posture devices allowing you completely free movement.
[Adjustable and easy to use] - Our unisex posture brace comes with adjustable straps and Powerful Velcro and is designed to be easy to put on. By using straps, you can easily adjust the tightness of the rear support bracket by yourself.
[ invisible under clothes] -No need to feel self conscious about wearing a posture brace. The latex-free adjustable design is discreet enough to wear under your shirt or blouse. You can wear our premium posture support brace while at work, home or out and no one will notice you have it on. After a while you'll forget you're even wearing the posture support brace.
Share
View full details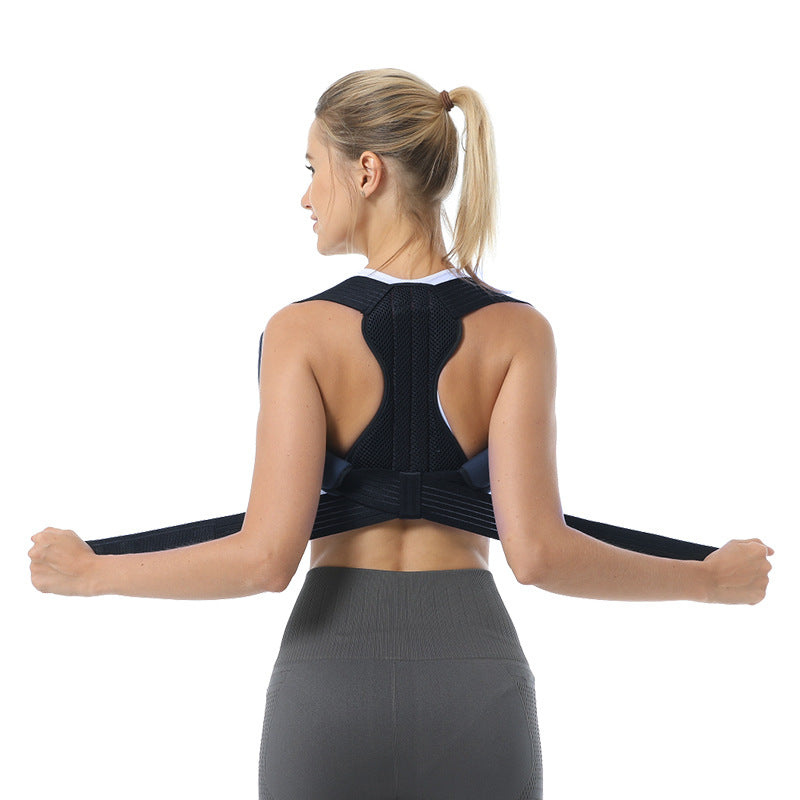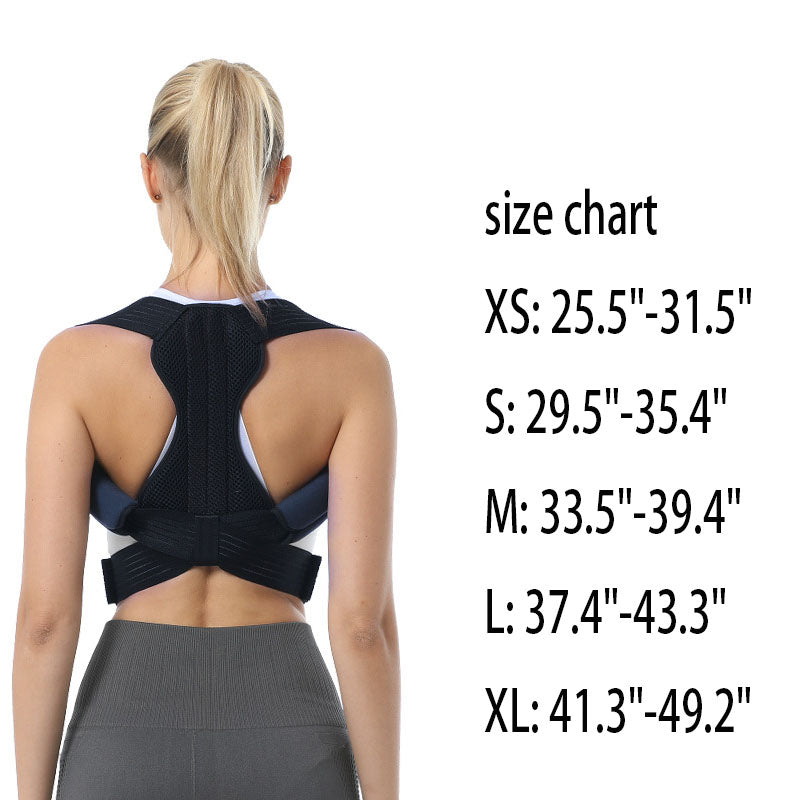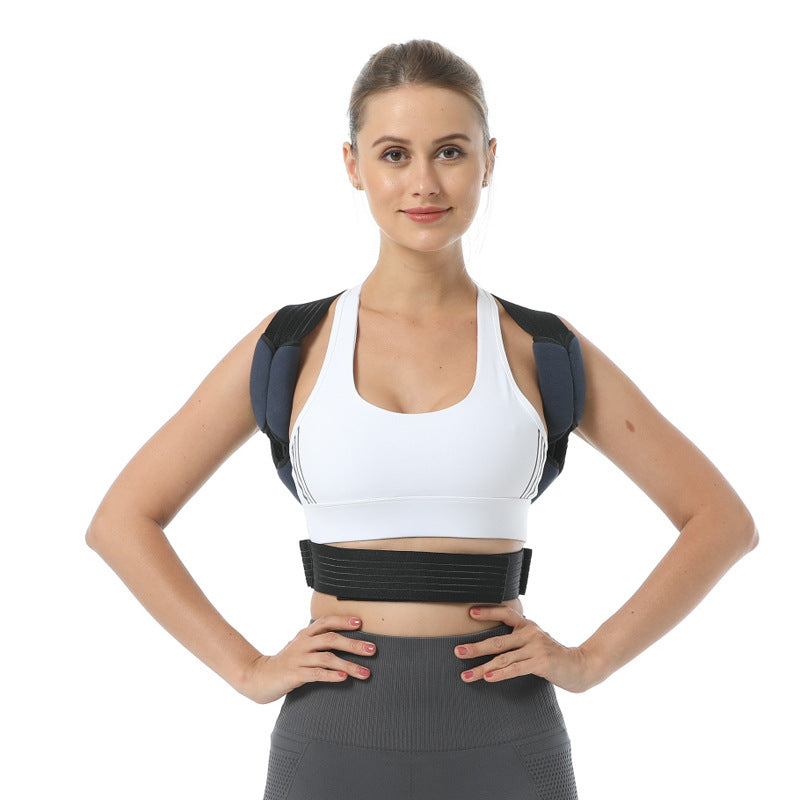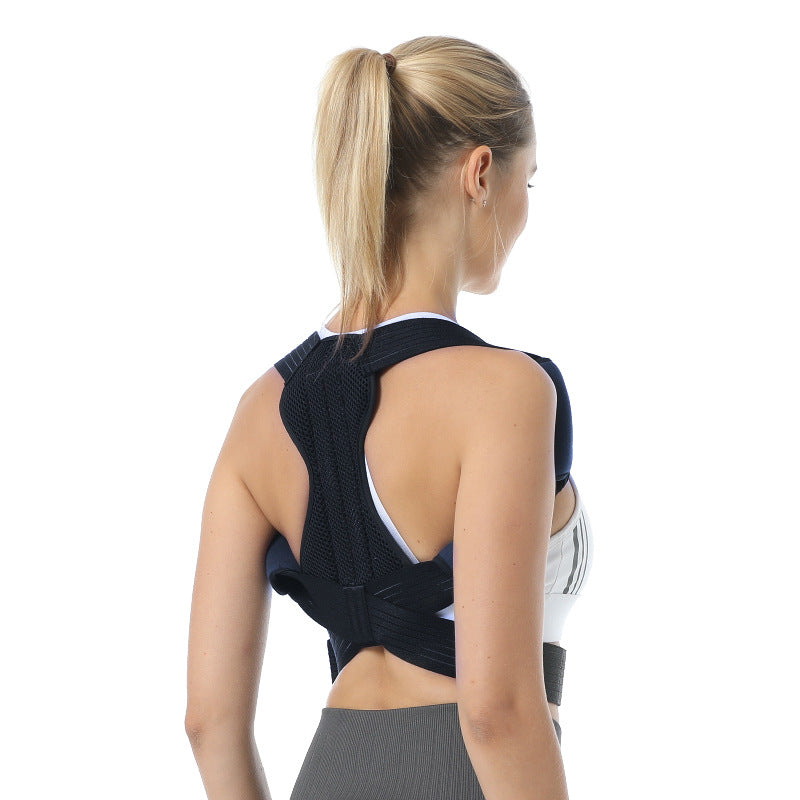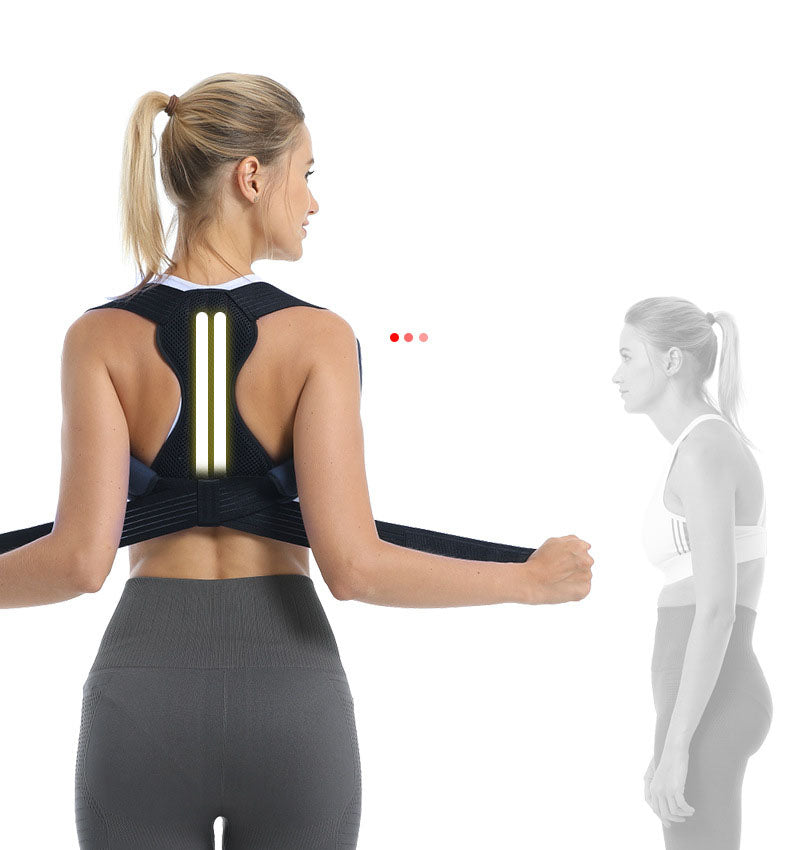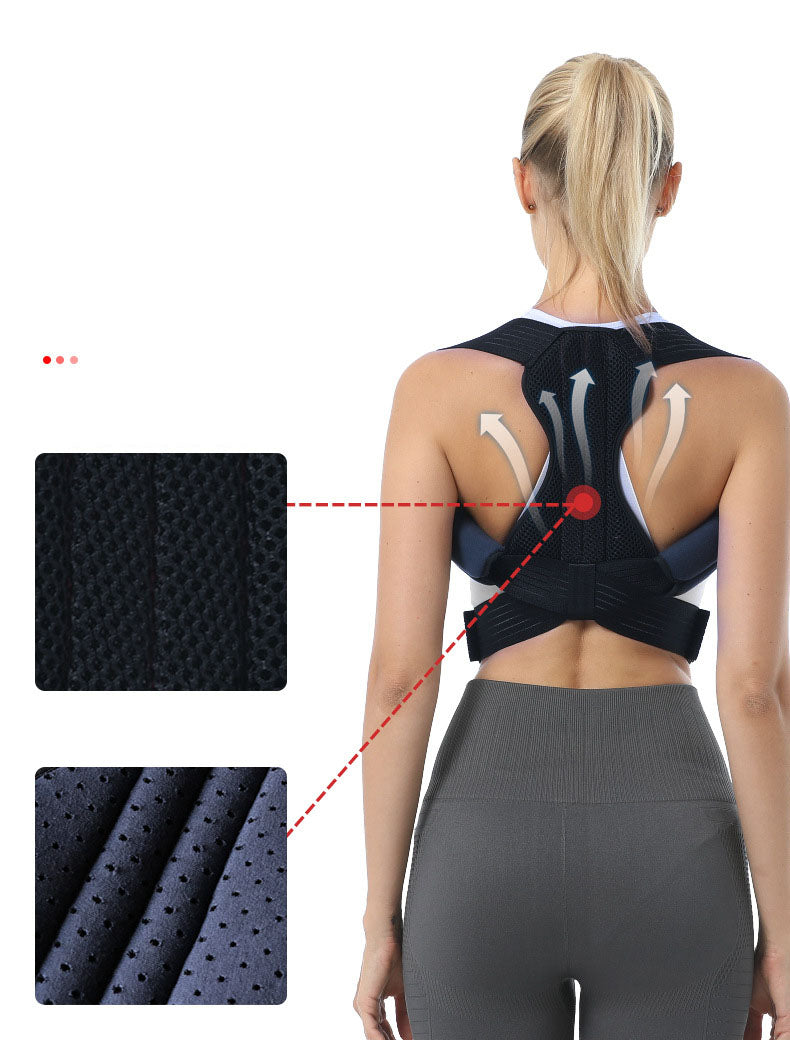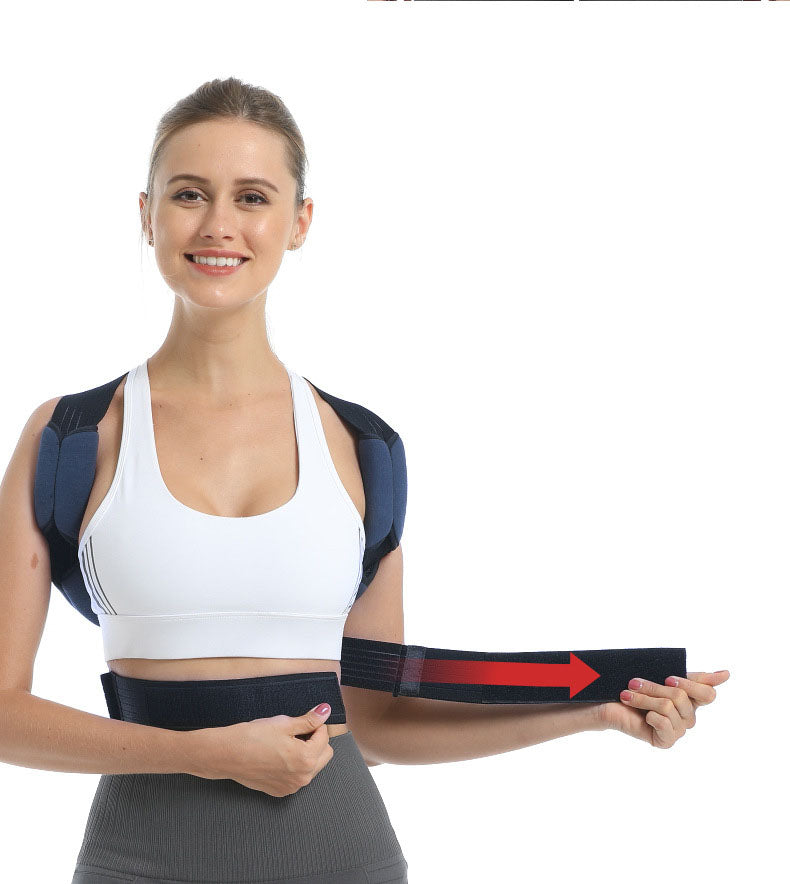 OUR PROMISE TO YOU!
Not 100% satisfied with the brace? No problem, we'll take it back and issue afull refund. No hidden charges.