Use the coupon code "happy" to get a $5 discount For Order Over $20
Regular price
$18.99 USD
Sale price
$18.99 USD
Unit price
per
Sale
Sold out
Or fastest
delivery Sunday October 08
Order within today
Shipping

Estimated delivery time:

United States: 3-5 working days
United Kingdom: 3-7 working days
South Africa: 6-12 working days
Canada: 5-12 working days
Ireland:6-12 working days
Australia: 5-11 working days
New Zealand: 4-9 working days

Rest of Europe: 4-11 working days
Albania, Austria, Belarus, Belgium, Bosnia, Bulgaria, Croatia, Czech Republic, Denmark, Estonia, Finland, France, Germany, Greece, Hungary, Iceland, Italy, Latvia, Lithuania, Luxembourg, Malta, Netherlands, Norway, Poland, Portugal, Romania,  Slovakia, Slovenia, Spain, Sweden, Switzerland, Ukraine

Asia: 6-12 working days
Hong Kong, Israel, Japan, South Korea, Thailand, Vietnam, Japan, Lebanon, Malaysia, Oman, Pakistan, Qatar, Saudi Arabia, Singapore, Taiwan, Turkey, United Arab Emirates

South/Central America: 6-12 working days
Chile, Colombia, Mexico


Please see checkout for shipping/delivery estimate. Easy Returns and Exchanges

Worldwide Express Air Shipping + Satisfaction Guaranteed!
Returns

We offer a 100% money-back guarantee. If you are not satisfied or your brace doesn't fit right, let us know and we will help you with our free returns and exchanges. We pay the return shipping. Your satisfaction is our top priority!
What is a splint?
A thumb splint is an orthopedic splint for the thumb to minimize movement and support the injured thumb.
Thumb splints are used to minimize movement and support the injured thumb.
A splint is a rigid or flexible device that holds a displaced or movable part in place and protects it from any further damage.
Splints are often used to reduce movement and provide support and comfort by stabilizing the injury.

Splints are mostly used for non-urgent injuries to bones or ligaments until they can be evaluated by a consultant such as an orthopaedic surgeon. They are also used to temporarily immobilize limbs before surgery (eg, for open fractures) or to promote healing.
Unlike a cast, a splint is preferred in an emergency because the injury is usually acute and swelling may continue to increase. All patients injured by splints should be referred by a consultant for evaluation within 2 to 7 days.
How does the thumb splint work?

A thumb splint is an orthopaedic splint used to minimize movement and provide support and comfort by stabilizing injuries to the thumb. This splint usually allows the other fingers to move freely.
Immobilizing the joint reduces pain and helps wounds heal faster. In inflammatory conditions, corticosteroid injections combined with thumb horn casting may produce better results than injections alone, the study reports.

When do you need a thumb splint?

Thumb splints can be used for a variety of injuries, including:
Dissection of the snuff bottle (the area above the base of the thumb) and injuries and fractures of the thumb




Ligament Injury and Inflammation

tendon inflammation

Gamekeeper or skier's thumb: The ligament between the thumb and index finger is injured and inflamed. The patient experiences pain, swelling, and inability to grasp anything between the index finger and thumb.

Tenosynovitis: Inflammation that can occur in the tendon sheaths (where muscles connect bones) of the hands, wrists, or feet. It is caused by trauma, overuse of the joint, frequent racquet sports (eg tennis, golf, etc.) or infection. Patients experience joint pain, swelling, and difficulty moving. Thumb injections of corticosteroids and thumb splints are usually effective in 80% of tenosynovitis patients.
Specifications:

Color: Khaki

Materials: 75% Lycar + 25% Nylon

Features:

1. Good elasticity, fits for women and men

2. Specialist breathable fabric helps control moisture during intense activities

3. Protect your palm/wrist hand from high-intensity exercises or any other harm

4. Used For - tenosynovitis, sprains and instability, weak or arthritic wrists, rehabilitation, sporting and occupational injuries

Package:

1 x Wrist Sleeve
Share
View full details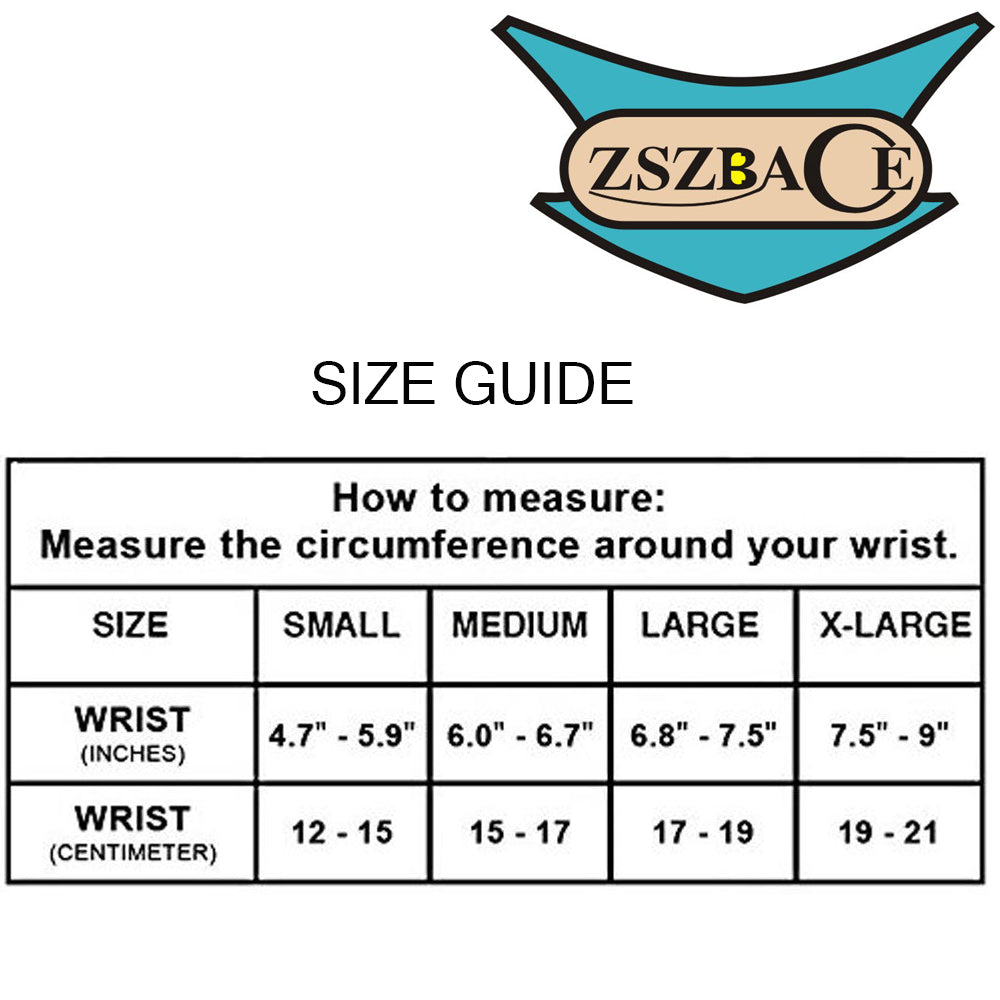 OUR PROMISE TO YOU!
Not 100% satisfied with the brace? No problem, we'll take it back and issue afull refund. No hidden charges.