Use the coupon code "happy" to get a $5 discount For Order Over $20
Regular price
$32.00 USD
Sale price
$22.99 USD
Unit price
per
Sale
Sold out
Or fastest
delivery Saturday October 07
Order within today
Shipping

Estimated delivery time:

United States: 3-5 working days
United Kingdom: 3-7 working days
South Africa: 6-12 working days
Canada: 5-12 working days
Ireland:6-12 working days
Australia: 5-11 working days
New Zealand: 4-9 working days

Rest of Europe: 4-11 working days
Albania, Austria, Belarus, Belgium, Bosnia, Bulgaria, Croatia, Czech Republic, Denmark, Estonia, Finland, France, Germany, Greece, Hungary, Iceland, Italy, Latvia, Lithuania, Luxembourg, Malta, Netherlands, Norway, Poland, Portugal, Romania,  Slovakia, Slovenia, Spain, Sweden, Switzerland, Ukraine

Asia: 6-12 working days
Hong Kong, Israel, Japan, South Korea, Thailand, Vietnam, Japan, Lebanon, Malaysia, Oman, Pakistan, Qatar, Saudi Arabia, Singapore, Taiwan, Turkey, United Arab Emirates

South/Central America: 6-12 working days
Chile, Colombia, Mexico


Please see checkout for shipping/delivery estimate. Easy Returns and Exchanges

Worldwide Express Air Shipping + Satisfaction Guaranteed!
Returns

We offer a 100% money-back guarantee. If you are not satisfied or your brace doesn't fit right, let us know and we will help you with our free returns and exchanges. We pay the return shipping. Your satisfaction is our top priority!
Best Women's Back Support for Lower Back Pain Relief
There are many causes of low back pain in women. The good news is that this women's back support strap can help many of them. This lumbosacral orthosis (LSO) for women provides support for your lower back and forces you to maintain good posture to reduce pain and prevent further injury.
Top 7 Causes of Low Back Pain in Women

There is no shortage of possible causes of low back pain in women. Fortunately, wearing female braces can help address some of these sources of back pain because they relieve low back pressure and apply pressure to stimulate healing and reduce inflammation. It also promotes good posture, which is ideal for preventing further injury.
Improper body mechanics

Lifting heavy objects, twisting suddenly, or moving can strain the muscles or ligaments in the back, leading to lower back pain, stiffness, and possible muscle spasms. This injury is also a common cause of upper back pain in women.
The pressure exerted by this low back brace relieves painful inflammation and promotes healing.

put pressure on your nerves

Another possible source of lower back pain in young women is pressure on the nerves, especially the sciatic nerve, which can cause pain, tingling, and numbness in the lower back and extend to the buttocks, buttocks, and legs.
Usually, sciatica affects only one side of the body, so this is usually the cause of back pain on the lower right or lower left side in women, but not both. It usually suffers from a pressure herniated disc or a bone spur.

While your doctor can address why your nerves are being stressed, the good posture this lumbar brace allows you to maintain and the support it provides can make it a useful part of your treatment.

stress fracture

A stress fracture of the vertebrae in your back can cause these discs to slip, called a spondylolisthesis, which can put pressure on your spinal cord or nerve roots. This can also cause radiating pain and numbness, which can lead to left and right lower back pain in women. This is just one example of how degenerative changes in the back can cause pain or pressure in the nerve roots, which can lead to pain in the lower back on the left or right side.
The lumbar spine, in particular, is subject to high levels of stress, which can lead to cartilage erosion, stress fractures, etc. over time. Wearing a brace that supports your lower back while providing abdominal compression can reduce stress on your lumbar spine and limit any harmful movements.

Abnormal curvature of the spine

Abnormal curvature of the spine due to birth deformities, degenerative changes, or poor posture, such as kyphosis, lordosis, or scoliosis can also cause low back and upper back pain. In some cases, this can be resolved with a back brace, while in other cases, treatment focuses on slowing the progression of the problem.
Pregnant

Cartilage erosion at the sacroiliac (SI) joints or excessive movement (usually due to pregnancy) can lead to SI joint dysfunction which can lead to lower back and groin pain in women.
Generally, the discomfort is isolated to one side, so pain in the lower left or right lower back is more common in women than discomfort in the entire lower back. ZSZBACE offers many pregnancy back supports and maternity braces.

overweight or obese

Being overweight or obese also increases stress on the tissues of the spine and back, accelerating spinal degeneration and increasing the risk of back injuries.
Ageing

As you age, your spine becomes more prone to injury. Therefore, it is important to perform low-intensity exercises to keep your back strong and supple, and pay attention to maintaining good posture so as not to add to the existing pressure on your back.
Main causes of low back pain in women are poor body mechanics, nerve pressure and stress fractures

Women with pain in the abdomen and lower left or right back

Another benefit of this female back immobilizer is that it provides abdominal pressure, which reduces pressure on the lower back. Plus, it makes this support versatile in women where both lower abdominal pain and back pain are at play.
A combination of lower back and abdominal pain in women may be a sign of a more serious problem/condition, such as:

pelvic problems




endometriosis

pancreatitis

abdominal aneurysm

constipate

kidney stones

Pregnant

Gallstones

urinary tract infection
This is by no means an exhaustive list of possible causes of lower abdominal and back pain in women, but as you can see, many of them cannot be resolved by wearing a low back support. Therefore, it is important to seek the help of a medical professional if you experience lower abdominal and lower back pain.
Key features of this brace for women with low back pain

The crossed back panel of this back pain brace and its dual-pull elastic tension straps provide support and pressure to your lower back. These features and more make it an ideal harness for managing moderate pain in the lower back, left and right lower quadrants, spondyloarthritis, back muscle weakness, pulling or tearing and/or lumbar sprains or strains.
Lightweight, flexible support for your waist
This women's back brace consists of a latex-free, close-fitting elastic band. The material will conform to the curves of your body while providing gentle pressure, which can help reduce lower back pain in women while promoting the healing of back pain of all causes. Compression reduces inflammation, which may be one cause of low back pain in women. This also improves blood flow to the lower back, which promotes quick healing.
The material will remain undisturbed as needed to treat low back pain in women. The female back support that hugs your body is very stylish in its design, helping it to fit discreetly under your clothes if needed, so that addressing the cause of low back pain in women doesn't ruin the wardrobe.

Adjustable Fastening Straps

The Female Back Posture Brace comes with support straps to provide extra support for your lumbar spine. In addition to addressing a woman's right or left lower back pain, this also helps hold the brace in place.
The stand can be easily secured with fasteners attached to the front of the body. This also makes it easy to adjust the fit.

Detachable plastic stand

The women's harness has a wider back and a tapered front for more practicality and comfort. There are four plastic brackets on the back panel to address the causes of low back pain in women. The plastic braces are lightweight and contoured to the shape of your back - so they support your lower back while still being comfortable. You can bend them to adjust their shape as needed, and you can remove them if you don't need as much support.
Relieve low back pain from various injuries and conditions

This lumbar support treats acute or chronic back pain from a variety of causes, from muscle strains to degenerative disc disease to poor posture; it can also help relieve pain in the buttocks, groin, pelvis, legs, and more.
Frequently Asked Questions about this Lumbar Support Belt

What condition/injury does this stent treat? This low back pain belt can help with moderate low back pain, muscle strains, tears or strains, herniated discs, herniated discs and hip pain.

How does it work? The combination of front and rear panels provides circumferential compression and stability, reducing spinal pressure by transferring some of the load to the abdomen.

When should I wear it? Thanks to the lightweight, latex-free material, you can wear this brace 24/7 if your doctor recommends it. Thanks to its soft material, you can also sleep comfortably in this stand. It is recommended to speak with a medical professional before wearing a brace for an extended period of time.

what does it do? The brace is made of latex-free elastic material. The removable struts are plastic.

Who can wear this medical device for spinal support? Size options make it easy for regular and plus size women to find the right size.

What size should I buy? Using a soft/flexible tape measure, find the circumference around your belly button in inches.

What should I wear? Undo all seals and lay the stand flat on the floor to identify the top. There are openings at the top that allow you to remove the metal struts. Next, place the brace behind your body so that it is in the center of your back and the bottom of the brace is at the widest point of your hips. Fold the left side of the stent to the middle of the stomach. Do the same for the right side, but pull hard and secure the closure. Repeat this process with a double-pull tension band to achieve the desired level of compression.

How to adjust the stand? Grab the double-pull tension straps (located on the outside of the brace) and adjust them to make them tighter or looser, then reapply the closure.

How tall is this stand? The stand tapers from 10 inches high at the back to 6 inches at the front.

Cleaning Instructions: To clean the stand, first, remove the stay and close all seals. Hand wash in warm water with mild soap. Do not use bleach. The stand should air dry. Do not use high heat for washing or drying.

other functions:
Reduce intradiscal pressure by circumferential compression

Suitable for average to overweight men and women.

Provides compression to stimulate healing and reduce inflammation.
Share
View full details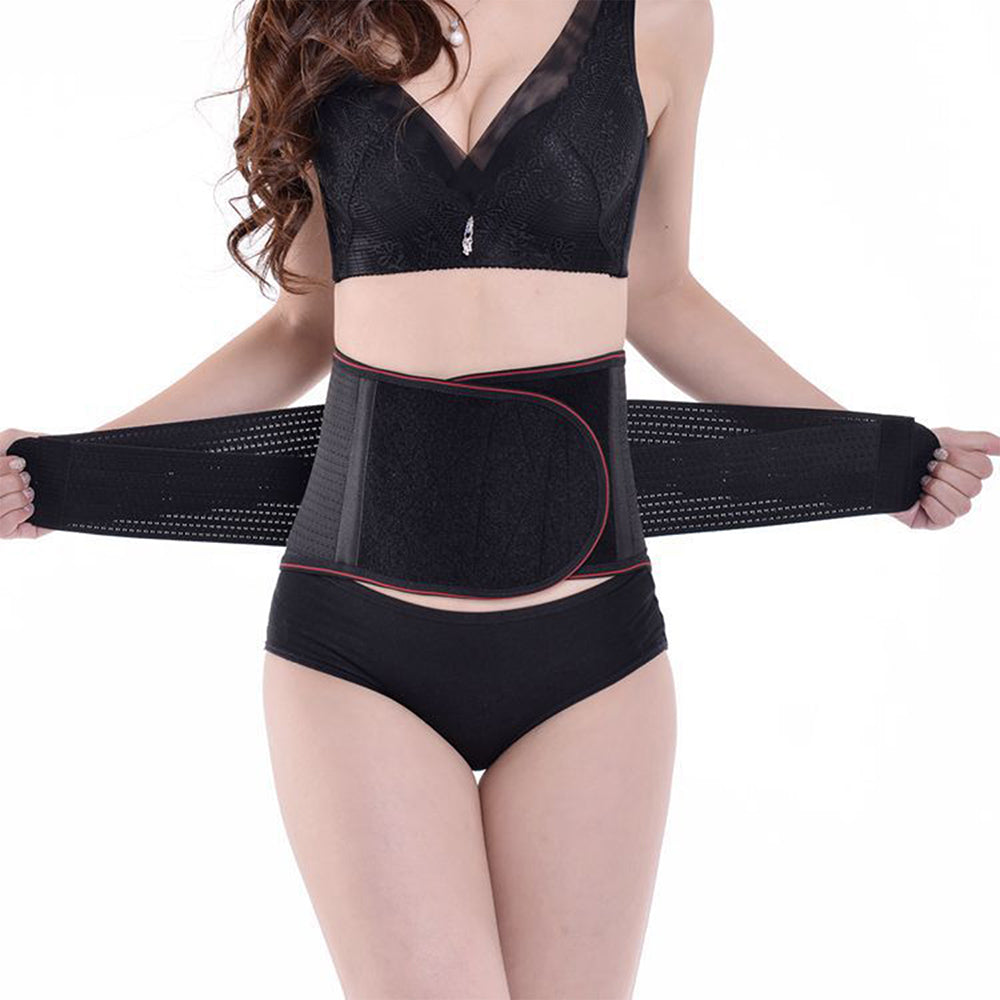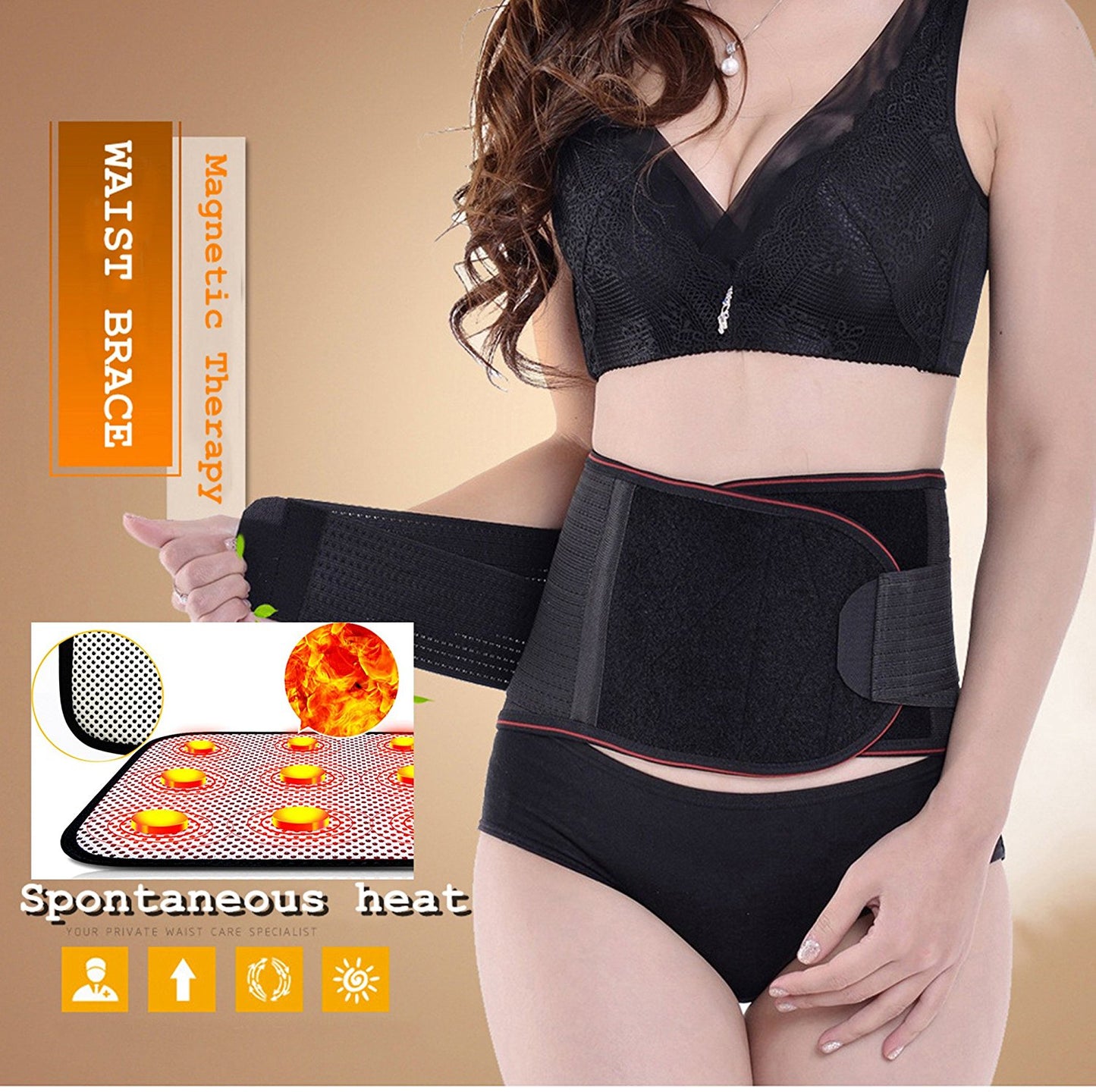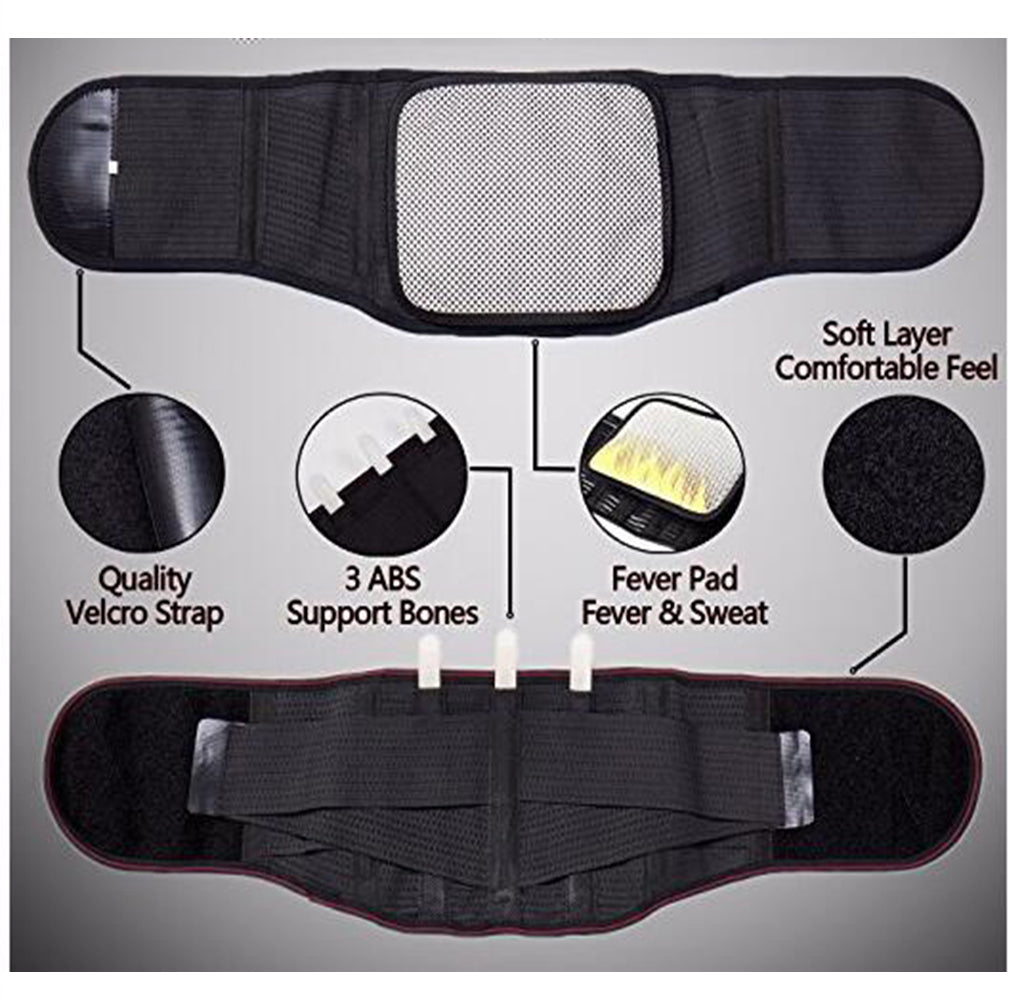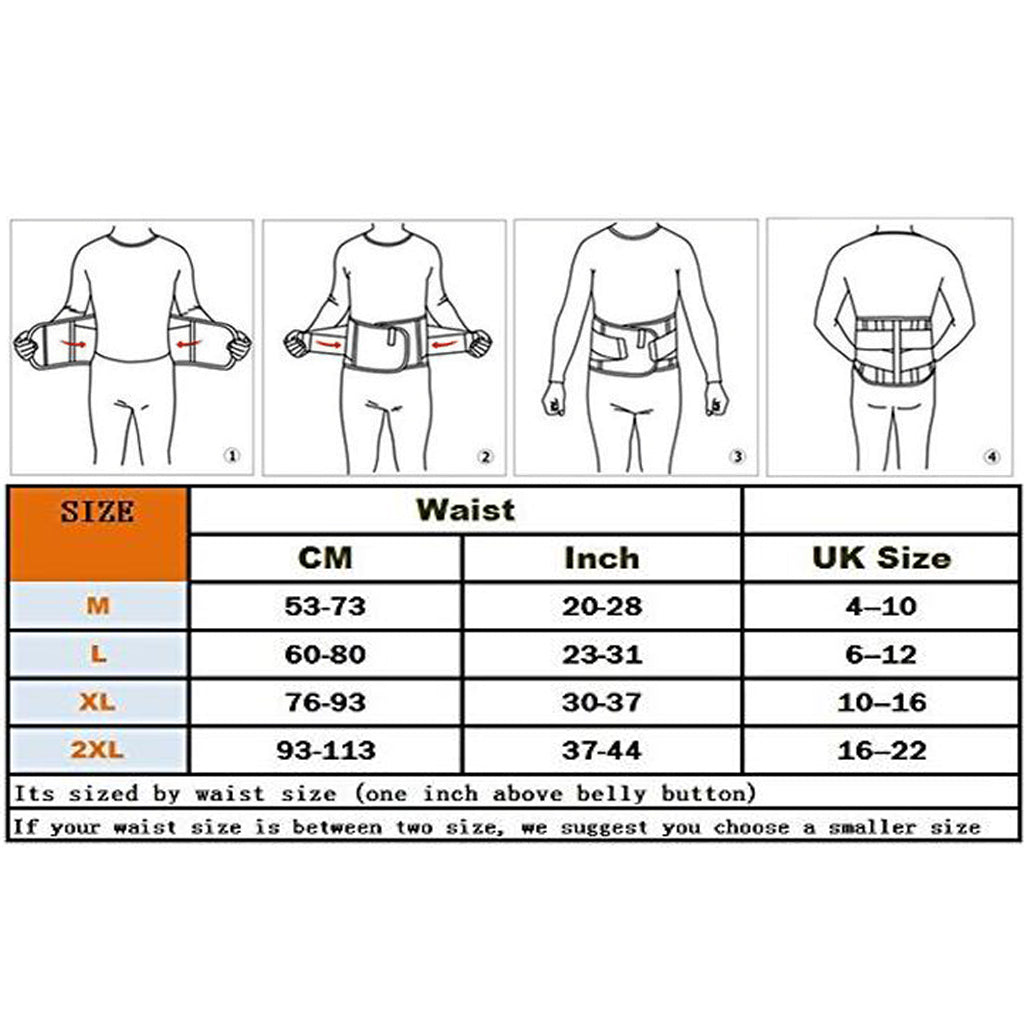 OUR PROMISE TO YOU!
Not 100% satisfied with the brace? No problem, we'll take it back and issue afull refund. No hidden charges.