Use the coupon code "happy" to get a $5 discount For Order Over $20
Regular price
$27.99 USD
Sale price
$19.99 USD
Unit price
per
Sale
Sold out
Or fastest
delivery Saturday October 07
Order within today
Shipping

Estimated delivery time:

United States: 3-5 working days
United Kingdom: 3-7 working days
South Africa: 6-12 working days
Canada: 5-12 working days
Ireland:6-12 working days
Australia: 5-11 working days
New Zealand: 4-9 working days

Rest of Europe: 4-11 working days
Albania, Austria, Belarus, Belgium, Bosnia, Bulgaria, Croatia, Czech Republic, Denmark, Estonia, Finland, France, Germany, Greece, Hungary, Iceland, Italy, Latvia, Lithuania, Luxembourg, Malta, Netherlands, Norway, Poland, Portugal, Romania,  Slovakia, Slovenia, Spain, Sweden, Switzerland, Ukraine

Asia: 6-12 working days
Hong Kong, Israel, Japan, South Korea, Thailand, Vietnam, Japan, Lebanon, Malaysia, Oman, Pakistan, Qatar, Saudi Arabia, Singapore, Taiwan, Turkey, United Arab Emirates

South/Central America: 6-12 working days
Chile, Colombia, Mexico


Please see checkout for shipping/delivery estimate. Easy Returns and Exchanges

Worldwide Express Air Shipping + Satisfaction Guaranteed!
Returns

We offer a 100% money-back guarantee. If you are not satisfied or your brace doesn't fit right, let us know and we will help you with our free returns and exchanges. We pay the return shipping. Your satisfaction is our top priority!
Are copper compression socks better than regular socks?
Copper ion-implanted yarn makes copper compression socks better than regular socks. Copper has special antibacterial and healing properties, making it the ultimate element to add to compression socks. Together they work wonders for foot and leg health. You'll feel the difference when you put on copper-infused compression socks.
8 Benefits of Copper Infused Socks

Here are 8 unique benefits of copper-infused compression socks:
Light Compression Non-Binding: Graded compressibility of 8-15 mmHg. This means the compression is gentle enough to wear all day. It is more suitable for legs like Compression Socks for men and women. Anti-Fatigue Compression will help your legs and feet feel less sore and tired after a long day.




Unlimited Circulation: Copper is mixed with Lycra for unlimited circulation and a comfortable feel.

Anti-Inflammatory Properties: The copper blend in the toes has anti-inflammatory properties that help prevent swelling of the feet and legs.

Promotes Healing: Copper is an element that promotes healing of painful heel cracks and blisters.

Soft Skin: Copper helps improve the production of collagen and beneficial proteins in the skin, making it exceptionally soft and smooth.

Antibacterial: The ability to fight off foot bacteria and fungi is another benefit of copper-infused socks. No more feet!

Anti-Odor: With these compression socks, your feet will smell better at the end of the day.

Great for Diabetics: People with diabetes can sometimes have circulation problems in their feet. Wearing copper-impregnated socks will help alleviate this problem.
Mild compression with solid copper injection style
With the copper-dipped sock style, you'll find a comfortable shoe for everyday wear. One of our favorite styles is the Gradient Stripe Comfort Upper Half Padded Sock. They come with two pairs per pack, so you'll have a nice pair of socks with all the goodness of copper. If you don't want a full pair of knee-high compression socks, it's the right place to start.
Reduce your pain
The compression socks feature a seamless toe, which prevents chafing and blisters,soothe achy legs and feet, relieving symptoms of varicose veins and diminishing swelling.

Dredge blood and restore health
Compression techniques are scientifically proven to provide relief of varicose veins, Calf Compression or other leg swelling issues. Usable throughout the clock, our socks help prevent Blood clots after surgery & Fits well unlike socks with inflexible fabrics. The compression & support is perfectly located on Heel Foot Calves and the toe area wont squeeze your aching toe joints. Moisture wicking properties rapidly air dry in a few hours.

Professional comfort design
Every detail we control is the best
Comfortable material and careful construction. No stitches in places where they'll rub or rip together. Delivers 360-degree stretch for greater flexibility and durability, our compression socks will bring the most comfortable feeling to you.

Superb manufacturing details
Designed to cater to today's fashion sense. Are you still wearing the same old solid colors? We have a wide variety of fun colors and unique pattern designs! At all time, our socks are carefully designed and the pattern design is very distinctive. The toe and heel parts are reinforced for added support and comfort. If you want to be different, just look here right now!

Wearable for multiple occasions
Perfect for a wide range of physical activities, including: running, hiking, cycling, football, rugby, tennis, basketball, triathlons, weight lifting and general fitness. After you put on your socks, whether you are exercising or hiking, it will put pressure on your calf muscles and reduce the risk of sports injuries.
Share
View full details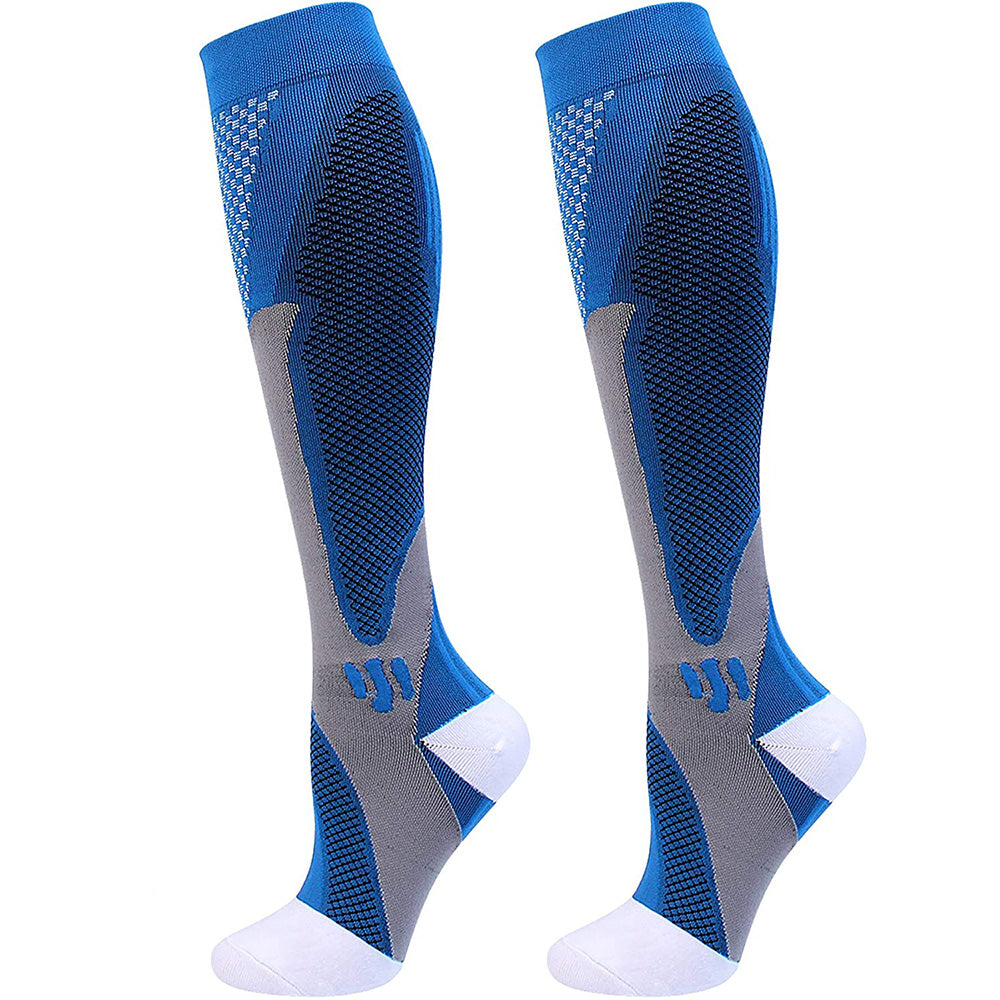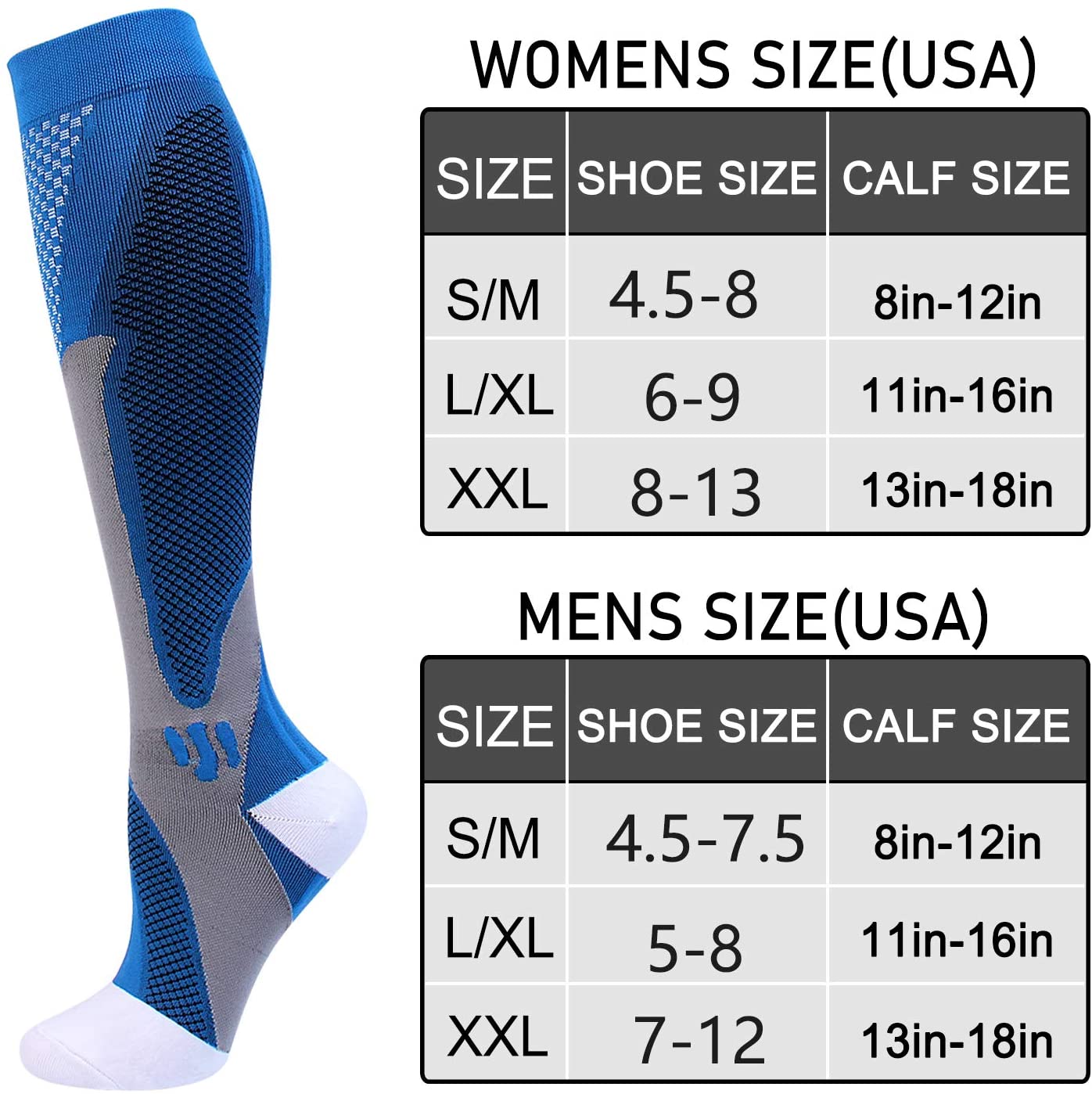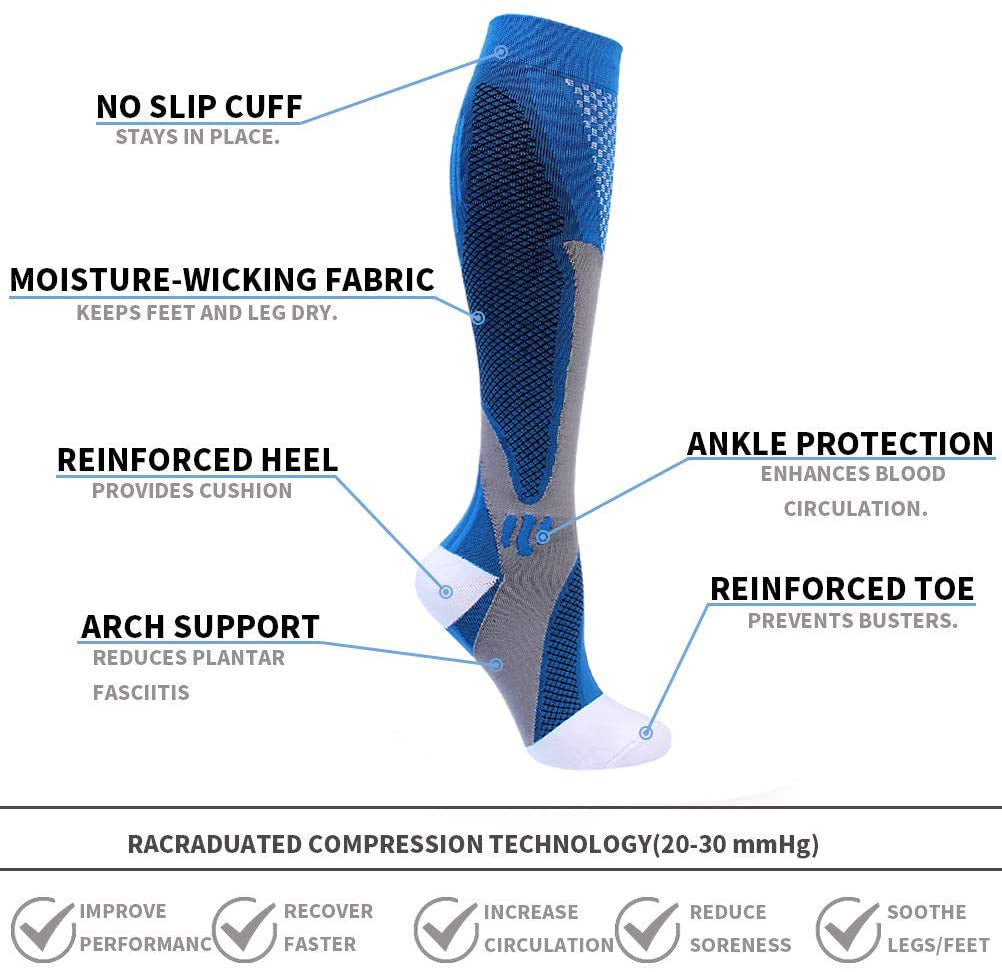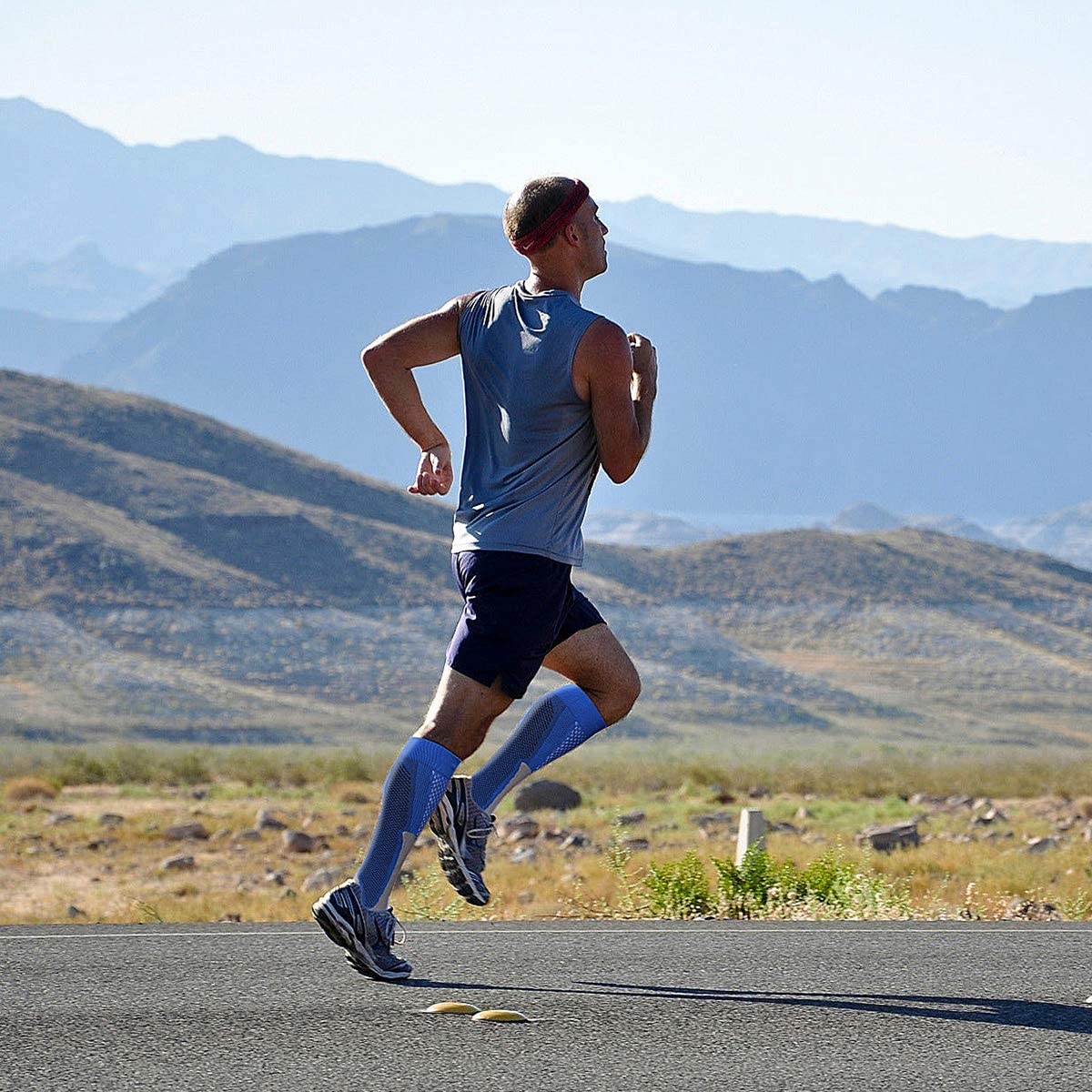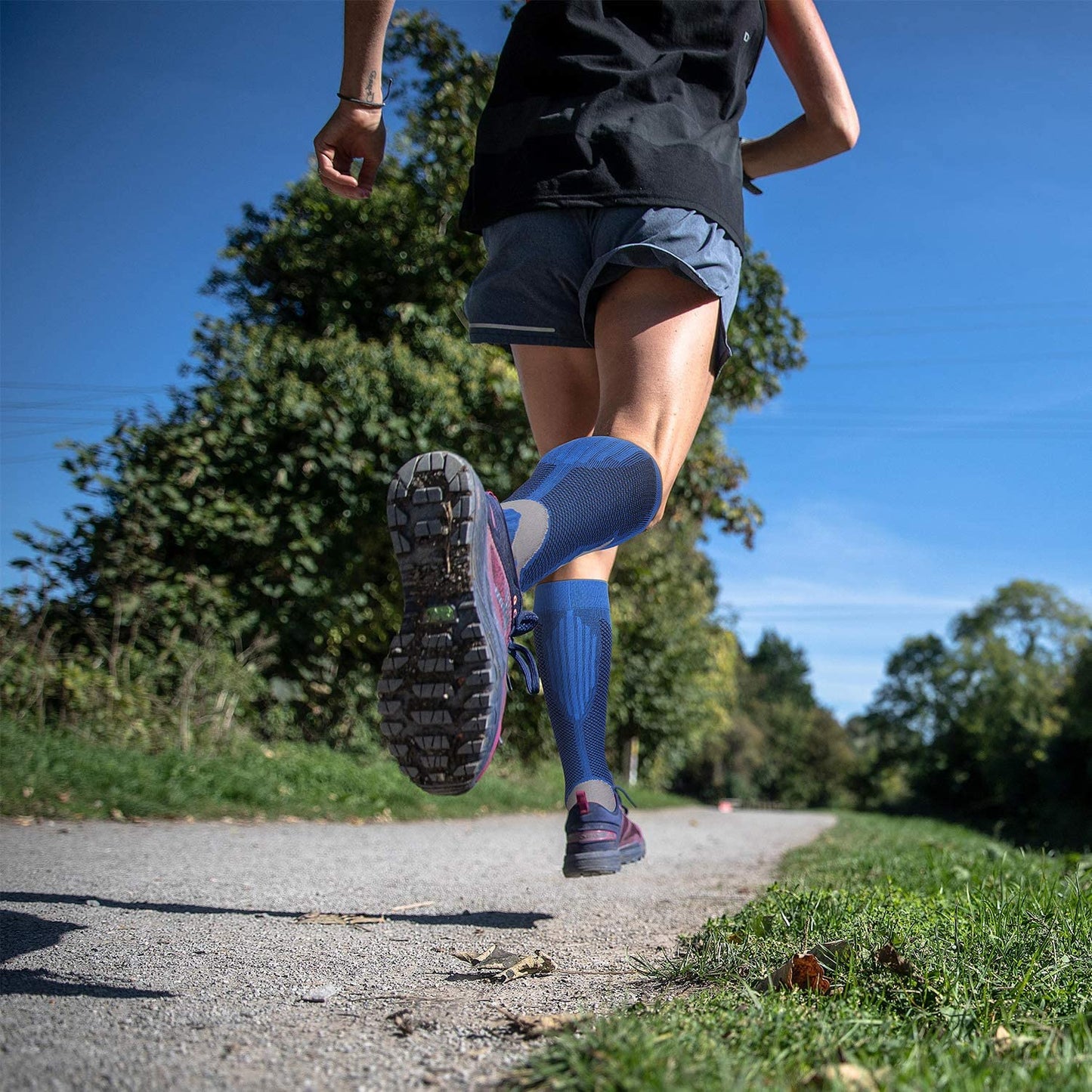 OUR PROMISE TO YOU!
Not 100% satisfied with the brace? No problem, we'll take it back and issue afull refund. No hidden charges.