Use the coupon code "happy" to get a $5 discount For Order Over $20
Regular price
$35.00 USD
Sale price
$17.99 USD
Unit price
per
Sale
Sold out
Or fastest
delivery Thursday December 07
Order within today
Shipping

Estimated delivery time:

United States: 3-5 working days
United Kingdom: 3-7 working days
South Africa: 6-12 working days
Canada: 5-12 working days
Ireland:6-12 working days
Australia: 5-11 working days
New Zealand: 4-9 working days

Rest of Europe: 4-11 working days
Albania, Austria, Belarus, Belgium, Bosnia, Bulgaria, Croatia, Czech Republic, Denmark, Estonia, Finland, France, Germany, Greece, Hungary, Iceland, Italy, Latvia, Lithuania, Luxembourg, Malta, Netherlands, Norway, Poland, Portugal, Romania,  Slovakia, Slovenia, Spain, Sweden, Switzerland, Ukraine

Asia: 6-12 working days
Hong Kong, Israel, Japan, South Korea, Thailand, Vietnam, Japan, Lebanon, Malaysia, Oman, Pakistan, Qatar, Saudi Arabia, Singapore, Taiwan, Turkey, United Arab Emirates

South/Central America: 6-12 working days
Chile, Colombia, Mexico


Please see checkout for shipping/delivery estimate. Easy Returns and Exchanges

Worldwide Express Air Shipping + Satisfaction Guaranteed!
Returns

We offer a 100% money-back guarantee. If you are not satisfied or your brace doesn't fit right, let us know and we will help you with our free returns and exchanges. We pay the return shipping. Your satisfaction is our top priority!
Do compression socks really work?
Compression socks are leg garments designed to increase blood circulation. They fit snugly against the legs and are usually made of elastic material that squeezes the legs.
There are several variations of compression socks. Some examples are compression stockings (tight around the ankle and less tight as you go up) and compression sleeves (a tube placed on the leg with nothing on the foot).

Compression socks come in a variety of sizes and colors, and price and quality can vary by manufacturer.

Who uses compression socks and why?

For many people, compression socks are a great way to help blood flow and relieve leg pain.
People with conditions such as deep vein thrombosis, varicose veins, diabetes, and circulatory problems use compression stockings to manage their symptoms and the progression of the condition.

Compression stockings are also often used by people who belong to occupations that require a lot of standing or walking. Some examples include flight attendants, cashiers, and athletes.

They are also used for postoperative recovery and pregnant women.

Because compression stockings improve blood flow, anyone with a condition or occupation that inhibits adequate blood flow will use them to improve blood flow. Doctors may also recommend compression stockings to people who are more likely to develop blood clots.

Do their job?

Because compression socks look a lot like regular socks, people think they don't work. This is far from the truth! Compression stockings can significantly reduce the progression of certain diseases by improving blood flow in the legs.
The blood of the body flows from the heart to the rest of the body and back again. When a person has circulatory problems, weak veins, or increased pressure due to career or lifestyle choices, blood does not flow adequately from the extremities back to the heart, especially the legs. Because blood has to defy gravity to return to the heart, any blocking conditions or circulation problems can make the situation worse.

Compression stockings help squeeze the veins in the legs and help blood return to the heart. Compression stockings also aid in the movement of lymph, a fluid that spreads throughout your body, which helps reduce swelling.

Features of this compression socks:
UPGRADE - The material of our compression socks are upgraded with nylon percentage from 40% to 85%. Delivers 360-degree stretch for greater flexibility and durability. Breathable high performance fabric keeps an optimal temperature. We intend to combine fashion, technology and science to bring you the triple comfort without.

COMFORT - We carefully designed and manufactured our compression socks to provide premium support, comfort, and relief without compromising your mobility. Form fitting, lightweight, and breathable fabric features maintain stability regardless of activity.

EFFECTIVE - Our compression socks (15-20 mmHg) are highly recommended by preferred by trainers. Whether you are an athlete, teacher, flight crew, receptionist, office worker, nurturing mother, elderly, our socks are universally suitable for all work.

UNISEX - Two size options available to pick from. Best Gift for women, athletes and runners - Anyone on their feet all day. Compression increases blood circulation which provides increased performance and faster recovery.

SHOP WITH CONFIDENCE - Your satisfaction is our topmost priority. If you do not like our socks for any reason, we offer a full refund or free replacement. No reasons.
Share
View full details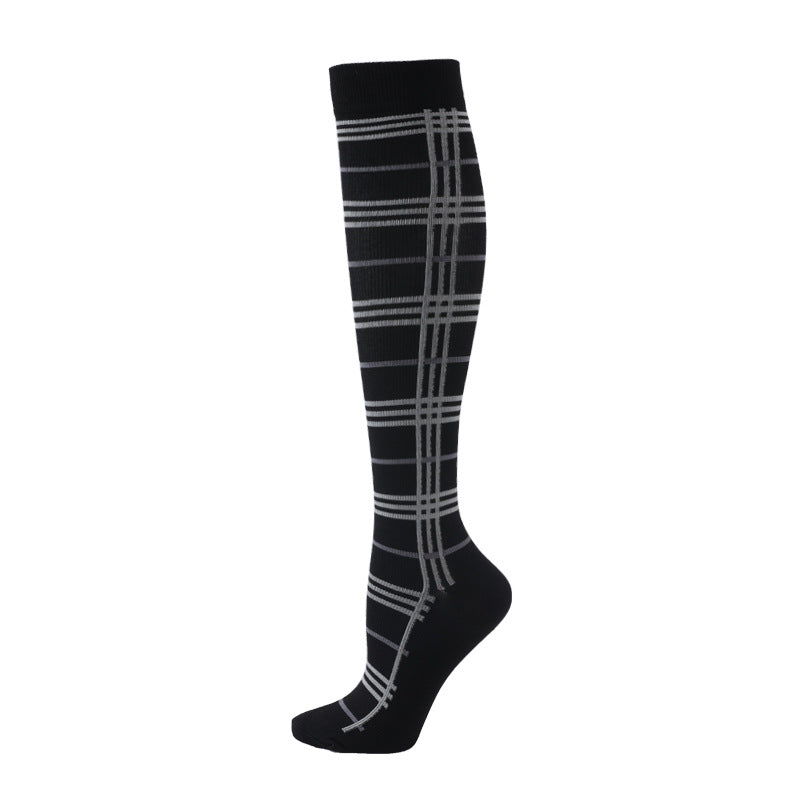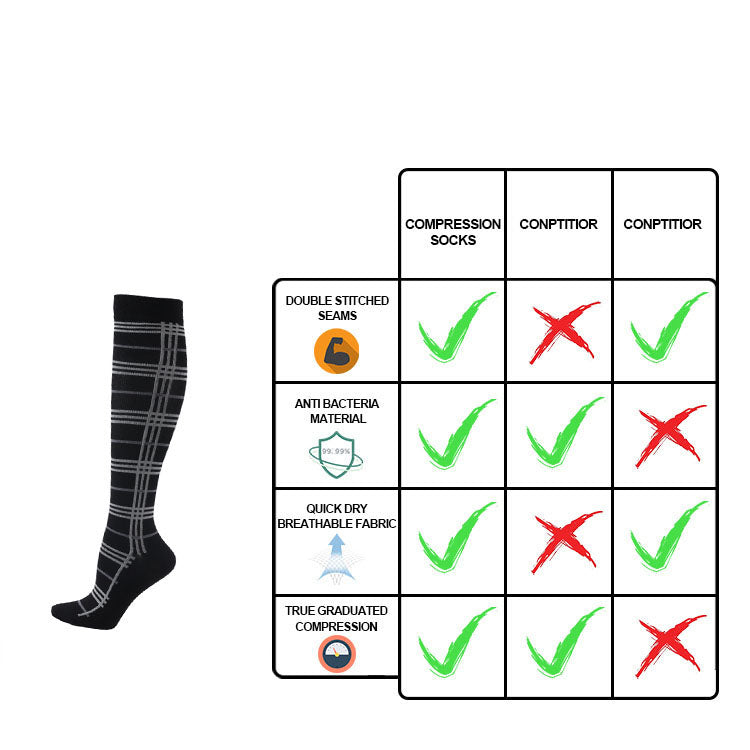 OUR PROMISE TO YOU!
Not 100% satisfied with the brace? No problem, we'll take it back and issue afull refund. No hidden charges.