Use the coupon code "happy" to get a $5 discount For Order Over $20
Compression Socks for Women & Men Best Medical, Nursing, for Running, Athletic, Varicose Veins, Travel
Compression Socks for Women & Men Best Medical, Nursing, for Running, Athletic, Varicose Veins, Travel
Regular price
$35.00 USD
Sale price
$17.99 USD
Unit price
per
Sale
Sold out
Or fastest
delivery Thursday December 07
Order within today
Shipping

Estimated delivery time:

United States: 3-5 working days
United Kingdom: 3-7 working days
South Africa: 6-12 working days
Canada: 5-12 working days
Ireland:6-12 working days
Australia: 5-11 working days
New Zealand: 4-9 working days

Rest of Europe: 4-11 working days
Albania, Austria, Belarus, Belgium, Bosnia, Bulgaria, Croatia, Czech Republic, Denmark, Estonia, Finland, France, Germany, Greece, Hungary, Iceland, Italy, Latvia, Lithuania, Luxembourg, Malta, Netherlands, Norway, Poland, Portugal, Romania,  Slovakia, Slovenia, Spain, Sweden, Switzerland, Ukraine

Asia: 6-12 working days
Hong Kong, Israel, Japan, South Korea, Thailand, Vietnam, Japan, Lebanon, Malaysia, Oman, Pakistan, Qatar, Saudi Arabia, Singapore, Taiwan, Turkey, United Arab Emirates

South/Central America: 6-12 working days
Chile, Colombia, Mexico


Please see checkout for shipping/delivery estimate. Easy Returns and Exchanges

Worldwide Express Air Shipping + Satisfaction Guaranteed!
Returns

We offer a 100% money-back guarantee. If you are not satisfied or your brace doesn't fit right, let us know and we will help you with our free returns and exchanges. We pay the return shipping. Your satisfaction is our top priority!
The benefits of compression stockings for standing or sitting all day
Compression socks are a type of stocking that fits better than regular socks. The tightness is comfortable, but not uncomfortable. This tightness creates a safe pressure that helps promote healthy blood flow and circulation, especially when pumping blood up to the heart.
Compression stockings offer many other benefits that can make a huge difference in your workday.
Improve blood flow:

Think about all the potential health complications listed above; most have one thing in common: poor or interrupted circulation. For example, when you stand for too long, you may develop varicose veins because inflammation impairs blood circulation in your legs. For those who sit all day, your cardiovascular health is at risk due to blood clotting.
Research shows that compression stockings are safe and effective in increasing blood flow and promoting healthy circulation. As we'll discuss below, proper blood flow has many benefits of its own, including improved nutrient delivery and absorption and prevention of clotting and varicose veins.

Prevent blood clotting:

Studies have shown that sitting for hours on end without rest can significantly increase the risk of blood clots.
Under normal and healthy conditions, a blood clot is a gel-like substance that forms around a cut or injury to keep you from bleeding.

However, if you have a blood clot, such as a varicose vein, from sitting for too long, the gel-like substance has nowhere to go. Eventually, it breaks and travels up the body, getting stuck in the lungs or heart. It's an understatement to say this is a serious health risk. Research

showed that compression stockings significantly reduced the risk of blood clotting when standing and sitting for long periods of time.

To prevent varicose veins:

Continuing the above points, compression stockings prevent blood from building up in the veins of the legs. Varicose veins are caused when inflammation slows blood flow to the lower body, causing blood to pool.
Compression stockings force blood upwards, promoting healthy circulation and reducing the risk of varicose vein pain.

Reduce swelling:

If you're standing most of the day, there's no doubt your feet and calves will swell. An easy way to check is to pay attention when you take off your shoes. Are you having a hard time slipping them off after get off work because they feel tighter or stuck? That's swelling.
Fortunately, compression stockings can reduce swelling in the lower body by preventing fluid build-up. In fact, one study looked at the workforce who had to stand all day. The study found that workers who used compression stockings reported less swelling and pain, even after long shifts.

The researchers strongly recommend that those who do not have the opportunity to sit during their shift wear compression socks during their 12-hour shift.

Promotes lymphatic system function:

Inside your body, there is something called the lymphatic system. Its main effects include promoting healthy circulation, enhancing immune response and supporting essential detoxification. When you have poor circulation, you are at risk of developing a condition called lymphedema, a buildup of lymph fluid.
Studies have shown that compression stockings can effectively improve the circulation of the lymphatic system and significantly reduce the risk of developing lymphedema.

Who can benefit the most from compression socks?

Compression stockings are a safe way to promote healthy blood flow and circulation in the general population. But compression socks that sit or stand all day are especially helpful for those in the following occupational fields:
Medical professionals such as nurses, doctors and dentists.




Office workers such as call center representatives, customer service and IT representatives.

Business travelers, especially long-distance travelers on business.

Long-haul drivers, especially national truck drivers.

Uber, Lyft, rideshare and taxi drivers.

Restaurant workers such as chefs, servers and hosts.

Retail staff, especially if you work in a warehouse and your job is focused on loading and unloading merchandise.

warehouse worker.
IMPROVED BLOOD CIRCULATION WITH GRADUATED COMPRESSION 
Our graduation compression technology (15-20mmHg) provides the ideal compression to provide the maximum boost to your blood circulation. Better oxygen circulation provided by our compression socks helps reduce lactic acid build up and aids muscle recovery in your calf, ankle, feet, and legs. Why let yourself suffer any longer? Let our compression socks help you promote recovery, reduce injury, and feel great again.
STYLE AND CONFIDENCE ON YOUR LEGS 
Finally! A durable compression sock designed to last, without compromising quality or comfort. Double stitched fabric your legs will thank you. Feel the immediate comfort and remarkable design of your new stamina long sock tights. The perfect work, cycling, or ski socks. Quality stitched & Easy to get on even though they are a compression sock! They wash well without losing compression keeping all the excellent vascular toning benefits.
GREAT INVESTMENT FOR YOUR FEET/LEGS (GREAT GIFT IDEA TOO!)
We spend so much time on our feet yet tend to neglect our feet/legs. Why settle for anything less than fast relief at a great value? And while you are at it, grab a few pairs for your family, friends, or loved ones as a gift that is functional and beneficial to their health! Also, a great gift to runners, athletes, fitness workouts, hiking, tennis, cycling, office workers, airplane travelers, or anyone on their feet all day.
ZSZBACE GUARANTEED 
Shop with confidence. Your satisfaction is our topmost priority. If you do not like our socks for any reason, we offer a full refund or free replacement. No questions asked.Two size options available to pick from.
Share
View full details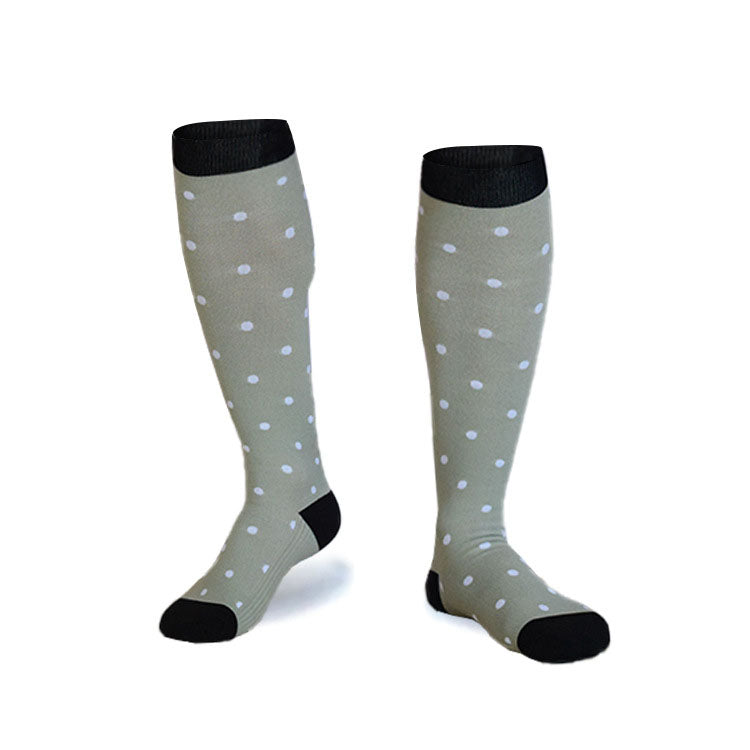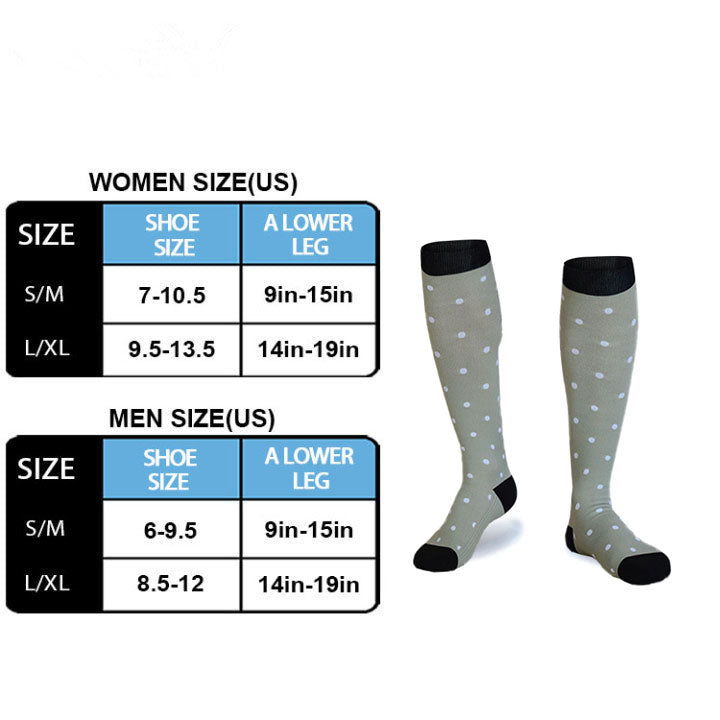 OUR PROMISE TO YOU!
Not 100% satisfied with the brace? No problem, we'll take it back and issue afull refund. No hidden charges.