Use the coupon code "happy" to get a $5 discount For Order Over $20
Regular price
$30.00 USD
Sale price
$23.99 USD
Unit price
per
Sale
Sold out
Or fastest
delivery Saturday September 30
Order within today
Shipping

Estimated delivery time:

United States: 3-5 working days
United Kingdom: 3-7 working days
South Africa: 6-12 working days
Canada: 5-12 working days
Ireland:6-12 working days
Australia: 5-11 working days
New Zealand: 4-9 working days

Rest of Europe: 4-11 working days
Albania, Austria, Belarus, Belgium, Bosnia, Bulgaria, Croatia, Czech Republic, Denmark, Estonia, Finland, France, Germany, Greece, Hungary, Iceland, Italy, Latvia, Lithuania, Luxembourg, Malta, Netherlands, Norway, Poland, Portugal, Romania,  Slovakia, Slovenia, Spain, Sweden, Switzerland, Ukraine

Asia: 6-12 working days
Hong Kong, Israel, Japan, South Korea, Thailand, Vietnam, Japan, Lebanon, Malaysia, Oman, Pakistan, Qatar, Saudi Arabia, Singapore, Taiwan, Turkey, United Arab Emirates

South/Central America: 6-12 working days
Chile, Colombia, Mexico


Please see checkout for shipping/delivery estimate. Easy Returns and Exchanges

Worldwide Express Air Shipping + Satisfaction Guaranteed!
Returns

We offer a 100% money-back guarantee. If you are not satisfied or your brace doesn't fit right, let us know and we will help you with our free returns and exchanges. We pay the return shipping. Your satisfaction is our top priority!
COMPRESSION SOCKS - We intend combining fashion, technology and science to bring you the triple comfort without. The material of our compression socks are upgraded with nylon percentage from 40% to 85%. Delivers 360-degree stretch for greater flexibility and durability. Breathable high performance fabric keeps an optimal temperature.
COMFORT - We carefully designed and manufactured our compression socks to provide premium support, comfort, and relief without compromising your mobility. Form fitting, lightweight, and breathable fabric features maintain stability regardless of activity.
EFFECTIVE - Our compression socks (15-20 mmHg) are highly recommended by preferred by trainers. These are designed to promote blood circulation and oxygen flow preventing fatigue and helps in muscle recovery. Whether you are an athlete, teacher, flight crew, receptionist, office worker, pregnant, nurturing mother, elderly, our socks are universally suitable for all work.

UNISEX - Two size options available to pick from. Best Gift for women, athletes and runners - Anyone on their feet all day. If you are struggling with a gift idea to a loved one or a casual friend, this is will reduce your anxiety without even you wearing them.


COMPRESSION SOCKS BENEFITS AND FEATURES:
- Circulation support to fight Reduced Injury, Swelling, and Fatigue.
- Improve venous blood flow.Stimulates blood flow
- Stimulates oxygen delivery to muscles.
- Prevents lactic acid production and cramping.
- Keeps your feet dry and minimizes blisters.
- Provides for full range of motion and joint flexibility.
- Protect your legs from small scratches.

Occupations that can benefit from compression socks:
- Pregnant woman, Nurses
- Athletes and active people involved with Sports, running, hiking
- Masseurs, cosmetologists, and stylists
- Frequent travelers or anyone taking a long plane flight
- Teachers, Warehouse, packing, or delivery occupations
- Business people with desk positions that require prolonged sitting
- Construction workers, line workers, and restaurant serving staff
- Or you are just that loving person wanting to show how much you care but running short of gift ideas
These unisex compression socks give you:

relieve your pain
Compression stockings feature a seamless toe design to prevent chafing and blisters, relieve leg and foot pain, relieve varicose vein symptoms and reduce swelling.
Unclog blood and restore health

Compression technology is scientifically proven to relieve varicose veins, calf compression or other leg swelling issues. Our socks are all-weather wearable, help prevent blood clots after surgery, and fit perfectly, unlike socks with inflexible fabrics. Compression and support sit perfectly on the heel calf, and the toe area won't squeeze your aching toe joints. Moisture-wicking properties allow for quick drying within hours.
Professional comfort design

Every detail we control is the best
Comfortable materials and careful construction. There are no stitches where they would rub or tear. Offering 360-degree stretch for greater flexibility and durability, our compression socks will give you the ultimate comfort.
Superb manufacturing details

Designed to cater to today's fashion sense. Are you still wearing the same old solid color? We have a wide variety of fun colors and unique pattern designs! All along, our socks have been carefully designed with very distinctive patterns. The toe and heel sections are reinforced for added support and comfort. If you want to be different, look here now!
Wearable for many occasions

Perfect for a variety of sports including: running, hiking, cycling, football, rugby, tennis, basketball, triathlon, weightlifting and general fitness. Putting on socks, whether exercising or hiking, puts pressure on the calf muscles, reducing the risk of sports injuries.
Better performance
Stimulates blood flow and improves oxygen delivery to your muscles. This equals faster recovery and better performance. Reduce foot and leg swelling, lactic acid production and cramping.
Prevent injury

Relieves calf cramps, muscle strains, Achilles tendon and heel cup problems, blisters, blood pools. Lightly padded on the ball and top of the foot to improve comfort and eliminate wear and foot pressure.
Dry and comfortable

Special silver fibers provide optimum humidity control. Keep your feet dry and comfortable (dry feet = less blisters). Also deodorant and antistatic.
Share
View full details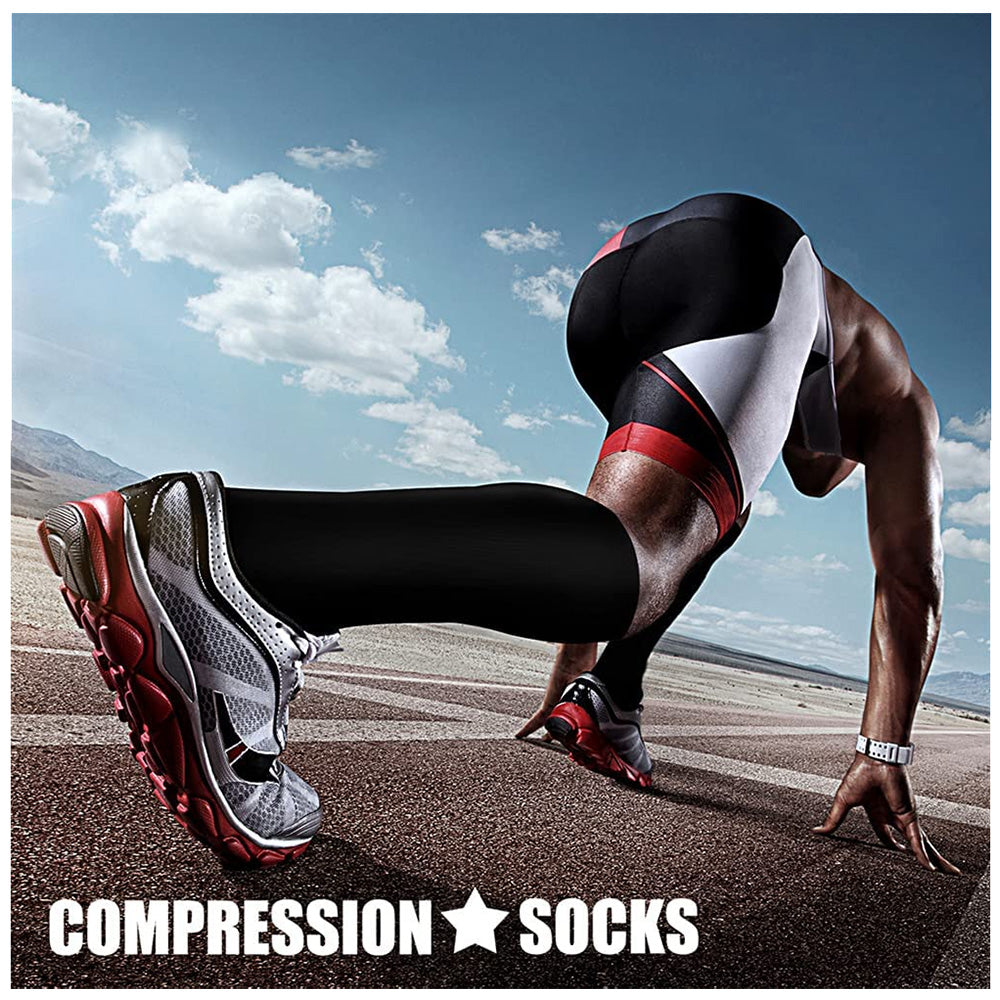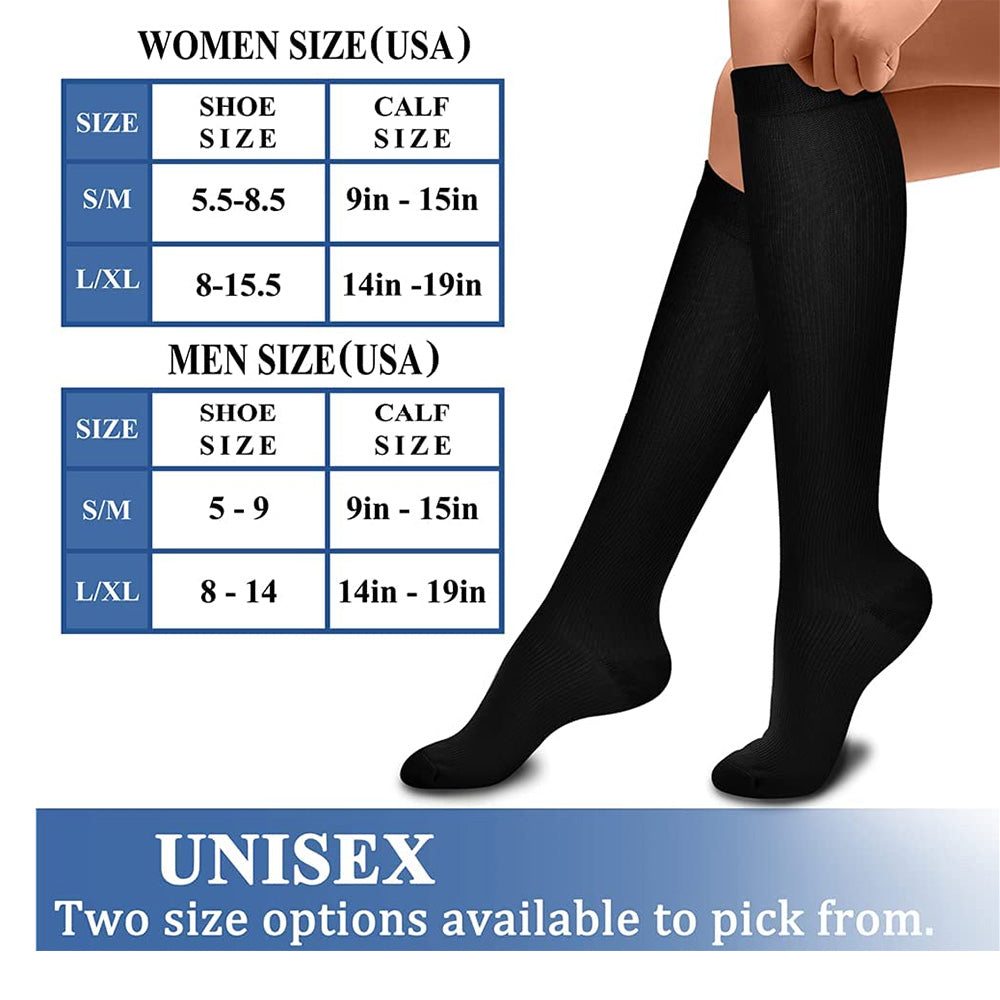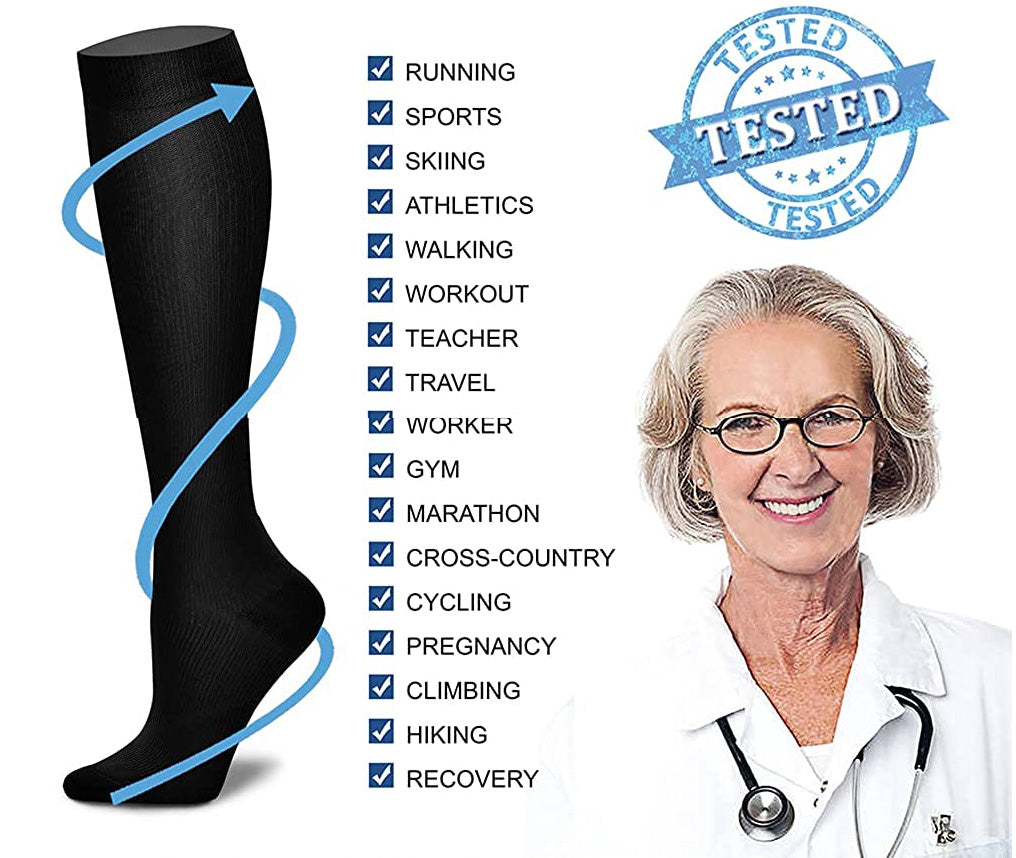 OUR PROMISE TO YOU!
Not 100% satisfied with the brace? No problem, we'll take it back and issue afull refund. No hidden charges.