Use the coupon code "happy" to get a $5 discount For Order Over $20
Regular price
$35.00 USD
Sale price
$17.99 USD
Unit price
per
Sale
Sold out
Or fastest
delivery Saturday September 30
Order within today
Shipping

Estimated delivery time:

United States: 3-5 working days
United Kingdom: 3-7 working days
South Africa: 6-12 working days
Canada: 5-12 working days
Ireland:6-12 working days
Australia: 5-11 working days
New Zealand: 4-9 working days

Rest of Europe: 4-11 working days
Albania, Austria, Belarus, Belgium, Bosnia, Bulgaria, Croatia, Czech Republic, Denmark, Estonia, Finland, France, Germany, Greece, Hungary, Iceland, Italy, Latvia, Lithuania, Luxembourg, Malta, Netherlands, Norway, Poland, Portugal, Romania,  Slovakia, Slovenia, Spain, Sweden, Switzerland, Ukraine

Asia: 6-12 working days
Hong Kong, Israel, Japan, South Korea, Thailand, Vietnam, Japan, Lebanon, Malaysia, Oman, Pakistan, Qatar, Saudi Arabia, Singapore, Taiwan, Turkey, United Arab Emirates

South/Central America: 6-12 working days
Chile, Colombia, Mexico


Please see checkout for shipping/delivery estimate. Easy Returns and Exchanges

Worldwide Express Air Shipping + Satisfaction Guaranteed!
Returns

We offer a 100% money-back guarantee. If you are not satisfied or your brace doesn't fit right, let us know and we will help you with our free returns and exchanges. We pay the return shipping. Your satisfaction is our top priority!
Can compression socks improve your performance?
Research on whether compression garments can improve performance is less clear. It seems that different athletes may benefit from compression socks in different ways. Here are some findings:

Slower athletes may benefit more from cycling effects

In their study looking at blood flow, compression socks were shown to improve blood flow in the lower legs, but only when the participants were exercising at very low levels, such as walking at a speed of less than 6 km/h or riding at less than 120 watts. Row. When they exercised at a higher intensity, their circulatory system didn't seem to gain any benefit from wearing compression socks.
Remember the calf muscle I mentioned above that acts as a pump to pump blood back to the heart when it contracts? The researchers believe that this calf pumping effect becomes so effective when you exercise at a higher intensity that compression socks don't really provide any additional benefit to the circulatory system.

runner

A team of researchers recently collected all the studies done on runners to see if wearing compression stockings while running would do them any good. They found that it did not appear to affect running performance (time for half marathons, 15k trails, 5k and 10k runs, and 400m sprints), oxygen uptake, blood lactate levels, or heart function.
However, they did find some positive effects. Runners who wore compression socks had improved exhaustion time (the rate at which a runner tires) and running economy, while their blood measures also showed they had less muscle damage and inflammation after exercise.

soccer player

Full-length compression tights (compared to shorts or socks) were found to be the most effective at reducing muscle damage and inflammation experienced by players during the game. So if your goal is to reduce muscle damage during exercise, you may want to consider wearing a more comprehensive compression garment, not just socks.
When I searched on Amazon, the compression tights below looked like good value for money. But I must admit, I prefer to wear only compression calf sleeves in summer.

Can compression stockings help you recover faster?

Yes, this study sheds more light on the recovery benefits of compression garments.

DOMS

Several studies have shown that compression stockings can reduce post-exercise pain (DOMS). This is likely because it allows you to get rid of waste faster. There is strong evidence that compression stockings can improve your muscle circulation if you wear them after exercise or at rest.
fatigue

Athletes using compression garments consistently reported feeling less tired during recovery.
strength, strength, endurance

A common way to test how long an athlete needs to recover is to see how long it takes them to get back to their full strength, power, and endurance before training or competition. Athletes who wore tights recovered faster in strength and explosiveness, and recovered more slowly in stamina than those who didn't.
sport type

It seems that the more disruptive a workout is, the greater the recovery benefits of wearing compression socks or tights. For example, the recovery effect after strength training is much greater than when running or cycling.
About the advantages of this compression socks:
COMPRESSION SOCKS-Do you have tired, aching legs or swollen ankles?our compression socks is ready to help.We offer the best quality compression socks,for women and men who suffer from aching and want to get rid of it.By combining fashion, technology and science, shown to dramatically improve blood flow, effectively refresh and energize tired..decreases end-of-day soreness,legs feel supported.Allowing you to enjoy the circulation benefits and pain relief all day long!
EFFICACY-Our compression socks are trusted physician recommended , includes four zones of graduated compression,15-20 mmHg of graduated compression providing optimum blood flow and circulation in the legs of the wearer.It works naturally to reduce swelling, energize legs,combat everyday fatigue , boost energy levels, prevent varicose veins, prevent dangerous circulatory conditions and blood clots and help relieve pain & discomfort related to plantar fasciitis.
COMFORTABLE-Made from breathable, elasticated nylon, includes Anti-Moisture Technology to prevent sweating-even if you choose to wear them all day. Even better, they're "thermally stabilized" to ensure your feet and legs remain cool in the heat, and warm in the cold. Has a comfortable knit top band, which prevents the socks from slipping, bunching, or twisting. In short, we have been designed with comfort firmly in mind, so you can wear them at work, at the gym, and even in bed...
UNISEX-Our compression socks are for every walk of life.Whether you are an athlete,nurse,teacher,flight crew,receptionist,office worker,pregnant,recovering patient,nurturing mother,on your feet all day or active in sports,you can rely on us to provide you with the best treatment! You'll find your feet feeling lighter than ever. Our graduated compression socks will make your day-to-day as comfortable as possible, you don't have to dread any pain that might accompany your daily duties!
SHOP WITH CONFIDENCE-We listen to customer feedback and fine-tune every detail to ensure quality, The customer is first. Customer service and experience is at the center of what we do everyday. Always and without exception.. We deliver an experience – Healing with Energy – To and From The Heart. So shop with 100% confidence, if you are not happy with the purchase for any reasons, Please feel free to contact us, we offer a full refund or free 100% replacement. No questions asked.
Share
View full details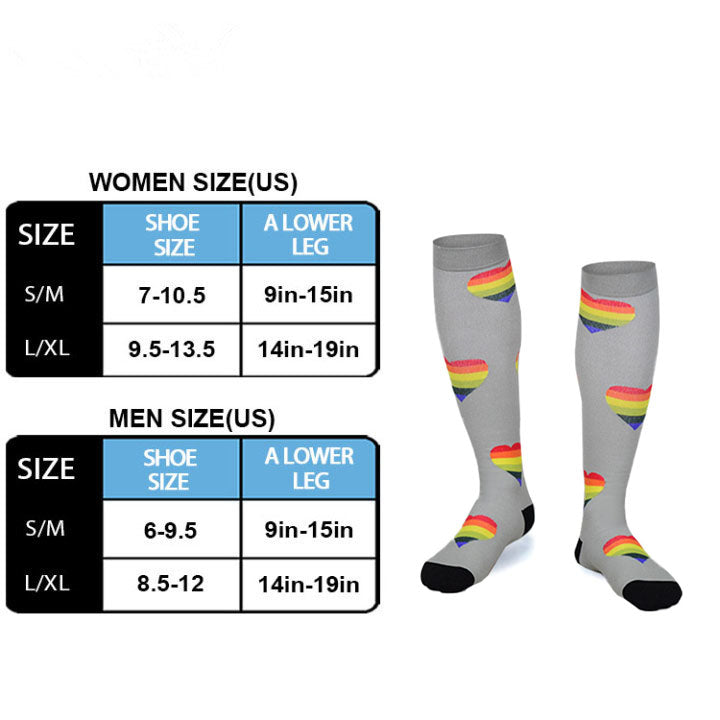 OUR PROMISE TO YOU!
Not 100% satisfied with the brace? No problem, we'll take it back and issue afull refund. No hidden charges.