Use the coupon code "happy" to get a $5 discount For Order Over $20
Compression Socks, Open Toe 20-30 mmHg Graduated Compression Stockings for Men Women, Knee High Compression Sleeves for DVT, Maternity, Pregnancy, Varicose Veins, Relief Shin Splints, Edema
Compression Socks, Open Toe 20-30 mmHg Graduated Compression Stockings for Men Women, Knee High Compression Sleeves for DVT, Maternity, Pregnancy, Varicose Veins, Relief Shin Splints, Edema
Regular price
$37.99 USD
Sale price
$29.99 USD
Unit price
per
Sale
Sold out
Or fastest
delivery Thursday September 28
Order within today
Shipping

Estimated delivery time:

United States: 3-5 working days
United Kingdom: 3-7 working days
South Africa: 6-12 working days
Canada: 5-12 working days
Ireland:6-12 working days
Australia: 5-11 working days
New Zealand: 4-9 working days

Rest of Europe: 4-11 working days
Albania, Austria, Belarus, Belgium, Bosnia, Bulgaria, Croatia, Czech Republic, Denmark, Estonia, Finland, France, Germany, Greece, Hungary, Iceland, Italy, Latvia, Lithuania, Luxembourg, Malta, Netherlands, Norway, Poland, Portugal, Romania,  Slovakia, Slovenia, Spain, Sweden, Switzerland, Ukraine

Asia: 6-12 working days
Hong Kong, Israel, Japan, South Korea, Thailand, Vietnam, Japan, Lebanon, Malaysia, Oman, Pakistan, Qatar, Saudi Arabia, Singapore, Taiwan, Turkey, United Arab Emirates

South/Central America: 6-12 working days
Chile, Colombia, Mexico


Please see checkout for shipping/delivery estimate. Easy Returns and Exchanges

Worldwide Express Air Shipping + Satisfaction Guaranteed!
Returns

We offer a 100% money-back guarantee. If you are not satisfied or your brace doesn't fit right, let us know and we will help you with our free returns and exchanges. We pay the return shipping. Your satisfaction is our top priority!
How do compression socks work?
Compression stockings put pressure on your legs and ankles, which can:
Reduces the diameter of major veins by increasing the volume and velocity of blood flow




Helps blood flow to the heart

Helps prevent backflow of blood down the foot or laterally into the superficial veins
The benefits of compression socks
Your doctor may prescribe compression stockings to:
Improve leg circulation




support veins

prevent blood from pooling in the veins of the legs

Reduce leg swelling

Reduces orthostatic hypotension, which causes dizziness or instability when standing

Help prevent venous ulcers

Prevents deep vein thrombosis in the legs

Helps relieve pain from varicose veins

reverse venous hypertension

Improve lymphatic drainage
Benefits and Advantages of Open Toe Compression Stockings

No cramping and crowding of the toes (especially troublesome with foot problems such as bunions, toenail problems, or highly sensitive toes)

Easier to put on and take off compression stockings (use removable slip inserts to reduce friction between foot and fabric)

Ideal for summer footwear (sandals, flip-flops and other open-toed shoes)

Keep your toes and feet cool in hot summer

Support, shape, and toning with graded compression

Women can show off their pedicures and painted toenails
Your Legs Need More Love

- Reduced Injury, swelling, and fatigue:
- Our graduated compression socks (20-30 mmHg) are recommended by doctors and preferred by trainers.
- Reduces foot and leg swelling, cramping.
- Designed with lightweight, durable, and breathable fabric, for relief of varicose veins or other leg swelling issues.
- Support your foot, heel, arch, ankle, and calf.
- Use it every day, night, or both.

Take Control of Your Health

- Our graduation compression technology (20-30mmHg) provides the compression to provide boost to your blood circulation.
- Stimulates blood flow and improves oxygen delivery to your muscles.
- This equals faster recovery and better performance, Let our compression socks help you promote recovery, reduce injury, and feel great again.

Share
View full details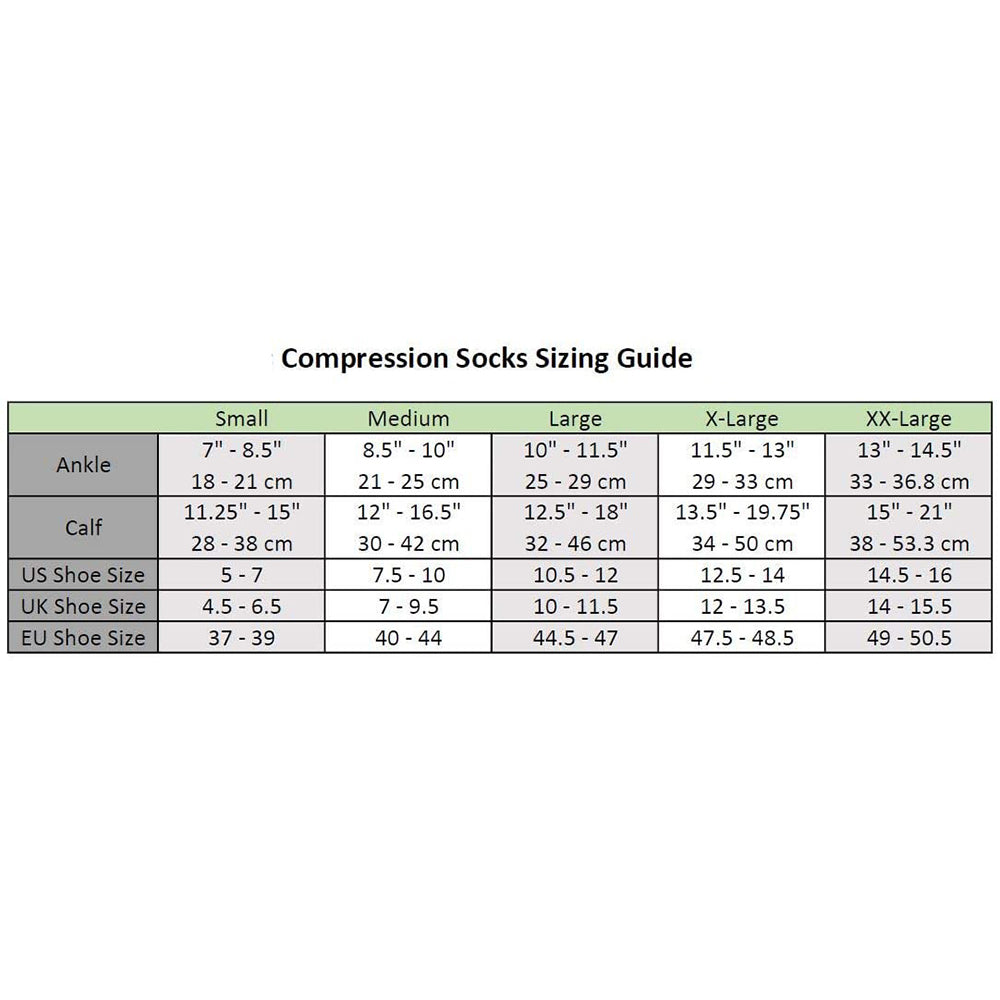 OUR PROMISE TO YOU!
Not 100% satisfied with the brace? No problem, we'll take it back and issue afull refund. No hidden charges.