Use the coupon code "happy" to get a $5 discount For Order Over $20
Regular price
$26.99 USD
Sale price
$15.99 USD
Unit price
per
Sale
Sold out
Or fastest
delivery Thursday December 07
Order within today
Shipping

Estimated delivery time:

United States: 3-5 working days
United Kingdom: 3-7 working days
South Africa: 6-12 working days
Canada: 5-12 working days
Ireland:6-12 working days
Australia: 5-11 working days
New Zealand: 4-9 working days

Rest of Europe: 4-11 working days
Albania, Austria, Belarus, Belgium, Bosnia, Bulgaria, Croatia, Czech Republic, Denmark, Estonia, Finland, France, Germany, Greece, Hungary, Iceland, Italy, Latvia, Lithuania, Luxembourg, Malta, Netherlands, Norway, Poland, Portugal, Romania,  Slovakia, Slovenia, Spain, Sweden, Switzerland, Ukraine

Asia: 6-12 working days
Hong Kong, Israel, Japan, South Korea, Thailand, Vietnam, Japan, Lebanon, Malaysia, Oman, Pakistan, Qatar, Saudi Arabia, Singapore, Taiwan, Turkey, United Arab Emirates

South/Central America: 6-12 working days
Chile, Colombia, Mexico


Please see checkout for shipping/delivery estimate. Easy Returns and Exchanges

Worldwide Express Air Shipping + Satisfaction Guaranteed!
Returns

We offer a 100% money-back guarantee. If you are not satisfied or your brace doesn't fit right, let us know and we will help you with our free returns and exchanges. We pay the return shipping. Your satisfaction is our top priority!
Top 4 Knee High Compression Socks Benefits and Features
Personalized Compression for Men and Women
Available in a variety of sizes to fit medium to plus size adult men and women. The key to successful compression is a sock's fit that is tight enough to feel supportive pressure, and loose enough to improve blood flow to the calf and foot.
Quick relief for stiff, sore and swollen legs

Copper-infused compresses allow for a soothing and comfortable recovery. Whether you're dealing with soreness, pain, recovering from an injury, or standing for long periods of time, these stockings wrap your calves and compress comfortably. Diabetic socks are used to treat a range of pains, injuries and conditions, such as:
Varicose veins




restless legs syndrome

arthritis

Leg thrombosis prevention

spider veins

blood circulation improvement

diabetic neuropathy
Talk to your doctor or medical professional to make sure these medical stockings are the right choice for your pain or condition before wearing them.
Speed ​​up recovery and prevent further injury

After a foot or leg injury, it is important to give the leg rest and time to heal. However, if you are working hard, this can be difficult to do. These slip-on compression supports are great for all-day use, especially when you're out of bed for activities or traveling. Use knee-high stockings to exercise, run, work, travel, drive, fly, or any other daily activity.
Reduce sweat and odor buildup

Sweaty feet and odor are common when you stand, work, or simply move throughout the day. When wearing these medical compression stockings, you don't need to worry about sweating and any odor that might accompany the uncomfortable warmth. Copper socks are made of moisture-wicking material to keep your feet dry throughout the day. Copper is also self-sanitizing and can be washed infrequently, so it can be worn more often without worrying about bad smells.
How do varicose compression stockings work?

Varicose veins are twisted, enlarged veins that can appear in many different parts of your body, but the most common place for these pesky veins is your legs. Standing, walking, squatting, or any other leg-heavy activity puts stress and strain on the veins in the lower body. In most cases, a compressed vein causes mild soreness or soreness in addition to cosmetic appearance. However, any vein problems should be taken seriously and treated promptly to avoid any serious problems. These compression stockings are specially designed to provide targeted compression to fully relieve pressure and pressure on the calves and feet, relieve and treat varicose or spider veins.
Best pregnancy compression stockings

Not only is it not as easy to stand for long periods of time during pregnancy, but the extra weight and mixed hormones can cause many problems. Thankfully, simply throwing on these knee-length stockings and wearing them day or night can help reduce and relieve any pain symptoms you experience in your feet, ankles, or legs. It is common to experience spider veins, varicose veins, and swelling during pregnancy or postpartum. These copper-infused socks wrap your calves and feet with soothing pressure to reduce inflammation and increase circulation.
What are compression socks for?

Use these copper-infused stockings to revive sore legs and feet after prolonged standing. Whether working 12-hour shifts, or long hiking, running or exercising, copper compression socks are designed to prevent sore feet and calves. Standing for long periods of time can cause stress that can weaken your blood valves over time. Weakened valves can cause blood to start pooling in the feet, which can lead to painful varicose veins, or stiffness and soreness in joints and muscles. Get a head start on your recovery and use compression stockings to help with pain relief. These knee socks can be worn discreetly under pants and are perfect for nurses, teachers, police officers, surgeons, maintenance workers and more!
Frequently Asked Questions About These Diabetic Compression Stockings

What conditions/injuries does this support treat? Helps treat and manage various foot and calf pains such as varicose veins, inflammation, arthritis, spider veins, restless legs syndrome and diabetic leg disease.

Who can wear it? Available in a variety of sizes to provide a personalized fit and comfortable level of compression, it is suitable for medium to plus size adult men and women.

How do I know what size to buy? Please refer to the size chart above to find the best size for you.

What are the benefits of copper compression? The copper-infused material is great for healing and rejuvenating tired muscles. Plus, the copper helps make this material odor free and sterile!

what does it do? Our medical compression stockings are made from 85% copper and nylon blend material and 15% spandex.

Can I wear compression stockings to bed? These socks are designed to be worn all day and are comfortable to wear at night too! Talk to your doctor to determine the appropriate length of wear for your pain or condition.

What should I wear? Wear these knee-length copper stockings like regular socks, the end of the sock should be just below the kneecap.

How does it work? Designed to provide targeted compression to reduce swelling and improve circulation.

Washing Instructions: Machine wash in cold water with mild detergent. Allow socks to air dry completely before reapplying.
Share
View full details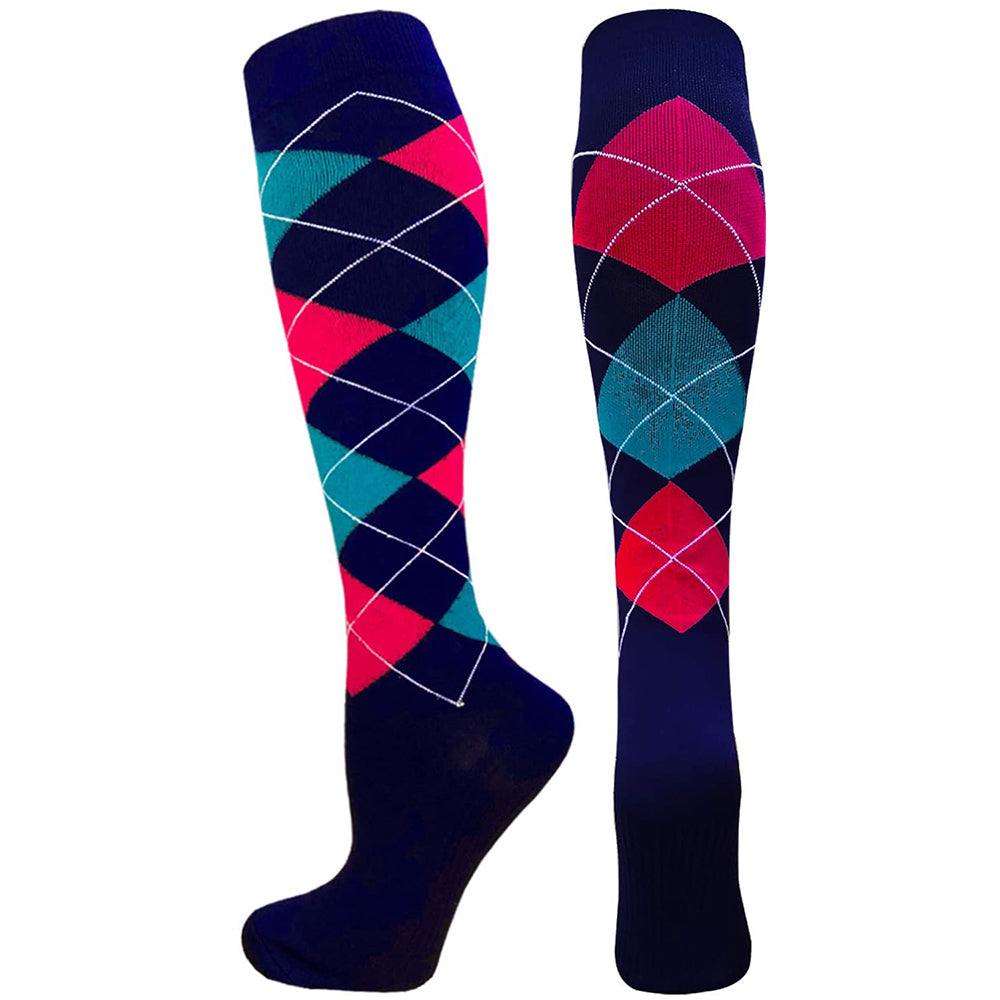 OUR PROMISE TO YOU!
Not 100% satisfied with the brace? No problem, we'll take it back and issue afull refund. No hidden charges.