Use the coupon code "happy" to get a $5 discount For Order Over $20
Regular price
$26.99 USD
Sale price
$15.99 USD
Unit price
per
Sale
Sold out
Or fastest
delivery Thursday September 28
Order within today
Shipping

Estimated delivery time:

United States: 3-5 working days
United Kingdom: 3-7 working days
South Africa: 6-12 working days
Canada: 5-12 working days
Ireland:6-12 working days
Australia: 5-11 working days
New Zealand: 4-9 working days

Rest of Europe: 4-11 working days
Albania, Austria, Belarus, Belgium, Bosnia, Bulgaria, Croatia, Czech Republic, Denmark, Estonia, Finland, France, Germany, Greece, Hungary, Iceland, Italy, Latvia, Lithuania, Luxembourg, Malta, Netherlands, Norway, Poland, Portugal, Romania,  Slovakia, Slovenia, Spain, Sweden, Switzerland, Ukraine

Asia: 6-12 working days
Hong Kong, Israel, Japan, South Korea, Thailand, Vietnam, Japan, Lebanon, Malaysia, Oman, Pakistan, Qatar, Saudi Arabia, Singapore, Taiwan, Turkey, United Arab Emirates

South/Central America: 6-12 working days
Chile, Colombia, Mexico


Please see checkout for shipping/delivery estimate. Easy Returns and Exchanges

Worldwide Express Air Shipping + Satisfaction Guaranteed!
Returns

We offer a 100% money-back guarantee. If you are not satisfied or your brace doesn't fit right, let us know and we will help you with our free returns and exchanges. We pay the return shipping. Your satisfaction is our top priority!
How to Use and Care for Copper Compression Socks
People who buy copper compression socks to relieve swollen feet and legs may find them difficult to put on. Wearing dish mitts when wearing them is a great way to clear this small but annoying obstacle. This can help you get a better grip and fit the sock better. As an alternative, you can also roll up the socks beforehand so that they roll up to your legs when you put them on.
When you're doing physical activity, it's best to wear copper compression socks because socks work best when they resist gravity. They help bring blood back to the heart and prevent blood from pooling in the legs and feet, but wearing them while lying down is ineffective.

So, can you wear compression stockings while sleeping? The answer depends on the type of compression stockings you have. While there should be no problem if the compression of the copper compression socks is graded and has a low or mild pressure rating, socks with a high pressure rating may cut off blood flow when lying down. This applies to everyone, including pregnant women. However, doctors may instruct patients, such as those recovering from surgery, to wear compression stockings overnight.

Copper compression socks need to be hand washed at around 40 degrees Celsius, or washed in cold water in a washing machine. Afterwards, they must be dried away from direct heat sources. Note that with regular compression stockings, the effect of the compression decreases after more than 30 wears, so it should be changed every 3 to 6 months.
SAY GOODBYE TO YOUR PAIN:

The compression technique is scientifically known to reduce swelling, pain by enhancing blood circulation. Our compression socks' delivering 360-degree stretch for greater flexibility and durability. Ideal for those who sit for long period during travel or at work.

COMPRESSION SOCKS BENEFITS:
Whether you are an athlete, sportsperson, nurse, teacher, flight crew, receptionist, office worker, pregnant , recovering patient, nurturing mother, elderly­ our socks are universally suitable for all work. They are designed to promote blood circulation and oxygen flow preventing cramping ,fatigue, swelling, and helps in muscle recovery.

TAKE YOUR GAME TO THE NEXT LEVEL:
Comfortable material and careful construction. No stitches in places where they'll rub or rip together. Stay put Cuffs Soothing feeling at the bottom and sides of foot with no pinching seen with lesser quality socks without ankle support. Fall in love with your new Stamina socks easy to pull on. and they breath! Use in extremely hot weather crossfit through mud water wall/crawl/rope climbs and half marathons. Perfect for extreme races and long runs.

FIT JUST RIGHT:
Two size options available to pick from. Best Gift for women , nurses and doctors, athletes and runners, office workers, ok..can we just say whoever use their leg extensively. Our socks are universally suitable for you. Compression increases blood circulation which provides increased performance and faster recovery.

People with the following symptoms may benefit from Compression socks:
- Tired, aching, fatigued, and swollen feet
- Shin splints, and calf muscle pull
- Plantar fasciitis, and achilles tendonitis
- Edema, lymphedema, and venous insufficiencies
- Post-surgical recovery, and athletic recovery
- DVT, spider veins, and varicose veins

Share
View full details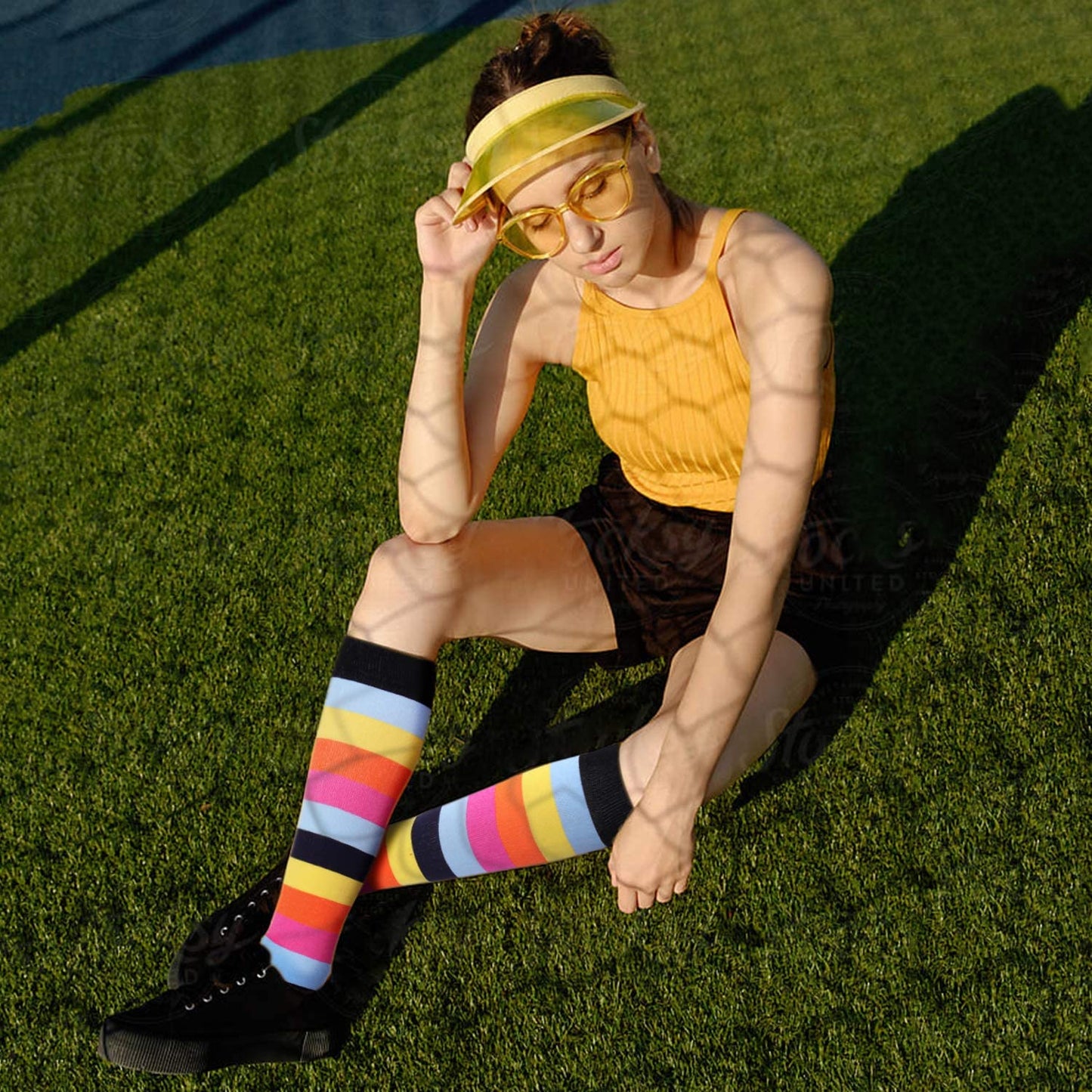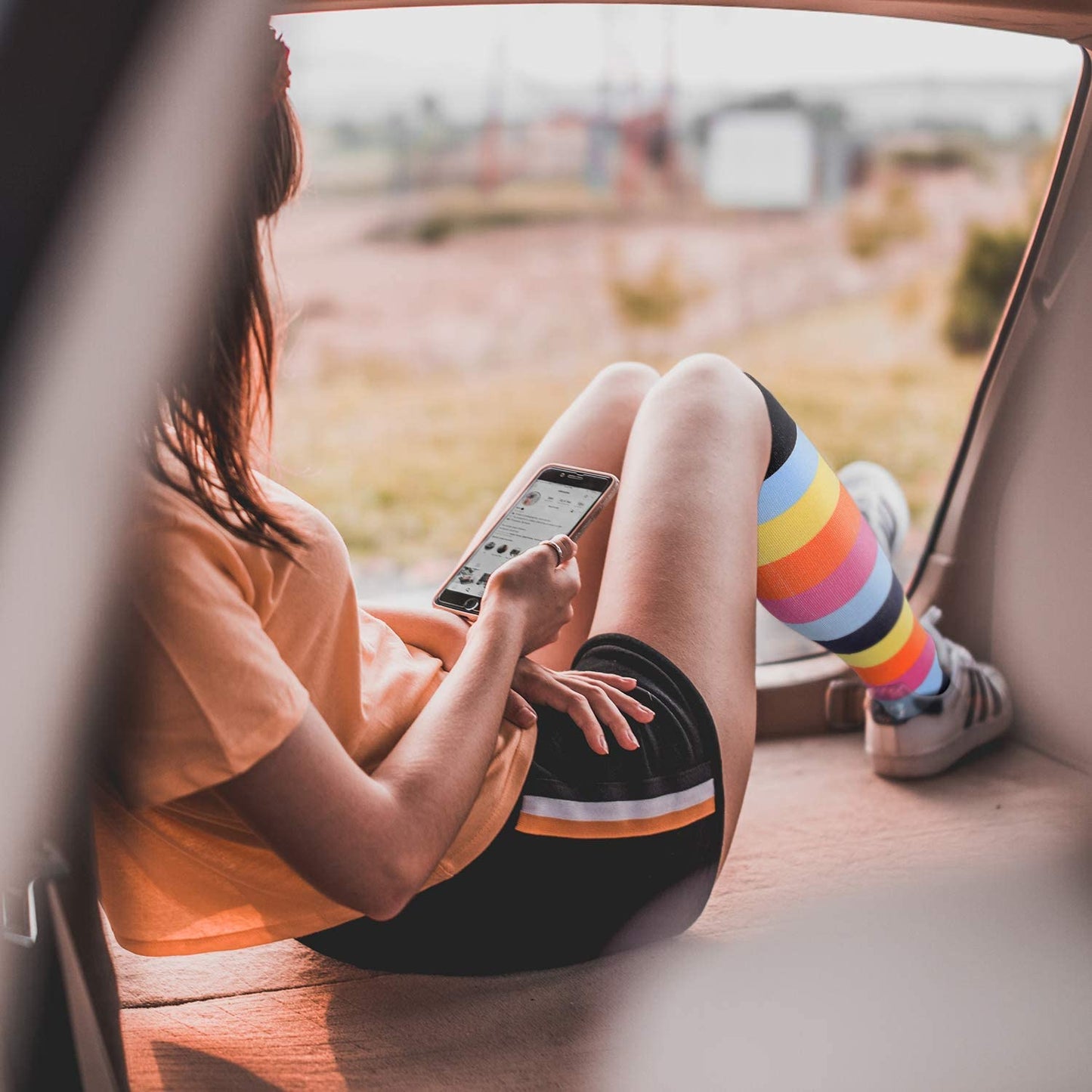 OUR PROMISE TO YOU!
Not 100% satisfied with the brace? No problem, we'll take it back and issue afull refund. No hidden charges.