Use the coupon code "happy" to get a $5 discount For Order Over $20
Regular price
$26.99 USD
Sale price
$15.99 USD
Unit price
per
Sale
Sold out
Or fastest
delivery Saturday September 30
Order within today
Shipping

Estimated delivery time:

United States: 3-5 working days
United Kingdom: 3-7 working days
South Africa: 6-12 working days
Canada: 5-12 working days
Ireland:6-12 working days
Australia: 5-11 working days
New Zealand: 4-9 working days

Rest of Europe: 4-11 working days
Albania, Austria, Belarus, Belgium, Bosnia, Bulgaria, Croatia, Czech Republic, Denmark, Estonia, Finland, France, Germany, Greece, Hungary, Iceland, Italy, Latvia, Lithuania, Luxembourg, Malta, Netherlands, Norway, Poland, Portugal, Romania,  Slovakia, Slovenia, Spain, Sweden, Switzerland, Ukraine

Asia: 6-12 working days
Hong Kong, Israel, Japan, South Korea, Thailand, Vietnam, Japan, Lebanon, Malaysia, Oman, Pakistan, Qatar, Saudi Arabia, Singapore, Taiwan, Turkey, United Arab Emirates

South/Central America: 6-12 working days
Chile, Colombia, Mexico


Please see checkout for shipping/delivery estimate. Easy Returns and Exchanges

Worldwide Express Air Shipping + Satisfaction Guaranteed!
Returns

We offer a 100% money-back guarantee. If you are not satisfied or your brace doesn't fit right, let us know and we will help you with our free returns and exchanges. We pay the return shipping. Your satisfaction is our top priority!
4 Benefits of These Compression Stockings for Men And Women
Reduce pain, pain and swelling
Knee-length stockings provide 360-degree compression, wrapping your feet, ankles and calves with comfortable pressure to relieve any pain. If your calves and ankles are inflamed after standing for hours on a long shift, these socks are made for you. Put on your socks like regular socks and go to work and feel the difference!
Breathable elastic material

Get tight, supportive pressure and pressure without worrying about uncomfortable warmth or sweat. Knee-length compression stockings are designed with all-day or overnight use in mind, so you'll find comfort no matter how long your shift is. Thanks to the comfortable pressure of the stockings, you don't need to worry about your socks rolling off all day. Plus, supportive compression socks are available in a variety of sizes, so you're sure to find the one that works best for you.
Funny male and female healthcare design

These compression socks feature a fun, health-related EKG design. Show off your love for health inside and outside of work, or make the perfect pain relief gift for the male or female nurse, doctor, cardiologist, surgeon, CNA or other healthcare worker in your life. Support socks are navy blue with light blue features, including support bases around the toes and heels, and an EKG heart rate line.
Relieve soreness and fatigue

If you spend most of your work on your feet, you'll be surprised how much these compression supports affect your calves, feet, and ankles. Compression stockings will help treat and control any swelling and inflammation, while providing comfortable pressure on sore muscles and joints. Wear these comfortable compression socks during your shift to help relieve any sore, tired muscles and prevent further muscle soreness. Relieving calf muscle pain is as easy as putting on a comfortable pair of compression socks.
What Makes Our Compression Socks Different?

Our compression support socks are specially designed for healthcare workers. From fun, cute patterns to durable, premium materials, these knee-length stockings are perfect for nurses, doctors, CNAs, and other men and women working in healthcare. These materials are stretchy and breathable while supporting perfect comfort and compression. The socks are easy to put on and under most shoes and are durable so you can keep reusing them. The blue pattern features a medical EKG heartbeat line, making these socks perfect for both men and women. Universally worn by any healthcare worker, these socks are the perfect gift for Thanksgiving Week for nurses and healthcare workers.
Why do nurses and doctors wear compression stockings?

It's no secret that wearing compression stockings has several benefits, but why are they especially good for nurses? Generally, nurses and healthcare professionals spend a lot of time standing up. When you're on your feet for 12 hours, your legs and ankles are bound to start to swell, or at least get tired, making your job difficult and painful. Wearing compression stockings during shifts can reduce pain, reduce swelling, and provide comfortable, long-lasting support.
Swelling and fatigue aren't the only things that work with your feet. The effects of prolonged standing and other circulation problems can lead to a range of ailments and pains. Use these compression stockings before, during, or after your shift to help relieve pain:

muscle fatigue




inflammation

Varicose veins

poor blood circulation

restless legs syndrome

increase blood or oxygen flow
You can wear compression socks as needed to help relieve pain or enhance the muscle recovery process. While these stockings can provide relief and energy during long shifts, they can also be worn outside of work as needed for pain relief and recovery.
Frequently Asked Questions about Caring for Compression Stockings

What conditions/injuries does this support treat? Helps treat and manage various foot and calf pains such as varicose veins, inflammation, arthritis, spider veins, restless legs syndrome and diabetic leg disease.

Who can wear it? Available in a variety of sizes to provide a personalized fit and comfortable level of compression, it is suitable for medium to plus size adult men and women.

How do I know what size to buy? Please refer to the size chart above to find the best size for you.

Can doctors wear these socks? Absolutely! Anyone who stands up a lot during a shift will find these compression stockings useful.

what does it do? Our medical compression stockings are made of 65% nylon, 25% polyester and 15% spandex.

Can I wear compression stockings to bed? These socks are designed to be worn all day and are comfortable to wear at night too! Talk to your doctor to determine the appropriate length of wear for your pain or condition.

What should I wear? Wear these knee-length socks like regular socks, the end of the socks should be just below the kneecap.

How does it work? Designed to provide targeted compression to reduce swelling and improve circulation.

Washing Instructions: Machine wash in cold water with mild detergent. Allow socks to air dry completely before reapplying.
Enjoy Your Life

- Colorful and unique design.Unique pattern design, fun Colors with cute patterns design add a touch of color to your ordinary life.
- Graduated compression: 20-30mmHg compression pressure provides the renewable and sustained energy on your daily chore or rigorous routines of your life.
- Great for everyone use. Ideal for athletes, nurses, maternity, teachers, flight, travel, elderly, construction workers, chefs, line workers, etc
- US Sizing Guide - Women S/M Women| Shoe 7 - 10.5 | Calf 9in - 15in L/XL Women| Shoe 9.5 - 13.5 | Calf 14in - 19in
- US Sizing Guide - Men S/M Men| Shoe 6 - 9.5 | Calf 9in - 15in L/XL Men| Shoe 8.5 - 12 | Calf 14in - 19in

COMPRESSION SOCKS BENEFITS AND FEATURES

√Graduated compression revives tired feet
√Improved Blood Circulation, Recovery, and Performance.
√Reduced Injury, Swelling, and Fatigue
√Moisture-wicking design to keep feet dry
√Extra support for the ankle
√Heel arch support for the rest of the foot
√Prevent varicose veins
√Relief from pain due to plantar fasciitis and foot injuries
√Prevent Blood clots after surgery.
Share
View full details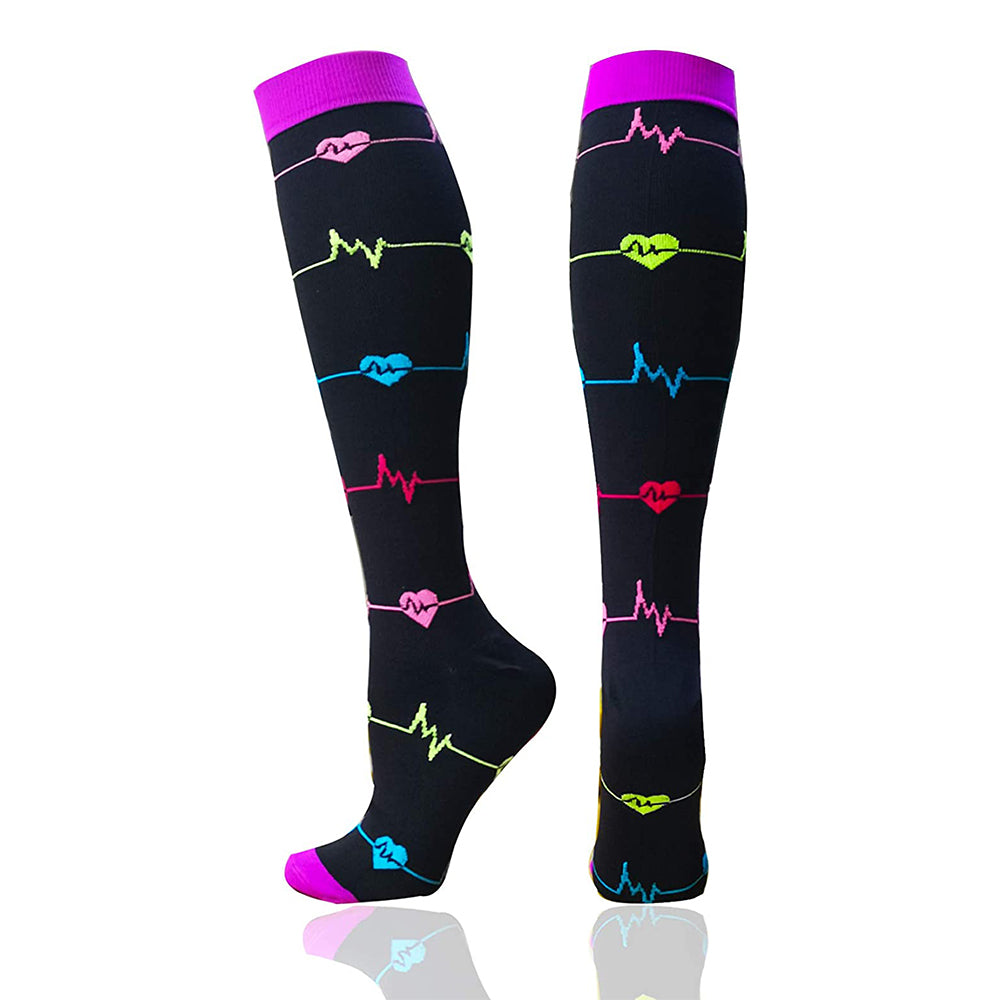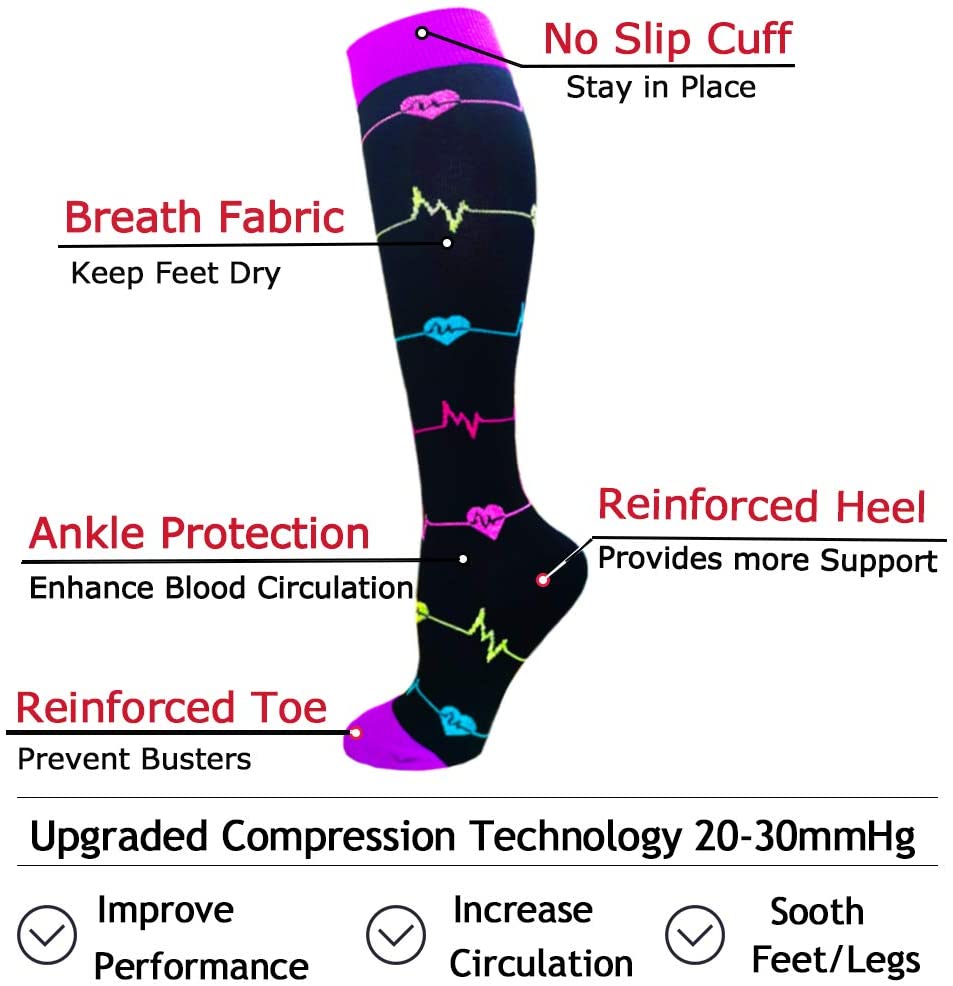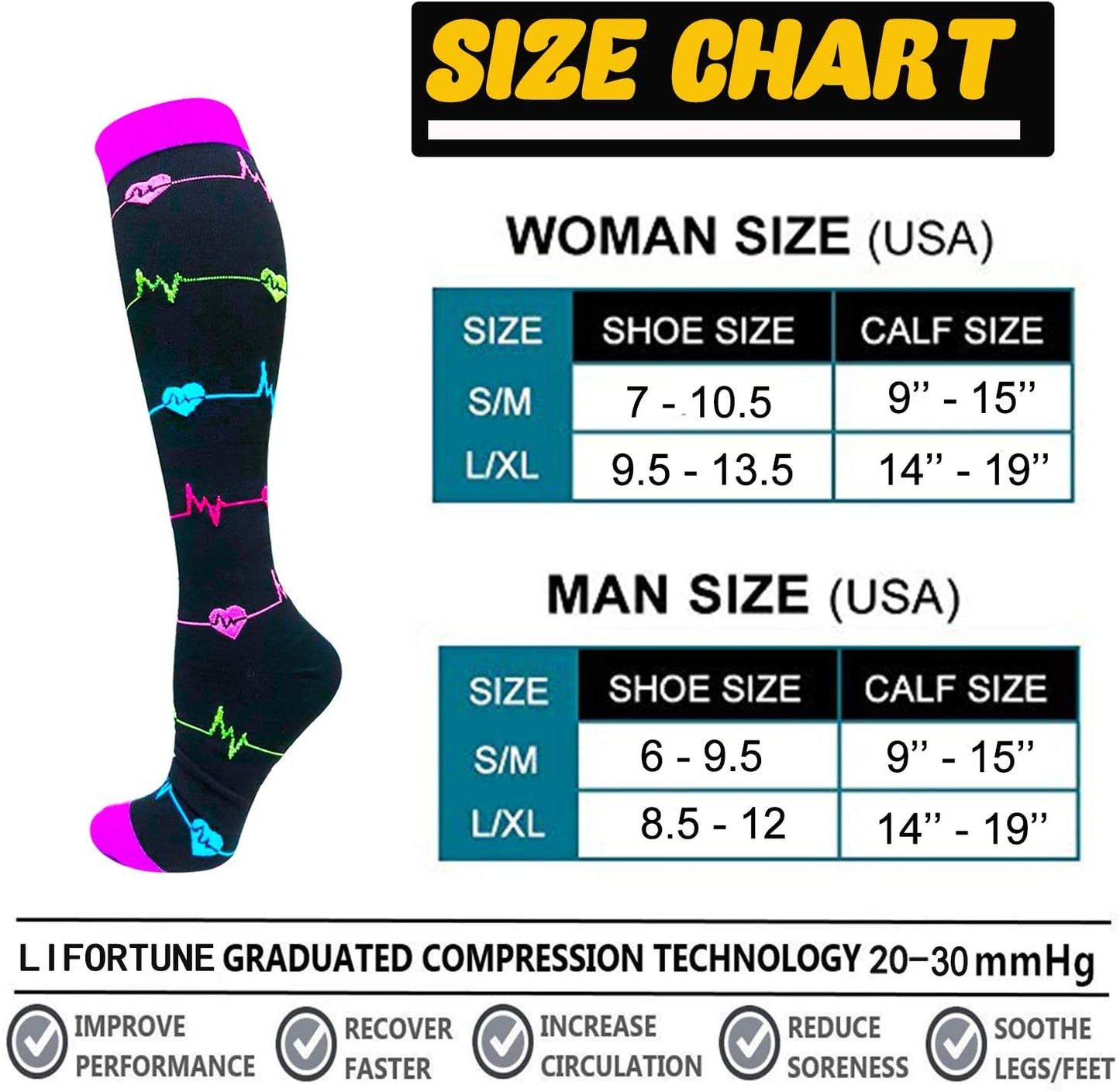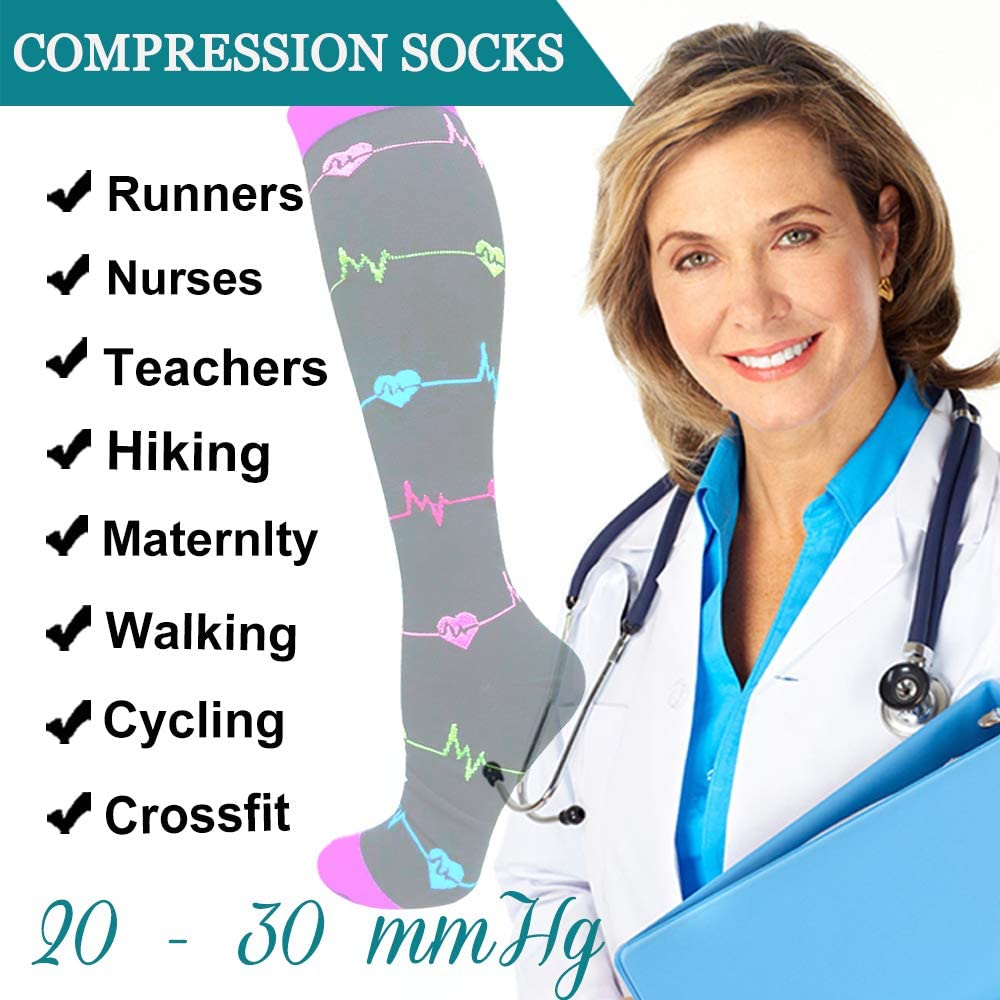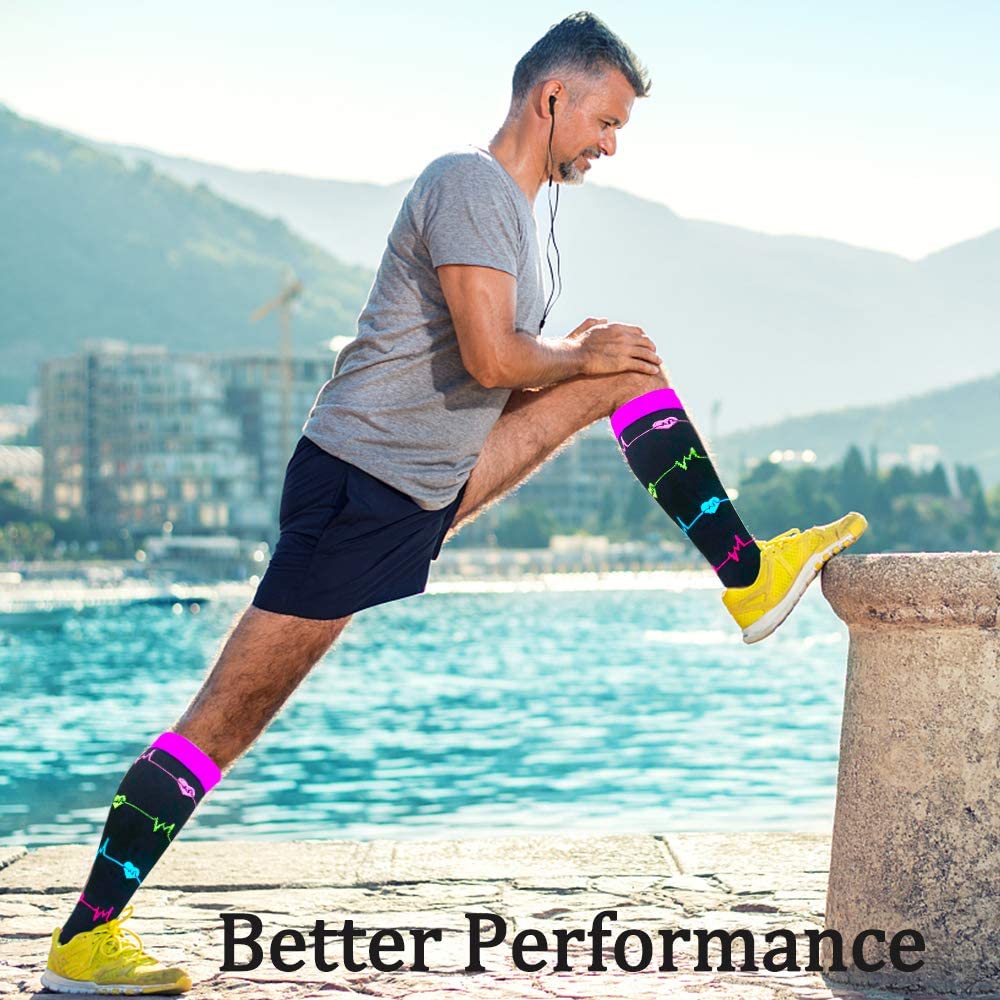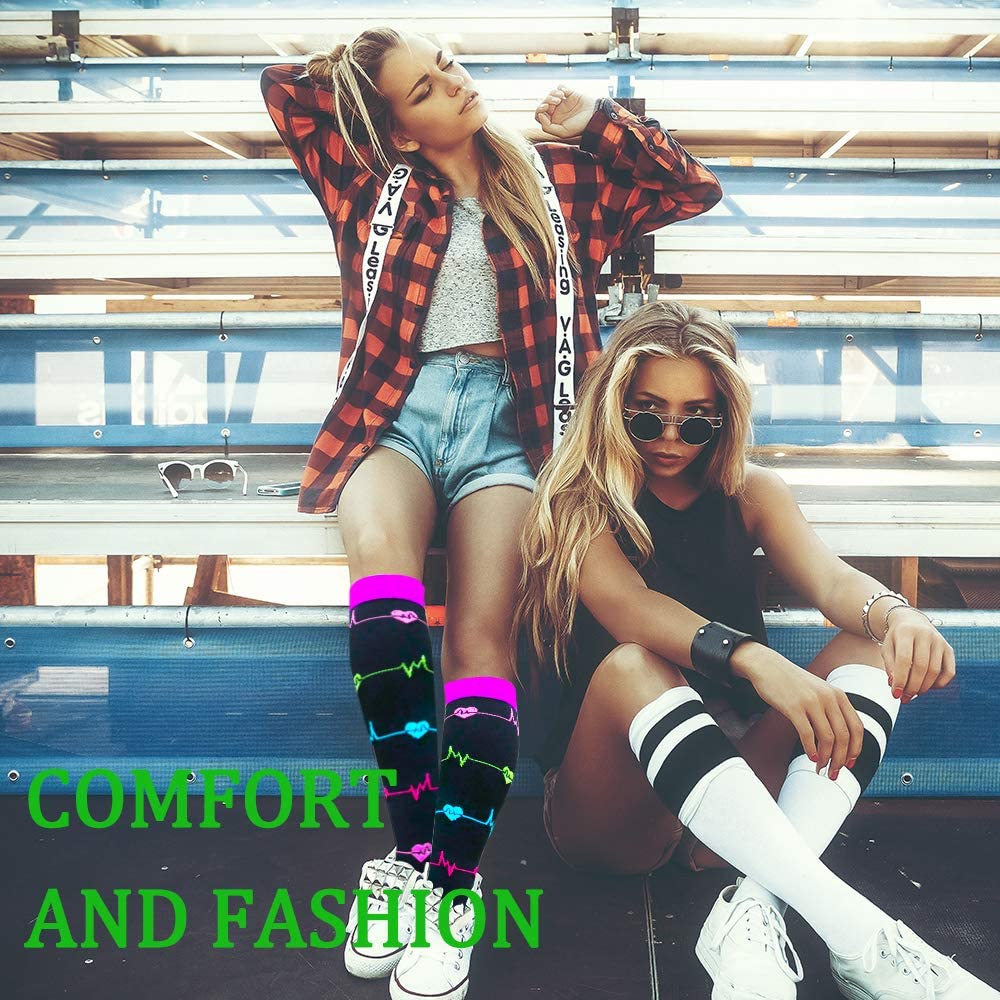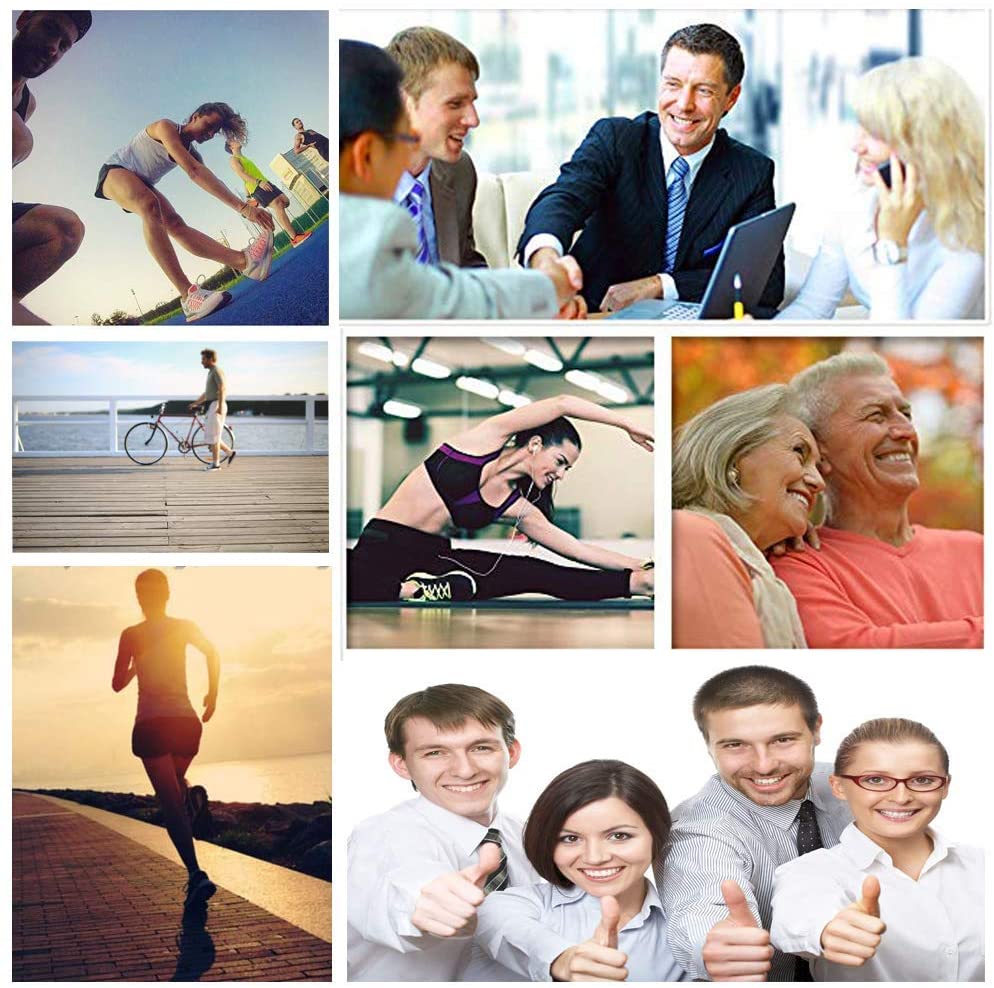 OUR PROMISE TO YOU!
Not 100% satisfied with the brace? No problem, we'll take it back and issue afull refund. No hidden charges.