ZSZBACE, a company dedicated to bringing you the best in fitness accessories that help you stay active, and lose weight fast, deliver a sweet waist training sweat belt with extra cover, that is finally wide enough to cover the complete abdomen area. Our unique premium material composition allows for a more comfortable and effective pro waist shaper that eliminates unwanted odors, wicks away sweat, and helps you achieve the slim midsection or your dreams.

This belly band will help you to remove excess water weight, exercises the abdomen, and maximizes the optimum temperature in that area to burn off the calories for a slimmer physique. By keeping the heat generated by your body, you can keep moving, sweat off those excess inches and achieve a trim silhouette and sweet abs. At the same time, you benefit from fantastic sport support to your lower back muscles to fight back against possible pain.

With Support from the ZSZBACE Waist Shaper - you can expect:
An awesome ab workout
Improved circulation
Muscle and body support that works
Stimulated weight loss
Improved comfort fit
Enhanced workouts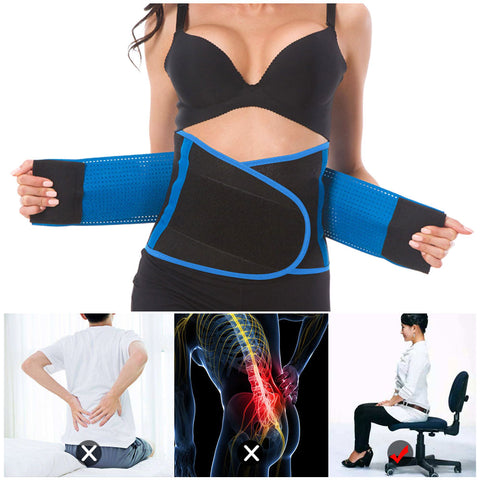 Adjustable
ZSZBACE adjustable back brace provides firm, comfortable support to help relieve back pain. Our back brace provides your back with enough support to help soothe the pain while still allowing your torso to twist and turn naturally. This is partly accom-plished by the dual adjustable compression straps which give you the ability to loosen the belt if you prefer more mobility and tighten it if you need more stability.

Tips for use:
First Week: Adaptation period, don't too tight, let the body adapt first, it is recommended to wear about 1 hour every day.
Second Week: Retention period, adjust the wear time according to the usage.
Third Week: stable period, adhere to wear, develop good habits.