ZSZBACE guarantees the highest quality product because your health deserves the best. Don't let back pain get you down!

Back pain is a common problem, and many people tend to ignore it, hoping it will go away on its own. Ignoring medical issues early on may not seem like a big deal at the time, but the consequences can be life-threatening. Getting the correct medical care for back pain is so important as it can get much worse if left untreated. Don't wait until debilitating back pain is affecting your quality of life. Take care of it now.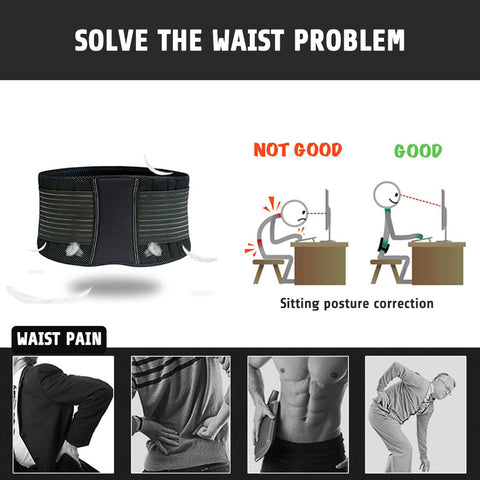 Correcting Posture - The support provided by the compression strap improves posture to aid treatment of back problem such as lumbar muscle strain, chronic back pain, disc disease, osteoarthritis and etc

GET RID OF YOUR LOWER BACK PAIN: Do you suffer from lower back pain? Do your back and your lumbar area feel weak? Are you recovering from a back injury? ZSZBACE have designed this orthopedic lumbar support brace with the 4 removable metal plates to help you alleviate the pain, increase your mobility and become stronger!

DESIGNED TO BE COMFORTABLE: Made with adjustable, double compression straps and a secure Velcro, the ZSZBACE back support brace is unbelievably comfortable and easy to wear or remove. You can either wear it over or under your clothes and thanks to the breathable and hypoallergenic materials, your back skin won't get sweaty or irritated.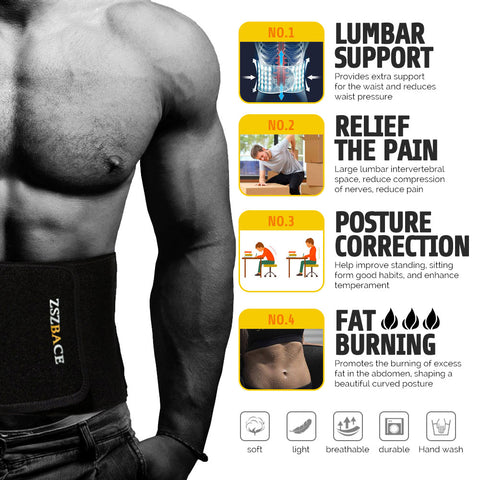 A LUMBAR BELT YOU'LL HAVE FOR A LIFETIME: If you do sports, sit for too many hours because of your job or bend a lot whenever you do the house chores, it is inevitable that you'll suffer from lower back pain. Thankfully, the lumbar brace is made with durable materials, so it will always be ready to provide you with support and pain relief!