It's no secret that as you age you feel more stiff and sore and it takes longer for your muscles to recover. Simple things like walking and going up stairs can even be challenging to some people as they age... especially people suffering from arthritis, inflammation, or injury. But giving up, doing nothing, and sitting on the couch is NOT the answer. Shoulder Brace can help you feel good enough to stay active and healthy !Get Targeted Support and Outstanding Pain Relief So You Can Stay Active!
Reinforce & Rehabilitate
Fits left or right shoulder.
Strong and highly-elastic velcro straps allow for a secure and adjustable fit.
Flexible fabric allows you to maintain a wide range of mobility.
Effective support for sprains, strains, torn rotator cuff, frozen shoulder dislocated AC joint, AC separation, bursitis, labrum tear, tendinitis, stiff joints and more.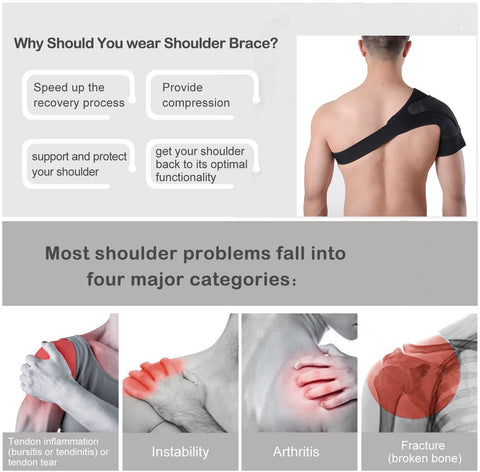 Breathable Compression Fabric
Targeted Support of Muscles, Joints, and Tendons
Maintains Joint Stability
No Itchiness or Skin Irritation
Comfortable and Secure Fit
Relief from Inflammation, Arthritis, & Tendonitis
Versatile to Wear for Any Physical Activity
Great for All Ages & Fitness Level
Supports Sore & Stiff Muscles and Joints
Easy Wear Design
Can Be Worn All Day + All Night
Perfect for People of All Ages and Fitness Levels.
It's not often that a shoulder brace looks as incredible as it feels. Our brace stabilizes your shoulder while promoting compression-based healing. This helps to support injured muscles and protect your shoulder from further injury by limiting movement. Thanks to it's breathable, low-profile design, you can enjoy these benefits 24 hours a day, under or over the top of any type of clothing.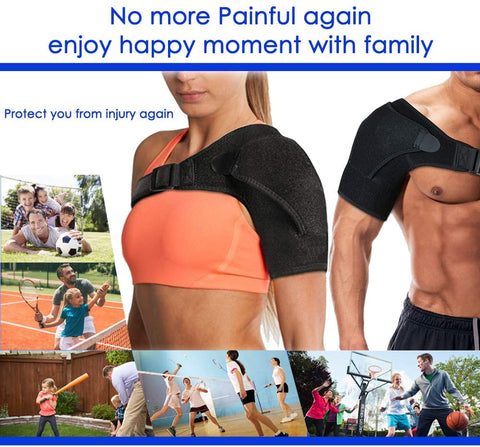 Versatile Enough to Wear for Any Activity
Whether you are looking to use during a sports event, or just around your home to manage pain, we have got you covered! Comfortable enough to wear all day and during the night.