Chronic Back pain can be excruciating from minor to severe form due to present conditions. What's worse is that it didn't just get better in time - no matter what you try and might put you on the sidelines. We can't let it happen!
Whether you're suffering from occasional lower back pain or chronic pain – it seems like it'll never go away or just looking for something to provide your back enough support to still be able to turn naturally -- then ZSZBACE Support Back Brace is the right gear!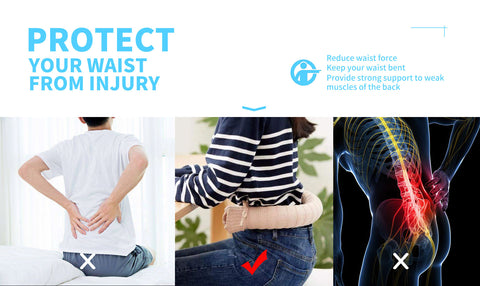 ZSZBACE lower back brace protects you from strains and pulls strategically positioned for maximum support. With multiple steel stays and soft tissues, our back support brace provides rigid support by protecting your spine and surrounding muscles.
With the adjustable hook&loop closures, our lower back brace offers you all-day comfort. You can adjust the lumbar brace easily to best fit according to your body shape. Full range of motion is allowed with this back support belt and you can enjoy full flexible support all day!
Our lower back brace gives you immediate & long-lasting relief from herniated disc, sciatica, back pain, pulled muscles and other back conditions.  ZSZBACE lumbar support brace is a must-have.
Once you get the ZSZBACE lower back brace, not only do you get a healthy but in effect you get a quality. This lower back support brace is perfect for everyday use and everything in between. Elastic and durable materials adopted in this lumbar support brace guarantees long product life for extended wear.
The belt can be easily adjusted and is very soft and comfortable to wear.The newly upgraded velcro has a large adhesive area, which helps to bring the belt closer to the body and makes it firmer.You can wear the belt for a long time without worrying that it will become loose.