BACK PAIN is one of the most common reasons people go to the doctor or miss work, and it is a leading cause of disability worldwide. Most people have back pain at least once. Fortunately, you can take measures to prevent or relieve most back pain episodes .ZSZBACE LUMBAR TRACTION BELT is a very simple and effective way to perform your daily activities without pain.
Lumbar Traction is a clinically proven technique approved by doctors, it can be used in both upper and lower back pain treatment, without having to resort to surgery or medicines.
How it works?
After inflating with air, the Decompression Belt stretches and supports the lumbar spine.
By providing strong support and stabilization for the lower back, the belt helps hold your midsection together to help support and stabilize your spine and muscles. This not only helps reduces the strain and pain on your back, but also helps improve your posture.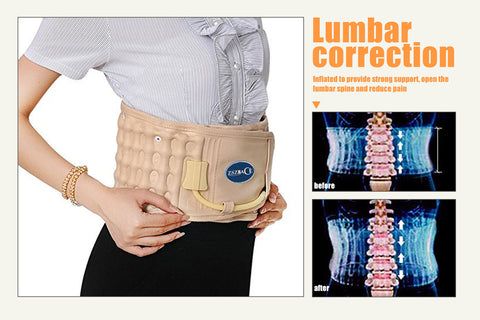 What is unique about it?
ZSZBACE Lumbar Decompression Back Belt provides both traction and physical decompression, that makes it extremely effective and easy to use.
Feature:
1. Lift your upper body and unload the weight of the lower back, allowing the muscles to relax.
2. Decompress the spine to restore the disc to normal.
3. Reduce pain and stress on pinched nerves.
4. Improve the nutritional flow of your spine.
5. Aids in strengthening your core and back muscles.
Who needs it?
Lumbar Traction Belt is clinically proven to help relieve pain from Lumbar Disc, Sciatica, Muscular Weakness, scoliosis, and more!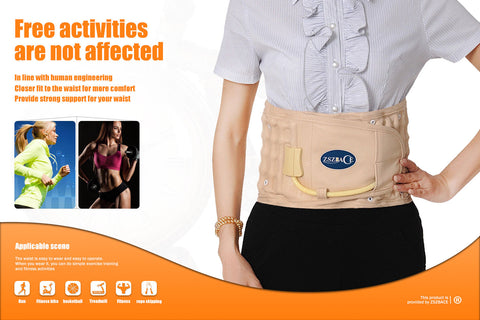 No one likes to be limited by their aching back and miss out on life's great joys. With this pain relief lumbar support belt you can once again enjoy time with loved ones, gardening, or just care for your home.